Amy's Backstage Blog
Hi! I'm Amy Scalia, co-host here at Star64! I'm starting a new blog for the station's website, and I couldn't be more excited about it!
I love to write… it's in my blood… my grandma was actually one of the first female newspaper reporters in Ohio! After falling in love with writing as a Harrison High School student, I went to Miami of Ohio on an English scholarship. I got a BA degree in Mass Communications with a specialty in electronic journalism.
When I'm not hosting for Star64, I'm running an online women's publication in town called Cincy Chic. I started it about five years ago, and it now has more than 22,000 subscribers! Check it out at cincychic.com.
I also love to run (I've run three marathons!), cook, garden, make jewelry and crafts, shop for shoes (it's an addiction), and play with my Vizsla "Dino." So, here on the blog, I plan to post a variety of useful info that'll range from yummy recipes and gardening tips, crafting ideas and inspirations, as well as fashion trends, sales and events going on you'll want to know about.
So, bookmark this page and check back often! I'll be posting at least once or twice a week!
---
Review: Ella B Neighborhood Candles
09/29/15
We hosted a decorating party at A Village Gift Shop in Glendale a couple weeks ago for our upcoming Bras with Flair on the Square event (coming up on Oct. 2!!) and while I was there I found what might possibly be the BEST smelling candles ever! They're called Ella B Candles. They're hand-poured in Charlotte, NC and pure soy (so you don't have to worry about the chemicals or not burning clean). Company is 4 years old, owned by a husband and wife team.
The ladies at the shop told me that they have a great holiday lineevery year, and they even do customized candles. A Village Gift Shop stocks Wyoming, Glendale, OTR, Cincinnati, West Chester and Mason neighborhood candles — what an awesome gift idea! Makes a wonderful gift for someone new to the area or moving from the area, or a hostess gift, or holiday gift. And they smell UH-MAZE-ING! Definitely check them out!
---
Review: STMT Grace Skirt
09/28/15
If you asked me to pick my ONE favorite item in my wardrobe right now, I know exactly what I'd tell you: My STMT Grace skirt. I love everything about it… the color, the interesting hemline, the comfortable fabric, the slimming fit… ev.er.y.thing.
My friend Teresa Washington, who used to live and own a boutique here in Cincinnati (she moved to Chicago, but she still has events in Cincinnati â€" we just did one with her in June!) started the line,STMT, and she's doing SO awesome! Check out her FB page where she posts when celebs wear her pieces and when she's featured in national expos!
But I wanted to post a review about this skirt because it's seriously the best skirt in the history of skirts — it's now my favorite piece in my wardrobe, that I know will look good and be comfortable no matter if I'm going to a business meeting, or just hanging out at the house with the little one. It also has a great "flow" to it… when I walk it floats behind me like I'm a Disney princess; when I twist, it twirls around me; when I go down stairs, it billows and bounces … it just, I don't know how to better explain it other than saying "It just makes me feel really, really, ridiculously pretty."
It sells for $56, and considering that I've worn it 4,298,999 times already, I definitely am getting a great cost per wear! And the feeling really pretty thing is pretty priceless, amiright?
Highly recommended! It also comes in black — my former intern Niyah blogged about that version here. (<< her blog, "Inexpensive Chic," is awesome by the way!)
---
2015 Seasonably Chic Showcase
09/27/15
If you like shopping local, but don't want to run every which way across town getting everything you need for your holiday shopping this year (yes, I said holiday shopping before Halloween - I'm a planner)… we have the BEST event for you! It's our seventh annual Seasonably Chic Showcase, and it's going to be our best one yet! We have amazing fashion show sponsors, new vendors and boutiques you haven't heard of yet, AND an awesome brunch 'n' learn sponsor! Oh and did I mention it's FREE to get in?! (Well, you bring a canned good for the FreeStore, but other than that, it's free!) We even gift wrap everything you bought at the event for free! Best event ever! Check out the details below! See you then!:)
2015 Seasonably Chic Showcase
Sat., Nov. 7, 10am-2pm
The Phoenix, 812 Race St. Cincinnati Oh 45202
$2 parking available at Garfield Garage located next door on 9th Street
Learn more and RSVP at: http://2015scs.eventbrite.com
Shop for everyone on your nice list with the best local boutiques and vendors â€" all under one roof! Bring a canned good for the FreeStore FoodBank to get free entry and a swag bag! Also enjoy complimentary gift wrapping, refreshments, mini massages and a freeze modeling fashion show showcasing the latest trends! Plus, more than $3,000 in prizes randomly awarded to attendees! Attend the free brunch 'n' learn at 12pm, brought to you by Memories 2b Treasured, to learn how to organize photographs and artifacts into professional albums, canvas prints, and countless other products customized to share your "story."
Supporting Sponsors: PNC Bank, Cors & Bassett Attorneys at Law LLC, St. Elizabeth Healthcare
Fashion Show Sponsors: FLAWless Face Makeup Artistry, L'Amour Bisou, Folchi's Fine Men's Apparel and Formal Wear
Brunch 'n' Learn Sponsor: Memories 2b Treasured
Booth Sponsor: Mary Kay with Emily Stalf, Thirty-One Gifts with Beth Merritt, Ideal Image Laser Hair Removal, It Works! by Shrink Wrap Me Skinny, Champion Windows, Maui Whitening â€" West Chester, Rodan + Fields Dermatologists with Rebecca Noss,Allusions,Associates in Women's Health, Stella & Dot with Maranda Bowen, Scentsy with Amanda Johnson, Younique by Sheena Roustai, Koop Diamond Cutters, Bundle Up Crochet, Perfectly Posh with Jaymie Pollak, Origami Owl with Daniela Gausmann, Tobey 1 Originals with Tami Seurkamp, eSBe Designs Jewelry, TruPet, Tyra Beauty, Halominer, Gild Collective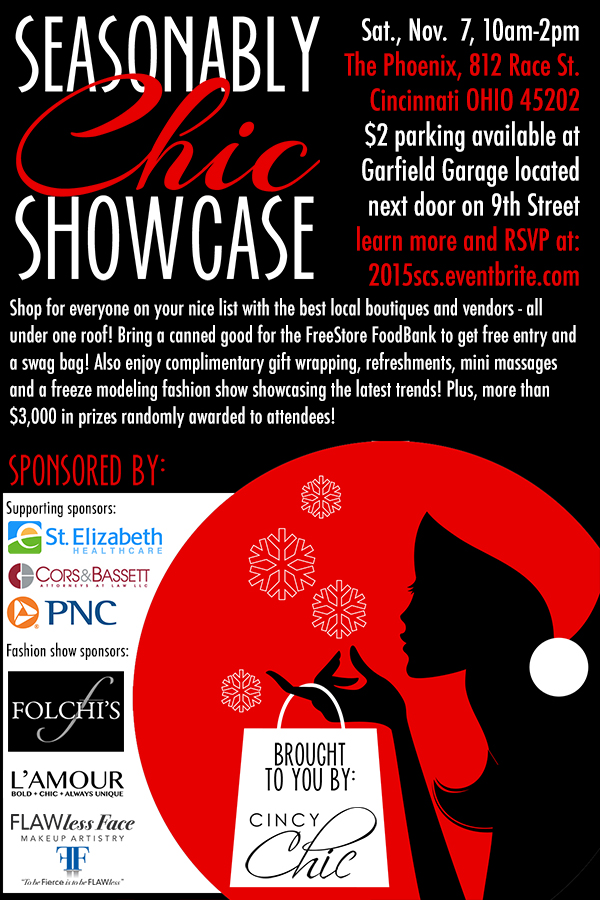 ---
Reading Bridal District Fall In Love Bridal Show
09/07/15
Cincy Chic is working with the Reading Bridal District to put together this AWESOME event for local brides! Man, I wish there were events like this when I was getting married (does that make me sound old? haha!) But seriously, if you have wedding bells in your future, grab your gal pals and come to enjoy this fun night. You'll get to pop in lots of fun bridal shops to get ideas, enjoy refreshments, and enter to win tons of prizes (like a $10k wedding giveaway!). All the details are below – hope to see you there!
——-
Reading Bridal District Fall In Love Bridal Show
September 17, 2015
Time: 6pm-9pm
Spend the evening on the streets of the Reading Bridal District & meet dozens of wedding professionals to make your wedding perfect & a chance to win a wedding giveaway.
SPECIAL OFFER: Print this Offer for 3 Free Raffle Tickets for the Giveaway
Event Venue Name:
Reading Bridal District
118 W Benson St, Cincinnati, OH 45215
Event/Organization/Company Website:
http://www.readingbridaldistrict.com
Website to Buy Ticket :
http://www.readingbridaldistrict.com/2015/07/fall-in-love-bridal-show/
Ticket Price:
With your $5 admission fee you will receive (3) Free Raffle tickets for the Grand Prize Drawing at the end of the evening. You can purchase additional raffle tickets for $2 each or (3) for $5.00.*
---
Visit Heritage Village for Family Fun this Fall!
09/07/15
I recently checked out the Heritage Village Museum (check out the video below) to learn about some of the fun events they have coming up this fall!
If you haven't been before, you MUST. It's in Sharonville, so it's pretty convenient no matter where you're coming from in the city. It's not your typical "museum" either. It's essentially a collection of different buildings from different time periods, and each one is decorated with authentic items/decor that you would have found in it during its prime. They're also staffed with people outfitted in period clothing who can tell you all about the building and the items you're seeing. It's really pretty cool.
I've been before with just the hubs before we were parents – it was a holiday themed event where you could go in and see the buildings and people all decked out for the holidays. So I know they go all out for the events they hold at Heritage Village. Which is why, now as a parent, I'm SUPER excited for these fall events! I'm definitely bringing our little history buff in the making!
Check out the event details and video below!


---
---
The Union Forever: An Exhibit of Union Civil War Artifacts
This exhibit highlights the important role Ohio played in the Civil War with every artifact on display representing the greater Cincinnati area. Items include the field desk of Major Robert Joyce of the 93rd Ohio Volunteer Infantry, uniform of Captain Henry Mallroy of the 35th Ohio Volunteer Infantry, and Saber used by Dr. Henry Langdon, Brigade Surgeon with the 79th Ohio Volunteer Regiment.
This exhibit is the capstone project of Eric Kelso, a graduate student in the Master of Arts Public History program at Northern Kentucky University.
Brilliant Impressions: A Century of Glass
Heritage Village Museum presents a new exhibit showcasing American glassware in the 19thcentury. Glass has long been a vital material for both functional and decorative household items. Between 1800 and 1900, the glassmaking industry was revolutionized by the invention of machines to manufacture glass by pressing rather than blowing and decorating it by hand. Pressing allowed greater availability of glassware and a wider array of designs.
This exhibit highlights different variations of glassware, ranging from everyday objects to symbols of economic status.
The exhibit runs through October 23, 2015. Admission is $2/adults, $1/children 5-12. Children under 5 and museum members are free. Exhibit admission is included with the purchase of a guided or self-guided tour.
---
---
---
Stay Connected:
To keep up with the latest news and events at the Heritage Village check out their blog and newsletter!
---
Cars, Cigars & Style – Save the Date
09/03/15
As you probably know by now, arthritis is something that hit our family hard over the past few years (click here for more about that). Ever since my husband Pete was diagnosed with rheumatoid arthritis a decade ago, he's been using the Arthritis Foundation resources to connect with others, access information and find new physicians. We've gotten more and more involved over the years, to the point where Pete and his dad are on chapter boards, and his mom, sister and I are on event planning boards.
This year, I decided that it's time to do a Cincy Chic and Cincinnati Profile (the male version of Cincy Chic that I help run) event to raise funds for the Arthritis Foundation. So, I got together with one of Pete's favorite menswear shop â€" Blaine's in Montgomery â€" and put together this event concept (see all the details below) of "Cars, Cigars & Style". I hope to see you there!
Cars, Cigars & Style
When: Saturday, November 14, 6-9pm
Where: Blaine's Fine Men's Apparel 9407 Montgomery Rd Cincinnati OH 45242
RSVP: http://2015ccs.eventbrite.com
Enjoy: swag bag, wine and bourbon tastings, light bites and a premium cigar selection. Also, view classic cars and shop for a cause, as 10% of all sales will be donated to the Arthritis Foundation!
Brought to you by: Cincy Chic and Cincinnati Profile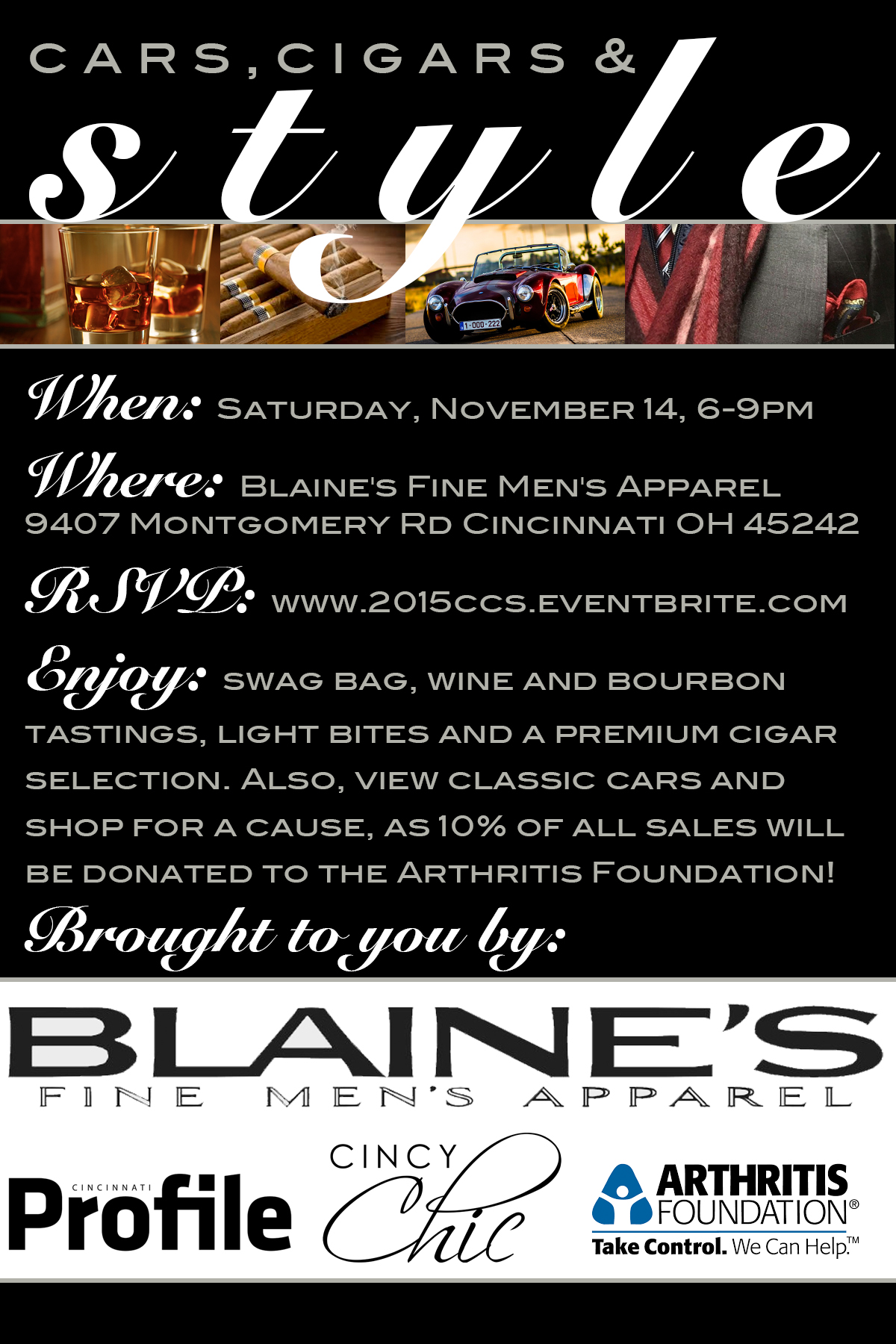 ---
Bras with Flair & Official Decorating Party – Event Details Released!
09/02/15
Ahh! I can't believe it! It's already time to promote our longest running event, Bras with Flair on the Square! It's going to be our NINTH annual event this year, and I'm really pumped about it. We're working with Owl Be Sweatin' to promote their new Strength Series of headbands, where a portion of the proceeds benefits a local breast cancer survivor… who will be making an appearance in our fashion show!
Also new this year is an Official Decorating Party, which we're going to hold at A Village Gift Shop in Glendale on Sept. 17. If you attend and decorate your bra at the party, you'll get free tickets to Bras with Flair! Plus, you'll get to enjoy refreshments, food truck yumminess, shopping and lots of fun!
All the event details are below! Hope to see you there!
Celebrate Cincy Chic's 9th Annual Bras with Flair on the Square!
Oct. 2, 5-8pm, on Fountain Square
RSVP: www.2015BWF.eventbrite.com
Hundreds of decorated bras will be flying high on Fountain Square! Vote on your favorite (one voter will win a $500 prize pack!), while enjoying music, drinks, shopping, and a runway fashion show with a breast cancer survivor spotlight. $10 Ticket includes runway seat, light bites, and swag bag – All proceeds benefit Susan G. Komen for the Cure.
Want to have a decorated bra featured at the event? Mail or drop off to the Cincy Chic office (463 Ohio Pike Suite 301 Cincinnati, Ohio 45255) by Sept. 28, or learn more about the official Bras with Flair Decorating Party on Sept. 17 atwww.BWFdecorate.eventbrite.com
SUPPORTING SPONSORS PNC Bank, St. Elizabeth Healthcare,Cors & Bassett Attorneys at Law LLC
FASHION SHOW SPONSOR Owl Be Sweatin'
VENDOR BOOTH SPONSORS Thirty-One Gifts with Beth Merritt,Ideal Image Laser Hair Removal, It Works! by Shrink Wrap Me Skinny, Mary Kay by Amber Nichols, Champion Windows, Maui Whitening – West Chester, Tyra Beauty, Allusions, Scentsy with Amanda Johnson, Younique by Sheena Roustai, Current Catering
IN-KIND SPONSOR Heyman Talent
BROUGHT TO YOU BY Cincy Chic, the only online lifestyle publication for women in Greater Cincinnati.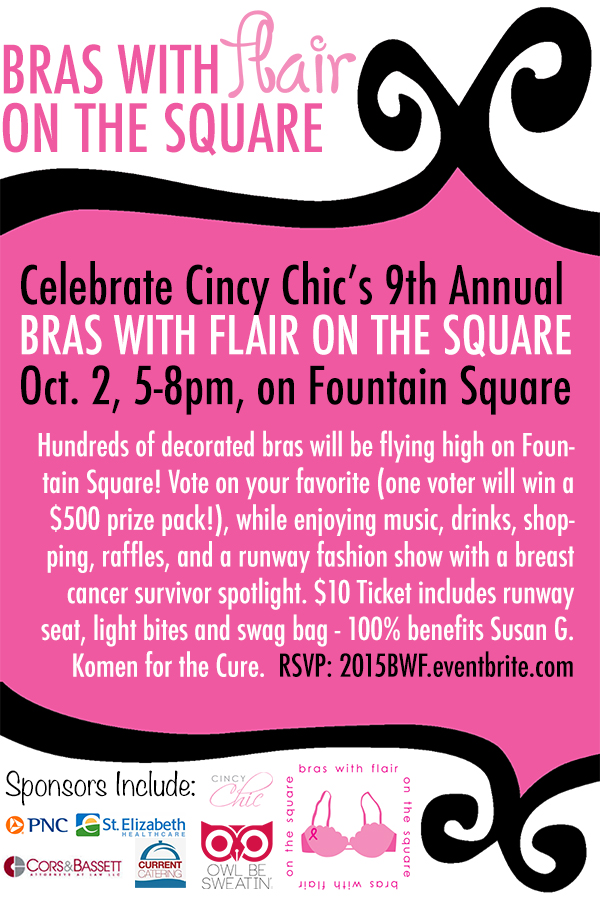 ---
Start-Ups & Stilettos Sept. 11 – Sneak Peek
09/01/15
Our Start-Ups & Stilettos event is coming up on Sep. 11 and I'm getting SO excited for it! First off, we'll have a TON of prizes for it! From jewelry and shopping excursions at local boutiques to spa packages and Bengals memorabilia… we'll have $3,000+ in raffle prizes up for grabs.
ALL proceeds from the tickets sold and the raffles go to Purposeful Painting, which is a locally launched 501c3 non-profit organization that helps women with jobs get on their feet again. I love it because it helps the "in between" women — the ones who ARE working, not on public assistance, but are in need of funds to get through a difficult time, whether it's medical expenses, fixing a car, or any other unexpected financial blow. And the funds are raised in a fun way — local artists collectively create pieces and classes. The pieces are then sold to raise funds for the endowments. Pretty cool, huh?
I recently just bought one of the pieces for our TV room and I love it because not only is it great art, but I know it also supported a great cause. And if anyone complements us on it, I have a great story to tell!
As for the fashions in the show — this is going to be an AWESOME fashion show! Since it's a woman-in-business themed event, all the models in the show are local female business owners! And they'll be outfitted in the place that's become my new obsession, Clothes Mentor (click here to see my review and some of my fab finds!). It's like Plato's Closet for the professional woman — you MUST check it out! And in case you haven't yet, they'll be offering a sneak peek of the store with a pop-up shop at our event, and a portion of all their sales are going to Purposeful Painting!
More details about the event below. Hope to see you there!
Start-ups & Stilettos
When: Friday, September 11, 6-9pm
Where: PNC Bank 5th St location – 201 E 5th St, Cincinnati, OH 45202
RSVP: http://stilettosstartups.eventbrite.com
Enjoy: Networking, refreshments, shopping, interactive "co-creation" art stations, photo booth, fashion show featuring local women-owned business owners, and more than $3,000 in prizes (including prize for the best stilettos, selected by our panel of Cincinnati-based style bloggers)!
Tickets: $10 – includes swag bag, 2 drink tickets, and 10 door prize entries. All proceeds benefitPurposeful Painting.
Hosted by: Bad Girl Ventures and Cincy Chic
Supporting Sponsors: PNC Bank, Cors & Bassett Attorneys at Law LLC, St. Elizabeth Healthcare
Fashion Show Sponsors: Clothes Mentor, The Wild Hare Salon
Booth Sponsors: Maui Whitening – West Chester, Allusions,Associates in Women's Health,Scentsy with Amanda Johnson,Younique by Sheena Roustai, Stella & Dot with Katie McHugh& Lisa Riccardi, Perfectly Posh with Jaymie Pollak, Mary Kay with Emily Stalf, Thirty-One Gifts with Beth Merritt, Ideal Image Laser Hair Removal, It Works! by Shrink Wrap Me Skinny, Champion Windows, Tobey 1 Originals with Tami Seurkamp, GPHOMESTAY,Rodan & Fields with Courtney R. Schank, eSBe Designs Jewelry,Tyra Beauty, FranNet MidAmerica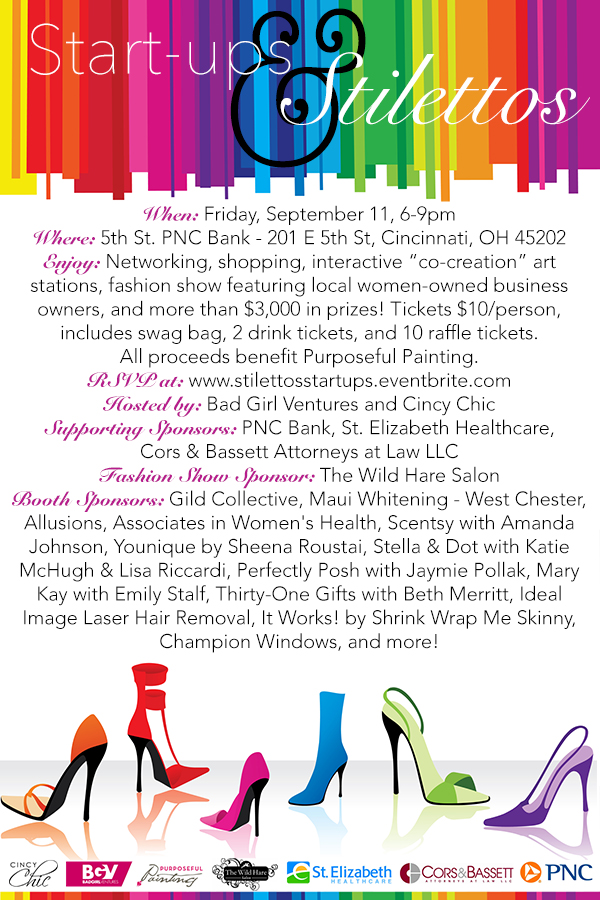 ---
Dearborn County Upcoming Events!
08/31/15
Lots and lots of fun events coming up in Dearborn County, Indiana! From antiques and history to fall fun and crafts, check out some of the fun stuff you'll find with our neighbors to the west!
Tri-State Antique Market
- September 6
- 351 E. Eads Pkwy. (U.S. 50) 7AM-3PM, Lawrenceburg Fairgrounds.
- Market open 7AM-3PM the first Sunday of each month, May through October
Indiana's largest antiques and vintage only collectibles market. Indoors and outdoors, rain or shine. 200 dealers each month.
- Admission charge of $3.00 for those 18 and older.
- Information: 513 738-7256
Hillforest Victorian House Museum Antique Appraisal
- September 12
- 5:00PM. 213 Fifth Street, Aurora.
- "Is It Antique Yet"? Each guest is invited to bring one antique for appraisal by Maggie Beckmeyer, a professional appraiser with "Auctions by Maggie". A tour of the Museum and refreshments are included in the price.
- Members: $10.00; Non-members: $20.00.
- Hillforest is open Tuesday through Sunday, 1:00PM-5PM.
- It was the home of industrialist and financier Thomas Gaff and his family between 1855 and 1891. It is listed on the National Register of Historic Places. It was designated a National Historic landmark in 1992.
- For information and reservations: 812 926-0087 or go to www.hillforest.org
Arts & Crafts in the Park
- September 13
- 9AM-5PM, Newtown Park, State Rt. 50, Lawrenceburg.
- Annual arts & crafts sale held in quaint city park. 160 booths of fine handmade crafts and fine arts.
- Food & restrooms available.
- Information: 812 926-3750.
Southeast Indiana Quilt Expo
- September 18 & 19
- Lawrenceburg Event Center, 91 Walnut Street. 9AM-5PM, Friday. 9AM-3PM, Saturday.
- Quilter's event sponsored by Windham Fabrics. Meet Windham's new designer Jill Shaulis and her new line of fabrics and patterns for Windham's new Kindred Spirits Club.
- Participating quilters and shops come from a variety of states in the Midwest.
- Information: www.southeastindianashophop.com
Lawrenceburg Fall Fest
- September 24, 25 & 26
-Downtown Lawrenceburg, IN, on Walnut Street near US Route 50.
- Annual three day festival(Thursday-Saturday) featuring top name entertainment, games, carnival rides, car show, Bar-b-que contest and food.
- Some of the featured entertainers for 2015 are Wynonna, Diamond Rio, Skid Row and Survivor.
- For more information: 800 322-8198/Dearborn County Visitors Bureau or visit: www.lawrenceburgfallfest.net
The Quilt Expo and Fall Fest are largest and most unique of the events.
---
Get Creative with Gild Collective
08/20/15
A few weeks ago, I met my friend Jessie and her two new co-workers for lunch. Jessie recently left her corporate job to go into business with these two gals. They just got accepted into The Brandery (as the first female-led group, I might mention) a few months ago and have been going full speed ahead ever since!
We just did a big feature on their business, GILD Collective, here in Cincy Chic if you want to get the full story on them and see some examples of recent projects they've done. But their business concept in a nutshell is that you get a group of your friends together for a craft night. They provide the supplies and instructions, so you don't need to be a Martha Stewart to host or attend a party. And everyone leaves with memories and a cute project made.
It's not a party where someone is trying to sell you products the whole time, either. It's a party where you unplug for a bit, connect with your friends instead, get creative, and take something cute home that you'll proudly wear or display because you made it! Oh, and if you hosted the party, GILD gives you your craft kit for free! You can make anything from jewelry to home decor – all tres chic, on-trend, and not crummy-crafty-look-what-I-made-as-an-art-project looking.
The gals at GILD Collective will be at our upcoming "School's Back, Mom Relax" Aug. 21 event if you'd like to meet them, and see some of their projects in person. Click here to learn about the event, and use the code GILD to get in FREE! Hope to see you there! But if you can't make that event here are events on 8/22 and 8/30 if you'd like to attend those and meet the GILD gals! (They're super fun, so you'll be glad you did!)
---
Clothes Mentor - My New Secret to Style Success!!!
08/20/15
I did a Star64 shoot at Clothes Mentor a couple weeks ago and fell in LOVE. It's like the Plato's Closet for professional women â€" lots of designer stuff! I brought in a basket of things I wasn't wearing (got $50 cash!) and while I was waiting, I found the below outfit (dress and jewelry) for only $12!
Seriously ladies, this place is AMAZING! Clean out your closet and find one of these places near you! There are three locations in Cincy (I went to their new one in Hyde Park Plaza!) Also, they're going to be the fashion show sponsor of our Sept 11 "Start-ups and Stilettos" event â€" giving 10% of all sales at the event to our charity! Hope to see you there!
---
Local Nonprofit Provides Complimentary Laundry Services to Cincinnati Families
08/20/15
I thought this was pretty awesome, so I'm sharing! Please share it with anyone who you think might be interested!
Local Nonprofit Provides Complimentary Laundry Services to Cincinnati Families
CINCINNATI, Ohio â€" (August 20, 2015) â€" As part of the Laundry Project, Current of Ohio is spending this Saturday, August 22, washing the clothes, towels and linens of Cincinnati residents at no cost. The event, which provides the laundry detergent and coins, runs from 10 a.m. until 1 p.m. and will be held at City Limits Laundry & Tanning located at 50 W. Nixon St.
With the average trip to the laundromat running close to $25, clean clothes is not always an option for roughly 316,000 adults and 167,000 children living in poverty in the Cincinnati area. Current volunteers look forward to reaching their project goal of supporting approximately 40 families by completing 400 loads of laundry.
"Each Laundry Project provides the opportunity to uplift the community by investing in relationships," said Current of Ohio's Director, Corey Easterday. "The goal is to turn the laundromats into 'Community Centers of Hope' and show families they are loved.
The University of Cincinnati and Northstar Community Church are sponsoring the event by providing volunteers and a monetary donation. The Laundry Project however is always seeking donations of much-needed supplies including detergent, quarters (rolls of $10), one-gallon Ziploc bags, garbage bags, coloring books, crayons, fabric softener and laundry baskets.
About Current of Ohio, Inc.
Current is a faith-based organization that started with young adults committed to educating others on current social initiatives and mobilizing them to bring about change. Current establishes college campus groups for awareness and education, organizes local events such as the Laundry Project and Hope for Homes Project, and leads yearly domestic and international mission trips. To learn more about Current of Ohio or to see photos of past Laundry Projects, visit us at www.currentofohio.org.
---
Details2Decor 7th Birthday Party Aug. 27!
08/20/15
According to Marilyn Monroe, seven years is when you start to get the itch. That must be why my gal pals over at Details2Decor, are itching to have a FABULOUS night out to celebrate their seven years in business together!
I'm sooooo excited for them!
They have an amazing event planned (what else would you expect from a couple of event planners, right?!) on Aug. 27 complete with a courtyard, cocktails, InstaGlam Fashion Cam, swag brag bag, sweet and spicy treats, door prizes, and more!
After the event, the fun continues on Fountain Square for a fun night of Salsa Dancing. (If you've never been to a salsa night on Fountain Square, you MUST!) It's always really well attended and so much fun! I love that the Details2Decor incorporated that into their event!
It's free to attend their chic celebration, but if you wish, you can opt to donate $7 to a cause that's near and dear to them: the Penny-Manning Dare to Live Memorial Scholarship Fund. Click here to learn more about the event, the cause and RSVP!
---
Getting to Know Poker's November Nine
08/19/15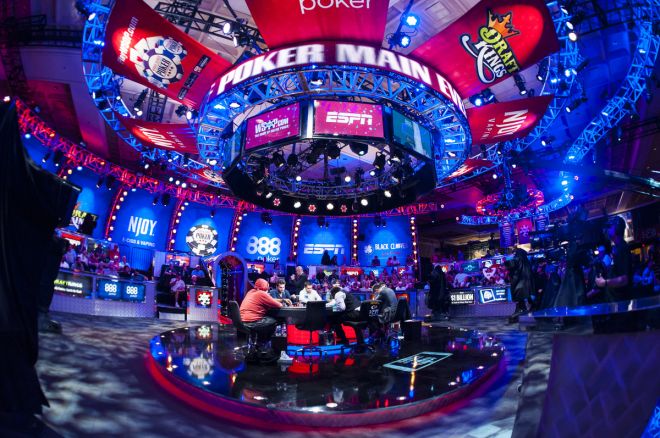 In a few weeks, nine men will make a return trip to Las Vegas. Three days later one of them will leave with more than $7 million dollars.
The group is known as the November 9, and they make up the final table of the World Series of Poker (WSOP) Main Event, one of the highest paying championships in the sports world.
The WSOP is a series of poker tournaments, which is currently in its forty-sixth year. The tournaments have entry fees (known as "buy-ins" in the poker world) from $565 to $50,000. The Main Event is the final and most prestigious event and has a buy-in of $10,000. This year's Main Event drew more than 6,000 players.
The allure of the WSOP Main Event is fairly evident. It is estimated that over 50 million Americans play poker regularly. The game's worldwide popularity has increased substantially over the last decade and is now arguably the most popular recreational sport in the world.
The prospect of competing against some of the world's best known players is almost as big of a draw as the potential payday. Unlike other championship events, the only requirement for entry into the Main Event is having the buy-in and the Main Event champions list is filled by a large number of amateur players.
The egalitarian nature of poker makes it equivalent to taking to the court with Rafael Nadal or the links with Tiger Woods and emerging the victor. This year's Main Event is a perfect example. "Kid Poker" Daniel Negreanu is poker's all-time tournament money winner, with over $30 million in career earnings. He is also one of the most popular players in the game. During the grueling seven days of competition leading up to the final table, Negreanu displayed the skill and ability that has made him a star. Players and fans alike were hoping to see him make the final table and add another milestone to his already illustrative career. When he was eliminated in 11th placeand photographers captured his dramatic fall to the ground, the winner of the confrontation Joseph McKeehan even stated "I killed the room. I know that. I know I may be a villain for a little while."
This year's champion will become the forty-fifth WSOP Main event champion and the seventh winner in the current November 9 format.
Until 2008 the WSOP Main Event format was the same as all of the other events in the series in that play continued daily until a winner was crowned in mid-July. That year the WSOP announced that once the final table was established, play would halt with the 9 remaining players returning to the Rio Hotel and Casino in November to play for the championship. The WSOP stated that the change would allow the players to prepare for one of the richest paydays in the sports world. It would also allow for increased promotion of the event, which is broadcast live in the US on ESPN and on other networks worldwide. The change has succeeded on both counts.
The make-up of the final nine players is a perfect example of why poker and poker tournaments in particular are such major draws for players and spectators. The players represent four different countries, different levels of poker experience, and a wide range of ages.
The "Young Guns"
Over the past decade, poker has been dominated by young players. These "twenty-somethings" have grown up with online and televised poker and have been major beneficiaries of the "Poker Boom" of 2003. Three of the November 9 are perfect examples of poker young guns.
Josh Beckley – At 24, the New Jersey pro has earned over $200,000 in his short poker career. His largest cash of $98,348 came by way of a 2014 championship in a $1500 buy-in event, which is more than eclipsed by his guaranteed $1 million for making the November 9. In interviews with various poker news sources Beckley seems to be taking the achievement in stride and plans to spend the down time vacationing and hanging out with friends.
Thomas Cannuli – This is the second WSOP Main Event cash of the young pro's (he just turned 23) career. In his first try he took home $18,406 which is his largest win to date. Cannuli primarily plays cash games, and has gained a lot of interest in the poker community. His friends and supporters include poker pros Jeff Gross, Antonio Esfandiari, and Sorel Mizzi. Olympic star and poker player Michael Phelps is also a friend and fan and is rumored to have partially backed Cannuli's Main Event entry.
Federico Butteroni – The 25 year old Italian pro is the second Italian to make a November 9. Although his previous poker earnings only total a little over $100,000, his final table appearance will put him in the top 20 of Italy's all time tournament money winners. Butteroni embodies the lifestyle of the tournament grinder and has traveled to Australia, the Czech Republic and the US to play.
The Experienced Pros
Poker is one of the few sports where players in their upper twenties can be considered veterans. Several of the November 9 fall into this category.
Patrick Chan – The 26 year old poker pro from New York is what the poker world calls a "grinder;" a player that takes the game seriously and approaches it as a business rather than a gamble. This has worked out well for Chan as he has earned more than $500,000 in live games since turning pro. He has his work cut out for him when the Main Event returns as he will take his seat with one of the two smallest chip stacks.
Joseph McKeehan – McKeehan is a true product of the "Poker Boom" whose interest in poker began after watching ESPN's coverage of the 2003 WSOP. Even though he is only 24, the Pennsylvania native has earned more than $2 million in live tournaments and is a regular in the WSOP Circuit Events, where he has one championship title to his name. In just his first two years of play he made an incredible seven final tables in tournaments in Atlantic City.
Max Steinberg – The 27 year old is the only player at the final table with a WSOP bracelet which he won in 2012 in a $1,000 buy-in event. The Iowa native has almost $2 million in live tournament earnings, not including the $1 million he is guaranteed for his November 9 appearance. Steinberg actually gave up playing poker for a year to concentrate on his other passion Daily Fantasy Sports.
The Dark-Horse Amateur
Ofer Zvi Stern – Each year it seems that the WSOP Main Event catapults a talented newcomer to poker fame. In the past that has included a French waitress, a Texas car dealer, a self-employed logger, and, of course, Tennessee accountant Chris Moneymaker. Some have gone on to future poker success, others have faded into obscurity. It remains to be seen which will be the case with 36 year old Israeli player Ofer Zvi Stern. Stern's poker resume contains only two prior cashes for a total of about $50,000. He will start the final table a comfortable second in chips.
The Old-School players
Many have said that tournament poker is a young man's game. Poker legend Doyle Brunson, who is 82, states that the long grueling hours are the main reason he now longer plays tournament poker although he is still a regular in the Las Vegas high-stakes cash games. Two of the November 9 are looking to the break the streak young gun WSOP champions.
Pierre Neuville – At 72, Belgium born Pierre Neuville, is indeed the elder statesman at the table. His more than $3 million in tournament earnings stand as a testament to his poker playing skill, which he has honed since starting to play in 1957. Neuville has only recently taken up poker on a regular basis since retiring as an executive for the European division of Hasbro, a position that prohibited him from playing poker. Neuville's resume includes creating the board game Eddy Merckx and a European poker Lifetime achievement award. In an interview in 2013 Neuville said "I want to proof to the senior players among us that our potential has no limits whatever our age. It is time that we get rid of that age complex." Neuville will start play fourth in chips and is line to become the oldest WSOP Main Event champion in history.
Neil Blumenfield – Blumenfield started playing poker seriously after a long career in the software industry. The 61 year old Californian is the recently retired President, Chief Operating Officer and a Director of Elastic Intelligence, Inc., but has found plenty of time to play poker and regularly plays in the WSOP and other events such as the Heartland Poker Tour. Blumenfield, whose previous tournament earning total slightly over $100,000, saying that the 2015 WSOP is the "time in my life," and that he plans to relax in France before returning to Las Vegas to contend for the title.
The November 9 returns to Las Vegas to battle it out on the felt on November 8. Who will you be rooting for?
---
Curate Boutique is Baaaaack!
08/18/15
By now, you probably know my love for Curate Boutique and Courtney the owner. I was so proud to see her open her store and then so sad to see it close a couple short years later. But a lot changed in that time – even I started to do a ton of my shopping online, and I always resisted it because I know shopping local is so important.
But with a baby on board, being on bed rest, and then confined to the house with a newborn over the past couple of years, my time spent in brick-and-mortar stores (clothing and otherwise) is becoming less and less. I'm even doing my grocery shopping online now!
But enough about me… the big news here is that CURATE BOUTIQUE ONLINE IS NOW OPEN! (insert dancing lady and celebration blowhorn emoji!!!) Click here to check it out for yourself! Lots of awesome summer stuff on clearance, and tons of new fall arrivals… all from the comfort of home.
---
Back to School Mini-Sessions at Spotted Goose
08/16/15
It's funny how things change when you become a mom. Pre-Lola, my Instagram feed was all world traveling style bloggers. I still have them too, but now I follow kids clothing designers, boutiques and mommy bloggers. One of those kids clothing boutiques that I now follow is Spotted Goose in Oakley. They always post the cutest outfit ideas and just posted this event that's coming up! What a great idea â€" because everyone knows that school pics never turn out well. This is a way to get lots of cute pics of your little one as they head back to another year of school! More details on their Instagram feed! https://instagram.com/p/6ajK-WSheN/
---
End of Summer Weekend Celebration at Krohn, Aug. 22-23
08/12/15
"END OF SUMMER" WEEKEND CELEBRATION AT KROHN CONSERVATORY Saturday, August 22 and Sunday August 23
Bonsai Show
Presented by the Greater Cincinnati Bonsai Society
Saturday, August 22 and Sunday, August 23 • 10 am - 5 pm
See hundreds of bonsai brought to Krohn only for this special weekend. Meet the experts and learn about the techniques for creating and caring for bonsai. Special event included in price of admission.
Krohn Conservatory "End of Summer" Celebration
Sunday, August 23 • 11 am - 3 pm (Special Event Hrs.)
Come to Krohn for a great day of music and nature in beautiful Eden Park as we say good-by to summer! Pack a picnic lunch
or purchase lunch from one of the many food trucks that will be at Krohn Conservatory. Special event included in price of admission.
• LIVE MUSIC with GIGITY • Noon - 1:45 pm
• CRAFT VENDORS ON THE LAWN Soaps • Lotions • Honey •Jewelry
Paper Flowers • Pinwheels •Corn Hole Bean Bags • BEER VENDOR
• FOOD TRUCKS • 11 am - 2 pm
Urban Grill • StreetPops • Andy's Mediterranean Lyric-Food that Rocks • Wake and Bake Breakfast
---
BRIDEface Back to School Charity Bash!
08/10/15
Why should kids get all the fun of fresh new supplies? Come enjoy mini makeup lessons, mimosas, and support Crayons 2 Computers at BRIDEface's back to school charity bash! 20% of all sales will be donated to help teachers stock their classrooms!
When: Aug. 13 10am-1pm
Where: BRIDEface â€" 2009 Elm St, Cincinnati, Ohio 45202
---
PORTALUCA Exclusive Summer Sale
08/07/15
PORTALUCA (the boutique that benefits Dress for Success Cincinnati) is having its Exclusive Summer Sale Aug. 10-15 where you can snag summer merchandise for 75%. Great cause AND great deals!
---
Fashion Meets Music Festival
08/05/15
The Fashion Meets Music Festival is coming up soon (Sept 5-6) and they just announced their its final schedule of artists. They asked me to participate in their panel so I'm honored to be a part of this year's event! Check out our story in Cincy Chic about last year's event and check out the press release below about this year's event!
FASHION MEETS MUSIC FESTIVAL ANNOUNCES 2015 LINEUP & AFTER PARTY SCHEDULE, FESTIVAL EXPERIENCE PARTNERS, AND MORE
COLUMBUS, OH – (August 5, 2015) – The Fashion Meets Music Festival (FMMF) today announced its 2015 lineup schedule, outlining set times for each performer and designer, and the stages upon which they will be performing over the course of the event. Final additions to the existing music lineup will be Marc Scibilia, Let It Happen and Swell Tides. Additions to the lineup of fashion designers and brands include ModCloth, Joshua Christensen, Kendra Thomas and Carry Me Forward. FMMF returns to the Arena District in Columbus, OH, this Labor Day Weekend, September 5 and 6, 2015. Tickets are currently available for purchase online via TicketFly at: http://www.ticketfly.com/org/4565. For full lineup information, please visit the FMMF website here:http://www.fmmf.us/line-up-2015
This year's Festival will be a two-day event spanning Saturday, September 5 through Sunday, September 6, with After Party events taking place at Park Street Complex starting Friday, September 4 and running through Sunday, September 6. The After Party lineup initial announcement includes CHON with special guests Narrow/Arrow & Playing To Vapors on Sunday evening and several more to be released. General admission tickets are available for $59.99 for a single-day pass and $99.99 for a two-day pass. VIP tickets cost $109.99 for a single-day pass and $189.99 for a two-day pass. Children ages 10 and under will be admitted for free with a ticketed adult.
In addition to music and fashion, a strong emphasis has been placed on the consumer experience at this year's festival. Columbus' own food trucks such as PaddyWagon, Kinetic, Cupzilla, Donatos and many more that will be present this year, joined by familiar restaurants such as Dick's Last Resort, Native Cold Press, Graeter's Ice Cream, and Steak Escape. The festival footprint will also be transformed into a streetscape of beverage selections, ranging from Stella Artois, Bud Light and Goose Island brands, to OYO, Watershed, Camelot Cellars, Jagermeister, American Harvest Vodka and Casamigos Tequila. The shopping experience at this year's festival will be second to none with partners including ModCloth, Patrick T Cooper Swimwear, Michael Drummond, Carry Me Forward featuring Seagull Messenger Bags, Jamie Seel, Shop the Black Alley, The Boutique Truck, rockEVERYwear Apparel, Bend Active and Traxler Tees (official merchandiser of FMMF). This year's experience will be rounded out by sponsored social areas where you can rest and relax between artist performances and designer runway shows.
Last year, FMMF launched the philanthropic arm of the festival, The Fusion Foundation. This year, The Fusion Foundation has curated the Fusion Forum, to be held on August 12 at the Gateway Film Center. The Forum will feature an afternoon of discussion and education focused on 'making it' in the music & fashion business. Expert-led panels and speakers will inspire, educate, and empower the city's emerging and developed fashion and music artists. Tickets are $15 for general admission, and $10 for students. Scholarships are available for qualifying artists to attend for free. Starting at 5:00 PM, local fashion designers will be selling their wares at the FMMF Pop-Up Marketplace. Admission is free, and no item will exceed $100. For more information and tickets to the Forum please visit www.fusionfoundation.us. A portion of FMMF proceeds will support The Fusion Foundation (501c3), FMMF's philanthropy program designed to aid creative individuals and groups who support creatives pursuing their dreams.
"Our goal for FMMF 2015 is to bring music and fashion to life on a national stage, producing a community-based programming and destination-based entertainment platform in Columbus," said Melissa Dickson, Director of Communications for FMMF. "We are thrilled to announce the schedule of each day's events in both music and fashion. Columbus has such an impressive heritage in music and fashion, and we hope to celebrate that by bringing to the city as many different genres of music and fashion as possible."
The 2015 Festival would not be possible without FMMF's dedicated festival, media and community partners: Stella Artois, iheartradio, Jägermeister, 7-Up/Snapple, Donatos, Ricart Automotive Group, West Coast Chill, Uber, OYO/Middlewest Spirits, Watershed Distillery, Camelot Cellars, Studio Movie Grill, Aveda Institute of Columbus, Live Technologies, Sinclair Broadcasting, Columbus Alive!, Traxler Tees, Rural Action Zero Waste, Experience Columbus, Columbus Underground, Yelp!, WXCU Radio, Substream, Woodlands Productions, The Kitchen, Found Model Management, Columbus College of Art and Design (CCAD), Shadowbox, and many others.
For more information about FMMF 2015, please visit the website and follow FMMF on Facebook, Instagram and Twitter. Members of the media can submit for official press credentials online here:http://fmmf.us/press-application/.
About the Fashion Meets Music Festival
Created by a team of music and fashion insiders from Columbus, OH, the Fashion Meets Music Festival (FMMF) is the only festival in the country dedicated to the fusion of fashion and music. The Festival joins two loves into one celebration, elevating music and fashion to a shared experience featuring live performances, runway shows, unique activations, and more. On its journey, FMMF strives to identify Columbus as a national leader in music, fashion, dining, art and education, partnering with local brands and businesses to showcase the best of the city.
Website: http://fmmf.us/
Facebook: https://www.facebook.com/FMMFestival
Twitter: https://twitter.com/fmmfestival
Instagram: http://instagram.com/fmmfestival
---
---
---
Awesome Ohio Products at A Village Gift Shop in Glendale!
07/30/15
I love Ohio. More specifically, I love Cincinnati. I'm from the cornfields of Harrison, went to college in Oxford, and I even started a business with "Cincy" in the name! haha! So, when I find cool things to let me show my city pride (in a chic, non-cheesy way of course), I'm on it!
That's just one of the reasons why I love A Village Gift Shop in Glendale. I know, I know, you probably thinkI'm obsessed with this store (which is completely true). But I write about it so often, and all the cool things I find there because it never fails, whenever I wear something from there, I get several compliments and people always ask where I got it (check out a few of the pieces pictured that I've gotten there!)
But in addition to cute jewelry (and house wears like we wrote about in this week's feature story on Cincy Chic), they also carry a ton of great Ohio products.
The store went all out getting decorated (check out the pic!) for the All-Star games and have started to stock a ton of products to celebrate Ohio and the Cincinnati area.
Chart necklaces and bracelets are made in Maine and are wonderful maps of our hometown or the town your heart is in. Lots of people wear chart necklaces for the city or state their child now lives or that they love to vacation or grew up.
Cat Studio makes hometown-proud home goods! I have given to lots of my friends or family that have moved away. They love them! Kids love them too because there's so many fun things to look at and hidden gems to research and explore!
Rookwood Pottery is also a classic, Cincinnati favorite that's carried at A Village Gift Shop (they carry the tiles and vases). Tiles have scenes of Cincinnati and they even carry the Cincinnati reds tiles. Check out the pic below — even better check them out in person at the shop! (3 Village Sq Glendale, Ohio)
---
Paul Mitchell the School Cincinnati Attempting TWO World Records July 31
07/28/15
Paul Mitchell the School Cincinnati is hosting an event this Friday night at their campus in Sharonville, in attempts to break TWO Guinness World Records: Tallest Hairstyle and Hairstyle with the most drinking straws! By attempting these records they hope to raise money for many local and national non-profits (details below). Stop by and support them this Friday any time between 6-9PM at the school- 11956 Lebanon Rd Cincinnati, OH. $10 Adult $5 child entry fee for their charity efforts.
---
Two Upcoming Bridal Events!
07/27/15
I cannot believe that Pete and I are coming up on our SEVENTH wedding anniversary soon! It seriously seems like yesterday, but in reality I know it wasn't. Especially when I hear my younger friends (ack, that makes me sound old!) talk about using Pinterest to find all kinds of great ideas, and going to fun bridal shows to find the local vendors who will make their big day dreams come true.
Back in the day (yup, definitely old), there was no Pinterest and the bridal expos -- the one or two a year that existed -- were boring and held at the convention center downtown. So, all you ladies with wedding bells in your future, soak it in because this is a great time to be engaged! GO to these fun expos! GO with all your Pinterest boards created. Meet, greet and enjoy planning that super special day! Here are two expos coming up (one for all you gals up north closer to Dayton, and another one is downtown at the casino… yes, you can plan your wedding while visiting the casino… hey, win big and it'll pay for it! haha!)
Enjoy… Ya young whippersnappers!
---
#8or8 Pantene Beautiful Lengths Event Aug. 3!
07/26/15
8or8. That's the new theme of this year's Pantene Beautiful Lengths program, and I love it! It's easy -- just donate either $8 or 8" of your hair for the event coming up on Monday, August 3! The hair and monetary donations will be used to help create free real-hair wigs for women with cancer. A new non-profit fund has been created in partnership with the Greater Cincinnati Foundation in which 100% of monetary donations are used for wig-making: www.gcfdn.org/pantene. Learn more about the August 3 event below! Hope to see you there!
Pantene Beautiful Lengths 4th Annual Hair Donation EventMonday, August 3rd, 1-4:00PM
Procter & Gamble Tower Gardens -- 2 Procter & Gamble Plaza, Cincinnati, OH 45202
Donate $8 or 8" (#8or8) Challenge will be the Pantene Beautiful Lengths theme this year as P&G employees, family, friends and members of the Cincinnati community donate their ponytails and dollars to Pantene Beautiful Lengths on Monday, August 3rd. After the ceremonial cut, hair donors will be treated to finished cuts and styling by local hair professionals.
Fill out this form to apply:https://www.surveymonkey.com/r/PBL_2015
For more information on Pantene Beautiful Lengths, visit:www.Pantene.com/beautifullengths
Also, this just happened -- local Girl Scouts can actually now earn a Pantene Beautiful Lengths badge! Girl Scouts of Western Ohio just announced a new partnership with Pantene Beautiful Lengths to educate girls about hair, cancer, and community action. The goal of the Pantene Beautiful Lengths Girl Scout Patch program is to teach girls about healthy hair, inspire them to take action in their community, and show how much a generous and selfless act, such as a hair donation, can mean to a person in need. You can learn more about the new Badge:http://forgirls.girlscouts.org/home/badgeexplorer/
---
Baby Bodyguards = Best Idea EVER
07/20/15
I feel like I live in a completely different house now that my daughter is mobile. I look at every piece of furniture, edge, and light socket to see if Lola will either try to eat it, climb it, or accidentally split her head open on it. And, unfortunately, I don't realize which one of these options every.single.thing. in our house will be until Lola goes ahead and shows me.
That's why I felt like the skies parted, rays of sunshine poured out, and angels started singing when I learned about Baby Bodyguards. They are literally just that — bodyguards for your baby — providing safety services for families with babies and small children. This includes home babyproofing, certified car seat installation, and in-home CPR classes.
Parents have enough to do without worrying about how safe their home environment is. They just come in, walk through the home with the parent, and install any necessary devices.
I told them what their goals are when they come into a house and they said these three things:
Safety without too many restrictions. Kids should be free to explore, learn, and have fun. It's their home, too.
Education. It's not just about installing safety equipment; we teach parents about what to watch out for and how they can easily identify and remove potential hazards. Every aspect of our service includes teaching parents new skills.
Thoroughness. We know what small children are likely to get into, and we know how to take care of the things that are threats. Putting in a few outlet covers or cabinet latches is a false sense of security. We don't want parents to say "I wish I had known about this danger" after an accident happens.
The owners of the business credit their son for being their inspiration. But he's not the crazy, increasingly-mobile toddler you're probably envisioning. Dylan Weidlich (their son) was going to school in Chicago and became an EMT for Loyola University. He began working with several Chicago firefighters–providing CPR classes for expectant parents, becoming certified and installing car seats, and consulting with Chicago Children's Hospital on car seats for post-operative children and children with other special needs. When he returned to Cincinnati, he wanted to continue working with families on safety issues. Dylan's mom and dad joined him, and they found a family in Brooklyn that was doing this work as Baby Bodyguards. This Cincinnati-based business became their first location outside of New York City.
To learn more about them, visit www.babybodyguards.com and/or like them on Facebook at Baby Bodyguards of SW Ohio. Lots of great info â€" and new moms and grandparents (or friends and family, this is a great gift idea!) definitely look into this! Such an amazing idea if you have a little one who's more mobile every day!
I'd write more but I have a crazy toddler to catch! haha!
---
Behind the Scenes at Wild Hare Salon
07/19/15
I always love telling the stories behind why an entrepreneur started their business — that's one of the reasons why I started MY business, Cincy Chic! haha!
I recently had a chance to chat with Holly Grove, owner of Wild Hare Salon, about her story!
She opened the doors of her salon in Montgomery six years ago, and she and her staff have been a staple for hundreds of Cincinnati gals (including several of my friends!) ever since. Today they offer a laundry list of salon/spa services, like full cut and color, a manicure-pedicure, facial, spray tan, or even up-dos for an entire wedding party!
With decades of industry experience (without giving away their ages, of course! haha!), Holly and her staff have experience working at several large salons, but they like the win-win of being in an intimate environment of a smaller salon, but still staying on the cutting edge (literally!) with continuous education to continue to refine their craft.
Another thing I love is that all of the salon's hair stylists are Aveda-certified (have you SMELLED Aveda products… so yum!). And, as you probably know Aveda products are all good for you and the environment, and that's important because The Wild Hare Salon has a passion for healthy, natural options. In fact, this is the only salon in the area that offers Intelligent Nutrients certified organic products.
They're located at 9465 Loveland Madeira Rd, Cincinnati, OH 45242. Give them a call at (513) 791-2133. Mention Cincy Chic and receive $10 off a manicure or pedicure, or $15 off a cut and color. WOOT!
---
Victory Weightloss and Wellness
07/18/15
Tired, overweight, and feeling like you've lost your mojo? No one understands more than Dr. Magdalena Kerschner, a board certified Anesthesiologist and board certified Interventional Pain specialist. She understands because she's been there.
I recently had the opportunity to sit down with her for this story and video interview on Cincy Chic, and I learned a TON about the doc, her business, and why she's so passionate about helping others.
Dr. Kerschner completed her medical school education, at Wayne State University School of Medicine in Detroit Michigan and subsequent anesthesiology residency at the University of Kentucky in Lexington, KY.
After many years of practicing traditional medicine and treating illness after it has already developed, Dr. Kerschner realized that preventing disease before it starts results in healthier and happier patients. That's what inspired her to launch her own business,Victory Weight Loss & Wellness.
"Through my own personal journey, I became very interested in the concept of prevention of illness through weight management and bio-identical hormone replacement therapies as a modern way to promote physical and emotional wellness," Dr. Kerschner explains. Today, through Victory Weight Loss & Wellness, she offers several services and programs for weight loss and bio-identical hormone replacement — for both men and women.
For weight loss, programs include a Prescription Drug Program, HCG Diet Program, Low Calorie Program and Modified Program, all physician-assisted and directed by Dr. Kerschner.
For the bio-identical hormone replacement, she prevents and treats not only the symptoms, but also the causes of hormonal imbalances in men and women. "By obtaining simple blood test, I know exactly which hormones to put back into your body to feel youthful again," Dr. Kerschner says. "There is a good reason for all the bio-identical hormone hype on Susanne Summers, Dr. Oz and Oprah: Results!"
Dr. Kerschner holds a certificate of training from Dr. Neal Rouzier – a nationally recognized authority in bio-identical hormone replacement therapies and preventive medicine as well as a certificate of training from Canyon Ranch Health and Wellness Program. Dr. Kerschner is a member of numerous medical societies including American Medical Association, American Society of Interventional Pain Physicians, Cincinnati Academy of Medicine, Ohio Medical Association, Academy for Anti-Aging medicine, and Society of Bariatric Physicians.
Victory Weight Loss & Wellness is located at 9600 Montgomery Rd. Cincinnati, OH 45242. To schedule an appointment, visitwww.victoryweightlossandwellness.com or call 513-936-3065. Watch the exclusive webcast below to learn more about Victory Weight Loss & Wellness as well as Dr. Kerschner's personal journey with hormone imbalance and bio-identical hormone replacement.
---
40% OFF Wolford Sale at La Silhouette!
07/07/15
La Silhouette in Madeira is having a big sale on Wolford now through July 14. I've written about my love for Wolford before — click here to read — it's one of my favorite brands! They fit so well and after a million washes, still looks as good as new! Check out details about the sale below!
---
Cincinnati Named Best Recreation City for 2015!
07/06/15
With July being National Park and Recreation Month and America's largest cities investing more than $6.4 billion on park and recreation in 2014, WalletHub conducted an in-depth analysis of
unset
---
---
Tonight's Programming
5 & 5:30pm Hot Bench

6 & 6:30pm Family Feud

7 & 7:30pm The Big Bang Theory

8 & 9pm Bones

10:00pm Local 12 News at 10 on Star64

10:30pm Mike & Molly

11:00pm Two and a Half Men



IE6 Float Fix