Amy's Backstage Blog
Hi! I'm Amy Scalia, co-host here at Star64! I'm starting a new blog for the station's website, and I couldn't be more excited about it!
I love to write… it's in my blood… my grandma was actually one of the first female newspaper reporters in Ohio! After falling in love with writing as a Harrison High School student, I went to Miami of Ohio on an English scholarship. I got a BA degree in Mass Communications with a specialty in electronic journalism.
When I'm not hosting for Star64, I'm running an online women's publication in town called Cincy Chic. I started it about five years ago, and it now has more than 22,000 subscribers! Check it out at cincychic.com.
I also love to run (I've run three marathons!), cook, garden, make jewelry and crafts, shop for shoes (it's an addiction), and play with my Vizsla "Dino." So, here on the blog, I plan to post a variety of useful info that'll range from yummy recipes and gardening tips, crafting ideas and inspirations, as well as fashion trends, sales and events going on you'll want to know about.
So, bookmark this page and check back often! I'll be posting at least once or twice a week!
---
Free Christmas Eve Dinner at Drop Inn Center
12/16/14
Giving back to others, especially those less fortunate... 'tis the reason for the season! My friend Nidhi with Elements Conference & Event Centre is doing just that. She is donating food for 250-300 people! She and her GM, Sales Team, Operating Team, Chef, and staff will be there serving! Food will be served 5:30-6:30 on Christmas Eve at the Drop Inn Center downtown. So, if you know of anyone who would enjoy this, please let them know!
---
Financial New Year's Resolution? Contact Roderick Gosa
12/15/14
You may not know this, but I also manage Cincinnati Profile, the male version of Cincy Chic! I just brought on a new finance columnist for the publication, Roderick Gosa, who is an Ameriprise Advisor. But I knew after first chatting with him that he was so much more.
I know a lot of people are making new years resolutions to get things in their life back on track, finances being one of them. So, I thought Id have you virtually meet Rod, so you can see what makes him so unique, and why I trust him to give great financial info to our readers.
Heres a little bit about him from his words
It is said that the average worker will have 7 careers in their professional lives. Well, o.k. then! I had that number beat by the time I turned 35. My career progression has been as follows; 1) Manager trainee at Kroger, 2) U.S. Navy, Supply Corps Officer, 3)Asst. Store manager, Kroger, 4)Asst. Wholesale Club manager, The Wholesale Club, 5) Asst. Store manager, Cub Foods, 6) General Manager in-training, Makro wholesale, 7) Produce Counselor, Supervalu Foods distributor, 8) Store Manager, Circuit City, 9) Store Manager, Best Buy, 10) Stock Broker, Morgan Stanley-Dean Witter, and for more than 16 years, 11) Financial Advisor, Ameriprise Financial (formerly American Express Financial Advisors).
The first half of my working life was spent exploring and then, finally, I was asked a question by one of my leaders that changed everything for me WDYWFY? What do you want for you? The question may sound simple enough but once you seriously consider it, and answer it truthfully, invariably it will force you to realize that a change may need to be made. It certainly did for me! I now begin every conversation with new potential clients with some version of this question. At Ameriprise, we help people plan for tomorrow so that they can live for today. Carpe diem!
For those who visit my offices in Mason, Ohio there is at least a 90% chance that you will hear jazz music playing when you enter.(The other 10%, Ill be listening to either classical Baroque or Southern blues music.) Not to disparage any of the other music genres (I am a fan of any music when it is played well) but Jazz is my favorite. When you visit my website you will notice that oftentimes I will mention the various jazz festivals that my wife, Anita, and I may plan to, or have already travelled to. It is not uncommon to repeatedly encounter many of my fellow jazz lovers at the same venues across the country. I have had the pleasure of meeting several national performers in our travels such as the late Dave Brubeck, three of the Marsalis brothers, Wynton, Branford and Delfeayo, Esperanza Spalding, Cecile McLorin Salvant, Gregory Porter and numerous regional and local entertainers. The jazz scene is truly a community.
As a denizen of any positive community, you want to do that which you can to help it thrive. So is my desire to be a positive influence in the Cincinnati Profile community. Click here to read last months Changing Your Money Mindset column and my Making the Most of Charitable Giving column that just published today! I trust that you will find these articles to be helpful and informative. If youd like to find out more about me and what I do or to request a complimentary initial consultation, please visit my website at www.ameripriseadvisors.com/roderick.l.gosa.
---
Special Get-Together? Use Elements!
12/12/14
Tis the Season for getting together with family and friends! If you're looking for somewhere special to host your event (without breaking the bank) or need some chic transportation to get you to your destination and arrive in style I have the gal for you! My friend Nidhi Bedi and her family run Elements Event & Conference Centre in Sharonville, and they've expanded their business over the years to have a limo business (with everything from limos, party bus and town cars) and also a lounge for smaller get-togethers.
So, I figured Id give you the heads up about them if you're looking for a last-minute place to host that company party, family festivity, shower, etc. The limo service is great too! I've hired them MULTIPLE times for my staff get-togethers we just used their party bus for our last one and it was so fun! We actually had more fun in the bus than at the restaurant we went to, so we grabbed a bottle of champagne and headed back to the bus and cranked up the tunes! haha! So fun!
---
Get Sweet on Cupcake Crazy
12/11/14
So, I attempted to get all Pinterest-y for Thanksgiving with cute little cupcakes that looked like turkeys.but they ended up looking like sick birds and nothing like the picture! haha! Definitely not cute enough to serve at Thanksgiving dinner (dont worry though I definitely still ate them after everyone left!)
But the moral of the story here is that I wished I would have saved the time/hassle/mess and just called my friends at Cupcake Crazy. Its a mom and her two daughters who own it and theyre all local gals. Weve used them before for Cincy Chic events, and theyre AWESOME to work with. You just tell them what youre thinking and show pics if you have them (THEIRS end up actually looking like the pictures! haha!)
But even though their name is Cupcake Crazy, they dont just do cupcakes. They do cakes, cake pops, custom cakes in all sizes, and cookies too. And I love how they take a theme (or even a logo) and run with it. and also cute stuff for baby showers, graduations, weddings and corporate parties, etc.
And holy smokes do they taste good! They actually just won first prize in the Cincinnati Chocolate Festival for their Double Chocolate Kahlua Crunch Cupcake! YUM!
On their Facebook page, Ive seen them post pics of the sweets they made with a Frozen, Thanksgiving, or Christmas theme! They even do Flying Pig Cake Pops that they trademarked this year! What a great idea to get a Pig runner as a reward for running or to help carb-load before! haha!
My hubby and I went gluten free a couple years ago, and I was happy to hear that they have GF options too, which is huge! I know from experience that baking with GF flour is super difficult to get right.
They have a ton of info and pics on their website . You can even shop online and even get nationwide shipping! They also have a great showroom thats one mile south of Kenwood Towne Center on the corner of Montgomery and Stewart with easy access off of 71.
Its been a big year for them, from what I see on Facebook. Theyve expanded over the past year, taking over about 2,000 square feet in addition to what they had, allowing them to be able to have space to do more!
To learn more, visit their website, like them on Facebook and they even have a google tour on their site as well to see inside the store!
---
Foodie Cincy... Best Gift Idea EVER!
12/10/14
I'm almost done shopping for everyone on my Christmas gift list, but there are always a few "already have EVERYTHING" types and I was at a loss for what to get them! I recently ran across Foodie Cincy at an event and fell in LOVE with the idea. Its basically a deck of cards (52 cards) and each card acts like a $10 gift certificate at a local restaurant when you spend the minimum purchase (usually $30, which you'd spend on a date night dinner anyway).
I thought it was a great gift to give people because even though its only $40 for the deck, its actually worth $520 if you think about it, and it also gets you out enjoying your fave restaurants, but also experiencing different restaurants you might not have tried otherwise. I grabbed one for myself too because Im always looking for new restaurants around town to check out, and Id love to save money while doing it!
---
Visit the Cincy Startup Shop on Dec. 20!
12/08/14
I'm always on the hunt for the most unique gifts throughout the holiday season. I think that we all get tired of giving and unwrapping underwear and socks for the holiday... Right? So, why not venture out and check out amazing and innovative products that are born and produced right here in Cincinnati?!
You have to attend the Cincy Startup Store on December 20, 2014! Featured companies include Frameri, PlusBlue Charging Services, kapture, Artfully Disheveled, GoSunStove, Petbrosia.com and Beluga Shave Co. These companies produce many things such as eye wear, sporting goods, pet supplies and more. Sponsors include The Brandery, CincyTech USA, Cintrifuse, and HCDC. Simple Space, at 16 E. 13th Street in Cincinnati will be providing the venue for this great pop-up shop!
Personally, I can't wait to shop from kapture electronics. The company produces audio-recording wristbands, saving things that you need to hear again! This will be an amazing gift for my dad and myself! See you there!
What?
Cincy Startup Shop
Where?
Simple Space, 16 E. 13th Street in Cincinnati, Ohio (45202)
When?
December 20, 2014
Written by Guest Blogger, Sydney Murdock
www.uncommonstylist.wordpress.com
Attachments:
---
Art on Vine- Fine Arts Showcase
12/08/14
Art on Vine, a boutique art fair organized by James Jenkins, will be showcasing Fine Arts, Hand Made goods, and Photography from 30 local artists! James Jenkins is also the owner of Photography for the People. This will be a great event to support local artists and to possibly snag great gifts for the holiday season for your friends and family. Make sure that you're there on Sunday, December 14th from 12- 7p.m at Rhinegeist Brewery Located at 1910 Elm Street. You won't want to miss this stellar event!
Attachments:
---
Alterations by Toni – Perfect for Weddings and Gift-Giving!
11/24/14
This weeks Black Friday officially kicks off gift-giving season, and the holidays get all the love birds fluttering about and getting engaged for wedding season in a few months! So, I thought I'd tell you my best kept secret for both Alterations by Toni.
First of all, they're the best in town. They have 10 seamstresses on staff, with more than 40 years of experience, so if you need ANYTHING altered, they're who I'd recommend, but especially for trusting someone with your wedding dress, Toni is the one to call! From pant hems to bridal gowns, they do it all: menswear, ladies wear, bridesmaids, mothers of bride/groom.
I love being a fan on their facebook page because they post before and afters of their bridal gown transformations. Like, if a daughter wants to wear her moms gown, but re-fashioned to look more up-to-date.
They have a full line of bridal services in addition to alterations: veils, handmade garters, monogrammed hankies, ring bearer pillows, gifts for bridesmaids/groomsmen, storage until the wedding day, preservation after the wedding, etc
Toni is also the one to call if you need anything monogrammed which is great for personalizing clothing, accessories (like handbags, scarves, robes, etc), Christmas gifts, or even gifts for your bridal party! They can monogram just about anything of yours, or they have items in-stock you can monogram too (like bath wraps, robes, cosmetic cases, jewelry cases, totes galore, tea towels, dinner napkins, coasters, baby onesies, bibs, bloomers, receiving blankets, etc). They have more than 50 monogram styles in every color imaginable, so you can customize it just the way you want it.
Oh, and the best part is that they have super fast turnaround for last minute emergencies (like me always waiting till the last minute to get a gift or alter that dress I need to wear in the wedding party! haha!)
---
Lighthouse Youth Services Happy Holidays Events
11/24/14
LIGHTHOUSE AND THE CINCINNATI BENGALS TEAM UP FOR #GIVINGTUESDAY
5TH ANNUAL SHARE ON THE SQUARE
We already have a day for giving thanks, and Black Friday and Cyber Monday for getting deals. Now we have #GivingTuesday, a day dedicated to giving back, the day you can join Lighthouse Youth Services Happy Holidays gift drive.
Lighthouse Youth Services, the Cincinnati Bengals & Q102
Share on the Square
Tuesday, December 2, 2014
11am-1pm
Fountain Square
Stop by, drop off a donation and enjoy a game of corn hole or an #unselfie with Bengals players Vincent Rey, Jayson DiManche, Marquis Flowers, Clark Harris and Emmanuel Lamur.
Q102s Brian Douglas will be broadcasting live during the event.
The Lighthouse Happy Holidays gift drive provides gifts for more than 2,000 local children, teenagers and young adults in need. The holiday season can be particularly difficult for them- for the children and youth who cant be with their families and for the families who are struggling each day to make ends meet. Their holiday wish lists include books, duffel bags, coats, sweatshirt hoodies, baby items and gift cards.
If you cant stop by Share on the Square, there are other easy ways you can help.
1. Sponsor a youth or family in need
2. Set up a Giving Tree
3. Make a monetary donation
Gifts can be dropped off at Lighthouse Youth Services, 401 E. McMillan Street, Monday - Friday from 9AM-5PM and Saturday, December 13 from 10AM-2PM. Please deliver all gifts unwrapped by December 13.
For more information about the Lighthouse Happy Holidays gift drive and the Holiday Wish List, visit www.lys.org or call (513) 487-7154.
About Lighthouse Youth Services
Lighthouse Youth Services provides a wide range of residential, educational, mental health support services for children, youth, and families. Since 1969 Lighthouse Youth Services has received national recognition as an innovator in services for families in crisis; housing for homeless teens; residential treatment for young people; education, counseling and training for youth and families. Lighthouse operates the areas only direct access around-the-clock crisis shelter for runaways and homeless youth and is the largest provider of foster care in Hamilton County. Lighthouse also operates the only state-supported private juvenile corrections program for serious juvenile felons, Lighthouse Youth Center at Paint Creek, serving youth from all over Ohio. Lighthouse Youth Services is funded in part by the City of Cincinnati, is a United Way Agency Partner, and is a Better Business Bureau Accredited Charity. For more information, visit ww.lys.org.
---
Mama Mimi's Donates to Ronald McDonald House
11/23/14
The slogan at Mama Mimis is Making Meals Matter. I love that because it means that I can pick up pizza on a busy night, pop it in the oven when I get home, and its ready by the time the table is set. Plus, it was made with fresh dough, sauces and veggies cut just that morning just the way Id prepare it at home if I had the time!
Well, Mama Mimis Take n Bake Pizza is also making meals matter for those in need. Once a month, they treat the families staying at the local Ronald McDonald House to an awesome meal.
I just love this because the last thing those families dealing with a sick child want to think about is cooking or spending the money to eat cruddy fast food yet again. So, the team at Mama Mimis prepares them a fresh, home-cooked meal, as if they were all sitting around the table at Grandmas house getting doted on and filled up until they all need elastic waistbands!
So, during this week of Thanksgiving, think about the businesses you support, and how they give back to your community. Make your dollars and meals matter in more ways than one! Check out Mama Mimis if you havent already, so you can feel good about what youre feeding your family, while also feeling good that youre supporting a business that helps families in need when they need it most.
To learn more about Mama Mimis, visit www.mamamimis.com. Also, click here to get an exclusive discount for Cincy Chic readers (free salad with any pizza when you sign up for their email list). Make sure you like them on Facebook and watch my exclusive webcast with Mama Mimis below!



---
Support Local Videographer in Viewster Online Film Festival!
11/17/14
A friend of mine who does all our videos for Cincy Chic (Shane at True Artists Studio) entered his work into the Viewster Online Film Festival. It's an international festival based out of Europe, 233 films were selected out of about 3,000 total and his was one of them! Click here to check out his video and vote for his to be the winner!
---
Attachments:
---
CRAVE Launches All New Menu!
unset
My faaaaavorite restaurant downtown is launching a new menu! Just thought I'd share the good news! Check it out!
-------
CRAVE RESTAURANT LAUNCHES ALL NEW MENU
Menu designed by Culinary Director Stewart Woodman and Cincinnati chef
CINCINNATI (November 14, 2014) " CRAVE Restaurant is launching the most ambitious seasonal update of its menu since opening in Cincinnati in 2012. Spearheaded by new Culinary Director, two time James Beard Award finalist, Stewart Woodman, in collaboration with David Miller, executive chef at CRAVE Cincinnati, the new menu features over 40 new items and represents a continued commitment to scratch cooking with fresh and locally sourced ingredients.
The diversity and quality of the CRAVE menu has always been our biggest asset, but as culinary trends have evolved so dramatically over the past few years, we recognized that it was time for a substantial update said CRAVE Founder and CEO, Kam Talebi. One of the biggest reasons for bringing on Stewart Woodman was his unmatched creativity and exceptional knowledge of flavors and ingredients.
Globally influenced newcomers to the menu include exciting dishes like; Muhammara, Grapefruit and Jicama Salad, Five Spice Barramundi, Lobster Linguine, and Duck Confit Flatbread. New ingredients and spices mirror those used in kitchens around the globe, including; gojuchang sauce, juniper mayo, harissa cilantro, sprouted almonds, poblano cream sauce, celery root puree, coconut jasmine rice, ancho chile mollases, and many other exotic flavors.
I was extremely excited to be given the challenge of heading up the re-reimaging of the menu at such a well-known and widely respected institution as CRAVE, said Woodman. CRAVE already had an incredibly talented and creative group of chefs. This new menu was truly a collaboration with ideas coming from all these chefs with wildly diverse backgrounds, which was conceptually a perfect fit for the menu diversity that CRAVE was built on. Everyone brought their own unique perspective, and the end result definitely delivers on CRAVEs commitment to fresh and vibrant cuisine.
The new menu launches with a new layout, making it easier to navigate the vast array of options. CRAVE will continue to maintain the integrity of its award-winning sushi program, staying committed to using only the highest quality, freshest ingredients.
To learn more about the menu development process, visit the blog http://blog.craveamerica.com/menu-collaboration/. To see more about whats happening at CRAVE Cincinnati, visit CRAVECincinnati.com.
---
Paint Your Own Pottery!
10/30/14
Last year I went to an event at Coffee Emporium downtown where you could paint pottery with a company called Star Glazers... they fire it in their kiln and then bring it back a week or so later for you to pick up. It was first of all super fun, and also so great to give such a personalized gift that people can use for a long time to come! Here's the scoop on this year's Star Glazers pre-holiday pottery painting event:
Wednesday, Nov. 5 from 6:00-8:00 p.m.
Snyder House at Cottell Park
5847 Irwin Simpson Road
Mason, OH 45040
All ages welcome. Children must be accompanied by adult.
Variety of pieces available from $7 - $36. Cash or check only please. $2 non-resident studio fee.
Finished pieces will be available to pick up at the Deerfield Township offices 2 weeks after the event.
RSVP by e-mailing Ann Flynn at starglazers@gmail.com or calling 513-474-6364
---
Mama Mimi's Gluten Free Options!
10/29/14
Ok, excuse me while I just obsess for a minute about Mama Mimi's. I wrote a little blurb about them in Cincy Chic in September right after our little Lola was born, talking about how great the "take and bake" concept is. I love that they have all fresh ingredients and take the time to make it how I'd make it at home ...you know, if I didn't have a newborn to feed, diapers to change, work to stay on top of, yadda yadda.
Well, I should also mention that their gluten free dough is the bomb dot com. I was talking with a couple of my other friends who recently went gluten free, and they mentioned something about how they're pretty much carb free too because all the GF breads and pizza doughs taste like cardboard and fall to pieces the second you touch them. Yes, thats true for MOST of the GF stuff I've tried, but honestly Mama Mimi's somehow has a magical recipe because their dough doesn't do that. Its the first time since going gluten free two years ago that we've been able to actually enjoy a pizza!
My friend ended up just trying the GF option at Mama Mimi's and told me that she's now obsessed too, so I figured I should write about it to tell anyone else who might be searching for a good GF pizza like we did. I know there are a lot of mamas transitioning their family to gluten free diets, so this is a great way to do that without them knowing! haha!
And for those of you dealing with an actual allergy to gluten, you can have this too! Mama Mimi's works with a Columbus-based third party source who makes the Gluten Free dough in an all-organic kitchen thats certified to be Gluten Free by the GFCO, to avoid cross contamination. In addition, Mama Mimi's uses designated gluten-free sauces, utensils and containers.
The Gluten Free dough option is available in the medium size, which is 12 inches in diameter. As for toppings, Mama Mimi's has more than 40 fresh toppings that can be added to the Gluten Free pizzas. There are only a handful of toppings and ingredients that do have gluten at Mama Mimi's. Those ingredients are: Bleu Cheese, Sausage, Meatballs, and White Sauce (Creamy Roasted Garlic Alfredo).
In addition to pizzas, Mama Mimi's also has an AMAAAAAZING salad menu. Mama Mimi's makes all of their dressings from scratch, too. Just beware of the croutons on the Caesar salad obviously not gluten free but the rest of the salads are free of gluten.
Visit www.mamamimis.com for more information and watch the exclusive webcast I did with Mama Mimi's below to learn more about their Gluten Free options!

---
Buy Something Beautiful…for Your Sister Fundraising Event!
10/29/14
In January this year, we wrote a story in Cincy Chic about The Sister Accord (click here to read it) and the local jewelry designer, Lisa Robin Jewelry, who was inspired to launch a new line of jewelry for it! Ever since then, I've been keeping up with The Sister Accord and wanting to get involved!
In a nutshell, The Sister Accord works with girls and young women to build healthy relationships to eradicate bullying and violence. As a new mom to a little girl, I couldn't be more proud of what they're doing for the community and our little ladies in particular.
So, when Sonia, the founder of The Sister Accord, needed our help to get the word out about her upcoming Buy Something Beautiful... for Your Sister Fundraising Event, I jumped at the chance! Its on Nov. 9 at Macy's downtown and there are LOTS of perks for attendees (including a 25% store-wide discount!!!). Plus its for a really great cause. You can click here to RSVP for the event and go towww.thesisteraccord.com to learn more about this AMAZING organization doing such great things for our next generation!
---
A Bride's Mafia Afterhours Bridal Show at Music Hall Nov. 19!
10/29/14
A Bride's Mafia has its third annual Afterhours Bridal Show coming up at Music Hall November 19th from 6-9pm! Afterhours Bridal Show isn't your typical (and boring) wedding expo event! They have lots of fun, interactive, and relaxed ways to find the wedding vendors who are perfect for you! Click here to read the story we did on my friend Nidhi who's behind it all! The last four Afterhours Shows have brought in more than 2,000 people in three hours, so they're pretty amazing!
At the event, brides, grooms, and their families will be able to meet and greet with 75 of Cincinnati's best wedding vendors. You can preview the latest wedding trends and find everything you need under one roof to make your special day perfect, from the moment you get engaged to the time you walk down the aisle! While you're there, make sure you stop by the pampering room, in which brides and their guests receive complimentary hair and makeup applications!
The best part about Afterhours is that admission is FREE! (my favorite price! haha!) Cincy Chic will have a booth there, too! Well be giving away a salon gift certificate to one lucky lady who visits our booth, so definitely stop by and see us! Hope to see you there! Its one show you will not want to miss! RSVP here!
---
Shop Bellevue! Turkey Jam
10/28/14
The Merchants of Fairfield Avenue Open their Doors to the Sound of Music
Turkey Jam
Shop Bellevue!
Friday, November 7
6 to 9 pm
200 to 700 blocks of historic Fairfield Avenue
Admission Free
Donations of canned goods will be appreciated for a local food pantry
Take note, a musical note. Bellevue Renaissance is hosting at least a dozen musical acts to fill your next first Friday, Shop Bellevue! experience with the sound of music. Tap your toe, get up and dance, or simply lean back and enjoy the talent of musicians from the region while visiting our selection of independently owned shops, restaurants, and service businesses. You'll hear it all in Bellevue: blue grass, rock, blues, country, folk, gospel, jazz, Celtic, and indie rock...
Here's a sampling of the artists you'll hear:
Singer and songwriter Sally Hammitt will be performing at the Elusive Cow located at 519 Fairfield Avenue
The Bourbon Brothers duo will rock in the rear Zen garden located behind Treasure Cellar at 334 Fairfield Avenue
Singer and guitarist Andrew Ollberding will perform at A New Look Salon at 617 Fairfield Avenue
Julia A. Royston singer, songwriter, and poet will perform gospel and spirituals at Le Sorelle located at 336 Fairfield Avenue
Country and folk duo, The Dishes, will perform at Farmhouse Primitives located at 400 Fairfield Avenue.
Rockers, Sweet and the Sweet Sweets, will be found under the marquee of the Marianne Theater located at 609 Fairfield Avenue.
In addition to the usual Shop Bellevue! fun highlighted with some serious jamming, we hope you'll join our businesses in giving thanks by helping others this Thanksgiving season. During the Turkey Jam the participating businesses will begin hosting their annual November Giving Thanks food collection for those in need. Please bring non-perishable food items and toiletries to Shop Bellevue! and drop them off at any of the businesses. All the items will be gathered and donated to a local food pantry.
More photographs and information can be found on the event Facebook page, The 2014 Turkey Jam.
---
TOWNESCAPES: Dreamscapes Winter Sale Event this Saturday!
10/27/14
A friend of mine is a landscaper and one of the interesting things he told me one time is that the fall is the best time to do your landscaping and yard projects. Apparently, for the professionals doing the work, Spring and Summer are the busiest times of the year for them, so youre typically not going to be able to get your project done immediately or youll pay top dollar to get it done with a quick turn-around. And if its something that needs to be done in Spring (i.e., based on when its ideal for plants to be planted), getting you on the books in Fall will make sure your project is one of the first to be completed when Spring rolls around.So, Ive been thinking about doing a few things to spruce up our back yard, and I want to get started on the planning process this Fall. Thats why I was excited to learn about this Dreamscapes Winter Sale Event that TOWNESCAPES is having this Saturday! I thought Id share! Looks like a fun event! All the details are below!
---
One-Day Golf Clinics at Lindale!
10/27/14
We recently did a story in Cincy Chic about Lindale Golf Course and her Golf Academy (click here to read it).
My friend Missy owns Lindale and she offers these one-day golf clinics too, which I think are AWESOME, especially for someone like me who has never picked up a club outside of high school gym class but want to because of the sheer business opportunity of it! Not to mention being able to play golf with my hubby, or with my parents who live on a golf course!
So, starting this week, Missy is going to be hosting some clinics to get beginners up to speed on the basics of golf Then, if youd like to learn even more, you can attend the Golf Academy that we covered a few weeks ago! Click here to learn more and buy your tickets!
---
Gourmet du Village at A Village Gift Shop
10/07/14
I stopped in A Village Gift Shop the other day and found this great line of goodies called Gourmet du Village and I just had to share because it's perfect for fall and all those holiday get-togethers coming up!
Gourmet du Village is a gourmet gift food manufacturer. So, yummy dips, mixes, and seasonings as well as cute displays, warmers, chillers, tableware and bakeware. My favorite is the Bistro Brie Baker, and they have yummy cheese toppers too. Such a great alternative to a boring bottle of wine for a hostess gift!
Check out the webcast below as I chat with Ramona at A Village Gift Shop to learn more about Gourmet du Village, or go to A Village Gift Shop in Glendale to check them out for yourself! Cincy Chic is hosting a pre-holiday event there on Nov. 21, so click here to RSVP for it and we can shop together! Hope to see you there!
---
Tour for the Cure's Awesome October Giveaway
10/07/14
I had so much fun interviewing Jennifer Clayton with Tour for the Cure about their Awesome October Giveaway (appropriately named, because it is indeed awesome!). Their campaign kicks off today on their facebook page. So, see below for more info and click here to enter to win!
Cincy Chic: What is the Awesome October Giveaway?
Jennifer Clayton, representative for the Dearborn County, Indiana Tour for the Cure: The Awesome October Giveaway is a four-week contest that were running on our Tour for the Cure Facebook page. Basically the way it works is, every Tuesday starting Oct. 7, were going to be giving away a new prize pack with lots of great prizes each week. The contest starts on October 7 and runs through Nov. 3. Well be picking a winner each week, so 4 winners in all.
We have tons of great prizes to give away this year were really excited. For Week 1, weve got a $100 gift card to McCabes Greenhouse and Floral, which is a local garden center in Lawrenceburg, plus a Vera Bradley Campus Backpack in Pink Swirls, the breast cancer awareness pattern. Because Tour for the Cure benefits the Vera Bradley Foundation, we have a Vera Bradley prize component in each of our four giveaways.
Week 2 is also really fun its kind of a Girls Day Out theme. Weve got lunch for 4 at Whiskys Family Restaurant in Lawrenceburg, a fused class glass for four at The Framery, a tour for four at Hillforest Victorian House Museum, which is an 1855-era mansion located in Aurora, a $25 gift certificate to Beiersdorfer Orchard, and 4 Vera Bradley luggage tags in Pink Swirls.
Week 3s really kind of our pampering week it includes a $100 gift card to the Parlour of Aurora, a full-service salon and day spa located in Aurora, plus a Vera Bradley Shower Caddy in Pink Swirls.
Finally, for Week 4, were doing our biggest giveaway of the series, with overnight accommodations for two at Hollywood Casino Hotel in Lawrenceburg, dinner for two at the Final Cut Steakhouse, tour for two at Hillforest Victorian House Museum, and a Vera Bradley Snap-on iPhone Case in Pink Swirls.
Basically our goal for the contest is to get people aware of Tour for the Cure, who we are, what we do, what we support, etc.
Cincy Chic: What is the Tour for the Cure?
Clayton: Tour for the Cure is a travel incentive program thats run by the Dearborn County Convention, Visitor & Tourism Bureau in Southeast Indiana. We raise funds for the Vera Bradley Foundation for Breast Cancer, which is a major funder of breast cancer research.
The Foundation is a nonprofit foundation affiliated with Vera Bradley, the handbag maker, and they are a major funder of breast cancer research projects at Indiana University. And were really proud to say that 100% of Tour for the Cure donations benefit the Foundation.
Cincy Chic: Tell us a little more about Tour for the Cure
Clayton: Weve been operating for nearly 8 years, and since 2008 weve raised $47,000 for the Vera Bradley Foundation, which goes directly into breast cancer research. In addition to the Awesome October Giveaway, we offer overnight travel packages, day trips, luncheons, group tours and other special events like our Golf Day in June.
At Tour for the Cure, our motto is to Have Fun and Give Hope, and we feel like that really captures the spirit of what were all about. We want our visitors to come experience Southeast Indiana, have a great time, but know that at the end of the day, theyre making a difference in the fight against breast cancer.
You know, we all know so many women who have been affected by breast cancer. Theyre our mothers, theyre our sisters, theyre our neighbors, theyre our cousins, theyre our friends. And we feel like this is just one small way we can show our support.
The contest is going to be running on our Facebook page,www.facebook.com/tourfothecure, starting Oct. 7. And in order to participate, you do have to be 21 years of age or older. You also have to like our page and fill out the contest form each week to get entered. The contests will go live every Tuesday, and youll have until the following Monday night to enter. And its a pretty standard one entry per person per week. Four weeks of giveaways, including the following prize packs:
Week 1 McCabes Greenhouse & Floral & Vera Bradley Prize Pack October 7-13 $100 Gift Card to McCabes Greenhouse & Floral Vera Bradley Campus Backpack in Pink Swirls
Week 2 Girls Day Out & Vera Bradley Prize Pack October 14-20 Lunch for 4 at Whiskys Family Restaurant in Lawrenceburg Fused glass class for four at The Framery in Lawrenceburg Tour for four at Hillforest Victorian House Museum $25 gift certificate to Beiersdorfer Orchard 4 Vera Bradley luggage tags in Pink Swirls
Week 3 Parlour of Aurora & Vera Bradley Prize Pack October 21-27 $100 gift card to Parlour of Aurora Vera Bradley Shower Caddy in Pink Swirls
Week 4 Fall Along the Ohio River Scenic Byway & Vera Bradley Prize Pack October 28-November 3 Overnight accommodations for two at Hollywood Casino Hotel Dinner for two at Final Cut Steakhouse Tour for two at Hillforest Victorian House Museum Vera Bradley Snap-on Case for iPhone5 in Pink Swirls
Cincy Chic: Any stipulations?
Clayton: Its free to enter. Must be 21 years of age. For complete rules and entry form, visit www.facebook.com/tourfothecure.
Watch the exclusive webcast with Clayton to learn more.

---
Hidden Valley Fruit Farm
10/07/14
I visited the Hidden Valley Fruit Farm in Lebanon this week for Star64 at the Movies and had SO much fun! I've lived in Cincinnati my entire life and have never been there. Now that I've been, though, I'll definitely be back -- especially as our little one gets older! There are 42 acres of fruit orchards, which they sell in the barn on-site (talk about farm to table!). You can even take a hayride to pick your own apples and pumpkins. Plus they have a bakery where they make fresh apple pies, apple donuts, apple fritters, carmel apples, etc! They also have a little farm animal petting zoo area with chickens, goats and even llamas!! Definitely a place to check out -- especially in fall!
Attachments:
---
Saturday Night High School Rivals
10/07/14
I was a football cheerleader for 10 years, so when I was asked to cover the Saturday Night High School Rivals games on Star64 and Local 12, I of course said yes! (with spirit fingers!!!) So, make sure you tune in! We're live on Saturday nights now through Oct. 18!
Attachments:
---
Whitewater Valley Railroad
10/07/14
I had a fun day visiting the Whitewater Valley Railroad -- which you can catch in Connersville, then to Metamora and back. Such a beautiful time of year for it! Plus I got to meet President Lincoln who's going to make a special appearance on an upcoming train ride, talked to the conductor about their Fall Foliage trips, hung out with some cowboys in Metamora, and even got a sleigh bell in preparation for their Polar Express trains they're going to start running in November! So fun! :) Click here to like the Whitewater Valley Railroad Facebook page to learn more and see all the segments we taped!
Attachments:
---
Have a Heart for St. Jude
10/06/14
Ever since I worked the call center for St. Jude a couple years ago, I've become more aware of all the amazing fundraising efforts there are for this special hospital.
One of the most recent ones I've learned about is Lancome celebrating its 5th Annual Genifique Day with a special fundraising opportunity for St. Jude.
Just Instagram or Tweet your hands in the shape of a heart with the hashtag #LancomeGivesBack and Lancome will donate $1 to St. Jude (up to the $20,000 goal)! The campaign is going on now through Oct. 23.
Plus, for each Advanced Genifique Youth Activating Concentrate, Genifique Eye Light-Pearl and Genifique Yeux sold, Lancome will make a $7 donation to St. Jude Children's Research Hospital, which is leading the way the world understands, treats and defeats childhood cancer and other deadly diseases.
This year marks Lancome's 5th annual Genifique Day, a cause that since 2010 has raised over $1 million to date to benefit the St. Jude Children's Hospital. Like St. Jude, Lancome's Advanced Genifique technology is founded on breaking scientific barriers. The revolutionary formula reactivates the 10 key signs of youth, restoring skins vibrant smoothness, luminosity, and radiance in just seven days. For the fifth year, Lancome and celebrity makeup artist Mickey Williams invite you to do something beautiful.
---
Mama Mimi's: A Working Mama's Miracle!
10/06/14
Being a working mom (who's trying to lose a baby belly ... ack!), I want fresh and healthy food thats also quick, easy, and affordable. An impossible combo, right? I thought so too, until I discovered the amazingness that is Mama Mimis.
Mama Mimi's Take n Bake Pizza is the result of a young couples dream to help others achieve a balance of work and family. With other young families in mind, Jeff and Jodi Aufdencamp opened for business in 2000 with traditional values and family recipes, all centered around fresh, hand-picked, healthy ingredients. It provided a quick and delicious solution to the often rushed family dinner hour.
From that moment on, Mama Mimi's has built a loyal following of customers who refuse to compromise a quality meal for a high-paced lifestyle. Using many of the recipes straight from the cookbook of their Grandma Mimi, Mama Mimi's provides its customers with quality gourmet pizzas, pastas, calzones, lasagnas and salads that'll fill your home with the aroma of quality home cooking.
I married into an Italian family, where I quickly learned that food and time spent together were top on the priority list, so Mama Mimi's is perfect for us. I've been bringing home pizzas on my way home from work (they even have gluten free for my hubby who has a gluten allergy!) and I love it. I put my custom order in online, pick it up, throw it in the oven when I get home and its ready to eat by the time I set the table.
Its not oily, soggy pizza that you feel guilty about the next day. They make their own dough and sauces, use premium cheeses (not the greasy processed stuff) and cut all their veggies that morning. You know, all the things Pinterest inspires me to do, but I never have time for. Oh, and what I love most about it is that not having to spend all that time in the kitchen to make that healthy meal buys me more time with my family, which now with our new baby, is more precious than ever!
To learn more about Mama Mimi's, visit www.mamamimis.com. Click here to get an exclusive discount for Cincy Chic readers (free salad with any pizza when you sign up for their email list). Also, like them on Facebook and watch our exclusive webcast with Mama Mimis below.

---
Fall Style Trifecta at LouLou's
09/29/14
Well, I told you about LouLou's Boutique on the West Side rebranding a few weeks ago, and now, I'm officially obsessed.
The store now features a whole new, fresh and crisp look, with new fall styles to boot (no pun intended!). Nancy, the owner, is also welcoming in some new brands through trunk shows.
The one I'm SUPER excited about is the one they have coming up on October 12. Nancy is bringing in Chloe & Isabel jewelry, which I recently found out about and it's GORGEOUS! Also, Lur Apparel, which is locally based and eco-friendly! Click here to read the story we did on them earlier this year! Cincy Chic also did an Eco Fab fashion show with Lur Apparel last year click here to check out the highlight video of that show!
Below is a flyer for the trunk show so you can mark your calendar (and make room in your closet!) Click here to like LouLous on Facebook and learn more about the trunk show!
---
ArtWorks Invites You to "Ink Your Love" for Cincinnati on the MidPoint Midway
09/25/14
ArtWorks Invites You to Ink Your Love for Cincinnati on the MidPoint Midway
Cincinnati (September 25, 2014)" Once again, ArtWorks is teaming up with the MidPoint Music Festival (MPMF) to create the MidPoint Midway, a vibrant street festival in Over-the-Rhine. Sponsored by P&G, the Midway is located along 12th Street, between Vine and Walnut Streets, and will run concurrently with MPMF, from 5:00 PM " midnight on September 25, 26, and 27, 2014.
At this years Midway, ArtWorks will officially launch CincyInk, a city-wide celebration of love for the Queen City. Attendees will be invited to ink their love for Cincinnati through a range of interactive art-making experiences, including writing, drawing, screen-printing and more. At the ArtWorks CincyInk booth attendees are invited to write down their love for Cincinnati on postcards that will be used to create a crowd-sourced poem which celebrates the communitys love for Cincinnati. This poem will then be divided and inked on paper, on wall and on skin as an expression of love for the Queen City
What: Cincinnatians Called to Ink Their Love for the Queen City
When: September 25, 26 and 27th, 5pm to Midnight
Where: MidPoint Music Festival Midway, 12th Street from Vine to Walnut Streets, OTR
The Midway presents six art-inspired booths, featuring live skateboard ramps, interactive sculpture, short-order poetry, screenprinting, beer, food trucks, live music and much more.
For more information about ArtWorks CincyInk, please visit: ArtWorksCincinnati.org/CincyInk
---
Pumpkin Patch at Parky's Farm
09/24/14
Celebrate fall on the farm with Great Parksof Hamilton County
Hop on a hayride topick out the perfect pumpkin at Parkys Farm on Fridays October 10, 17 and 24from 10 a.m."2 p.m.
Children ages 2"8can learn all about the fall harvest as they check out the fall crops andexplore the patch to find a pumpkin to take home. They will also enjoy visitingwith the animals in the barnyard, taking a wagon ride through the woods andplaying inside Parkys Playbarn. Families can pack a lunch for an outdoorpicnic at the farm during the day.

Advance registration for Pumpkin Patch is recommended atgreatparks.org. The cost is $6 per child, which includes a pumpkin, and $2.50per adult. The cost for families paying the day of the program is $7 per childand $3 per adult.



Parkys Farm is located in Winton Woods at 10073 Daly Road,Cincinnati, Ohio 45231. A validGreat Parks of Hamilton County Motor Vehicle Permit ($10 annual; $3 daily) isrequired to enter the parks. Armleder and Fernbank Parks are cooperativeventures with the Cincinnati Park Board; a Motor Vehicle Permit is notrequired.
Attachments:
---
40+ and Fabulous? Attend 40′z Rock Event Sept 27!
09/23/14
Attention 40+ and fabulous ladies! There's a great event coming up this weekend! My friend Teresa, who owned Paris J Boutique when she lived in Cincinnati and just recently launched the STMT fashion line (its AMAZING! Click here to check it out!), is hosting this 40z Rock event this Saturday! It looks like so much fun!
She told me that its a worldwide organization and she's trying to get a Cincinnati group together with this event! So, if you'd like to meet and get inspired by the founder of 40z Rock, and other powerful women, this will be the place to be! Check out all the details below!
---
25th Anniversary of The Cincinnati Flower Show
09/23/14
25th Anniversary of The Cincinnati Flower Show
Friday, October 3, 2014
Cincinnati Memorial Hall
The Cincinnati Horticultural Society is celebrating the 25th Anniversary of the Cincinnati Flower Show with a special lecture presentation by two of Cincinnati's most loved and trusted gardening personalities, Ron Wilson and Rita Heikenfeld. This unique event also includes a continental breakfast and a guided tour of the architectural gem, Memorial Hall. Join us for this very special morning. Your attendance and support will help make our vision of a 2015 Flower Show a reality.
Continental Breakfast - 9:00 A.M.
Tour of Memorial Hall -Learn about the rich history and
extraordinary architecture of this Samuel Hannaford structure, considered to be the finest example of Beaux-Arts architectural style in Cincinnati.
Morning Lecture - 10:00 A.M. - Noon
"From the Garden Fork to the Kitchen Fork"
Featuring:
Ron Wilson, your Personal Yardboy, hosts the Saturday radio show "In the Garden with Ron Wilson" (airing locally on Cincinnati's 55KRC). He is Natorp's Nursery Marketing Manager and writes their weekly newsletter 'In the Garden'. With a Landscape/Horticulture degree from The Ohio State University Wilson believes, "If it grows in the ground, chances are it'll grow in a pot. Whether you're two or 92, container gardening affords us ALL the opportunity to do some type of gardening just about anywhere, anytime."
Rita Heikenfeld a world-renowned and internationally famous Certified Herbalist, is a local TV, radio and YouTube cooking and herbal expert. She is the author/co-author of multiple books and writes a column for Community Press papers and local publications. She is the original "Barefoot Gardener," a free range chicken farmer, and enjoys eating weeds from the woods, lawn, garden, and everyone else's yard (whether they're home or not). According to Rita, "One person's weed is another person's treasure."
Tickets - $45.00 each, click here to purchase online.
Memorial Hall
1225 Elm Street, Cincinnati, Ohio
Located next to Music Hall in Over-the-Rhine.
---
Cucinova Urban Italian to Open, Celebrates with FREE Day on Oct. 9!
09/23/14
Cucinova Urban Italian to Open in Cincinnati
Community to receive free pizza, pasta or salad during grand
opening celebration event on October 9, 2014
Cincinnati, OH " Cucinova, a new Italian fast casual restaurant, announced today that its first Cincinnati location will open Friday, October 3, 2014 at 11am. The 80 seat, 3,500 square foot restaurant is located at 8060 Montgomery Road in Kenwood.
Encouraging individual expression through culinary creativity, the Cucinova menu features create-your-own Neapolitan pizzas, along with customizable spaghettini pasta bowls and salads, all for only $6.99. The menu, inspired by the flavors of Italy, encourages inventiveness, asking guests, Whatll you create today?
Cincinnati has a great food scene, so it was the obvious choice for our newest Cucinova, said J. David Karam, the companys CEO. Were thrilled to bring our artisan pizza, pastas and salads to Kenwood.
Guests of Cucinova line up at a workstation to create their own masterpiece or choose from a chef-created specialty. Each artisan pizza starts with hand stretched dough, made from scratch every day. Guests will have their choice of more than 25 toppings to choose from, including fresh whole milk mozzarella and fire-roasted veggies. After ingredients are selected, artisans fire each pizza in a Wood Stone oven at a temperature of 700 degrees in three minutes or less. In addition to its customizable pizzas, pastas and salads, Cucinova will also offer domestic and craft beer and wine. Special happy hour pricing will also be available.
To celebrate its arrival in Cincinnati, Cucinova is inviting Tri-State residents to show off their culinary creativity for free with a grand opening celebration event on Thursday, October 9. All guests who visit the new Kenwood location between 11am and 8pm that day will receive a free Neapolitan pizza, spaghettini bowl or salad.
Cucinova will be open Monday " Thursday, 11am to 10pm, Friday & Saturday, 11am " 11pm and Sunday, 11am " 9pm. More information can be found on the companys website and social media channels.
# # #
About Cucinova Urban Italian:
Founded in 2013, Cucinova brings innovative Italian fast casual fare that celebrates individual expression through culinary creativity. Offerings like create-your-own Neapolitan pizza, customizable spaghettini pasta bowls and fresh salads are made from high quality ingredients inspired by the flavors of Italy. Cucinova is headquartered in Columbus, OH. For more information, visit www.cucinova.com.
---
Pop-Up Shop Opens at MidPoint Music Festival
09/23/14
Pop-Up Shop Opens at MPMF
FRCH Design Worldwide activates Rock N Roll Festival
Who: FRCH Design Worldwide, architectural powerhouse and creator of Framed at MidPoint
What: Framed at MidPoint, an interactive pop-up shop. FRCH has transformed OTRs Frameshop into a unique brand environment with a philanthropic twist that engages the public in a one-of-a-kind photo booth experience. Guests can Instagram themselves in the shop and use the hashtag #FRCHPopUp to connect with other festivalgoers. And for a $1.00 donation, the tagged photo is printed, with all proceeds of the shop going to the Music Resource Center, a center that empowers young adults through recording and performing arts.
When: Framed at MidPoint opens Thursday, September 25, 2014 at 7:00 p.m. and will be open during the hours of MPMF. The pop-up shop will be open through MPMF weekend. Media are invited to attend a soft opening on Wednesday, September 23 from 5:30 p.m. to 7:30 p.m.
Where: Framed at MidPoint is located at Frame Shop OTR, at 1317 Main St., Cincinnati, OH 45202.
Why: Framed at MidPoint is a passion project born of creativity, the spirit of collaboration, and a deep love for the community.
---
Martin Luther King III to Give Keynote Address at Health Gap Celebration
09/23/14
The local nonprofit is celebrating 10 years of working to reach equality in health
CINCINNATI, OH " The Center for Closing the Health Gap will be celebrating its 10 year anniversary on Thursday, September 25, 2014. The keynote speaker at the event will be Martin Luther King III.
Mr. King is a human and civil rights activist, global humanitarian, and political leader whose lifelong work has been to extend and expand the mission of his parents, renowned civil rights leaders Martin Luther King, Jr. and Coretta Scott King. He has spent extensive time promoting peace, addressing injustices nationally and abroad, and initiating policies, programs, and events that address inequities in health and education, amongst other things.
Martin Luther King Jr. made one of the most impactful comments about the importance of equality of healthcare, said Dwight Tillery, President and CEO of the Center for Closing the Health Gap. We are honored to have his son"who has done an outstanding job of continuing his legacy"come to Cincinnati to speak on the importance of the ongoing fight to end health disparities.
Who: The Center for Closing the Health Gap
What: The Center for Closing the Health Gap will host civil rights leader Martin Luther King, III as keynote speaker of its 10th Anniversary Celebration. The event is free but invite-only.
When: Thursday, September 25, 2014 at 5:30 pm
Where: Kingsgate Marriott, 151 Goodman Dr., Cincinnati, OH 45219
Why: Founded in 2004, the Health Gap is celebrating the strides it has made in improving the health of Cincinnatis most vulnerable populations.
About The Center for Closing the Health Gap in Greater Cincinnati
The Center for Closing the Health Gap in Greater Cincinnati promotes awareness about health disparities through education, training, advocacy and outreach activities for organizations and individuals in Greater Cincinnati. The Center maximizes collaborative opportunities by working with organizations, associations, health institutions and other stakeholders to promote health and disease prevention. The Centers goal is to improve the health status of the African American, Latino and Appalachian populations. For more information, visit www.ClosingTheHealthGap.org. Follow the Health Gap on Twitter @CCHGcincy or Facebook @CloseHealthGap.
---
Pure Romance Announces "Pure Business Casting Call" on October 1
09/22/14
Pure Romance Announces Pure Business Casting Call on October 1
Company to Help Launch 100 New Cincinnati-area Consultants with $200,000 local investment in staffing
CINCINNATI (September 24, 2014) " Looking to be your own boss? Perhaps start a part-time business in your spare time? Pure Romance, the nations leading and fastest growing woman-to-woman direct seller of relationship enhancement products, is looking to add 100 Cincinnati-area Consultants through a one-in-a-lifetime opportunity called Pure Business Casting Call on Wednesday, October 1.
Pure Business Casting Call is a one-day audition in front of the top management of Pure Romance. From this Casting Call, Pure Romance will choose up to 100 participants to be invited to start their own Pure Romance consultant business.
In addition, Pure Romance will give those chosen Pure Romance starter kits (a $250 value), up to $2,000 in inventory to get their business started and the unique opportunity of one-on-one sales training from Patty Brisben, the Founder and Chair of Pure Romance, and Chris Cicchinelli, Pure Romance CEO and President. All in all, Pure Romance is looking to make a $200,000 investment in recruiting new Consultants for its hometown market.
We are looking for the best and brightest sales staff in our home town of Cincinnati to become Pure Romance Consultants, and we want to make sure we give them every chance to succeed, said Cicchinelli. Thats why we want to give them the tools to start up right, including training from the founder of our company.
Those interested can download the on-line application at www.pureromance.com/PDFs/CastingCallEnrollmentForm.aspx.
Applicants should complete the application and bring it to the Pure Romance offices at 655 Plum Street, Cincinnati, on Wednesday, October 1 from 11 a.m. to 2 p.m. and again from 4 p.m. until 8 p.m. Staff will be available to help with the application process.
Applicants are also asked to bring a one-minute video on Why they want to be a Pure Romance Consultant saved on their phone to share during the interview process.
---
Ohhh I'm so excited fall is finally here and it actually FEELS like fall now too! But unfortunately, my skin is still feeling the effects of summer (and pregnancy!). So I was talking with my dermatology expert friend Rebecca Noss about whats good to do this time of year for your skin. She actually just went to a Rodan + Fields conference where she got all the latest and greatest info! She had some great insight and tips so I thought I'd share!
-Wear sunscreen at all times regardless if you have normal skin
-Be careful when using non-dermatologist/organic skincare products which don't have clinical data to show results
-Use a macro-exfoliator at home to keep the dead skin cells sloughed (cheaper than a spa treatment and use it only 5 minutes a week)
- Hydrate your skin from the outside in. As the weather gets crisper and drier, you may want to apply a light moisturizer more frequently OR switch to a heavier moisturizer and eye cream to keep skin well hydrated. Since it's the outside humidity that determines how dry your skin is not how much water you consume. if you're feeling dry, slather on that moisturizer. And since the humidity in your house should be kept at 50%, remember to turn on the humidifier.
On a personal note, I've been using the Rodan + Fields offers ESSENTIALS Moisturize with Melaslow product. Its a light-weight lotion that dries to a matte finish to help hydrate and lock in moisture. They also have a SOOTHE Sensitive Skin Treatment Ive been using that not only moisturizes skin but reduces redness, dryness, peeling and irritation in about five minutes.
I used Proactiv for years (even did commercials with them!), and now with my mature skin I've been using Rodan + Fields products (they're the same doctors behind Proactiv actually!). I recommend working with Rebecca Noss because she isn't just a R+F rep who just recently started learning about and selling skincare products. Her professional experience started in Dermatology Pharmaceuticals where she learned that products made by Dermatologists show evidence and clinical data that a product works. She eventually got tired of spending a second mortgage on her French skincare that claimed to work but didn't, and that's when she came across R&F.
She was having issues with brown spots in particular and started using their REVERSE line and then switched to the BEST Anti-aging skincare REDEFINE to treat her wrinkles and shrink the size of her pores. She said she was impressed with the line (and her skin truly glows) so she made the switch and also started selling it professionally. You can learn more about her and the products (and contact her too if you'd like) by visiting rebeccanoss.myrandf.com.
---
2014 Books by the Banks
09/10/14
Calling all my fellow bookworms! A great event is coming up on Oct. 11.
Books by the BanksCincinnati USA Book FestivalSaturday, October 11, 2014 10 a.m.-4 p.m.Duke Energy Center, 525 Elm St., Cincinnati, OH 45202http://booksbythebanks.org/
For the first time ever, Books by the Banks is giving you the opportunity to become a member of the newly-formed Book Festival Friends group. Become a Book Festival Friend by contributing as an individual or collectively with members of your Book Club. Click here to learn more about their levels of giving! Your support helps us create outstanding festivals year after year.
The Books by the Banks Kids Corner is bigger than ever for 2014! The newly expanded space will allow for even more great performers, storytimes, games and crafts. The Kids Corner has become a favorite year after year for families visiting Books by the Banks. Expect to see the popular Berenstain Bears, several library mascots, plus many storybook characters and other fun activities. Click here to learn about their Kids' Corner: http://booksbythebanks.org/kids-corner/Click here to see the authors who will be featured this year! http://booksbythebanks.org/authors/
---
Queen City Bike + Dine
09/09/14
Pedal into fall on the tenth edition of Queen City Bike + Dine starting 12:30 p.m. Saturday, Sept. 13 on Cincinnati's West Side. Ride your bike to Westwood Art Show at Westwood Town Hall for coffee and a quick air-brakes-chain check before departing on a bike tour of local restaurants in Westwood and Price Hill. Ride ends at Music in the Woods fesitval at Imago in Price Hill. Menu is suitable for vegans. Tickets ($25 plus processing fees) include food and drinks. Tips are encouraged at each stop. Proceeds benefit participating businesses, Westwood Now, Imago, and Queen City Bike. Tickets are non-refundable. Event is rain or shine. Helmets required.
---
LouLou's Boutique Open House This Weekend!
09/08/14
If you're a Westsider like me, you know that the women's fashion boutiques are few and far between in our neck of the woods. Thats why I was so excited to see LouLou's Boutique open. Click here to see my first blog about them!
LouLou's was a dream of the owner, Nancy, when she was in High School. Now, 25+ years later, its now a reality. The name of the store is inspired by Nancy's mom LouLou. She was a stylish mother of 7, who made looking great seem so easy. This is our mission at LouLou's, we want to make it easy for you to not only look great, but feel great in the clothes you are wearing, says Nancy. We are a lifestyle brand a brand you can rely on to not only fit but enhance your lifestyle. We carefully select the brands we believe will give you the most fashion for the money.
Nancy rebranded the store in 2010. She felt the itch for another refresh this year, so she revamped the store and is about to launch their new website too.
Working with our creative Director, Dustin Hubbs, we refreshed the entire shopping experience. It is based around the concept of New and Classic Lou, Nancy explains. The Classic Lou styles are the items everyone needs to build a great wardrobe foundation and we pair these with New edgier pieces its what we consider the perfect formula for style.
Its truly the best kept shopping secret on the West Side many of their brands you will ONLY find at LouLou's locally. They also carry items by local designers, like my friend Megan Fenno. Below are a few of their new arrivals that I cant wait to check out! I definitely recommend coming this weekend for their big Open House! Click here for all the details. Hope to see you there!
---
Beads of Courage Bead Challenge Returns to Brazee Street Studios
08/29/14
Beads of Courage Bead Challenge Returns to Brazee Street Studios
Tri-State area bead artists come together for marathon bead-making session in support of Childrens Hospital
WHAT: Beads of Courage Bead Challenge brings together local glass artists for a marathon glass bead-making session. Artists will fire up their flaming hot torches to create beads that will be given to Childrens Hospital patients as a way to recognize milestones in their treatment journey and to honor and acknowledge their courage.
Complimentary Activities:
Bead Making- Observe beads being made by skilled bead artists throughout the day
Tours " Tour Brazee Street Studios
Bead Sponsorship- Visitors can become a Bead Sponsor for a child in the Beads of Courage Program.
Courage Clips - Attendees can make courage clips to honor their own strength and courage.
Polymer Clay Bead Making Table- All ages welcome to participate in creating clay beads for patients enrolled in the Beads of Courage program.
Enter to win fun door prizes!
COST: The event is free and open to the public, with opportunities to support the Beads of Courage local program at Cincinnati Childrens Hospital by participating in the various activities noted above.
WHEN/WHERE: Saturday, September 20, 2014; 10am-4pm
Brazee Street Studios School of Glass, 4426 Brazee Street, Cincinnati OH 45209, 512-321-0206
WHY: The purpose of Bead Challenge is to invite the general public and families in the Beads of Courage Program at Cincinnati Childrens Hospital to come learn how their glass beads are made and to allow for six hours of bead-making that is vital to the success of the Beads of Courage program. The public and the children in the Beads of Courage program will be inspired by the creativity that goes into each bead they add to their collection.
WHO: Presented by Jewelry Television. Special thanks to Beads of Courage, The Dragonfly Foundation Cincinnati, Cincinnati Children's Hospital Medical Center, Bullseye Glass Co.
MORE INFORMATION! Please visit www.beadsofcourage.org or www.brazeestreetstudios.com for more information.
Mission of Beads of Courage, Inc.
The mission of Beads of Courage, Inc. is to provide innovative Arts-in-Medicine programs for children coping with serious illness, their families and healthcare providers who care for them. Since 2005, we have been working to transform the treatment experience for those coping with serious illness. We currently provide the Beads of Courage program to more than 150 hospitals in the United States, Canada, New Zealand, Japan, and the United Kingdom.
Through the Beads of Courage program, children are able to tell their story using colorful beads as meaningful symbols of courage in their unique treatment path. Each bead represents something painful or difficult, but also says, I did it! Beads of Courage, Inc. is proud to partner with the International Society of Glass Beadmakers to recognize milestones in their treatment journey with beautiful handmade glass beads given to honor and acknowledge their courage. Act of Courage beads are made possible through the generous donations of supporting Bead Artists. www.beadsofcourage.org
About Brazee Street Studios
Brazee Street Studios is an artist community housing over 25 professional artist studios, Brazee Street School of Glass, and gallery One One. Located in Oakley's growing arts district in Cincinnati, Ohio, Brazee Street School of Glass (SOG) provides quality education in kilnforming techniques and is a recognized Bullseye Glass Resource Center. SOG offers a range of classes for artists, adults, and children of all skill levels. Learn more online at www.brazeestreetstudios.com or http://www.facebook.com/brazeestreetstudios.
---
Arthritis Foundation MadTree Brewing Charity of the Month
08/27/14
As you all may know, my husband Pete has a severe case of Rheumatoid Arthritis and we're very involved with the local chapter of The Arthritis Foundation. Well, I'm here to share some good news that combines two of my great loves - The Arthritis Foundation and a cold one on a hot day! :)
The Arthritis Foundation has been chosen as the Charity of the Month at MadTree Brewing in Cincinnati for the month of September. During this time, donations will be collected in the grate above the bar " toss a buck " and will go towards the Arthritis Foundation and the 2014 Cincinnati Bone Bash on October 18.
The Arthritis Foundation will also be hosting a taproom event on September 17 starting at 7:00 PM. We encourage you to come out with friends and family to help support the Bone Bash!
Information to Share:
What: Charity of the Month
Where: MadTree Brewing - 5164 Kennedy Ave, Cincinnati, OH 45213
When: All of September! AND a taproom event on September 17, 2014 (7:00 PM)
Why: To support the Arthritis Foundation and the 2014 Cincinnati Bone Bash!
Follow @cincibonebash on Twitter for information and reminders during the month of September
---
Road Trips for Foodies
08/19/14
Ever since I've been preggo, and especially now that Im home with the baby a lot, I've been relaxing and watching more TV lately. I've noticed that there have been a TON of local restaurants recently featured on some of my fav foodie TV shows!
I know Guy Fieri just visited OTR for his Diners, Drive-Ins and Dives show and the Lachey brothers are opening an OTR bar on A&E but there are three hidden gems located about 20 minutes from downtown Cincinnati, just across the Ohio River in Dearborn County, Southeast Indiana, that have been featured recently too!
What I love about them is that they're not chains, not fast food, no celebrity backing them " they're just small businesses making fresh food their way.
Howie's Diner, Lawrenceburg
Family owned since 1961, stepping into Howie's Diner, you'll feel like you've stepped back into the 1950s. Fresh never frozen meats, homemade desserts, home cooking serving great food 24/7. Tucked away inside the Marathon gas station at Kennetts Truck Stop.
Try one of their breakfast specials, including a Howie's favorite, Hoosier Eggs Benedict: A scrambled egg and two sausage patties on a fresh biscuit topped with sausage gravy.
Got a big appetite? The Big Howie (named after the original owner, Howard Kennett), features two juicy beef patties and cheese with tartar sauce, lettuce, onions, tomato and pickles with fries and slaw.
Contact Info: Kennetts Truck Stop, US 50 & I-275, Lawrenceburg, IN 47250 (for GPS, its Greendale), 812-537-0313
Greystone Farm, Lawrenceburg
If you're a farm to table fan, you'll want to stock up at Greystone Farm. Thats because this family-owned farm offers everything you need to eat fresh, including high quality and locally-grown produce, farm-raised freezer beef and free-range whole chickens, brown eggs, honey, homegrown tomatoes, peppers, beans, zucchini, cucumbers, squash, melons, sweet corn and more. Located in a picturesque setting, its a great day trip for families and foodies alike.
Contact Info: 15412 Wilson Creek Road, Lawrenceburg, IN 47025, 812-926-2132. Open 6 days a week in Peak Season Tues-Sun (closed Mondays). Call or check their Facebook page for hours.
Great Crescent Brewery, Aurora
Kick back and relax in the spacious historic setting of Great Crescent Brewery and discover whats brewing in downtown Aurora. In the mid-19th century, the Gaff brothers of Aurora (one of whom owned the stately Hillforest) launched a beer-making enterprise they dubbed the Crescent Brewery, which over the next 16 years enjoyed a national presence, particularly in the South. Now, Great Crescent Brewery in downtown Aurora continues that tradition, with handcrafted beers and ales, house-smoked meat sandwiches, beer samplers and an on-site Artisan Center for shopping.
Whether you're in the mood for their classic Aurora Lager, local favorite Coconut Porter, or a rich and hearty stout, you'll find a large selection of artisanal beers on tap in the onsite Taproom. Tours of the brewery with the Great Crescent brewmaster can also be scheduled for a $5 per person fee.
Contact Info: 315 Importing Street, Aurora, IN 812-655-2435
---
Cincinnati's Top Female Chefs Come Together to Prepare Multi-course Dinner to Benefit the YWCA of Greater Cincinnati
08/14/14
On Sunday, August 24 Sleepy Bee Cafe will host, Showcase: Dinner for a Cause, a benefit dinner for the YWCA of Greater Cincinnati from 6:30-10:30pm. The multi-course dinner will feature seven courses prepared by some of Cincinnatis most talented female chefs, as well as art and entertainment from local female performers and artists.
Courses will be prepared by Sleepy Bees Chef Frances Kroner, as well as by Julie Francis (Nectar), Renee Schuler (eat well celebration and feasts), Suzanne Church (Metropole), Latoya Bridgeman (Jean Roberts Table), Suzy DeYoung (La Soupe), Rachel Grubbs DeRocher (Grateful Grahams), and Shalini Latour (Chocolats Latour).Cincinnatis Top Female Chefs Come Together to Prepare Multi-course Dinner to
Sleepy Bee Caf hosts Showcase: Dinner for a Cause
Benefit the YWCA of Greater Cincinnati
Oakley, OH " Sleepy Bee Caf is excited to host Showcase: Dinner for a Cause, a benefit dinner for the
YWCA of Greater Cincinnati, on Sunday, August 24, 2014 from 6:30-10:30pm. The multi-course dinner
will feature seven courses prepared by some of Cincinnatis most talented female chefs, as well as art
and entertainment from local female performers and artists.
Courses will be prepared by Sleepy Bees Chef Frances Kroner, as well as by Julie Francis (Nectar),
Renee Schuler (eat well celebration and feasts), Suzanne Church (Metropole), Latoya Bridgeman (Jean
Roberts Table), Suzy DeYoung (La Soupe), Rachel Grubbs DeRocher (Grateful Grahams), and Shalini
Latour (Chocolats Latour).
The benefit dinner is being held in conjunction with Brazee Street Studios Showcase: Female Artists
for a Cause. Sculptural centerpieces created for the dinner by artists including Pam Kravetz and Brenda
Tarbell, will be on display in Brazees gallery One One from August 8-23, 2014. Works will be auctioned
off during the dinner on August 24.
Proceeds from Showcase: Dinner for a Cause will support the YWCA of Greater Cincinnati, an
organization focused on eliminating racism, empowering women, and promoting peace, justice, freedom
and dignity for all.
Tickets for Showcase: Dinner for a Cause are $130 and can be purchased at www.sleepybeecafe.com.
Sleepy Bee Caf is located at 3098 Madison Road, Cincinnati, Ohio 45209. Additional information about
Showcase: Dinner for a Cause can be found on the events page at www.sleepybeecafe.com.
About Sleepy Bee Caf.
Sleepy Bee Caf is located at 3098 Madison Road in the heart of Oakley serving breakfast, lunch and
brunch daily. The restaurant is dedicated to serving locally sourced meals with a healthy, creative edge.
Sleepy Bee Caf is open Monday " Friday, 7am " 2:30pm, Saturday and Sunday, 8am " 3pm. For more
information, visit www.sleepybeecafe.com or call 513.533.BEEZ (2339).
---
'Forever Young' Art Opening at Redtree Gallery!
08/14/14
I always love going to mom-and-pop owned coffee shops instead of the chain coffee shops ... there's so much more character and I feel like I'm helping fellow local business owners. My FAVORITE Cincinnati coffee shop is Redtree Gallery in Oakley. They're my fav because their coffee and chai teas are the best hands-down I've had anywhere else, the owner is usually behind the counter and super friendly, and there's lots of hand-made gift items and art up on display (thus the "gallery" part of Redtree Gallery) Always something new to look at, and it sounds like their new exhibit is no exception. Can't wait to stop by and see it! :)
Forever Young (Youth Show) -
Art Opening at Redtree Gallery!
Join us for our first ever Under 18 youth art opening this Friday, August 8th from 6pm to 9pm! Our community is lucky to have so many talented young artists - we're impressed by their creativity and know you will be too!
Come and view amazing artwork, support our community's budding artists, and listen to live music by April Eight and the Folk Family Band. Bring the kids to enjoy lemonade and cookies while you admire our youth's creativity and get inspired. Hope to see you there!
Show runs August 4th - September 7th, 2014
---
Memorial Hall Announces 2013/2014 Signature Series Lineup
08/14/14
Lots of exciting stuff happening lately in OTR... so this announcement of new events at Memorial Hall is just the cherry on top! Sounds like a lot of fun! Hope to see you there!
Memorial Hall Announces 2014/2015 Signature SeriesExciting Lineup Promises Another Season of Live Music, the Arts, Libations and Local Cuisine - All Under One Roof! Cincinnati, OH " Where can you find Broadway, the Blues, or Country music all under one roof? Where can you sample Bordeaux wines, handcrafted local brews or participate in a tasting of Kentuckys finest Bourbon? Where else in town can you experience the best that Cincinnati has to offer in music, the arts and local cuisine? Look no further than Memorial Halls 2014/2015 Signature Series. Memorial Halls successful Signature Series is back by popular demand with a blockbuster array of three special evenings featuring live music, delicious fare and tempting libations. The ticket cost for each event is $47. We are excited to bring back the Signature Series for another season, said Teresa Summe-Haas, Executive Director of Memorial Hall. Last season the community embraced the Signature Series with sold-out crowds and rave reviews. Memorial Hall was the place to be for music, culture and fun, and were proud to kick-off another exciting season. Were confident that the 2014/2015 Signature Series will even surpass last years overwhelming success. The 2014/2015 season kicks-off on November 14 with Broadway and Bordeaux, featuring the Tony-Award winner and CCM Alumna Faith Prince singing beloved Broadway hits, including a show-stopping rendition of Adelaides Lament from Guys and Dolls. Before the show, guests will taste wines from the Bordeaux region and sample some of the best French-inspired lite-bites and desserts in town. Memorial Hall is such an important part of Cincinnatis history and the Signature Series has allowed us to share that history with a new generation of supporters. Weve opened our doors and have been amazed at the enthusiastic crowds that are breathing new life into this beloved architectural gem and landmark, said Bill Baumann, President of the Cincinnati Memorial Hall Society. The Signature Series will continue with Blues and Brews onJanuary 30 featuring Cincinnatis finest brews and the award-winning Ori Naftaly Band. This nationally acclaimed band is known for its updated soul/blues sound and plays to sold out audiences across the country and abroad. The third and final event in the series is Bourbon and Boots on April 24. The Cincinnati favorite promises to have crowds stomping as they sample Kentuckys best bourbon and dine on delectable fare from Elis Barbeque. Tickets may be purchased by calling 1-800-514-3849 or by visiting Memorial Halls website atwww.cincinnatimemorialhall.com About Memorial Hall Located in the historic Over-the-Rhine neighborhood and listed on the National Register of Historic Places, Memorial Hall is a magnificent Beaux Arts building designed by noted Cincinnati architect, Samuel Hannaford & Sons, and dedicated in 1908. It houses a beautiful, 600-seat performance hall with excellent acoustics and also contains reception and rehearsal rooms. The Hall is regularly used by a growing number of leading national and Cincinnati-based performing arts and music groups and is also used for meetings, weddings and other events. Memorial Hall, Music Hall and the School for Creative and Performing Arts are part of a world"class Arts District around Washington Park. The Trustees of the Memorial Hall Society manage Memorial Hall on behalf of Hamilton County, which owns the building.
---
Farmer's Market to Benefit Bellevue School District
08/13/14
Who doesn't love the taste of homegrown tomatoes, cucumbers, squash, blueberries, and raspberries or any other fresh fruits and vegetables right from a farmer's garden? You can almost smell the homemade breads, cakes, and cookies they'll have for purchase, and what about the jams and jellies freshly made in their kitchens, or purchasing just laid eggs? Scenario: Visionary organizer works with local farmers to form a Farmer's Market which supports children and you have a win-win situation for everyone! Dee Dee Butcher, owner of Circle of Hope Artisans LLC in Bellevue, KY, spearheaded the concept for the Farmer's Market which opens this Saturday, July 26, 2014, from 8 a.m. to 1 p.m. at 221 Fairfield Avenue in Bellevue, Kentucky.
Dee Dee is a local Bellevue entrepreneur and lifelong educator who understands the need to give back to the local community and help children. By organizing the opening of the Farmer's Market she is not only supporting local farmers, but the Bellevue School District. It's about working together to come full circle; the Farmer's Market will help support academic and extracurricular activities in the Bellevue School District.
The Farmer's Market will be open every Saturday at the Desmond Insurance Parking Lot (address above) through November 1, 2014. Stop by and shop to back your local farmers and the school district!About Dee Dee Butcher: Dee Dee Butcher is the owner of Circle of Hope Artisans LLC which is a unique retail boutique featuring local artisans with the sole purpose of raising money and giving back to the community. Dee Dee was also a Special Education Teacher in the school system for many years. At her shop, Circle of Hope Artisans, Dee Dee holds "AaBbCc-123 Round Table" times for children on Saturdays and Wednesdays where they have story time and do art projects. Dee Dee's shop is located at 223 Fairfield Avenue, Bellevue, KY 41073. Her website is http://CircleOfHopeArtisans.com. She can be contacted at (859) 414-1428.
---
The Arts Alliance Presents Shakespeare in the Park
08/13/14
At the end of July, my Cincy Chic team and I hosted our annual Wearable Art Fashion Show, and our beneficiary was The Arts Alliance, a 501c3 non-profit that ensures every child to have the opportunity to attend Summer Art Camps and art making events.
I just learned that the The Arts Alliance has some exciting news -- they're partnering up with Deerfield Township to present the Cincinnati Shakespeare Company's "A Midsummer Night's Dream"! Enjoy a lovely evening in Cottell Park, August 16th, for this free, family event. Family art making project will be from 6:00pm - 6:45pm. Performance will begin at 7:00pm.
Thought it sounded like LOTS of fun (we're big Shakespeare geeks at our house) so I thought I'd share! Hope to see you there!
---
I just got emailed about a program called "Reveal Your Dignity" that sounds interesting -- especially now that I'm a proud mama of a budding fashionista! :)
Reveal Your Dignity (RYD) is a character-based program designed to change the way young girls see themselves and the way they dress. The program offers industry experience to young women with an interest in a fashion industry career. RYD also allows opportunities to earn community service hours while participating.
Reveal Your Dignity is seeking young women to be trained as Junior Fashion Stylists. They will be educated by a team of Professional Fashion Stylists, and hosted by Lynnae Bussell, a well-known Image Consultant in Northern Kentucky. According to Lynnae Bussell, I am thrilled to bring this program to our community. I am working to partner with area schools, youth groups, teen programs and so on to get the word out about this upcoming workshop. The program seeks creative and talented high school and college students to learn Fashion Stylist skills, to become role models for middle and elementary school students, and to discover potential careers in the fashion industry " all while earning community service hours and experience.
This program provides each young women the opportunity to attend a live 3 hour training with the founder Shari Braendel on September 14, 2014 from 1-4PM. The event will be held at the Holiday Inn Cincinnati Airport location. 1717 Airport Exchange Blvd Erlanger KY 41018. The cost of the event is $279.00 which includes the 3 hours of live training, 10 months of continuing online education, fashion tools, training manual, and a stylish fashion tote. Plus the ongoing support of a professionally trained stylist in their area. For the Cincinnati area only there are 2 special payment options. A student may attend as a fashion under study for $49.00. They will not receive a fashion kit. The student can purchase the complete program at an early bird price of $199.00 thru Aug 30, 2014. Click here to learn more.
---
Manifest Presents Exhibition Showcases Regional Sculpture (Opens Aug. 15th)
08/08/14
REGIONAL SHOWCASE:
SCULPTURE
Works by 8 artists from Ohio, Kentucky, and Indiana

Opening Reception: Friday, August 15, 2014, 6-9pm
during Walk on Woodburn

Elizabeth Runyon

Main Gallery

Exhibit continues: August 16 - September 12, 2014
Facebook event (Opening): https://www.facebook.com/events/605122952933864/
THESE EXHIBITS CLOSE MANIFEST'S TENTH SEASON!
In its first nine seasons Manifest's projects included works by artists in 49 states and 37 countries. Starting with its 10th season, and as a result of our recent gallery expansion by 66%, Manifest launched a new ongoing series of exhibits focusing on works by artists living in its own three-state region.
This is intended to complement the ordinarily very wide geographical makeup of most Manifest exhibits with a closer look at what's being done here, now, in our own backyard.
Manifest was founded, and continues to be operated by regional artists, so it is only fitting that, with more space in which to program, the organization should offer the Regional Showcase series. We feel this is important for the artists and the public living within reasonable driving distance of the gallery. It will give each a chance to show and share, and to gain perspective on our region's creative wealth as it relates to the broader art world.
For this third in the series, which will change in theme and scope from show to show, we opted to survey the region for works of sculpture.
Manifest's several-member blind jury process reviewed 127 works by 54 artists. Nine works by the following 8 artists were selected for exhibition and will also be featured in the Manifest Exhibition Annual publication (MEA) at the close of the season.

Presenting works by:
Stefan Chinov
Dayton, Ohio
Mark Hanavan
Middletown, Ohio
Ben Lock
Bowling Green, Ohio
Elizabeth Runyon
Oxford, Ohio
Gary Schmitt
Indianapolis, Indiana
Hunter Stamps
Lexington, Kentucky
Travis Townsend
Lexington, Kentucky
Jason Tanner Young
Athens, Ohio

SELECTED HI-RES IMAGES (for press use):
https://www.dropbox.com/sh/f7oycvdu2mokx8u/AADTEPeh63nT3LXeobog2hDsa
This exhibit opening also serves as the open studio reception for the two new Manifest Artists in Residence, Taylor Woolwine and Christina Weaver.
---
General Info:

FREE PUBLIC ARTIST'S RECEPTION: Friday, August 15, 6-9 p.m.
Refreshments will be served, in-part sponsored by the Echo Restaurant
(this will be the 83rd Manifest reception featuring Echo Restaurant fare!)

WALK ON WOODBURN - CINCINNATI'S INSTANT ARTS DISTRICT!: visit galleries, shops, and restaurants all along Woodburn Avenue, all with special events and fare for the evening.
SAY HELLO TO TWO MANIFEST ARTISTS IN RESIDENCE (MAR): At every opening reception for the next year, the MAR space and new Resident Artists Christina Weaver and Taylor Wooline will be open for visits, discussion, and viewing of their recent and ongoing work in their one-year Manifest residencies. This will be the first chance for the public to meet these two artists, originally from Alabama and West Virginia respectively, as they launch their one-year programs with Manifest.
EXHIBIT RUNS THROUGH September 12

GALLERY HOURS (free admission): Tuesday through Friday 12 7:00 p.m., Sat. 12 5 p.m.
or by appointment for groups - school groups welcome and encouraged

LOCATION: 2727 Woodburn Avenue, Cincinnati, Ohio 45206
(Just south of Madison Rd. at DeSales Corner in East Walnut Hills.)
PARKING: On street and parking across the street in DeSales Business Parking Lot
CONTACT: Jason Franz, Manifest Executive Director at jason@manifestgallery.org
GALLERY PHONE: 513-861-3638
FOR MORE INFO: http://www.manifestgallery.org

A NEW HARDCOVER MANIFEST EXHIBITION ANNUAL PUBLICATION WILL DOCUMENT EVERY EXHIBIT OF THE SEASON: Members at the Craftsman or Artist level will have the option to get this large-format book for free. Pre-orders will begin soon! http://www.manifestgallery.org/manifestpress

JOIN MANIFEST: http://www.manifestgallery.org/support
---
2nd Thursday Networking Event at Hyde Park Keystone 4-7pm
08/08/14
If you're looking to make some new business leads, but don't want to waste your time at poorly attended events, I recommend checking out my friend Sheila's "2nd Thursdays."There's always a ton of people there from a variety of industries -- but since she's in real estate, there's especially a lot of attendees from that line of work. Looks like they're launching a new YP initiative as well with this event, so it'll have an even greater range of attendees. They're always free and they're all about networking (no sitting through boring speakers or emcees). Hope you can check it out next week!
Attachments:
---
Hillforest Fall Events
08/07/14
VICTORIAN HOUSE MUSEUM
~ A National Historic Landmark ~
213 Fifth Street P.O. Box 127 Aurora, Indiana 47001 (812) 926-0087
E-mail: hillforest@embarqmail.com Website: www.hillforest.org
Contact: Cindy Schuette, Director August 8, 2014
Quilts of Yesteryear Exhibit at Hillforest
September-October
Tour Hillforest Victorian House Museum and view on exhibit antique quilts from Hillforests private collection. Hillforest Museum is a National Historic Landmark located at 213 Fifth Street, Aurora and is open for tours Tuesday-Sunday from 1:00-5:00 p.m. For information call812-926-0087 or visit www.hillforest.org.
Thursday, September 11, 6:30 p.m.
Cooking With Chef Annie at Hillforest
Chef Anne Alexander of Annies Classics Caf will demonstrate cooking with a French flair at Hillforest Museum. A full dinner of French dishes will be served to all guests. Also, all attendees will receive a free Hillforest cookbook. Bring your family and friends to savor a night out and delicious gourmet meal. Cost: Hillforest members $35, non-members $40. For reservations call 812-926-0087 or visit www.hillforest.org. Hillforest Victorian House Museum, is located at 213 Fifth Street, Aurora, is open Tuesday-Sunday from 1:00-5:00 p.m.
Friday and Saturday, October 24 & 25 6:30 p.m.
Hillforests Mystery Dinner Theater
The drama mystery THE SPIRIT SUMMIT will be presented by the Rivertown Players at Hillforest Museum, 213 Fifth Street, Aurora. Experience a fun evening of mystery and mayhem while enjoying a delicious three course dinner served in the Hillforest parlors. Cost is $35.00 for Hillforest members and $40.00 for non-members. Seating is limited. For reservations call812-926-0087 or visit www.hillforest.org. Hillforest is located at 213 Fifth Street, Aurora.
---
Kick for Crohn's and Colitis Oct. 17 at Paul Brown Stadium
08/07/14
The Crohn's and Colitis Southwest Chapter is throwing a party at Paul Brown Stadium Friday, Oct. 17, 2014! "Kick for Crohn's and Colitis" offers guests the chance to learn how to kick a field goal, tour the stadium, take a photo with the Who Dey mascot and meet Bengals alumni. Good food, cocktails, and live and silent auctions round out the evening which runs from 6 to 10 p.m. Tickets are $95 per guest (16 years old and up) and are available at http://online.ccfa.org/kick or 513-772-3550
---
---
---
---
4th Street Boutique is Now Portaluca!
08/01/14
Dress for Success Cincinnati supporter 4th Street Boutique is changing its name! Keep your eyes out for Portalucas new website that will launch on August 6. You can also join in on the celebrations by heading to the downtown store on August 6 and the location in College Hill on August 8.
The womens boutique sells new and gently-used womens clothing, shoes and accessories at affordable prices. All of the proceeds generated by sales go to support Dress For Success Cincinnati and the work that it does through the programs offered to disadvantaged women.
The downtown celebration will be held August 6 from 10 a.m. to 3 p.m. and will feature special sales throughout the day, refreshments and a ribbon cutting ceremony at 12 p.m. You can join the College Hill celebration August 8 from 11 a.m. to 6 p.m. where you can wind down with refreshments and shop special sales.
Be sure to get out there and help celebrate this amazing store that does such great work for the women of Cincinnati!
---
Animal Friends Humane Society 5th Birthday Party August 9!
08/01/14
The Animal Friends Humane Society in Hamilton is hosting its 5th Birthday Paw-ty on Saturday, August 9 from 11 a.m to 2:30 p.m. at the shelter. There will be more than 30 vendors participating in the event including Pampered Chef, Tastefully Simple, Lia Sophia and many more!
Cincinnatis Red Rover will be there and so will animal communicator Kim Billings. DJ Rick will play live music during the event and the little ones can enjoy kids games, a bouncy house and Hamilton Police Kids Fingerprinting.
There will be raffles, pet contests with prizes, a dog wash, $10 pet micro-chipping and plenty of food, ice cream and cake to go around!
If youre thinking about adopting a pet this is definitely something youll want to check out because pet adoptions will only be $5!
The event is free to attend and youre encouraged to bring along your furry, four-legged friends!
Attachments:
---
Launch of Invisible Kids Project, Fun Event on Fountain Square!
07/31/14
My dear friend Juli just told me about this event, and I wanted to share! It's the Launch of Invisible Kids Project and Memorial of Marcus Fiesel. My friend recently joined forces with Holly Schlaack, who wrote Invisible Kids and is now starting the Invisible Kids Project (IKP) to help fight for the rights of foster children both locally and nationally.
This is the most important thing in the world to Juli because she and her husband are in the middle of a custody battle of their foster baby and have seen how broken the child welfare system can be first hand.
Hope you can make it out to enjoy a fun event and support an important cause! Click here to learn more and RSVP!
Attachments:
---
Afterhours Bridal Show Aug. 10!
07/24/14
If youre hearing wedding bells in your future, listen up! The Afterhours Bridal Show, presented by A Brides Mafia, is an event you wont want to miss!
My good friend Nidhi Bedi owner of A Brides Mafia, a local wedding concierge business says she has this awesome Afterhours Bridal Show in the works for thanks to popular demand!
Its going to be on Sunday, August 10, from 2 to 6 p.m. at the Lawrenceburg Event Centre (91 Walnut Street in Lawrenceburg, Indiana), and will feature a number of perks for brides-to-be planning their special day. In fact, this years Afterhours Bridal Show features Battle of the Wedding Bands, 75 of Cincinnatis best wedding vendors, 25 grand reception table set ups and a $20,000 wedding giveaway for one lucky bride-to-be! (yes, you read that right $20k!!)
The Battle of the Wedding Bands will feature local musicians including The Company, Laika and Naked Karate Girls. Complimentary hair and make-up for brides-to-be will also be offered to event attendees.
The grand reception will offer an array of 25 different table set ups, with combinations, colors and access to florists and decorators first-hand to help make your visions a reality. Attendees will also get to meet and greet with local businesses specializing in wedding photography, hair, food and sweets.
There is no cost to attend, but they do ask that you register here prior to the event!
To learn more about the Afterhours Bridal Show, visit www.abridesmafia.com. You can also email info@abridesmafia.com for more information.
---
Pet Adoption Fun at Tuscany Salon Spa July 21-27!
07/20/14
If you're looking for a good cause, then head to the pet adoption fundraiser at Tuscany Salon Spa. The spa is partnering with the SPCA-Cincinnati July 21st through 27th to bring you fun, pet-adopting events.
The goal of the event is to have people adopt and/or sponsor pet adoptions. The planned events will include value-priced services such as express manicures and pedicures. Proceeds will then go to the adoption of SPCA animals.
Tuscany staffers are raising the money to help a selected family adopt a pet.
The highlight of the nearly week-long event will come on Sunday, July 27th, when the SPCA Mobile Unit will have adoptable pets on-site from 1 to 4 p.m.
If you can't visit the event but still want to help out, donations and sponsorships can be made at Tuscany anytime during normal business hours. Visit www.tuscanyspaandsalon.com and www.SPCACincinnati.org for more information.
---
Fashion Meets Music Festival in Columbus Labor Day Weekend!
07/16/14
Columbus will play host to the Fashion Meets Music Festival over Labor Day Weekend. This means that attendees will not only get to see more than 200 musical acts such as Local natives, New Found Glory and more, but theyll also get a chance to see some of the citys local fashion and designers.
The event will be held at the Columbus Convention Center where youll find fashion and retail marketplaces with expo booths and a dedicated runway to highlight some of the latest from todays designers.
To learn more about the fashion expo and marketplace, click here. This event sounds like such a great chance to not only see established fashion designers but emerging ones as well. Its also the perfect place to hear amazing music!
---
Cupcake Crazy Wants to Celebrate With You July 19!
07/16/14
Cupcake Crazy is celebrating its 2nd birthday and youre invited to join in on the fun! The store wants to thank its customers for another awesome year and supporting them through their major renovations.
Thanks to all of those that helped Cupcake Crazy grow, the bakery has doubled its staff and space in the last two years and its something that should certainly be celebrated!
Thats why on July 19, Cupcake Crazy will host its birthday party with free cupcake, cake pop and cookie samples.
There will be giveaways worth more than $1,500 including a birthday party for put to 10 guests where youll get to make the cupcakes, decorate them and do cupcake-related crafts. It also includes special ice cream cone cake pop favors for each guest.
Other prizes include free cupcakes for a year, free cake pops for a year, free party room rental including dessert and beverages for put to 10 people and a custom designed cake.
In order to be entered to win the prizes you must attend the birthday celebration on July 19 between 2 and 5 p.m. Youll be entered to each drawing one time and you do not have to be present to win.
Winners will be announced on Facebook by 7 p.m. on July 19 and will also be contacted directly. So mark your calendars and head to Cupcake Crazy at 7458 Montgomery Road in Cincinnati on the corner of Montgomery and Stewart Streets!
---
Check out the New Findlay Market Farmstand in Walnut Hills!
06/25/14
The Walnut Hills Redevelopment Foundation announced a new partnership with Findlay Market. The two organizations will open a farmstand in Walnut Hills and Vice Mayor Mann will issue a proclamation today, June 26 at 4:15 p.m.
You can find fresh, healthy local fruits and vegetables grown by farmers and food artisans who are a part of the Findlay Farmers Market. There will also be a limited selection or products from Findlay Market merchants sold at the farmstand.
The farmstand will be open every Thursday from 4 p.m. to 7 p.m. and accept the Ohio Direction Card/Electronic Benefits Transfer (EBT) card. Its currently offering 2-for-1 incentive tokens to customers who use an Ohio Direction Card to purchase food and is a dollar-for-dollar match of rip to $10.
You can find Findlay Market Farmstand at 767 E. McMillan Street, but dont forget to head over there today for the grand opening ceremony!
---
Shop Local at the Independents' Week Launch Party June 30!
06/25/14
Looking for a great opportunity to learn more about area businesses and shop local? Then Ive got the event for you! Check out Independents Week Launch Party on Monday, June 30 from 6 p.m. to 7:30 p.m.
Independents Week is a 7-day celebration of Greater Cincinnatis independent businesses and how they make the city a better place to work, play and live.
To host the event, BuyCincy.com is partnering with the Walnut Hills Redevelopment Foundation. Youll get to celebrate with the rest of the community with free beer from Rhinegeist Brewery and catering from Fireside Pizza. Vice Mayor David Mann will give a speech with an introduction and volunteer awards presented by Greater Cincinnati Independent Business Alliance founder Owen Raisch. Guests will also enjoy corn hole and giant Jenga as well as raffles!
Independents Week will be held at Cincinnatis newest coffee shop, Angst Coffee House. To learn more about the event by clicking here.
---
Bookworm Wednesdays at Springdale 18: Cinema de Lux
06/18/14
Get ready for Bookworm Wednesdays at Springdale 18: Cinema de Lux. The theater is promoting summer reading and from July 9 to August 13 free admission will be offered on select movies to children (and their parents!) who bring in a book report.
Click here for more information and to download a book report.
Read the movie schedule below:
July 9 - Cloudy with a Chance of Meatballs 2
July 16 - Epic
July 23 - Despicable Me 2
July 30 - The Croods
August 6 - Turbo
August 13 - The Smurfs 2
Children under six who accompany a participate and adults who accompany a participant are given free admittance to the Bookworm Wednesdays movie and dont have to submit a book report.
---
Ladies' Night at Marty's Hops & Vines June 24 to Benefit Dress for Success Cincinnati!
06/18/14
Mark your calendars for ladies night shopping event at Martys Hops & Vines on June 24. The event is hosted by 4th Street Boutique in College Hill and benefits Dress for Success Cincinnati.
There will be informal modeling, shopping and special drink prices. The models will be showcasing high-end fashions that you can find at 4th Street boutique in College Hill and all of those items will be available for immediate purchase that evening.
If you cant make it to the event but still want to check out their fashions, 4th Street Boutique is located at 5838 Hamilton Avenue and sells new and gently-used womens clothing, shoes and accessories at affordable prices.
There are weekly specials, events and personal shoppers that will provide you with a unique shopping experience.
Net proceeds from 4th Street Boutique help Dress for Success Cincinnati offer interview clothing and work attire to disadvantaged women as well as one-on-one career development and job retention programs.
Learn more about 4th Street Boutique here or for more information on Dress for Success Cincinnati, click here.
---
Harmony of Hope Hosts "Get Cute for a Cause" Fundraising Event Series
06/06/14
They say you should Make your mess your message. Thats exactly what my friend Mara did. She recently launched a non-profit organization, inspired by her struggle with Alopecia for more than 28 years. Click here to check out the Cincy Chic story we just did on her organization, and below is a press release about an event were helping her host to support her community outreach and programming. I hope you can join us! The first event in the series is THIS Saturday!
Harmony of Hope Hosts Get Cute for a Cause Fundraising Event Series
Fun, pampering events support local children suffering with hair loss
A local charity is launching a fun new event series to give local ladies the opportunity to get cute for a cause.
Harmony of Hope a locally-based non-profit providing wigs, services, products and other resources to children suffering with Alopecia, cancer, chemotherapy, burns or other illnesses hosts its inaugural fundraiser, Get Cute for a Cause with a TWIST, at The Mason Pub & Grill in Mason. The three-day event series will take place June 7, 14, and 28.
Tickets are $45 online and $50 at the door. Online Special Only: Admission is free when bringing two paying guests. Fifty percent of all proceeds will be donated to the Harmony of Hope Foundation on behalf of Belle of Hope Wigs and Beauty Supplies.
At Harmony of Hope Foundation, Inc., we believe that no child should have to suffer in silence, says founder, Mara Caldwell. We strive to provide short-term and long term solutions for children who have lost their hair and help them regain their strength and courage to feel comfortable in their skin again.
Event attendees will enjoy shopping, giveaways, drinks and food, as well as pampering and makeup application tutorials compliments of Eboni Perkins, Independent Mary Kay consultant. In addition, each participant will receive more than $55 in Mary Kay products and be entered into a raffle to receive a $100 spa gift card, among other prizes.
The events are open to the public. Seating is limited at each event. Tickets can be purchased at cincychic.com/cuteforacause.
Supporting sponsors include: Cincy Chic, Tastefully Simple, Origami Owl, Snow Nails, 31 Gifts, Belle of Hope and many more.
The Mason Pub & Grill is located at 753 Reading Rd Ste B in Mason. The events are from 1:00 3:00 PM, with Open Shopping: 12:00 1:00 and 3:00 4:00 PM on June 7, 14, and 28.
About Harmony for Hope: The Harmony of Hope Foundation, Inc. offers the following services: In-Home Consultations with staff members (Currently available in Cincinnati, Dayton, Columbus, Cleveland areas), Hair for Harmony Recipient Package, Volunteer Mentorship Programs, How To Courses and Webinars (available off-site or via internet), as well as Local and National Support Groups. The Foundation was launched in the beginning of 2014 by President, Mara Caldwell, who has suffered from Alopecia Universalis for the past 15 years and Alopecia symptoms for more than 28 years. More information available at http://harmonyofhope.com
---
Mannequin Boutique is Moving!
06/01/14
Mannequin Boutique, Cincy Chic's sponsor from our Eco-Fabulous Fashion Show, has some BIG news - the store is moving to a new location in July!
The stores last day at its current location at 1405 Vine Street will be June 14th as they move inventory to 1311 Main Street. This means Mannequin will be hosting a yard sale June 11th through 14th to lighten their load and make the move easier.
Youll be able to find great deals at amazing prices so be sure to check their Facebook page for updates and sneak peeks as well as their blog for more information on the upcoming move.
Attachments:
---
Paint the Square Red May 29th!
05/22/14
Head to Fountain Square next Thursday, May 29, to help Paint the Square Red! The American Heart Association, PNC and the Cincinnati Reds will host the Go Red Rally to celebrate the success of the 2014 Go Red Campaign from noon to 1 p.m.
Be sure to wear RED to the event and if youve gave a gift of more than $250 at the Luncheon youll get to see your name on the Jumbotron! There will be fun activities to raise awareness about heart disease and stroke.
Since May is Stroke Month, youll get to hear from survivors and learn the signs and symptoms of a stroke. In honor of CPR Month in June, the first 100 people on the square will get a Friends and Family CPR Kit courtesy of Anthem Blue Cross & Blue Shield!
During the rally youll have the chance to purchase your tickets to the American Heart Associations Night at the Ballpark on June 20th and spin the Reds prize wheel.
There will be giveaways from PNC, Western and Southern Financial Group, The Reds and The Christ Hospital Health Network.
See you there on May 29!
Attachments:
---
Bites and Bids: A Benefit for Autism at Jag's Steak and Seafood in West Chester June 8!
05/21/14
I met Cheri Misleh a couple month ago at a get-together at Krombholz Jewelers and she told me about this amazing fundraiser shes working on to raise awareness and funds for Autism.
Bites and Bids: A Benefit for Autism will be held Sunday, June 8, at 5:30 p.m. at Jags Steak and Seafood in West Chester with a special VIP reception at 4:30 p.m. Guests will get to experience dinner by the bite that will be prepared by Executive Chef and one of the top chefs in America, Michelle Brown. Find wines and craft beers will also be served.
Bids will include several one-of-a-kind items and the atmosphere will be complemented with jazz entertainment.
Tickets are $75 per person. A table for 8 guests is $1,000 and includes reserved priority seating and 8 VIP tickets. VIP tickets are $100 per person. Bites will be offered exclusively to VIP attendees.
To purchase tickets or make a donation, click here <http://www.autismcincy.org/events/bites-and-bids-a-benefit-for-autism/>. You can also call 513-561-2300 or send a check to ASGC P.O. Box 58385 Cincinnati, Ohio, 45258.
Attachments:
---
Visit PopSugar and Simple Skincare at the Findlay Market June 1!
05/21/14
Mark your calendars for Sunday, June 1, when PopSugar and Simple Skincare come to town for its Passport to Healthy Skin - City Edition at the Findlay Market in Cincinnati!
This daylong event is free to the public and offers attendees information on how the environment and lifestyle can affect your skin while Simple Skincare can help you fight off the effects of living in a bustling city. Youll be given resources to help you navigate through the everyday stresses of light and learn about how your choices in food, fitness, wellness and relaxation can all have an impact on the health of your skin!
There will be four zones with activities and offerings including: Healthy Eats and Detox Tea Garden, Fitness Zone, Relaxation Rooms and Beauty Oasis. You can enjoy delicious bites from PopSugars health recipes and detoxifying teas in the garden, participate in on-site yoga at the fitness zone, enjoy a chair massage in the relaxation room and learn more about how to protect and pamper your skin with Simple Skincare and try free samples at the beauty oasis.
PopSugar editor Lizzie Fuhr and beauty experts from Simple Skincare will be on-hand to offer tips, advice and tutorials! Register for the event by clicking here http://www.bellasugar.com/Passport-Healthy-Skin---Cinncinati-34700995. Also, 150 lucky guests will be given the PopSugar Must-Have box filled with more than $100 in editorial picks from fashion, fitness, food and more!
---
Bigger Than Sneakers coming to Cincinnati June 28!
05/19/14
If you love sneakers then I've got great news for you! The Bigger Than Sneakers showcase will be in the city June 28. Presented by City G.E.A.R., the event is the biggest of its kind in the Tri-State and the perfect place to buy, sell, trade or grow your sneaker collection!The event will be held at the Duke Energy Convention Center from 11 a.m. to 6 p.m. Learn more about the showcase by visiting www.biggerthansneakers.com.
Attachments:
---
Hyde Park Farmers' Market is Back!
05/19/14
Warm weather is finally here and that means the return of the Farmers' Market on Hyde Park Square! The market will be on the square every Sunday now through October 26 from 9:30 a.m. to 1:30 p.m.I just checked this out yesterday and it's truly fantastic. It's a great way to shop, support and eat local! Learn more about the farmers' market by clicking here!
Attachments:
---
Ladies Who Lunch May 31st!
05/19/14
Sloane Boutique in Over-the-Rhine and Style Edit are hosting "Ladies Who Lunch - A Vintage Wonderland," May 31 from 12 to 4 p.m.
During the event, you'll have the chance to shop a number of rare vintage accessories from Chanel, Louis Vuitton, Fendi, Gucci, Prada and YSL.
Mimosas and small bites will be provided, so mark your calendars and get ready to check out Ladies Who Lunch!
RSVP by emailing duru@sloaneboutique.com or brock@cincystyleedit.com. You can learn more about the event on Facebook.
Attachments:
---
Receive 60% Off a Teeth Cleaning from West Chester Veterinary Care
05/14/14
Head to West Chester Veterinary Care now and take $60 off your pet's teeth cleaning! I learned about this offer through Pet Luxe, a local pet-lover magazine my friend Allison launched a few years ago (it's awesome! Click here to check it out!). So, be sure to mention them when you call to make your furry friend's reservation. New pets are welcome, so call 513-942-WCVC for more details or to make an appointment!
Attachments:
---
CincItalia May 16-18 at Harvest Home Park!
05/02/14
St. Catharine of Siena Parish of Westwood is hosting CincItalia May 16-18 at Harvest Home Park. This years even features an Italian Market, live cooking demonstrations by local Italian chefs, national and local music acts, Italian dancers and much more!
This is definitely something youll have to check out for yourself to see just how fun (and delicious) it is!
Fridays festivities kick off with the adults-only Carnevale! featuring live rock music by The Remains from 6 p.m. until midnight. Saturday and Sunday will be full of family fun.
The funds raised during the three-day event help St. Catharine of Siena Parish and School continue to provide for the spiritual and educational needs of the Westwood community.
Harvest Home Park is located at 3961 North Bend Road in Chevoit.
For more information, visit www.cincitalia.org.
---
Cincinnati Girl Raising Awareness of Arthritis
04/16/14
Aislin Sowder was diagnosed with Juvenile Idiopathic Arthritis and Uveitis two years ago. These conditions made it difficult of ruer to move her neck and head. Since beginning treatment she has rebounded to become a joyful 5-year-old that participates in dance, tumbling and karate.
Aislin is currently working to spread word to the community about arthritis in adults and children. Arthritis impacts more than 300,000 children and 50 million adults. This is a topic that is very near and dear to my heart because of my husbands severe Rheumatoid Arthritis.
Aislin is raising money for the Walk to Cure Arthritis on May 18. The event will be held at Sawyer Point in Cincinnati. This fundraising event features a non-competitive, fully accessible 3.1 mile course with a one-mile option for those who want to go a shorter distance. There is no cost to participate although a donation is suggested.
After the walk there will be lunch, entertainment, a Wellness Expo, sponsor booths, the Wall of Heroes and additional health information.
Learn more about the Walk to Cure Arthritis here.
---
Attend 21c Museum Hotel's Pitch Night Cincinnati May 22!
04/16/14
21c Museum Hotel will host Pitch Night Cincinnati on May 22. The event is being done in collaboration with ArtPrize, an independently organized international art competition.
This fast-paced, fun night is open to the public and features five local artists from the Tri-State who will share big ideas and the next "big thing" int he art world. Artists will present a short pitch detailing what they'd like to install on a highly trafficked pedestrian walk in the center of Art Prize. Then, a jury of five art professionals, including 21c Museum Director Alice Gray Stites, will lead a question and answer session with artists and the audience. The winner will then be announced and will receive a $5,000 grant to bring their project to life.
21c is hosting this night to help the public learn more about the local and emerging artists in the region and to discuss the future of art in America. Doors for the event open at 6 p.m. and the fun starts at 7 p.m.
---
Simply Swinging at Cincinnati Memorial Hall on April 18!
04/05/14
Memorial Hall presents its Signature Series Simply Swinging on Friday, April 18. This years theme is when the songs were swinging, the manhattans were dry and the ties were narrow!
Steve Lippia, one of the most promient in-demand Sinatra vocalists in the nation, will be featured as well as the Cincinnati Contemporary Jazz Orchestra.
A Mad Men-themed reception featuring Salon 21, lite bites by Elegant Fare and Catered Affair, cocktails from Obscura and gelato from Madisonos will begin at 6:30 followed by the performance at 8 and dancing at 9. Tickets are $40 to attend.
Sounds like the perfect excuse to throw on a retro dress, put the hair up in finger curls and sip on a martini (virgin for me and my growing belly of course! haha!) Hope to see you there!
To learn more about the Signature Series, visitcincinnatimemorialhall.com or call 513-381-0348.
Attachments:
---
Enter to Win ArtWorks Big Pitch Competition!
04/02/14
ArtWorks is hosting the ArtWorks Big Pitch event for wrists, makers, designers and create entrepreneurs to compete for $15,000 in cash prizes and pro-bono professional services!
The non-profit is partnering with U.S. bank for the event and applications will be accepted through May 16 at ArtWorksCincinnati.org.
Eight finalists will be chosen and theyll be given 5 minutes to deliver their pitch to a live audience and panel of experts at the American Sign Museum on August 27. Finalists will compete for the $15,000 cash as well as an additional $5,000 by popular vote. Two runners-up will be awarded legal, accounting and branding support.
The competition is open to those in the Greater Cincinnati and Northern Kentucky region who need cash for their businesss next stage of growth from hiring staff to creating new marketing materials.
According to ArtWorks, a creative business falls into one of the following categories:
Art
Design
Fashion/Textiles
Film
Video and Photography
Artisanal Products
Food
Music
Publishing
Community Spaces and Events
Locally-focused Retail
In order to be eligible, businesses must be operational for at least two years, in position for tangible growth and located with 30 miles of ArtWorks administrative offices.
---
The Plant Sale Preview May 2!
04/02/14
It's my favorite time of year again... SPRING!! When plants get purchased, gardens are tended and thumbs get green! One of the must-attend events for you fellow planters out there is the upcoming Plant Sale Preview Party, which will take place May 2 at the Civic Garden Center. Guests will enjoy a southern barbecue and first dibs on several plants!
This year's event will serve up tasty treats from Funke's Catering as well as beer, wine, appetizers and desserts to match the southern-style theme.
MC Blues will provide music during Party on the Patio.
There will be a silent auction and the Rare Plant Live Auction, although it's still a secret as to what the plant is!
Tickets are $45 per person in advance and $55 per person the day of the event. Admission includes two drink tickets and valet parking.
This year, the Civic Garden Center is trying something different and allowing guests to be a host or hostess. You'll be able to enter a Hosts-Only drawing for an entertainment package worth $250. Host/Hostess tickets are $60 each.
The event will take place rain or shine, so be sure to stop by. The Preview Party is May 2 from 6-9:30 p.m. and the Public Sale is May 3 from 9 a.m.-5 p.m. and May 4 from 11 a.m.-3 p.m.
Call 513-221-0981 or click here to register!
Attachments:
---
TEDx Coming to Xavier University April 11
04/02/14
Xavier University's Innovation Society will present its 3rd annual TEDx conference April 11 at 4 p.m. The event will feature six speakers at the university's Kennedy Auditorium.
Three of the six speakers at the conference are women and all of the speakers have a tie to Cincinnati. TEDxXavierUniversity is a collection of motivational and educational speeches from some of the community's thinkers and innovators that are inspiring Cincinnati. This years theme is Conflict and Violence: An exploration of their causes, prominence and the unexpected roles they play in our lives.
Speakers include Dr. Tammy Brown from Miami University; Lynden Foust, a Xavier graduate; Victor Garcia, the founding director of Trauma Services at Cincinnati Children's Hospital; Georgine Getty, Director of Interfaith Hospitality Network of Greater Cincinnati; Beth Nowak, a Xavier graduate; and Matthew Dooley, who will be the master of ceremonies. Matt is a great friend of mine, so I'm sure he'll make it a fun and informative event for you!
Click here to learn more!
---
The Spice & Tea Exchange's CincinnaTEA is This Weekend!
03/26/14
My pregnancy has forced me to cut back on my coffee intake so I've been really getting into tea lately. Fortunately, CincinnaTEA is this weekend so Ill be able to pick up some yummy flavors!
I love this place for all their spices and its a great way to add flavor to your food while cutting back on the calories of sauces and cheeses - just in time for bathing suit season!
Make sure you stop by and visit Julie Van Arsdale and The Spice & Tea Exchange this weekend at Rookwood Commons!
Visit spiceandtea.com for more information or call them at 513-531-7000!
Attachments:
---
Chapeau Couture Opens Shop at Kenwood Towne Centre
03/26/14
Hats off to my friend Danielle Delaine! She just took her business, Chapeau Couture Hat Boutique, to a new level by opening up a new storefront inside Kenwood Towne Centre across from the Coach store!
Shes scheduled to be there during Spring and Summer months every year! Perfect timing with Derby season right around the corner! I always get a ton of emails from readers wondering where to get a fab hat this time of year, so heres your answer!
Danielle is not only the owner but shes also the designer of these haute couture hats, and she has a ton of new designs to fill up her new shop (see some of my fav designs below)! Plus, she has a no-duplications hat policy. So you dont have to worry about seeing your hat on another fashionista at your fete!
And to give you even more reason to show off your new hat purchase, shes also coordinating an event called Brims and Bow Ties (way fun!) on May 10 in Washington Park. You can buy tickets here or at her new boutique in Kenwood Towne Centre.
Check out her Facebook page and Twitter account to get event, store, and design updates! Enjoy and happy hat shopping!
---
Nordstrom Partnering with Fashion Project to Offer a Great Deal and Support a Great Cause!
03/19/14
Spring is almost here and that means a new partnership between Nordstrom and Fashion Project!
When you donate five qualifying items ($50 retail price, in nearly new condition and one of the brands listed here) to Fashion Project, youll receive a $40 Nordstrom Gift Card. Not only do you get a gift card but the proceeds from the re-sale of the items will be registered to a 501(c)3 charity of your choice!
Fashion Project will send you the shipping materials for your items, so you wont even have to leave your house! Youll also know youre donating to a cause of your choosing.
You can learn more about the partnership by visiting www.fashionproject.com/nordstrom and checking out this great video!
---
New European Wax Location, Free Wax for First-Time Clients!
03/14/14
I know a lot of my gal pals with kids (and all of my interns oh to be in college again) are heading out for Spring Break vacations next week. This weekend, theyre all headed to the spa to get primped for their big trips!
With that in mind, I wanted to remind you that you get a complimentary wax if youre a first-time client at European Wax Center! My friend Dia Rose owns a few of the stores here in Cincinnati and Northern Kentucky, and shes actually opening a new one in Anderson Towne Center in 2 weeks! So exciting! Click here to see which location is closest to you.
For your first-time client free wax, women, you can choose between a complimentary eyebrow OR bikini line OR under arm wax. Men, you can choose between a complimentary eyebrow OR ear OR nose wax!
Dia said bikini waxes are the most popular this time of year with people getting back into their bathing suits. When I was chatting with her, I also learned a few other awesome things about what makes European Wax Center different that I thought Id share with you Dia said that their main goal is a comfortable wax experience, so they ship in an exclusive wax from Paris (ooohhhh European Wax CenterI get it now!) thats specially made for a more comfortable experience. Theyre all about revealing beautiful skin through waxing. We are a brand thats redefining the way people think about beauty and hair removal, she said. They also use alcohol-free and stripless wax, which sticks to the hair and not the skin. Dia said most services have you in and out in just 15 minutes " pretty impressive!
Just thought Id share the good news about the new location and the free waxes! Enjoy! Have a great weekend!
---
---
Winter WINEderland This Saturday!
12/12/13
I remember one of the first places I ever enjoyed a glass of wine with my mom was at Meier Wine Cellars in Silverton. It's this great little winery tucked away the wine is yummy, super inexpensive, and the people there are always SO nice. My favorite was going there for some of their summertime events when they'd have the courtyard open and you could try out all their wines! Well, I might have a new favorite kind of event there because they're having a Winter WINEderland event there this Saturday! How fun! Theres going to be wine tastings, swag bags, snacks and raffles and did I mention wine??
Check it out!
December 14, 2013
3-7 p.m.
Meiers Wine Cellars
6955 Plainfield Rd
Silverton, OH 45236
Tickets are $10 and can be purchased at the door. Price includes 5 tasting tickets to be used on your choice of 1-1.5 oz samples of wine. Non-alcoholic juices are also available.

---
Christmas in Mason December 6!
12/06/13
Youve invited to check out Christmas in Mason tomorrow night from 6-9! The City of Mason will dress up its downtown business district and celebrate the holiday season during its annual Christmas in Mason event.
The festivities begin at 6 p.m. with a parade featuring stilt walkers, marching elves, jugglers and Santa Claus! Main Street and Reading Road between Mason-Montgomery Road and Second Avenue will be blocked off from 4-11 p.m. as the parade makes its way down Main Street to the Plaza. The tree lighting ceremony will take place on the Plaza after the parade.
There will be a full line-up of live entertainment set to take place on the Main Stage during the evening.
Activities can be enjoyed by the entire family and include horse-drawn carriage rides, story times at the Mason Public Library, caricature and balloon artists, fire performers, strolling car rollers, a petting zoo and wood carvers! The kids will also enjoy Stocking Stops scattered throughout downtown Mason.
To learn more about the event, visit www.feastivalsormason.org or call 513-229-8534.
This sounds like just the thing to do to get you in the holiday spirit, so I hope to see you there!
---
Schedule A Call From Santa This Holiday Season!
12/02/13
Cincinnati Bells popular Santa Holiday Hotline is back until December 23! You can schedule a free, customized phone call from Santa Claus to your children, friends, families and neighbors.
Santas Holiday Hotline is a unique way to enhance the magic and excitement of the holiday season for local residents young and old, said Jane Weiler, director of Digital Marketing and e-Commerce at Cincinnati Bell. You cant help but smile when you pick up the phone and hear Santa on the other end. Its our way of saying, Happy Holidays from your hometown communications provider.
In order to receive a call from Santa, you must have a 513, 859, 937 or 812 area code. You can choose from one of four different messages and select the recipients name from a list of popular boy and girl names. If the name isnt available, you can choose a generic call option. An added bonus is that your caller ID will say the call is coming from the North Pole.
To schedule your call, visit www.cincinnatibell.com/holiday!
---
Revamp Your Home for the Holidays!
12/02/13
Ok, ladies our husbands all have one thing they've held onto from their single days that we just cant seem to talk them into getting rid of. For me and my husband, Pete, it was the "Ugly Chair." He bought it right after a bad break up when he moved into a new place, furnished the whole place, and this was his accent chair. Problem is that it looks more like the 80s threw up on it than an accent piece. And our dog has taken a liking to it over the years, which means its now covered in rips and tears.
I have been trying to talk my husband into getting a new chair, but he said he just couldn't let it go. Then I looked into getting it recovered in distressed leather and its just as expensive as a new chair, so I couldn't let that happen. So we were at an impasse. That is, until I found this Surefit slipcover site that has a ton of different high-end fabrics, and they're easy to put on. a sure fit if you will. haha! The fabric is a bit stretchy and its elastic around the bottom, so I guess thats what makes it fit so snug.
So, I ordered one, and I literally had it on in 5 minutes and I love love love it! I had it on the chair for Thanksgiving (I hosted for the first time this year!) and people thought we got a new chair! Little did they know that deep down, it's still the Ugly Chair. What a happy compromise!
Check out their site at www.surefit.net.
---
Donate Your Work Shoes to Dress for Success Cincinnati for #GivingShoesDay December 3!
11/26/13
On Tuesday, December 3, help Dress for Success Cincinnati celebrate #GivingShoesDay by donating work appropriate shoes to the Dress for Success Cincinnati Donation Center at 208 McFarland in downtown Cincinnati.
Donations will be accepted from 11 a.m. to 3 p.m. and the individual who donates the most shoes on #GivingShoesDay will have the chance to win a complimentary pair of limited holiday edition Palace heels from Fergie Footwear.
The event is part of the national social media movement #GivingTuesday created in 2012 in hopes of joining the ranks of other post-Thanksgiving campaigns like Black Friday.
This sounds like such a great opportunity to help others - I hope youll be there to donate some of your work shoes you no longer need!
---
Check Out The Cincinnati Area Professional Women's Networking Night November 21!
11/14/13
Mark your calendars for November 21 from 6:30-8:30 p.m. The Cincinnati Area Professional Womens Networking Night will be held at Red Tree Art Gallery and Coffee Shop in Oakley, giving you the opportunity to network with successful business owners in the area.
The event will feature 20 professional women and their guests where they will give a 1 minute commercial for their business. You can collect a ton of information about the participating vendors.
The coffee bar will be open for guests!
Red Tree Art Gallery and Coffee Shop is located at 3210 Madison Road in Cincinnati. Hope to see you there!
---
Shop Local in Over-the-Rhine this Holiday Season!
11/12/13
Over-the-Rhine is one place you want to go this holiday season! The OTR Chamber of Commerce announced the schedule for a number of holiday shopping and entertainment events that will take place throughout November and December.
Everyone is invited to shop, eat and play locally at dozens of boutiques, stores, restaurants, bars and theaters in historic OTR. The shop local holiday season will be kicked off with BuyCincy (formerly known as Cincinnati Unchained) on November 21!
Cincy Chic had our office in OTR from 2009-2011. I moved our office to Anderson to share a collaborative space with a local ad agency, but I miss OTR so much and often visit to get my fix and see all the new places popping up. Im so proud of how the community has developed over time, and plan to attend several of these events to shop local in OTR this holiday season!
You can learn more about the upcoming events by visiting www.otrchamber.com or checking them out on Facebook!
---
Visit the Taft Museum of Art's Antique Christmas Now Through January 5!
11/12/13
For the past two years, here at Star64 weve done a segment to promote the Taft Museum of Arts Antique Christmas and wed slated to do it again this year.
Antique Christmas at the Taft Museum of Art will take place now through January 5.
Its always a great activity to keep in mind, especially if the family is coming to town and you need some inexpensive things to do!
Admission is free on Sundays (and parking, too!). They also have an amazing gift shop with a bunch of unique items, a lot of which are made by local artists or are Cincinnati themed
You can learn more by visiting www.taftmuseum.org or stopping by the museum yourself at 315 Pike Street in Cincinnati.
Attachments:
---
Donate Shoes to Soles4Souls at Baker Chiropractic!
11/11/13
Baker Chiropractic is participating in Soles4Souls to help more than 300 million children world-wide who don't have a pair of shoes.
Soles4Souls distributes donated shoes to people all over the world and has given out more than 17 million pairs of shoes to people in 128 countries. You can join in by donating shoes you no longer wear the the four Cincinnati-area Baker Chiropractic Clinic locations.
Donation boxes will be at the clinic on Red Bank Road in Cincinnati as well as the Fairfield, West Chester and Madeira clinics now through November 22!
This is such a great cause that will help benefit thousands of people, especially those here in the U.S. that need a new pair of shoes as the weather starts to get colder.
Attachments:
---
Stop By The Face & Eye Aesthetic Center Holiday Open House December 5!
11/10/13
Head to the Face & Eye Aesthetic Center Holiday Open House on Thursday, December 5 from 6-8 p.m. The event will be held on the first level of CEI Blue Ash and will include an evening of special holiday packages, gifts with purchase, prizes and appetizers.
Youll also get to enjoy 20% off all products throughout the evening and all guests will automatically be the winner of a special gift just for attending the event.
Attendees will sos get to meet surgeons Dr. Jeff Nerad and Dr. Ginger Rattan as well as the centers talented medical estheticians!
You can RSVP by calling 513-569-3223!
---
Woodcraft of Cincinnati Upcycling Event November 16!
11/10/13
Homeowners and DIY enthusiasts are invited to attend an Upcycling Event on November 16 from 11 a.m. to 1 p.m. Woodcraft of Cincinnati will be there to show you how easy is it to transform cabinets, furniture and doors to from damaged, aging or old-style to new, colorful and stylish.
The event is free and open to the public and youll get to see Woodcraft product manager Ben Bices refurbished, like-new entertainment center along with before and after photos! He repaired the holes and cuts in the original piece and applied General Finishes Java Gel Stain to the exterior as well as General Finishes Dark Chocolate Milk Paint to the interior.
Attendees will also get to see a demonstration of how to apply a General Finishes Gel Stain - the popular java color - to a cabinet door. Sample panels will also be on display and after the demo, the Woodcraft staff will be there to share tips for successfully using the gel products including 10 other colors and a satin topcoat.
It is easy to turn old or discarded cabinets, furniture, and doors into fresh new creations by upcycling - high-end recycling that reduces trash at landfills and often increases the value of the original piece, Cincinnati Woodcraft Manager Pat Burton said. It just takes the right products, such as the user-friendly General Finishes Gel Stains and Topcoats, which are a great place to start expressing your creativity. Let us help you discover the possibilities in upcycling, from cabinets and furniture to less traditional projects such as turning a chest of drawers into bookshelves, a dresser into a seat, or solid wood doors into tabletops and kitchen islands.
Learn more about Woodcraft by visiting www.woodcraft.com or by calling 800-535-4482. You can also learn more about the store by visiting stores.woodcraft.com/cincinnati.
If youre in search of Woodcraft franchise opportunities, visit www.woodcraftfranchise.com or email woodcraftfranchise@woodcraft.com.
---
Shop the Cincinnati Holiday Market November 15-17!
11/10/13
If you want to get your shopping list finished early this year and enjoy whats sure to be a fabulous girls day out, head to the Cincinnati Holiday Market!
More than 300 chic boutiques will be there and are sure to help you find the right gift for everyone on your list!
The event will be held November 15-17 at the Duke Energy Cincinnati Convention Center.
You can also print a coupon of $3 off one adult ticket. Cincy Chic is one of the event sponsors, so you know you'll have a fantastic time!
Attachments:
---
The Great American Smokeout on November 21!
11/06/13
My dad, like many people 20 and 30 years ago, was a smoker. I remember telling him that the smoke burned my eyes and made it hard to breathe. So, he'd smoke outside of the house, or drive with the windows down (even in the winter!) so I didn't breathe it in. But eventually, the family and I talked him into quitting for good.
He actually attended a Great American Smokeout Retreat in Cincinnati hosted by The American Cancer Society. It was a whole weekend dedicated to helping smokers quit for good, and it was even on the news! Funny story -- when we called him the first day into the retreat, he said it was a draining, painful experience going through the withdrawals, and then on TV he was shown laughing and dancing with everyone! haha!
The Smokeout was truly life-changing for him because the experience not only helped him quit smoking that weekend, but gave him the information, willpower and tools he needed to remain a non-smoker for the rest of his life. He hasn't picked up a cigarette since the Smokeout -- how amazing is that!?
So, as you can imagine, I was very excited to hear that my friend, Sherri Warshaw, RDH, CTTS, and her company Smokefree Steps, LLC is doing a HUGE push to get the word out about The Great American Smokeout this year.
Sherri started out as licensed Registered Dental Hygienist in Ohio and Florida and later received her certification as a tobacco treatment specialist at the Mayo Clinic. Through her company, she works with smokers and nonsmokers to educate, treat, and advocate for a nonsmoking and healthier lifestyle. She's now been working with smokers for more than 40 years to help them become smokefree!
So, I hope you'll join Sherri in her efforts on Thursday, November 21, 2013 as she celebrates The Great American Smokeout across the USA. She can help individuals, groups, businesses, organizations, and schools in their efforts to become tobacco/nicotine free and educate them about the devastating effects and the toll it is taking on many levels. So, please contact Sherri and talk to her about a plan for you, your employees, or pass her information on to a smoker you love. You will contribute to saving and prolonging their life!
Sherri Warshaw, RDH, CTTS
Smokefree Steps, LLC
And, in case you're curious, here's a little info about The Great American Smokeout: It first began in San Francisco in 1977 as a day to raise awareness about smoking and its effects. On this day, the American Cancer Society makes a huge movement to urge smokers to use this day as an opportunity to stop smoking, make a plan to quit, or spread the word about how to fight nicotine addiction.
Some USA statistics:
96 Billion dollars a year are spent on smoking related health costs
43 million Americans smoke cigarettes, 13.2 million smoke cigars
1 in 3 cancer deaths are related to smoking
every smoker that dies is replaced by 2 young smokers starting,
every day the equivalent of three 747 jumbo jets crashing is the daily loss of life to smoking in America.
---
Military Personnel and Veterans Eat For Free At O'Charley's This Veterans Day!
11/04/13
Attention Veterans! Head to O'Charley's for a complimentary meal this Veterans Day. All restaurants are offering free meals to veterans as well as active-duty service men and women. All you need is a military ID or other proof of service for your choice of one of nine meals on the O'Charley's $9.99 menu!
Options from the menu include O'Charley's Famous Chicken Tenders and Twisted Chips, Cowboy Sirloin, Homestyle Chicken Pot Pie, Santa Fe Tilapia and more!
Since April, O'Charley's has honored 50 veterans and active-duty personnel through its Hometown Hero program.
Each restaurant will also feature oversized thank you cards for guests to sign to show your support and thanks! Be sure to stop out this Veterans Day and get a tasty meal on the house!
For more information on the Veterans Day promotion, visit www.ocharleys.com or visit the restaurant's Facebook page!
---
Evening of the Giving Hearts Event Benefits Local Breast Cancer Patient!
11/04/13
Two friends of mine just launched a new online boutique with FABULOUS clothes and accessories called Harlow & Liv. As part of their launch, theyre partnering up with a few local businesses to do a fundraiser to help support a local family in need!
The event is to support Tasha Muhleisen, a 31-year-old wife and mother of two who is battling Stage 4 breast cancer, and her family. The event is called Evening of the Giving Hearts. It will be held Friday, November 15 from 7:30-10p.m. at Baker Chiropractic in West Chester. You can RSVP toKMESSER27@yahoo.com
For each attendee, Baker Chiropractic and Karaman Jewelers will donate $1 to the family. Harlow & Liv will donate 10% of all proceeds from the evening while basket and food donations will be provided by Busom Buds and other local businesses.
The evening will include complimentary food and wine and a health talk by Dr. Patrick Baker on cancer prevention.
This sounds like an amazing event to benefit a great family! I hope you can attend!
---
Attend Evening of the Giving Hearts November 15!
11/04/13
Two friends of mine just launched a new online boutique with clothes and accessories called Harlow & Liv. Theyre partnering up with a free local businesses to do a fundraiser to help support a local family in need!
The event is in honor of Tasha Muhleisen and is called Evening of the Giving Hearts. It will be held Friday, November 15 from 7:30-10p.m. at Baker Chiropractic in West Chester.
Tasha is a 31-year-old wife and mother of two who is battling Stage 4 breast cancer. For each attendee, Baker Chiropractic and Karaman Jewelers will donate $1 to the family. Harlow & Liv will donate 10% of all proceeds from the evening while basket and food donations will be provided by Busom Buds and other local businesses.
The evening will include complimentary food and wine and a health talk by Dr. Patrick Baker on cancer prevention.
This sounds like an amazing event to benefit a great family!
Attachments:
---
Free Afterhours Bridal Event Nov. 20!
11/04/13
Are you getting married or know someone who is? Then you should block Nov. 20 on your calendar to attend the Afterhours Bridal Show at Music Hall!
My friend Nidhi with A Brides Mafia (we recently wrote about her here in Cincy Chic!) will be hosting their second Afterhours Bridal Show at Music Hall! Nidhi likes to say its an unusual twist on your usual bridal show and I think that perfectly sums up her events.
The last four Afterhours shows brought in more than 1,500 people in three hours. This years show, slated for November 20 from 6-9 pm, is poised to attract even more! Brides, Grooms, and their families will be able to meet and greet more than 75 of Cincinnatis finest wedding vendors.
They will be able to preview the latest wedding trends as well as everything they need to make their special day perfect under one roof! Brides-to-be will be getting complimentary makeup and up dos done to get a sneak peak into their big day!
To learn more, visit www.abridesmafia.com or email them at info@abridesmafia.com!
And, if youre feeling lucky, they have a promo going where if you Like A Brides Mafia on Facebook and Share this event, youll have a chance to have Elements Limousine Service pick you up and take you to dinner at Jeff Rubys Steakhouse for dinner on them and then bring you to the Afterhours Bridal Show in style! Swanky, eh? Good luck and see ya there!
---
Shop Waynesville for the Holidays!
11/04/13
This week's issue of Cincy Chic is our annual Holiday Shopping guide where we highlight unique products and shops you should check out for those on your nice list this holiday season! But one thing we didnt mention that I want to personally recommend is shopping in the quaint little town of Waynesville, just about 40 minutes from northern Cincinnati. I went there when I was a little girl to antique with my mom, and revisited last year for a Star64 shoot and fell in love with the place all over again.
They just have the cutest shops, carrying the most unique stuff, with the nicest people. So, I just had to tell you about it in case you wanted to make an experience out of your holiday shopping this year instead of the usual mad dash to the mall for whatever's left on the shelf (not judging been there many times, haha!)
When I interviewed the Waynesville shopowners last year, they took a lot of pride in the area, from their school system to their downtown and special events. Its a great shopping destination particularly for antiques, as Waynesville has block after block of antiques, shabby chic, four art galleries, two fabric stores that ship worldwide quilting and home decor such as re upholstery and curtains home decor, garden, primitives, artisans and so much more. The Waynesville Chamber actually offers a a free self guided walking tour os historic Waynesville that provides fascinating information about many of the historic Waynesville buildings. Its easy to get to and from each store because they're all very close together. Actually, Waynesville was named the most walkable town in the USA!
If you're a history buff, this place is for you! Waynesville, founded in 1797, boasts many preservation efforts by the Waynesville Historical Society, the Mary L. Cook Public Library and the Museum at the Friends Home. For an intimate experience of history, the Museum , located at 115 South Fourth Street, occupies a 1905 structure built by the Quakers to accommodate elderly members of their community. The building now houses a unique collection of local history displayed in 22 rooms. Fascinating exhibits highlight frontier settlement, stagecoach travel via Accommodation Trail, Quaker migration from slavery, Underground Railroad and Civil War activities. A more traditional, academic look at history can be found at Mary L. Cook Public Library. A new building was dedicated in 1988 at 381 Old Stage Road. With a recent expansion, it provides space for the extensive Ohioana Room collection of genealogies, historical atlases, photographs and reference.
If you like a little scare, The Museum at the Friends Home offers ghost tours. Because, in case you didn't know, Waynesville is known as the most haunted town in Ohio! The tour guides tell various stores of reported hauntings in the buildings, several of which are now stores.
All this exploring will work up a hunger, and Waynesville has lots of choices for that, too. From The Cobblestone Village (where we ate when we were up for the shoot last year !) that includes a gift shop with home decor items and a cafe. They specialize in organic produce, while also serving gourmet salads, sandwiches and chef specialties but my favorite were their yummy homemade desserts! (Figures I'd like the sweets in a place known for fresh produce! haha!)
Another choice for a nice meal is The Hammel House. Its a former inn with roots dating back to 1799 and once hosted Charles Dickens. The bed-and-breakfast is known for its sandwiches and salads and chef specialties. The Village Family Restaurant serves home cooked specialties, homemade pies, beef hot shots for lunch and dinner. The Stone House Tavern offers a full bar, salads, appetizers, gourmet and specialty burgers, gourmet grilled cheese and to honor the Ohio Sauerkraut Festival, sauerkraut balls. Lilly's Corner Cafe that offers chicken salad sandwiches, daily specials, where you can dine in within their antique store. Braden & Sons homemade fudge and taffy.
Waynesville is located off of Rt. 42 and Rt. 73, with the proximity to both I-75 and I-71. To learn more, visit www.waynesvilleohio.com.
---
Bud Light Pilot Featuring my Sister-in-Law Melissa Scalia!
11/04/13
My sister-in-law Melissa Scalia was recently featured in a Bud Light commercial! I know, cool, right!? Even cooler is that it could be a series that includes featuring cities and teams from all over the nation!
This could be a neat way to learn about all the foods, fun facts and superstitions of cities all over plus my sister-in-law could be the new poster child of Bud Light! How amazing would that be?
If the pilot is picked up, shell be traveling to Bud Light sponsored stadiums to interview fans as a web series. Shell play the part of a football fan trying to decide what team she wants to cheer for. Fans in each city will dress up, teach her the ropes, their traditions, etc. all leading up to the Super Bowl where shell reveal the team they have chosen!
If you can, visit the links below, like and comment if you feel so inclined! (And I hope you will!!)
Bud Light Facebook Page: https://www.facebook.com/BudLight
Full pilot episode: http://youtu.be/-EI4-lPf204
Fan zone teaser: http://youtu.be/ePPhJVQTP-M
Ickey shuffle teaser: http://youtu.be/hkRlaHc2Sx4
Superstitions teaser: http://youtu.be/ZaOdYdPjV5E
Who Dey teaser: http://youtu.be/116IUYxwxV4
---
Shop Bellevue This Friday from 6-9 p.m.
10/30/13
This Friday, November 1, head down to Bellevue for a night of shopping!
Shop Bellevues Witches Night Off will take place from 6-9 p.m.
Because of all the construction on 471, many of these shops have really seen a drop in traffic so this event is a great way to get down there and support them while enjoying a fun night out!
Shop Bellevue is also a great way to get a head start on your holiday shopping and maybe even get a few gifts checked off your list!
You can learn more about the event by visiting www.ShopBellevueKy.com!
Participating stores include:
Sigra Gallery
Pretty's
Ball Embroidery and Gifts
Home Style
The Cozy Cottage
RSVP Services
Avenue Brew
Splendid Things
Bellevue Bistro
Bella on the Avenue
Cleves and Lonneman Jewelers
Little Moments
Le Sorelle
Treasure Cellar
Mrs. Teapots Tea Room
The Bellevue Beadery
Pasquale's
Farmhouse Primitives
Purple Monkey
Interior Visions
Twice as Nice Antiques and More
Twisted Sisters Cafe
Schneider's Sweet Shop
Maize Music
Joann's Hairstyling
501 Salon and Spa
Siam Orchid
The Elusive Cow
Mackey Advisors
Bellevue Violins
Field of Vue Art (FoVA)
Doggynauts
Virgil's Cafe
Surround by IDC
Attachments:
---
Sweetest Day with Gigi's Cupcakes
10/14/13
Sweetest Day always creeps up on me, but I always love celebrating it (any excuse to celebrate and get gifts, right?! haha!) Well, this years Sweetest Day is this Saturday (Oct. 19), and I know exactly what Ill be getting Pete. He has such a sweet tooth, and when better than to get him a little something sweet than on Sweetest Day! Gigis Cupcakes has gluten free and are SUPER yummy unlike when Ive tried to make GF baked goods at home! Plus, they have a special going on for Sweetest Day : a 4-pack for $10.99!
Just thought Id share in case you need a great last-minute gift for your sweetie (or just YOUR sweet tooth! haha!) Click here to check out their area locations.
---
Fall Food Festival at Findlay Market this Weekend!
10/10/13
Get out and celebrate fall this weekend at Findlay Market! The 4th annual Fall Food Festival will be held this Sunday, October 13, from 10 a.m. to 4 p.m.
Brigitte Cordier from Anybody Can Cook will be offering cooking demos and shoppers can can enjoy a pie baking contest with $100 and $50 cash prizes as well as live music by Ghost Trees and Anna and Milovan. Molly Wellmann will be serving up craft cocktails and you can even sip down a craft beer from Rhinegeist.
Guests can also participate in an Instagram photo contest while the kids will love the face painting and pumpkin carving contest.
Findlay Market can be found at 1801 Race Street and the event will be held on Elm Street Esplanade in front of Daisy Maes on the Race Street side of the market. Youll also find goodies in the farmers market area!
---
Maribelle Cakery's New Cake Classes!
10/10/13
I dont know about you, but I watch those cooking and dessert shows on TV and it inspires me to get creative in the kitchen. I feel like Ive been able to successfully pull off some new things when it comes to cooking .but baking is another story.
My team at Cincy Chic has been working with Maribelle Cakery lately to promote their wedding and special event pastry business, and they just told us about new Cake Classes that theyre launching 2014. So, its like having the cooking shows come to you!
Here are there two upcoming events and you can click here to contact them for booking if youre interested!
Fondant Intermediate Course
January 6th, 7th, 8th, 9th and 10th 2014.
Maribelle Cakery fondant course will teach you how to cover a cake in fondant. The class starts with the basic fondant techniques, basic piping, use of crimps, textures and tracing a design on to fondant. The week will end with your presentation of your completed three tiered cake with a completed class certificate.
Where: Maribelle Cakery 3704 Cheviot Ave. Cincinnati, Oh 45211
When: Jan. 5th -9th 2014
Time: 9:00 am- 4:30 pm
Cost: $890 includes snacks, 1 hour lunch break, fondant/dummies for decoration and booklet with detailed instructions. Tools available for use.
Garden Flowers, Sugar Flower Course
January 27th, 28th, 29th, 30th, and 31st 2014
Maribelle Cakery is known for their beautiful sugar flowers and we will be teaching some of our most requested flowers. Students will learn roses, peonies, ranunculus, French tulips, magnolias; Hydrangea, dogwoods, several types of leaves, filler flowers, buds, and berries.
Coloring techniques and arranging your sugar flowers on a cake will be explored as well proper storage techniques. Students will learn production tips in the making of sugar flowers that will increase their productivity. This class is suitable for all levels. A class kit is included in the registration. Each student will take home the cutters and veiners used in class.
Where: Maribelle Cakery 3704 Cheviot Ave. Cincinnati Oh 45211
When: Jan 27th -31st 2014
Time: 9:00 am " 4:30 pm
Cost: $1450 includes light lunch, snacks, class kit, as well as cutters and veiners used in class. The Students will also receive an instruction booklet on flowers made in class. Students will also receive a certificate of course completion
---
I went to a friends wedding over the weekend, and I asked the bride who made her dress (thinking it was a designer like Amy Kirchen or something because it looked custom to her body). She said she actually got it off the sale rack at a local bridal store but had Toni at Alterations by Toni do her alterations!
Toni is actually a client of mine at Cincy Chic, so I was happy to hear (and SEE) that she does such great work! I had actually done a video interview with her (get a sneak peek of it below) a couple weeks ago for a feature were doing on her in Cincy Chic next week. In the interview she had mentioned that bridal is a huge part of her business now I know why! but she also mentioned that monogramming is another popular service.
For some reason, Ive been OBSESSED with monograms lately, so Ill definitely be bringing Toni items to personalize for me. Click here to see this great Pinterest pinboard with a bunch of monogram ideas! Give her a call at 513-271-7673 or click here to learn more about Toni. Plus, make sure you check out Cincy Chics issue next week where we feature this talented local lady!
---
This Lovely Life – Upcoming Event Oct. 10!
10/07/13
Maybe its that Im trading in bathing suits for chunky sweaters, but theres something about this time of year that makes me crave all the bad-for-you foods and drinks. A few extra pumpkin spiced lattes and pecan pies a week really add up Thats why I was excited to learn about this upcoming event held by local expert, Zarleen Watts. Shes a Certified Holistic Health Coach who has been studying holistic health and cooking for more than 20 years.
After being trained at the Institute for Integrative Nutrition in NYC, she decided to become a health coach, and start This Lovely Life, to fulfill her passion of working with people who want to enjoy healthy, happy, balanced lives, but understand that they need guidance and support to achieve their goals.
Today, Zarleen is certified through the American Association of Drugless Practitioners, and she leads workshops on health and offers one-on-one health and food coaching, as well as shopping tours and in-home natural cooking classes. She said she works with anyone with an interest in getting healthy, but she specializes in people who suffer from allergic reactions, including skin issues, food intolerances, emotional imbalances, fatigue, digestive issues, weight gain, and other allergic manifestations, as well as those who struggle with unhealthy food cravings and emotional eating.
Speaking of combating food cravings shes actually hosting an event on Oct. 10 to help you do just that. Check out the info below to learn more and get RSVP info! See you there!
---
8th Annual Art Affaire in Milford, Special Offer!
09/24/13
I just love love love Milford. One of my favorite shops in the entire city (the Amy Kirchen Boutique) is in Milford and just down the street from her shop is 20Brix, one of my favorite happy hour hotspots. But what's great about Milford is that there are new(er) businesses like those, and also the tried and true mom and pop shops that have been there for decades. You have everything from restaurants, sweet shops and bars, to jewelry shops and fashion boutiques. It's really a great mix. And what better way to check it all out for yourself than to come to the upcoming 8th Annual Art Affaire in Milford on Sept. 28! Here are some highlights of what you can expect there:
65+ artists " largest Art Affaire in its 8-year history
Four live musical groups
Eight local authors presenting, and signing, their latest book releases
A huge raffle featuring items donated by participating artists as well as local businesses and individuals
Held on the majestic grounds of Promont House Museum
On Route 28/Main Street " free parking in the Kroger lot and free shuttle service
See more details below and click here to download a coupon they said I could offer to Cincy Chic readers! You can also check out their latest YouTube video here! Enjoy! Hope to see you there!
Attachments:
---
Eight Great Facts about the Hillforest Victorian House Museum
09/18/13
My team members at Cincy Chic are big fans of the Hillforest Victorian House Museum, because weve covered lots of events there! Click here to check out all the stories weve written about this history hot-spot! And I personally LOVE the new wedding dress exhibit there (I just blogged about it a few weeks ago here), so you MUST check it out.
Its funny though even with all these stories, and me raving about the new wedding dress exhibit here on the blog, when I tell my friends about the Hillforest Victorian House Museum, they dont know what Im talking about, or just havent been yet. So, I contacted my friends over at Hillforest and and asked them to give me some fun facts about the building, location, architecture, events, etc., and I loved the list they came up with check it out below.
Located along a bend in the Ohio River, the small town of Aurora in Southeast Indiana is home to Hillforest Victorian House Museum, which welcomes visitors from April through December.
An 1855 Italianate-style mansion that was once home to industrialist Thomas Gaff and his family, Hillforest is listed on the National Register of Historic Places and has been designated as a National Historic Landmark.
Its unique steamboat-style architecture " including its ornate entrance, dramatic third-floor cupola and beautifully decorated rooms " transport visitors back to the mid-19th century, when sternwheelers plied the Ohio River and the thriving river town was a hub of progress and industry.
The museum will host several events in 2013, including a special Century of Brides exhibit, which will run all year. This Victorian-themed wedding display features an assortment of timeless bridal gowns dating from the mid-19th to the mid-20th centuries.
Hillforest is an also ideal spot for private teas and luncheons " including bridal showers and wedding teas " for groups of 20 or more.
From Hillforest, visitors can walk several blocks to Auroras downtown, where theyll find shops, restaurants, historic architecture, the scenic Ohio Riverfront and more.
Do you know a young person eager to explore history in a fun and interactive way? Sign them up for Hillforests American Girls Day Camp! Held in June, the one-day camps are for girls ages 5-14, and include games, crafts and a little lady tea.
You also wont want to miss Hillforest during the holidays! All decked out in Victorian splendor, the mansion offers teas, tours and a festive display of trees and other historic holiday dcor during the months of November and December.
---
Traci Lynn Fashion Jewelry by Karman Murdock
09/18/13
Traci Lynn Fashion Jewelry this necklace is only $36!!!
I found out about a new (well, new to me) jewelry line that I think youre going to love. Its very affordable but also very on-trend.
Its Traci Lynn Fashion Jewelry, and the business actually got started in Philadelphia 24 years ago by a young entrepreneur named you guessed it Traci Lynn. Traci Lynn launched the business to give women the opportunity to own their own businesses so they can balance their lives and achieve financial independence doing something they love! Shes been growing the business steadily ever since and its hitting Cincinnati in style literally!
Cincy Chic recently partnered up with Karman Murdock, a Traci Lynn Fashion Jewelry independent rep, and shes going to be at some of our upcoming events.
But I had to tell you about it because its some of the best bang for your buck jewelry Ive seen in a really long time.
For the price, youre getting the best quality materials possible like cubic zirconia, rhodium plating, and Austrian crystals and the designs look like theyre straight off the runways (I really love the chain necklace pictured here).
So, whether or not youd like to add a little wow to your wardrobe or line your pockets for the holidays, give my gal Karman Murdock a call at (513) 344-1862 or email her at karmanmurdock@gmail.com.
You can also click here to view their catalog for the latest fall and winter designs by Traci Lynn!
---
Thirty One Gifts by Talia Alexander
09/18/13
They say third times a charm well, that holds true for my experience with Thirty One Gifts. It all started at the beach this summer, where a gal sitting next to me had the cutest thermal beach tote. The pattern was so pretty and it had a monogram (Im obsessed with monograms right now for some reason). Plus, it was big enough for the fams lunches and drinks throughout the day and it had an outer pocket for all your other essentials. Finally, after a few days, of eyeing her bag, I had to ask her where she got it. She said it was a Thirty One bag. I made a mental note to find a Thirty One rep to get one through as soon as I got home but you know how it is when you get back from vaca and of course I forgot.
Then, I was at the grocery last month, and this woman had this bag lining the inside of her shopping cart. She was putting all the groceries she was buying into the bag in her cart. It had handles, so when she was done shopping, she took the bag with all her groceries inside from the cart to her car in ONE swift move. I was intrigued. I felt immediately dumb for lugging around my 20 small reusable bags to the grocery when I could just be bringing one like hers, and then carry everything into the house in one trip too! So, I HAD to ask her where she got it. She said it was a Thirty One bag. Humph. So, I made a mental note to find a Thirty One rep to get my beach bag and this grocery tote stat except after unloading my groceries and cooking (grocery shopping always makes me SO hungry!!), I of course forgot.
Well, fast forward to this weekend when I was at an OSU tailgating party (I know, dont tell my Miami friends) and someone had an amazing organizing tote that she had all her tailgating necessities organized into one OSU-logoed bag. It had a bunch of pockets, dividers and thick straps. I almost knew the answer before I asked, but I did anyway. Yup, Thirty One Gifts!
So, I FINALLY found a rep I love! Her name is Talia Alexander, and I highly recommend her. She started with Thirty One about 2 1/2 years ago just make a little extra Me money, and now shes doing it full time (rock on, sister!). Im so glad I found Talia because shes super helpful and knowledgeable. Plus, she does this full time, so shes quick to respond and her turn-around is amazing.
I learned that right now is actually a really good time to buy, too. Not only because its plenty of time before the holidays (I found a personalized tote pictured above I want to get for my sister-in-law!), but its also a good time to buy because in September, they have double hostess dollars! So, that means that if you host a party, you get double the amount of hostess rewards. She said if you enroll as a consultant and you could add on an extra $175 cash, too. Might be nice for people to have that before the holidays, so I thought Id mention it to all my readers here on the blog!
If you want to give Talia a call, her number is 513-673-9097, or you can email her atTalia.Alexander31@gmail.com. You can also check out all the designs and info about personalization on her website: https://www.mythirtyone.com/TaliaA31/
---
4th Street Boutique Designer Sale September 26!
09/17/13
The 4th Street Boutique will be hosting its annual designer sale September 26-28 at their new downtown location to support Dress for Success Cincinnati! The store carries designers such as Etro, Calvin Klein and Armani.
At the sale youll be able to browse and purchase womens new and gently used fall and winter clothing to give your closet a little makeover in preparation for the next several months!
4th Street Boutique is located at 209 West 4th Street in Cincinnati. This sounds like a great deal supporting a great cause and I cant wait to check it out!
---
New Piada Hyde Park Location, Win FREE Piada for a Year!
09/16/13
Piada Italian Street Food is opening a new Hyde Park location this Friday and offering free Piada for a year to the first 100 visitors! So, I just had to tell you about it! Check out all the details below!!
______________________
Piada Hyde Park " Grand Opening!
First 100 visitors receive FREE Piada for a year!
When: September 20, 2013
Where: 3780 Paxton Ave Cincinnati, OH 45208
Restuarant opens at 10:45am, people can begin camping at 6:00pm on September 19. The first 100 guests to Piada Hyde Park will receive52 FREE entree cards valid for a piada, pasta bowl or chopped salad! See rules here: mypiada.com/grandopening/contest.
Click here to learn about all the Paida locations!
---
Eat Local for the Globe event at Findlay Market Sept. 12
09/11/13
A few weeks ago, we did a story on Cincy Chic about Findlay Market and their new partnerships. I've been following them on Facebook and Twitter ever since! I just saw this event pop up and I think I might go down and support it tomorrow! I hope you will too! Sounds like a great event, really good cause, and some yummy food to top it all off! Hope to see you there!
Eat Local for the Globe
Thursday, September 12, 2013
Local food is real. We see it at Findlay Market as the number of people supporting our farmers, food artisans, butchers, shmongers, cheese sellers, bakers and chefs continues to grow everyday. Yet it is more than food. It is that sense of community people feel at public markets- the satisfaction and pleasure in knowing the people who grow, prepare or handle what you eat. And its the art, culture and music that naturally ourish any place where people like to gather.
Tickets can be purchased at: http://elftg.eventbrite.com/
---
Participating Chefs:
Participating Vendors:

Jean Robert de Cavel, Jean Robert's Table
Summer Genetti, Lola
Renee Schuler, Eat Well
Steven Shockley, Cumin
Julie Francis, Nectar
Todd Kelly, Orchids at Palm Court
Jose Salazar, Salazar
Elias Leisring, Elis BBQ
Stephen Williams, Bouquet
Michael Paley, Metropole
Dan Wright, Senate
Hideki Harada, Kaze
Steven Geddes, Local 127

Aretis
Bouchards
Fresh Table
Dojo Gelato
Mimis
Gramma Debbies
Madisons
Mama Lo Hizo
Market Wines
Pho Lang Thang
S&J
Taste of Belgium
Dean's Mediterranean Imports
---
Hyde Park Shop, Sip'n Stroll September 12!
09/09/13
Hyde Park Square will be hosting its Shop, Sip'n Stroll event Thursday, September 12 from 5-8 p.m. You'll have the chance to browse merchants in the square as many will be holding extended store hours just for attendees!
Wander from store to store as you listen to music from DJ Toad in the center of Square and pick up some new fall fashions while you're out and about!
To learn more about the shop, sip'n stroll, visit www.hydeparksquare.org or check them out on Facebook!
Attachments:
---
Curb Appeal Tips from Diane Agricola!
09/09/13
Thinking of fixing up your home's curb appeal as we start to head into the cooler months of fall? Well, my favorite designer Diane Agricola, owner of Agricola Redesign and A Village Gift Shop at the Century House, offered these helpful tips to get your exterior in tip-top shape!
Now that the hot summer months are behind us your curb appeal will take on a whole new look to potential buyers.
Having your home on the market in autumn can be a great thing. For one thing, theres less competition. It also puts you in the unique position to market your home as the perfect place to bunker down when its cold outside. Even though fall buyers may be concentrating on the inside of your home, its not the time to neglect the outside of your home.
Here is a check list to review to make sure your homes curb appeal is still holding ground for your fall buyers:
Fill in any bald spots or areas in your grass where its thinning

Add mums or other fall plants to add color and interest to your landscape.

Trim your shrubs and trees.

Clear out all the summer clutter by storing or removing all summer lawn furniture

Check your driveway. Does it need power washed or cracks filled in or resurfaced?

Clean all gutters and downspouts and repair any leaks.

Clean all windows and screens or even store the screens so the windows show better.

Make sure all outdoor lighting is in working order and is highlighting the best features of your home.

Take a good look at your front door. Does it need a fresh coat of paint? Hang a nice wreath with rich fall colors to invite your potential buyers in.

Make sure your door bell is in working order and your house numbers are appealing and can be easily seen from passing traffic

Check the street in front of your house for trash and unappealing litter

Last but not leasttake a good look at your mailbox. This is a relatively inexpensive item to update and makes a huge difference to potential buyers.
Attachments:
---
Celebration, Champagne & Afternoon Tea at Churchill's Sept. 10
09/02/13
Churchills Fine Teas celebrates 10 years in the tea business in Cincinnati on Sept. 10! They have a lot to celebrate too. from recently expanded its OTR presence with an additional location, to formalizing its event and design business as Design-Bazaar.com, they are now also located on Dunlap Street, located off Findlay Street.
So, Cincy Chic is teaming up with Churchills for an event on Sept. 10 from 4-8pm. Purchases made during the event will benefit the local Freestore Foodbank and the Drop Inn Center. Also, in honor of the new Prince George, Royal Family memorabilia will be on display along with sampling of the new tea in his name!
The event is FREE to attend, and the first 100 attendees will receive a FREE swag bag! Just click here to RSVP!
---
4EGsquare Event September 6!
09/01/13
Four Entertainment Group (4EG) will be bringing back its popular 4EGsquare event at Fountain Square on September 6th. The event will take place from 5 p.m. to 10 p.m.
The group will be recreating its 12 bar and restaurant concepts in the heart of downtown Cincinnati including aliveOne, Igbys, Keystone Bar & Grill, The Lackman, The St. Clair, The Stand, Mount Adams Pavilion, Righteous Room, The Sandbar and Tap & Go.
Each of the vignettes on the Square will mimic their actual locations and offer specialty drinks, games and swag!
Guests are encouraged to use Foursquare and/or Facebook to check-in at Fountain Square. Those who check-in will be given a coupon for drink specials at all 12 4EG locations throughout the weekend.
The Keystone Bar & Grill is be offering its signature mac and cheese, Mount Adams Pavilion will serve grilled burgers and The Sandbar will offer its famous Walts Wings.
You can also enjoy live music by Seabird, Fuseamania and Backbeat.
4EGsquare is free and open to the public. If youre interested in learning more about the event, visit www.foureg.com
---
Whole Foods Market Food and Wine Festival September 28!
09/01/13
The Whole Foods Market store in the Deerfield Town Center is hosting Northern Cincinnatis Inaugural Food and Wine Festival September 28th! Whats even better than a food and wine festival is that 100% of the proceeds from the event will go to fight hunger in the Tri-State area.
The festival will be the first of its kind for Northern Cincinnati and the Mason Food Pantry is partnering with the Green Umbrella and Mason-Deerfield Art Alliance for the event. The goal of the food and wine festival is to not only help fight hunger throughout the region but to bring awareness of way to keep the planet healthy by using sustainable practices while promoting local arts.
You can purchase tickets for the festival at the Whole Foods Market in Mason or buy them in advance for $25 at www.wepay.com/events/wfmfoodandwinefestival.
You can also get tickets the day of the event but keep in mind they are limited!
The food and wine festival will be from 3 p.m. to 9 p.m. with more than 30 wineries participating in the inaugural event.
---
Dress for Success Cincinnati Fashion Show Sept. 19!
08/24/13
Dress for Success Cincinnati will be putting on "The Fashion Show" Thursday, September 19 at the Hyatt Regency Ballroom. Located at 151 West 5th Street in Cincinnati the reception begins at 11 a.m. followed by a luncheon, program and Saks Fifth Avenue Fashion Show from 12:00 p.m.-1:30 p.m.
The day will include a delicious lunch and amazing fashion show featuring fall fashions from Saks Fifth Avenue. Clients from Dress for Success Cincinnati will model and tell their own stories during the event as well!
I'm really excited about this event especially because Cincy Chic's new editorial intern Kathryn Shepherd will be covering the event! To RSVP to the event, click here!
---
JDS and Herzog Jewelers Release Birth Bangles!
08/24/13
Alright, listen up bling-lovin mamas! JDS and Herzog Jewelers are teaming up to launch an exclusive Symbol Birth Bangles design to help you celebrate the birth and life of all your children! Included on the bangle is not only a birth stone of the respective month but also the lesser-known months flower!
You dont have to have a child to get one of these beautiful bangles either! Purchase one in honor of your grandchild, godchild (or niece and nephew in my case!) and have the named and birth date engraved on it! The design is so pretty and chic! Check out www.herzogjewelers.com to learn more!
---
Beads of Courage Bead Challenge September 21!
08/23/13
The Beads of Courage Bead Challenge is returning to Brazee Street Studios September 21 from 10 a.m. to 4 p.m. Bead artists will come together for a marathon bead-making session to support the Children's Hospital. The beads created during the event will be given to the hospital's patients to recognized the milestones in their treatment journey and to honor and acknowledge their courage.
The event for this great cause is free and open to the public. Activities include bead making, bead sponsorship where visitors can become a Bead Sponsor for a child in the Beads of Courage Program, strength bracelets for attendees to make to honor their own strength and courage and a Fimo Bead Making Table to create clay beads.
The event will be held at Brazee Street Studios School of Glass at 4426 Brazee Street in Cincinnati. Over at Cincy Chic, we recently featured Robin Ewers, who owns Dogwood Art Studio and is also at Brazee Street Studios. For more information on the event, visit www.beadsofcourage.org or www.brazeestreetstudios.com.
Attachments:
---
Cheers to Art End of Summer Sale!
08/20/13
Head to Cheers to Art for up to 50% off at their end of summer sale! They just opened a second location in Over-the-Rhine but you can still visit their original location in Madeira for this great bargain!
The sale starts August 21 and runs through August 31. Cheers to Art is open Wednesday - Saturday at 1 p.m.
Purchase summer hats and scarves for 40% off, select T-shirts for just $20, select summer jewelry at 50% off and summer bags for 40% off.
As Cincinnati's premier painting studio and boutique, you can enjoy art as entertainment, painting, wine and gifts.
Eat, drink, paint and be merry with hands-on art instruction where the ladies will walk you through a full painting in one night. They offer scheduled classes including ladies' night, drawing sessions or private parties.
To learn more about Cheers to Art, click here or here to check out the articles we wrote about them on Cincy Chic!
Attachments:
---
Get Ready for National Preparedness Month with the Red Cross!
08/16/13
Get ready for National Preparedness Month and DistasterFair 2013 being held by the Cincinnati Area chapter of the American Red Cross and Hamilton County EMA. This year's campaign is called "5 to Get Ready" and will kick-off on August 24 from 10 a.m. to 2 p.m. It's being held at the cincinnati Area Chapter at 2111 Dana Avenue in Cincinnati.
The free and family-friendly event will teach attendees how to prepare disaster kits and offer families tips on how to be prepared for a disaster. There will be more than 30 agencies in the Tri-State with exhibits at the event.
---
Supporting GBS in NYC!
08/16/13
This is a guest post by my right-hand woman at Cincy Chic, Stephanie Zastawa, who recently visited NYC to raise awareness for GBS. Keep reading to learn more
The chance to spend sometime in the Big Apple who would pass that up? Definitely not me, since it was one city I have yet to see! Little did I know it would be the quickest but most rewarding and heart-tugging trip yet!
Meridian Bioscience Inc. was heading off to New York City to spread the awareness of GBS, better known as Group B Strep, on Times Square! For those of you who may not know what exactly GBS is, it is a condition that pregnant mothers may unknowingly pass on to their newborn child, which can result in fatality. Women get tested at 35-37 weeks gestation to see if they are Group B Strep positive, if they are positive, they will receive antibiotics in labor so they dont pass on the bacteria to their baby. The problem is, traditional culture tests do not detect all of the positive women, increasing their chances to pass GBS on. Meridian Bioscience released a new Group B Strep test illumigene Group B Strep, which is more accurate compared to popular culture testing methods used in most doctors offices.
July was GBS awareness month and to raise awareness, Meridian Bioscience had a 10 second GBS awareness video on Times Squares CBS Screen! You can check out the video here: http://vimeo.com/69482302. In combination with this video, Meridian Bioscience along with Group B Strep International hit the streets of Times Square to spread and increase awareness of GBS and the illumigene Group B Strep test. I was fortunate enough to join these incredible people!
During my time, I met some of the most amazing peopletheir stories on the other hand were heart breaking. I had the chance to talk to and hear from three women who all had personal experiences with GBS. Unfortunately and sadly all three lost a child to this condition. Two of which were years back and one of which was pretty recent. However, it didnt matter how long ago or recent this heartbreak occurred, the loss of child seems to be the hardest and it reflected in their voices and tears.
But it was the illumigene Group B Strep and Meridian Bioscience team, that really awed me, none of which have had a personal connection to GBS. Their commitment and strong connection to this effort moved me. Maybe it was because of the stories upon stories they have heard and have come across throughout this journey as well as the release of the illumigene Group B Strep test. Either way, they were on a mission in Times Square and that was simply to make others aware!
That day, keep in mind the heat index was 110 degrees, we started underneath the CBS Screen where the GBS awareness video would loop and then moved our way to Broadway, passing out thousands of GBS awareness pins and postcards. By the end of the day we chalked it off as a success! It was so heart-warming to see so many people come together to support something they felt so strongly for.
I was asked by the Meridian Bioscience team to give a short interview on my thoughts about the dayand lets just say there were a few moments when I just about started to cry.
For me, I had no real background about GBS until we began to partner with Meridian Bioscience, and even then I did not put much thought into it. It was my trip to NYC and the experience I had, that really opened my eyes to the seriousness of Group B Strep. I, myself, am at the age where I soon hope to have children, and to think of carrying a child for 9 months and then soon after losing them to a condition out of my control is devastating.
Knowledge really is power, asking my doctor and being sure I am tested for GBS withillumigene is the most important thing I can do for myself and more importantly my child.
GBS is participating as a sponsor in Cincy Chics upcoming Schools Back, Mom Relax event on August 23, where you can RSVP!
Attachments:
---
Fight Like a Superhero!
08/15/13
I just learned about this local child, Luke, who was recently diagnosed with an inoperable brain tumor. The Independence, KY-based family is trying to stay positive and the dad is taking time off work to spend as much time as he can with his sick son.
My friends need help in getting the word out to help raise money for this family since the medical bills are stacking up, so they're holding an event to benefit the family.
The "Fight Like a Superhero" benefit will be held Saturday, October 5 from 6-11 p.m. at the St. Dominic Gym in Cincinnati. The cost is $20 per person or $35 per couple. If you're unable to attend the event but still want to donate, you can head to any 5/3 bank and make a donation to the Luke Knapke Donation Fund. 100% of the proceeds from the benefit will be going to Luke and his family.
You can learn more about Luke and his family or the event by visiting their Facebook Page.
---
Owl Be Sweatin' Supports Milford Alumni Charity Soccer Event!
08/15/13
On August 25th, K.C. and Mallory DeBra, owners of Owl Be Sweatin', are honoring a great cause and celebrating the beautiful life of Connor Martin. Connor was diagnosed with a rare form of brain cancer and fought long and hard for a year until he passed away on June 5.
The Milford community wants to come together to show local support of the Martin family and to raise awareness of this rare condition. Owl Be Sweatin' is a corporate sponsor of the event and will have their adjustable headbands displayed and ready for purchase! A portion of the proceeds will go directly to the Martin Family. In honor of the Milford Family-both mom and dad being Milford High School Alumns- they are supporting the Milford Alumni Soccer Games that will take place at Milford High School.
Being athletes themselves, K.C. and Mallory are excited to provide headbands that ACTUALLY work! They have put their needs and ideas together to come up with a great adjustable headband with various patterns and colors for all ages! Mallory stated in a recent press release, "Our Customers are the reason we design our headbands and we are thrilled to provide them with headband solutions that K.C. and I have been seeking for years!"
Milford Alumni Soccer Games Coordinator, Carissa Smith also added,"We are very excited about this year's alumni games being hosted as a benefit for the Martin Family..We appreciate the generosity of the school, the soccer program, and the community for helping us pull this off. We look forward to the entire community joining together for a great day of soccer to support such a wonderful cause."
The women's game will begin at 3:00 p.m. followed by the men's at 5:00 p.m. All the proceeds from the event including split the pot, games, food, company sponsorships, etc. will be donated to the Martin Family.
We hope to see everyone coming together August 25th to show support and help a local family in need!
If you want to check out the Owl Be Sweatin' Headbands, click here to read the Cincy Chic story we wrote about them, or visit www.etsy.com/Shop/OwlBeSweatin!
Attachments:
---
Shop Chic for a Cause at Chico's!
08/06/13
Chico's is partnering with the National Network to End Domestic Violence to launch its first Denim Days campaign. This nationwide charitable initiative was established to help collect jeans for women in need.
Now through August 18, bring new and gently worn jeans to any Chico's boutique to donate. With every pair of jeans you donate, Chico's will offer $20 off any denim purchase through the end of the campaign.
NNEDV represents more than 2,000 shelter programs across the 56 state and territory coalitions in the U.S.
Get out those jeans you aren't wearing and donate them to an amazing cause while earning a little reward for yourself.
Attachments:
---
Pick up a ticket to W&S Affair at the Open!
08/06/13
My friend Elise is hosting this awesome event coming up at the U.S. Open tennis tournament! W&S Affair at the Open will take you on a charter bus that picks you up downtown. You'll get to head to Mason to watch a few matches and enjoy refreshments there before taking the bus back downtown!
The event will be Sunday, August 17. For $45 you'll get round-trip charter bus transportation from downtown (pickup is at Neon's). You'll also receive a tournament ticket to a semifinal match, access to a private hospitality party on tournament grounds and a free dink at the Corona beach house!
Transportation on the charter bus is not mandatory but there are a limited number of seats on the bus - so first come, first serve.
This sounds like such an awesome time and she's even shared a discount code for $8 off!
Follow this link for tickets. Use the promo code "eliseg" to get $8 off at checkout!
---
Cincinnati Panerathon 5K/10K Next Month!
08/06/13
Time to get into shape and help a great cause! Panera Bread is proud to host the 6th Annual Cincinnati Panerathon and is excited to see all the proceeds benefiting Shared Harvest Foodbank and the Mason Food Pantry. This is a wonderful, family fun event that encourages community participation and family fun in Cincinnati. For every $1 raised through the Panerathon, these hunger relief agencies will provide eight meals to neighbors in need throughout the community.

In a recent press release, Shared Harvest Foodbank Executive Director Tina Osso said, Hunger knows no boundaries. The Panerathon brings this entire community together to raise thousands of dollars to feed our neighbors in need. Its a win-win for everyone involved! On September 22nd, the Panera location in Deerfield Towne Center, will kick off the race at 9:00 a.m. for the 10K and 9:05 a.m. for the 5K. All ages are welcome and encouraged to join in this fight against hunger! Kids 12 and younger will have the chance to join in their own competitive fun, lead by "Bearcat" from UC and Twister from the Cyclones in a 1/8 mile dash at 10:15 a.m.!


The finish line will be awarded with delicious treats and pastries from Panera and live entertainment from Q102! (If that isn't motivation, I don't know what is!)



The registration fee for the event includes a t-shirt, chip timing, goody bags, and post-race expo with food and refreshments!



Click here to register today!!


Attachments:
---
8th Annual Findlay Market Blue BBQ!
08/03/13
This Sunday, August 4th, Cincinnati is bringing the Cincy Blues Fest to Findlay Market and adding a mess of barbecue to the mix!
From 12:00 p.m. until 4:00 p.m., there will be an entertaining array of our best local blues bands such as Tempted Souls to kick off the fun afternoon! Other featured artists includes Ricky Nye and Noah Wotherspoon, Chuck Brisbin, and The Tuna Project!
Expect delicious barbecue items from our favorite Elis, Velvet Smoke, Taste of Market, Eckerlins, Gramma Debbies, S&J Caf and some other surprise chefs. Also, the first 300 shoppers will receive Chipotle Mexican Grill giveaways!
Come out to Findlay Market Sunday to support your local blues bands and food vendors and experience great music, dancing, and food! What more can you ask for?!
For more information about the event and future upcoming events at Findlay Market, visit their website @ www.findlaymarket.org!
---
Being a young entrepreneur myself, I always love it when I see other local ladies reaping the benefits of their hard work and dedication. My friend Nidhi Bedi is one of those gals. I initially met her through a friend and we immediately connected. She has one of those contagious smiles and an unbelievable work ethic that I wish I could bottle and mass produce.
For the past several years, shes helped to run Elements Event and Conference Centre in Sharonville (which is awesome we held a Cincinnati.com event there a couple years ago actually!). Then, she opened a clothing and bridal shop called the Black and White Exchange, which she sold. And about a year ago, she launched A Brides Mafia, which is a SUPER SUCCESSFUL wedding concierge service. Several of my friends have gone to her bridal networking events (which are less of a bridal expo and more of a cocktail hour with people in the wedding biz), and have been helped by the concierge service they said its a dream come true, plus its FREE!
Cincy Chics brother publication, Cincinnati Profile, originally featured her in this 2011 Single & Successful story. Then, last year, she was voted to be one of our Cincy Chic Women of the Year. And just recently, we covered A Brides Mafia in Cincy Chic, and coined the nickname Bridal Mafia Boss for Nidhi, which is absolutely PERFECT! haha!
Like I said, Ive just loved following her and all the success thats come her way. I check her site occasionally to see what shes up to, and thought her last post Its not what you know, its who you know was a great one to share. She reflects on her very first event, and how this business has grown. She also shares a little about her upcoming event Battle of the Wedding Bands on Aug. 11, and gives an overview of all the Mafia members and how they can help you if you have wedding bells in your future! I knew about that she worked with several different kinds of vendors, but it was neat to learn who they are and what makes each unique.
Click here to check it out! Also, if you would like to go to the Aug. 11 Battle of the Wedding Bands event, use the code CINCYCHIC to get in free! See you there!
---
I recently came across a bunch of great "Life Hacks" on Pinterest... they're just great little tips and tricks that'll make your life easier! Here are my four favorites:
1) key ring
- save fingernails and use staple remover to get open
- Use as quick fix for zippers that never want to stay up
2) Toilet paper roll:
- make cuff for wrapping paper
- keep cords untangled and organized
3) muffin pan
- for condiment server
- for taco shell bowl
3) use clothes pin while hammering
4) Soda pop tab to offset hangers and save space in closet
---
2013 Indie Craft Market - Deadline for Entry TODAY!
08/02/13
Attention all aspiring designers, artisans, and crafters out there! Fountain Square is encouraging you to participate in the 2013 Indie Craft Market featuring handmade, unique, Etsy-style art & crafts!
Friday, August 16th, from 5:00 p.m. until 11:00 pm. the Square will be filled with creative vendors and artists from some of our favorite Indie Bands! This is a perfect opportunity to showcase and support local, independent artists and designers and small, local businesses around the Cincinnati area.
The deadline to sign up for a chance to showcase your unique items is right around the corner! All applications are due by TODAY at 5:00 p.m.!
If you are interesting in applying to the 2013 Indie Craft Market, CLICK HERE for an application. And for more information about the exciting, upcoming events at Fountain Square, visit their website at www.myfountainsquare.com!

---
Cool Treats, Gadgets and Fun for Your Furry Friends!
07/19/13
Our furry friends love to enjoy summertime with you and your family, but boy is it hot out there! So, I thought I'd share a few DIY treats and gadgets so you can beat the heat while having fun with Fido!
Frozen Pupcicles
Heres a great recipe to make some tail-wagging Frozen Peanut Butter Dog Treats.
Ingredients: Three 6oz containers of plain low-fat yogurt 1/2 cup of peanut butter, 1 4oz jar of banana baby food, 1 tablespoon of honey.
Directions: In a medium bowl, combine all ingredients. Blend well. Pour mixture into Dixie Cups. Place dog bone in mixture (to serve as the handle). Freeze. Once frozen, peel away paper cup and serve!
Frozen Treat Bowl
My dog, Dino, loves this one! Just freeze dog toys in water and chicken/beef broth mixture, get their favorite toys (stuff them with peanut butter for even more yumminess!), throw it all in a bucket or a water bowl, freeze overnight. You have instant summer fun for your pup!
Kool Collar
When the Kool Collar is filled with ice, the melting ice runs down the front of the dog and not only offers a comfortable cool sensation and promotes evaporative cooling over the vascular chest area of the dog. The action of the water evaporating cools the blood and the core temperature of the dog. You can get these at Posh Pets in Short North. $18-20 depending on size.
Shade Shelter
The Shade Shelter, by a company called Outward Hound (such a cute name!), is an easy-to-assemble shelter for your four-legged friends of all sizes. The Shade Shelter folds up and fits into a compact, convenient carrying bag with handle, but can be removed and assembled to its full 4-feet square by 3-feet high shelter in just moments. Keeps your dog cool and out of the sun and dirt. Also vents to allow breeze to cool interior. Retails for $59.99 .
Port-A-Bowl
Collapsible Port-a-Bowls tuck easily into a backpack, pocket, or purse and provide convenient dispensation of food and water while on the go. Retails for $6.99.
Nite Ize LED Collar and Leash
Put this Nite Dawg LED light-up dog collar and leash on Fido and you will never wonder where, oh where, your little (or medium, or big) dog has gone! And neither will anyone else. As a runner who often doesnt get a chance to run until the sun has gone down, this is a great product for keeping you and your pup safe. There are two different light settings " one for constant light and the other is flashing.
---
Cupcake Crazy Turns 1!
07/16/13
Have a sweet tooth? Cure it with some delicious desserts, and celebrate a local ladys dream come true in the process! Its Cupcake Crazys 1st birthday this Saturday, July 20th! This tasty celebration will take place at their retail shop on Montgomery Road from 4:00 p.m. until 7:00 p.m.!
This has been an exciting year for Cupcake Crazy and owner, Lisa Ebbert said in a recent press release: We just want to share that excitement by throwing a party for our friends and customers.
In honor of this birthday celebration attendees will enjoy FREE cupcakes and tastings and door prizes! Um, cupcakes and freebies? Sign me up! Also, a Cincinnati food truck favorite, Caf de Wheels will be parked outside serving their yummy menu! Plus, to keep the kids occupied and entertained (as if cupcakes werent enough) balloon animals will be made for kids of all ages!
Last but not least one lucky attendee will be awarded CUPCAKES FOR A YEAR! Yes, thats right, one dozen cupcakes of your choice each month for the next year! To enter for a chance to win this or another amazing prize (including a private room with a photographer to capture the amazing memories and cupcake decorating), apply at the Cupcake Crazy store during your next visit!
We hope to see you and your sweet tooth on Saturday!
For more information about the store and the contact information, call 513.984-1100 or visit their website at http://cupcakecrazyincincinnati.com!
Thanks to my intern, Shannon Mahoney for helping me put this blog together!
Attachments:
---
Michael's Craft Tour Comes to Cincinnati Tomorrow!
07/16/13
The Michael's Craft Tour bus will be making an exciting stop in our neighborhood tomorrow, July 17th! The Cincinnati Zoo & Botanical Gardens will be hosting the Macy's Kids, Cultures, Critters and Crafts Festival from 9:00 a.m. until 6:00 p.m. tomorrow (July 17) where the Michael's Craft Tour Bus is offering FREE, yes FREE, crafting for your entire family during those hours!
Michael's will be taking their supplies from the stores to the road and providing this amazing opportunity for all of you craft lovers out there! This is a chance to spend the day exploring the wild, adventurous Cincinnati Zoo while expressing some creativity with your kids and friends! Admission is ONLY $1 plus the fee of parking!
This bus is only making one stop in Cincinnati and you won't want to miss this FREE crafting experience!
If you want to share your experience with the Michael's Craft Tour Bus, make sure to follow along with this hashtag: #michaelscrafttour!
Remember to stay crafty, Cincinnati!
Cincinnati Zoo and Botanical Gardens Address:
3400 Vine St. Cincinnati, Ohio 45220
Attachments:
---
Swap and Re-Sell Event This Saturday!
07/11/13
Enjoy a clothing swap and resale event this Saturday, July 13, at the CMC Office Center in Cincinnati.
The event begins at 5:15pm and will include a wine tasting and food! Guests to the two-part event can bring up to 20 gently worn stylish clothing items. Youll get to swap the same number of items you brought to the event.
For the Shopping re-sale, youll get your hands on some brand new, tags still attached, designer and brand name clothing. The re-sale will function like an auction, and each item will have a minute for bidding. The item will go to the highest bidder. Theres also a deals-n-steals table with clothing for low, low prices.
If you plan on just swapping at the event theres a $5 fee, if you plan to re-sell theres a $15 fee. It all goes to benefit a charity, too!
Learn more about this fun, frugal, philanthropic and fashionable event here!
---
First Ever Fitness Instructor Throw Down!
07/11/13
Cincinnati fitness instructors and trainers will battle it out for the title of "Fitness Instructor Throw Down!" The Women's Fitness Association will host the first EVER Throw Down event Saturday, July 27th! The competition will take place during their Summer Symposium and Fundraiser held at the Five Seasons Sports Club.

The Women's Fitness Association wants to see the best of the best compete to prove they have what it takes to become the Throw Down Champion!The winner will be chosen based on their performance skills as an instructor or trainer. But YOU, the audience, will help determine the outcome! Your donations will count as votes and the trainer/instructor with the most votes will win the title! Hope to see and hear all kinds of cheering sections that day to support the Women's Fitness Association!

Good luck to all competing! Make sure to bring your teaching skills and your "A" game! And we hope to see a lot of fans and supporters because you will make this day an exciting one!
For more details about this event and the Women's Fitness Association, Click here!
Attachments:
---
Findlay After Four Shopper's Campaign
07/11/13
Findlay Market is home to an abundance of delicious goods and small business owners who share a love for food and culture. Now, the market is helping to make that never ending weekly shopping list a fun, enjoyable experience. The Findlay Market is now extending their hours on Thursdays so people all around Cincinnati will have a chance to join in this one-of-a-kind shopping experience despite their busy schedules! From 4:00 - 6:00 p.m. every Thursday, the market will be open and more alive than ever!


Each Thursday during extended hours, a variety of activities will take place to encourage returning and new customers to shop at the Findlay Market! Today, the 11th, from 4:00 until 6:00 the market will have the following activities:
Cooking demo byJulie Francis, Chef/Owner, Nectar. Free samples while they last

OTR Biergartenfeaturing craft beers from Christian Moerlein and MadTree

Free raffle giveawaysof DCI gift card, Taste the World at Findlay Market food tours, and a variety market bling.

Market Wines evening tastings
"The quality and value of the products available is unparalleled; the diversity of our customers and the democratic approach to service is unique in the region."-Findlay Market Website. Click here for more about their inspiring story!
And check out our weekly issue about the Findlay Market on our Cincy Chic homepage to learn more about the Market!
For more information about upcoming activities and events at the Findlay Market, visit their website @ http://www.findlaymarket.org/ or call (513) 665-4839!
Attachments:
---
The City Flea, July Edition!
07/10/13
Everyone will be fleeing (pun intended!) to Washington Park this Saturday, July 13th from 10:00 a.m. until 4:00 p.m. to join in the contagious energy that springs from Cincinnatis original curated, urban flea market.The City Flea is hosting its monthly market celebration this weekend and is inviting anyone and everyone!
This project began June 4th, 2011 and immediately left people wanting more! Their first summer season was declared a success due to the 70 + vendors sold, and since then, in the third season of operation, the Flea is home to about 170 creative, unique vendors.
There is no admission free, but they do ask that you bring a smile
Expect everything from food to ceramics to clothing and MUCH more! Spend your Saturday exploring the unique and talented vendors at Washington Park!
The City Flea site encourages people all around town, to bring your friends, bring a few bucks, and most importantly, just bring it.
Thanks to my intern, Shannon Mahoney for helping me put together this blog!
---
Cincinnati Boutique Sale This Weekend
07/10/13
Want the chance to shop designer looks at irresistible prices all in one location for THREE whole days? This is no joke, ladies! The Cincinnati Boutique semi-annual sale starts this weekend in one convenient location in the Hyde Park Plaza!
Starting tomorrow, Friday, July 12th, our favorite Tri-State boutiques from Cincinnatis premier shopping circle, Hyde Park, will come together for a weekend filled with fun and fashion with fabulous friends! The sale begins at 10:00 a.m tomorrow and will continue through Sunday, July 14th! (Exact times are listed below!)
This is a chance to get gorgeous clothes at amazing prices, while also giving back to a local non-profit organization. The SPCA of Cincinnati will benefit from this weekend sale with a small $5 suggested admission donations at the door. Come celebrate great deals and a great cause!
The participating boutiques include:
Cha Chas

Couture Couture
Chez Renee
Kate
La Silhouette
Morrison & Me
Otazu
Sara Benjamins
Silly Bean
Soho
The Wardrobe
Three French Hens
Trend Boutique
The Sale Schedule is as follows:
Friday, July 12th- 10: 00 a.m.- 6:00 p.m.
Saturday, July 13th-10:00 a.m.- 5:00 p.m.
Sunday, July 14th-11:00 a.m.- 4:00 p.m.
To find out more information and for directions, Click here!
---
Cincinnati Game Night at the Art Museum!
07/07/13
Do you think you know your home town, Cincinnati like the back of your hand?! Come test your knowledge about this great city on Wednesday, July 10th, from 5-9 p.m. The beautiful and exquisite Cincinnati Art Museum will be hosting Cincinnati Game Night with Cincy-themed Pictionary from 5"7 p.m., and Cincinnati trivia from 7"9 p.m in the Great Hall of the museum!
This is a perfect summer-fun activity for the entire family! From scavenger hunts for the kids, to trivia and cash bars with appetizers for the adults, it is a win-win! (Well, hopefully for the trivia and pictionary teams!)
This is a free event with parking included for museum members. Reservations are NOT required and is welcoming to all!
Also, because of the fabulous Cincinnati Summer Celebration in honor of the Cincinnati Wing and TEN years of FREE ADMISSION thanks to the Lois and Richard Rosenthal Foundation, the museum will be open late on Wednesday evenings until 9:00 p.m. through August 14th!

Cincinnati Summer certainly wouldn't be a true celebration without some fun-filled events! Check out the events below and mark your calendars today!
InDepth: Edward Potthasts Skimpy Swimwear: July 13, 2"3 p.m. FREE. Reservations required.
ARTiculate: Anthony Luensman- July 17, 7 p.m. FREE for Art Members and E4E participants, $5 for students/seniors/Enjoy the Arts members, $10 for non-members. Reservations recommended.
Cincinnati Spotlights Gallery Talks: July 20, 11 a.m. "5 p.m. FREE. Reservations not required.
Art After Dark: Cincinnati Food Celebration- July 26, 5"9 p.m. FREE event with cash bar. $10/ticket for 10 tastes of chili and/or beer. Reservations not required. Taste tickets may be purchased in advance by calling 513.721.ARTS or visiting cincinnatiartmuseum.org.
Cincinnati Summer 5K and Sports Day: August 3, Registration begins at 7 a.m., Race at 8 a.m.; Sports Day events from 12 noon"3 p.m. Summer 5K registration: $15 in advance, $25 day of event. Sports Day: FREE. Reservations not required. Boxed lunches available for purchase at the Terrace Caf.
Rookwood Day: August 10, 12 noon"4 p.m. FREE. Reservations not required.
Cincinnati Memories Reception: August 14, 6"8 p.m. FREE. Reservations not required.
For more information about the upcoming events for the Cincinnati Summer Celebration, and Game Night at the Cincinnati Art Museum, visit their website @
http://www.cincinnatiartmuseum.org/
!
For general information, call (513) 639-2995.
Attachments:
---
Declutter and Donate to Dress for Success!
07/05/13
Ok, ladies weve all been there before lots of clothes but nothing to wear? Heres my secret for eliminating the stress of getting out the door on time, look fresh and fabulous, and support a local charity in the process! First, make Three Piles: donate, alter, and eBay!
Without a doubt my donate pile will be going to Dress for Success Cincinnati, to help empower women and give them the confidence they need to succeed. Gently used business attire can ultimately help women thrive in work and in life. Donations are always welcomed and encouraged! Click here to find out where you can drop off your donations! Remember, donating is tax deductible, good for the earth and makes room for a replenished wardrobe!
For more information about Dress for Success, visit there website at www.dfscincy.org.
---
Wearable Art Fashion Show July 26
07/05/13
Save the date for our next big Cincy Chic event! Its our Wearable Art Fashion Show! Im really excited about this event because its going to be at an artsy, brand new venue in Northside I think youll just LOVE! And the fashion show will be featuring several local fashion designers! Oh, and its all for a great cause too! All the details are below and you can click here to get tickets!
Wearable Art Fashion Show
When: Friday, July 26, 6-9pm
Where: Pallet 23 - 3932 Spring Grove Ave Cincinnati OH 45223
Enjoy complimentary drinks, hors doeuvres provided by Crave, shopping, photo booth, swag bag, fabulous silent auction, and fashion show featuring local fashion designers. Proceeds benefitVisionaries + Voices.
Supporting Sponsors: PNC Bank, St. Elizabeth Healthcare, Cors & Bassett Attorneys at Law LLC
Fashion Show Sponsors: Curate Boutique, Tmaries Portia Renee Boutique custom shoes & accessories, Jewels by Jules featuring Lisa Robin Jewelry, 501 Salon
Booth Sponsors: Miche Bags with Mindy Richards, Origami Owl with Heather Zimmerman, Karma Wellness Studio, Cupcake Crazy, Pet Passions & Fashions, R.Ewers Designs, Rosanne Beatty with Mary Kay, Stella & Dot with Kelly Martin and Beth Harris
Videography provided by: True Artists Studio
Hosted by: Cincy Chic, the only online lifestyle publication for women in Greater Cincinnati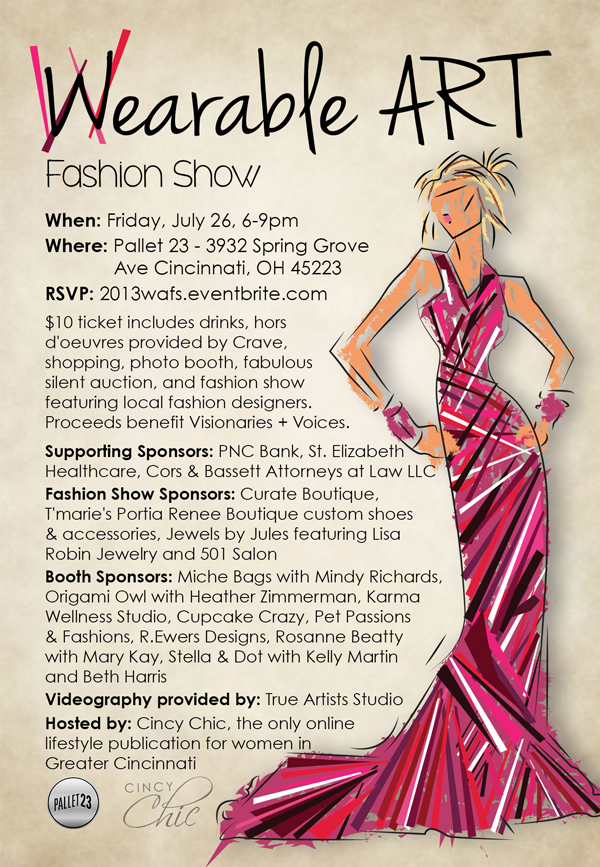 ---
Gluten Free Freezer Meal Recipes
07/04/13
I'm getting ready to go on a two week vacation with my family, but my husband isn't able to come. I want to make sure my hubby has plenty of healthy food to eat while I'm away, especially because we recently went on a gluten free diet and he's been doing well with it! I don't want him to fall off the gluten free wagon while I'm gone, so I found some great freezer meal recipes that I can prepare before I go and he can just throw them in a skillet when he wants to eat them! Click here to get the recipes!
Attachments:
---
Fun facts about Independence Day
07/04/13
Happy 4th of July! To celebrate, here are a few fun facts about Independence Day!
56 delegates signed the Declaration of Independence, drafted by a Committee of Five: Benjamin Franklin, John Adams, Thomas Jefferson, Roger Sherman and Robert R. Livingston. Jefferson, regarded as the strongest and most eloquent writer, wrote most of the document.
John Hancock, president of the Second Continental Congress, was the first signer, and his signature is the largest " hence the term John Hancock, which is still used today as a synonymn for signature.
Benjamin Franklin, age 70, who represented Pennsylvania, was the oldest of the signers. Edward Rutledge, 26, of South Carolina, was the youngest.
Two future presidents, John Adams (second president) and Thomas Jefferson (third president) signed. Both died on the 50th anniversary of the signing, July 4, 1826.
Celebration
The Chinese invented fireworks some time between 960 and 1279 AD. The loud sounds and sparkling colors were thought to ward off evil spirits. They were used at important events such as Emperors' birthdays and other Chinese holidays.
In England, fireworks were used at birthday celebrations of kings and queens. Fireworks were first used to celebrate Independence Day on July 8, 1776, and again at the first official celebration in 1777.
July 4 was not declared an official federal holiday until 1941.
Each year, 213 pounds of fireworks are purchased in the U.S. and the annual fireworks industry revenue is $940 million, according to National Fire Protection Association.
Safety concerns
In 2011, fireworks caused an estimated 17,800 reported fires, including 1,200 structure fires, 400 vehicle fires and 16,300 outside and other fires.
In the same year, U.S. hospital emergency rooms saw an estimated 9,600 people for fireworks-related injuries.
Half of the injuries were burns and a fourth were contusions and lacerations.
One-quarter of the people injured were under the age of 15.
Sparklers, fountains and novelties accounted for 34 percent of emergency room fireworks injuries in 2011.
---
---
Attachments:
---
One of my favorite blogs, New In Town (which talks about new businesses in town) has been blowing up lately! Lots of new restaurants are coming to town especially! On Pinterest, I found a great idea to do a "Food Passport" that you can make to encourage you to try new places... plus, you can make notes about what you liked best there! This would be great to do with kids, too!
Attachments:
---
Get Snapped this Summer with Anne Gregoire Photography!
06/28/13
It's my favorite season of the year: SUMMER!!! Where everything is blooming, everyone is sunkissed, and families spend a little more time together. Because of this, I always try to book a photo shoot every summer with my hubby and pup.
I was referred to check out Anne Gregoire Photography by a friend and Im just blown away by her pictures on her Facebook page! So cute (and summery!) and it's exactly the style I love.
After chatting with Anne, I learned that she's a portrait/lifestyle photographer specializing in fun Child, Family and High School Senior photography. She said she especially loves capturing those sweet, natural moments between parents and their kids. Her style is a mix of posed and candid shots, as every session is customized to be a unique experience. She works closely with clients on outfit styling, location scouting and session prepping.
Speaking of sessions.... that's one of the things I love about her. The sessions are all inclusive, as clients receive the photo session and the CD with the images. So, theres no up-charging or gouging you when you want prints of the photos she took.
Check out her site at www.annegregoirephotography.com or like her on Facebook to see her fab images and to continue to receive info on upcoming specials.
Oh, and she told me shed offer a FREE 1620 Gallery Wrap with the purchase of a photo session to any of my friends or readers, so make sure you mention that if you book her. Heres her email address if youre interested in learning more, want to book, or have any questions: annegphotography@yahoo.com
---
Frame Sale at the Cincinnati Art Museum!
06/25/13
Are you in need of a fancy, new frame to fit that special family photo or a recently purchased art piece? You are in luck, Cincinnati! The Cincinnati Art Museum is hosting a huge frame sale this Saturday, June 29th from 9:00 a.m. until 4:00 p.m!This annual sale will have a variety of frames, ranging from the simple and inexpensive to the large and extravagant! You'll be sure to find the perfect frames for your personal art collection and photos!

Come out this Saturday and enjoy a day of the arts at the Cincinnati Art Museum!
For more information, please call (513) 721-ARTS!
Cincinnati Art Museum Address:953 Eden Park Drive, Cincinnati, OH 45202
Attachments:
---
Visit to the Rail House at the Iron Horse!
06/25/13
I got an email a couple of weeks ago from the new owner of Rail House at the Iron Horse in Glendale. I do Champagne Tuesday every Tuesday with my girlfriends, and it was my turn to pick a location for our get-together.... so, I thought "Perfect! Let's go there!" The night we attended, Joe Dubinski, a local Glendale-based Sinatra-esque singer and keyboardist, was out on the patio singing. It was beautiful weather, and the food was even better (pics attached!). We all tried eachother's food, and my favorite was the steak, but it was tough to choose because everything was really really good. They had some great wines, and a yummy champagne which of course we had to try because it was Champagne Tuesday! Oh, and it had just been my birthday the day prior so yes we had dessert too (an incredible New York-style cheesecake)! Good thing calories are free on your birthday week! haha! I definitely recommend checking out the Rail House, especially if you haven't been in a while (since the old-school Iron Horse days). They've made a lot of great tweaks and upgrades since I was there last and if definitely has a younger, fresher vibe now!
Attachments:
---
Amazing Event Videos by The True Artists Studio!
06/21/13
(L-R) Michael Bambino " whos doing an awesome After the I Dos photoshoot with me and my hubby this weekend!; Nidhi Bedi, my friend of many years who runs Elements Event Centre and A Brides Mafia; and Shane Pergrem of True Artists Studio whos been producing some incredible videos for Cincy Chic!
About a year ago my friend Nidhi (who I just blogged about earlier today actually) introduced me to her friend Shane Pergrem who owns True Artists Studio. She told me he was an awesome videographer and to give him a call if we ever needed any videography done in the future. I ended up giving him a call because I thought it would be neat if we had video of our fashion shows and events instead of just pictures. He was immediately super excited about working on our events, started coming up with all these great ideas, and couldnt wait to get started (I wrote this blog about him right after we started to work together).
He's since done three videos for us (check them out below!) and I have to tell you, Im just blown away by his work! He truly captures the look, activities and energy of the events! When I emceed his Wedding Film Festival for him in May, I got to see a ton of his wedding work, and that was even more incredible! (I cried like a baby after every video and I had to emcee!! haha!)
So, like I mentioned in my last blog, now that it's officially Summer (aka weddings galore) I definitely recommend Shane. He does everything from weddings and events like Cincy Chic's to commercials, and full-length films.
He also does a lot of charitable work for churches and non profits, such as City Gospel Mission and Montgomery Community Church (he gives discounted rates for all non profits FYI). He also gives back by donating money to organizations such as To Write Love On Her Arms (a non profit for depression, self abuse and suicide).
Plus, a project he's currently working on is starting to generate some big buzz. He's producing a local web show called Cincy Now (theyre filming for a segment on Cincy Chic's Red Pink & Blue event next Friday, actually!!). The show will have a pilot launch party on Aug 17 at Mynt downtown. Theyre in talks with some big stations to pick it up, so you may be hearing even more about it soon!
So, definitely give him a call if you ever need video. Im just loving every piece he produces for us (I think you will too " so make sure you watch them below!). The only thing better than his work is his personality, so I know youll love him!!!
---
Flower/Veggie Plant Tips and Tricks
06/21/13
YAY! It's officially summer now! If you're anything like me, you look forward to this season all year long because you like to get your hands in the dirt and grow lots of flowers and veggies! I've been collecting lots of great tips and tricks on my "outdoors" Pinterest page, so I thought I'd share the info! Click here to check out all these helpful pins and happy planting!
Attachments:
---
4th of July Pinterest Inspirations!
06/21/13
The 4th of July is almost here! We're going to be hosting a big cookout this year with a bunch of friends coming over, so I've been collecting lots of Independence Day-inspired decor, food and drink ideas! I thought I'd share them with you, since you might be hosting a get-together too on the 4th! Click here to see all the things I've been pinning and a sneak peek of them in the pics below! Enjoy!
Attachments:
---
Three Infused Water Recipes!
06/21/13
Below are the three infused water recipes I shared on Star64's sister station in Columbus, WTTE. I talked about two awesome related products, too. An infusion pitcher and some Chill It Bags which you keep in the freezer and use as a bag to transport your water (or wine or beer!) to the pool or a party! It makes for a great hostess gift too! Enjoy! And happy summer!
Cucumber, Basil and Lemon
* Needs to infuse for at least six hours
Ingredients
1 gallon water
4 Lemons, sliced
20 basil leaves
2 cucumbers
Method of Preparation
Combine cucumber, basil and lemon in water. Allow to cold steep for 6 hours. Strain into pitcher. Garnish with slices of lemon and cucumber. Serve chilled.

Strawberry, Mint and Lime
* Needs to infuse overnight
Ingredients
1 gallon water
15 strawberries, stem/leaves removed
10 sprigs of mint
3 limes, sliced
Method of Preparation
Activate mint. Combine mint, strawberry, and lime into water. Allow to cold steep overnight. Strain into pitcher. Garnish with strawberry and slices of lime. Serve chilled.
Apple, Pomegranate and Rosemary
* Needs to infuse overnight
Ingredients
1 gallon water
7 apples, sliced
6 pomegranates, seeds only " muddled (save 20 seeds for garnish)
cup rosemary, chopped
1 lemon, sliced (keeps apple from browning)
Method of Preparation
Combine apple slices and muddled pomegranate seeds with rosemary, lemon and water. Allow to cold steep overnight. Strain into pitcher. Garnish with pomegranate seeds, apple slices and rosemary sprigs. Serve chilled.
---
Elements Hummer Limo Service – $100 Off!
06/21/13
Me and my Cincy Chic'ers Stephanie and Drew in the limo on our way to Krombholz Jewelers!
As of today, it's officially summer! That means summertime concerts as well as weddings and bachelorette parties galore! So, I thought I'd tell you about THE best limo service I've ever used! It's through Elements Limo Service (Elements has an event center up in Sharonville, too) I actually just used them for our Cincy Chic anniversary outing with my staff last year!
We all parked and met at the Levee and then the limo picked us up and took us to a surprise location (it was to Krombholz Jewelers where they all got gift certificates and had the place to themselves to shop!). Then the limo took us to dinner and then back to our cars at the end of the night! It was perfect!
My husband and his Italian friends used it, too when they went to the Friendly Sons of St. Patrick dinner on St. Patrick's Day (it's funny, all the Italian guys get all dressed up, take a limo and crash the Irish event every year!)
The limo is awesome because it's huge and can fit 14 passengers ... but the best part? It's a hummer! That means you can pretty much stand up in it, plus it has a great sound system (we were rockin some Lady Gaga super loud all the way from Newport to Montgomery! haha!)
So, if you have any kind of special occasion coming up where youd like to arrive with your friends in style for anything from a night out on the town and birthday parties to bachlorette/bachelor parties and weddings definitely give my girl Nidhi a call. She was voted in to be one of Cincy Chic's Women of the Year last year in the social department, so I'm not the only one who thinks she's fabulous!
Oh, and I told her I wanted to do a little write up about her today, and she said she'd offer $100 off/25% for anyone who likes Elements Limo Service on Facebook and mentions Cincy Chic! Woohoo for discounts! More $$ for drinks in the limo, right? haha!
---
Flying Pig Marathon Summer Warehouse Sale!
06/17/13
As I look through my closet and drawers, I have noticed all of my souvenirs from my favorite marathon, The Flying Pig, are worn and torn! After running the marathon 3 times already, the t-shirts and apparel I have collected have seen better days and I am in desperate need of some new ones! Luckily, I don't have to run another 26.2 miles to get cool, comfortable, vintage flying pig apparel! On June 22, from 11:00 a.m. until 5:00 p.m., The Flying Pig Marathon Merchandise Warehouse will host a huge sale! There will be a variety of unprinted ASICS gear, apparel, accessories, race commemoratives, and much more up to 75% off!


Custom finisher shirts from all 2013 Flying Pig Marathon events will also be available! I will definitely be at the sale to get some new goodies and hope to see you there! The warehouse is located in Northside at 4136 Colerain Ave. Cincinnati OH, 45223.
Attachments:
---
Shop, Sip'n Stroll in Hyde Park Square!
06/11/13
My faaaaavorite shopping district in Cincinnati is Hyde Park Square, and they're hosting a special shopping event this Thursday called Shop, Sip'n Stroll. It sounds like such a fun event, and the perfect excuse to shop local for all those dads and grads you need to still get gifts for! (Oh, ok, and maybe pick up a few things for yourself! haha!) Plus, they'll have live music provided by DJ Toad as well as drinks and treats in all the cute shops.
The merchants of Hyde Park will have extended store hours, and many of the stores will have limited sales for this event only. The discounts will be pretty impressive from what I hear (just wrote this blog about the Alligator Purse 40% off sale), Kate Boutique just got in a ton of new arrivals (click here to see pics of their new GLAM, C. Luce and Joes Jeans merchandise!), and click here to see some of the great gift ideas for dad at Nest on Michigan Ave.
Ooooh, and I just got a necklace (made by an artist in Paris, Sandrine Giraud) for my birthday on Monday from Cockerill, which is also on Hyde Park Square. I saw it weeks ago while out shopping with my husband. He remembered it, went back and got it for my birthday! I love it! They still have several other pieces by this artist, so I encourage you to check them out for yourself! They're so unique!
The event is this Thursday, June 13, from 5:00 p.m. until 8:00 p.m.! See you there!
Attachments:
---
11th Annual Doggie Dash, Dog Walk, and Family Fest!
06/03/13
June 8th will be filled with food, fun, and fitness for you and your furry, four-legged friend! SPCA will be hosting the 11th annual Doggie Dash, Dog Walk & Family Fest at their Sharonville Shelter Location. Bring your own pup or borrow one of theirs. The SPCA will help match a selection of their dogs with walkers before it begins! Music will be provided by Ooo-La-La and the Greasers! Rain or shine, the walk and dash will go on with registration beginning at 8:00 a.m., the walk starting at 9:30 a.m., and the family fest including vendor games, demonstrations, and more will begin at 10:30 a.m.!


This event provides an opportunity for people everywhere to help raise awareness and funds to help continue the important mission of finding forever homes for furry friends in our care. You can help contribute by making a donation to a team or individual taking place in the walk and dash. If you are unable to make it to the event, you can still take part and get pledges, sign up as a Hike at Home or Couch Potato!
Are you putting together a team for the Doggie Dash and have questions about the t-shirt contest? Click here for more information! Or Interested in being a vendor? Hundreds and hundreds of people and their pets will be joining us, so this is a great opportunity to represent your business or service! Click here to see how!


For more information, please call (513) 247-2036.SPCA Sharonville Shelter Address: 11900 Conrey Road, Cincinnati, Ohio 45249.


"The staff and volunteers of SPCA Cincinnati strive to not only give the animals in their care the best in humane treatment, but to continuously offer and develop programs to support those who own and care for animals." If this is something you are passionate about and support, come out on June 8th and join in the fun with all of the animals and owners!
Attachments:
---
The Kentucky Speedway Presents: Nascar Triple-header Weekend!
06/02/13
Start your engines, Cincinnati and head to the NASCAR Triple-header weekend at the Kentucky Speedway! From June 27th -29th, the Kentucky Speedway will be hosting an exhilarating, fun filled series of events including the UNOH 225, Feed the Children 300, and Quaker State 400!

I was lucky enough to get a sneak peak of the track and grounds during a visit this past Thursday and learned all about this exciting upcoming triple-header. I had so much fun (as you can tell from the pictures below) and encourage everyone to check it out!

Tickets are still available and can be reserved in the following ways:
By phone at 888-652-RACE
On the World Wide Web at www.kentuckyspeedway.com or tickets.com
Tickets.com outlets including all Meijer stores
Through the Kentucky Speedway ticket offices at 2216 Dixie Hwy., Ste. 200, in Ft. Mitchell, Ky., and Fan Center in Sparta, Ky.
Come be a part of the fun and excitement and cheer on the fearless drivers as they make their way across the finish line!
Attachments:
---
---
7th Annual Ride Cincinnati!
05/31/13
Looking for an exhilarating, adventuresome day filled with family fun outside, away from the office? Then mark your calendars for June 9th, as you join Fusion Studio in support of the 7th Annual Ride Cincinnati to support Breast Cancer research! 100% of the proceeds will fund basic science research for breast cancer at the Barrett Center. For those who didn't know, I am actually a certified spin instructor and Fusion in Newport was the first place I ever took spinning and the first place I ever taught! I know for a fact this great team of athletes will be fantastic motivators to all those who choose to support this amazing cause!
This event welcomes cyclists of all ages and abilities and the best part is you can PICK YOUR DISTANCE! Free food will be awarded at the finish line and goodie bags will be provided to all those who join the Barrett Center Crusaders team by June 1st, so sign up quick! You are also encouraged to support your own special cause and prizes will be awarded to the top 3 fund-raisers!I hope everyone will "give it a spin" and show their support for this great cause!To register, click here!
Attachments:
---
2013 Cincinnati Arthritis Walk Recap!
05/30/13
A huge, warm thanks goes to the 1,850 participants and 100 volunteers who helped to raise over $177,000 for programs, services and research for people with arthritis. The success from the 2013 Cincinnati Arthritis Walk brought much needed arthritis resources to the community.
Cincy Chic was proud to have a booth there in support of such an amazing, worth cause. I was able to represent Cincy Chic and participate in the walk and there could not have been a more beautiful day for it! Thanks to all for helping make a difference in the lives of people with arthritis!
Attachments:
---
Check Out Bellevue, Kentucky!
05/29/13
If you're looking for a cute shopping district, head across the river to Bellevue. There you'll find cafes, restaurants, boutiques and cute little shops - I even met with Bellevue's Marketing Director Jody Robinson for coffee this morning!
For more info on businesses that are moving in or expanding to new spaces or to see what's new in the area, check out their website.

They've also got a ton of great events going on this summer!
The first Friday in June will be an 80s themed ladies night following by a city-wide yard sale on Saturday.
In July you'll get to check out Christmas in July and join the scavenger hunt to find the Santa.
Then in August head venture across the river for a Taste of Bellevue. The third Saturday in August will be Dog Days, where adoption organizations, rescue groups and pet accessories will be on site and many of the shops in Bellevue are very pet-friendly with bowls and treats.
The third Saturday in September will include Art in the Park at Bellevue Beach Park. The event will be September 14 from 11 a.m.5 p.m. and at 7 they're hosting a concert featuring local musicians.
Attachments:
---
A Bride's Mafia Has Moved!
05/29/13
A Bride's Mafia just moved to a brand new space in O'Bryonville - a more convenient location for people who are coming in from Northern Kentucky, downtown or the Eastside. The Mafia is a one stop shop for you to meet all of the best wedding vendors in the city all at once!
If you or someone you know has a wedding coming up call or stop in to schedule your complimentary consultation! You'll get to check out exclusive vendors and even check out their Battle of the Bands event coming up this summer!
Cincy Chic also covered them a couple of months ago to give you even more info on A Bride's Mafia.
Their new address is 1985 Madison Rd. Cincinnati, OH 45208 so make sure you check out where owner Nidhi Bedi let me sneak inside and get a peek! I even snapped some great pictures of the shop so you can see how amazing it looks!
Attachments:
---
Last weekend, Cincy Chic put together two fun fashion shows for the Petopolis expo. The human models wore new Spring styles from Three French Hens and our fab four-legged friends featured in the show were outfitted by Pet Passions and Fashions!
I loved working with Pet Passions and Fashions because no matter what animal we were working with, I found something they looked absolutely adorable in! On Saturdays show, Cincy Chic readers pets were nominated and selected to get in the show, so we had some super cute little pups that day. Then, on Sunday, we used cats and dogs from the SPCA.
So, not only was it nice that Pet Passions and Fashions had accessories for all shapes and sizes of pets, but it was important that we had outfits that didnt make the animals uncomfortable or upset. We found great collars, bandanas, leashes and other accessories that both the animals and parents loved!
Thanks to Pet Passions and Fashions, Three French Hens, MTM Cincinnati (who provided models) and all my interns who helped make our Petopolis fashion shows a big success! Our next pet fashion show is THIS Saturday at WagsPark! Click here to learn more about it! Hope you can make it!
---
Little Black Dress Event May 31st!
05/17/13
Fashion and fine arts will collide on Friday, May 31, requesting the presence of you and your favorite little black dress! The proceeds benefit Summerfair Cincinnati scholarship and exhibition programs for local artists and arts organizations! The runway will be lined with black dresses from local boutiques, accessorized with as assortment of must-have accessories from Summerfair artists to make the looks unique and chic! Not only will the fashion show be fabulous- the swag bag will be too! This year, its a wine bottle tote filled with amazing P&G products!
This Third Annual Little Black Dress event will take place in Moonlight Gardens at Coney Island from 7-11 p.m. Well have fashion bloggers there searching for the best dressed to recognize (and give a BIG prize to), so come dressed to impress! So, dress up your favorite LBD, show your support for a great cause, see a great show, get a fab swag bag, and shop the Summerfair artists booths, grab a cocktail, and dance the night away to my talented co-star here at Star64, Storm Bennett, will be our guest DJ for the night!
One lucky RSVP who participates in our new exciting Walk with Audrey activity will take home a raffle basket, featured below, filled with lots of great gifts! All you have to do is shop for Audrey-inspired items from the featured vendors before the fashion show. How fun is that!?
For more details about this event, check out the Cincy Chic calendar and if you want to RSVP click here!
Attachments:
---
Attention Masters and Muts- A Night Out with Your Best Friend Awaits!
05/13/13
Primp your pups for a gourmet feast as they mingle with their neighboring 4-legged friends! Chef Michael's Food Truck for Dogs want quality time and meal time to collide this Thursday, March 16! The first 100 visitors will receive a delicious meal for the furry friend as well as a voucher for the owner to use at one of their favorite participating food trucks the same day of the event including Sugarsnap and C'eest Cheese!

This new communal dining trend will take place at Dogtown Cincinnati from 5:00 p.m. until 7:00 p.m. and no reservation is required!


So come out and spoil your pup by giving them a dining experience like any other!
Below is the address for Dogtown Cincinnati: 2519 Burnet Ave Cincinnati, OH 45219
---
FREE Women's Health Expo This Saturday!
05/13/13
As part of National Womens Health Week (May 12-18), me and my team at Cincy Chic are hosting our second annual Womens Health Expo at The Phoenix Saturday May 18 from 10am-3pm.
The free event offers attendees healthy treats, 10-minute massages, and shopping at various pop-up boutiques. In addition, the event will host various health screenings, including the St. Elizabeth Healthcare mammogram van, as well as health-enhancing seminars with local physicians. Every attendee will receive a complimentary swag bag and be entered to win a $500 Paolo Jewelers gift certificate (and you get an extra entry to win for each guest you bring!!)
Im honored to host this free, fun and informative event again this year! And its going to be better than ever! We have some great speakers, lots of new screenings, fun fitness demonstrations, interactive preparations of healthy snacks, plus an expo hall packed with vendors where attendees can learn about health-enhancing new products and services!
Click here to learn more and RSVP. The Phoenix is located at 812 Race Street, Cincinnati, OH 45202. Parking is available for $2 in the adjacent Garfield Garage on 9th Street. The St. Elizabeth Healthcare Mobile Mammography Van will be onsite at the expo. Those interested in scheduling a mammogram on the van the day of the event can call 859-655-740.
Sponsors include: St. Elizabeth Healthcare, PNC Bank, Mona Lisas Permanent Makeup, Cors & Bassett Attorneys at Law LLC, The Dermatology Laser and Vein Center of Cincinnati, Bob Ronckers Running Spot & New Balance, Cincinnati Fit Body Bootcamp, Living the Fit and Healthy Life, Health Plus Coach,Battle 4 Beauty, Miche Bags with Mindy Richards, Vein Clinics of America, A Village Gift Shop, Origami Owl with Heather Zimmerman, Healthier Choice Weight Care Program for Women, Karma Wellness Studio, Mary Kay by Britt Born, Compassionate Beginnings LLC, East Kemper Chiropractic and Spaaaah! for Medical Wellness, Everybodys Health, Bandi, Wing Eyecare, Debbie Pendl Wellness LLC,The Woodhouse Day Spas, Flip Flop Shops Cincinnati, LeValle Metabolic Institute, Merle Norman of Crestview Hills featuring Lisa Robin Jewelry, Core A Movement Studio, Moksha Yoga, beneFIT Studio Salon & Spa, Sebastian Rey, Re.You Studio, Perfectly Posh with Jennifer Baker, Airrosti Rehab Centers, Kind Healthy Snacks, Churchills Fine Teas, Core Power, Ultimate Healthy Body, Arbonne with Deana Miller, Rodan + Fields with Lauren Zumbahlen, Rose Gynecology LLC, Vonnetta McColgan with NeriumAD, Tri-State Family Dentistry, True Artists Studio
---
Little English Warehouse Sale This Weekend!
05/09/13
Want to dress your kids in super cute, unique, colorful, and classic looks all for under $39? Look no further! Little English, a smocked southern inspired childrens clothing line, is one of our favorite websites that offer an assortment of pieces for your little boy or girl (click here to read a story we wrote about Little English on Cincy Chic!)
Luckily for us, Little English will be hosting a Warehouse Sale in Cincinnati this upcoming weekend! These sweet, seersucker gingham styles and cool cotton pima playsuits are totally irresistible.
Little English will be showcasing their Spring inventory in the Hyde Park Plaza on Friday, May 10th from 9 a.m. until 5 p.m. and again on Saturday, May 11th from 9 a.m. until 4 p.m.!
Make room in your schedule so you can get your hands on these adorable looks! Click here for more details about the Warehouse Sale!
Attachments:
---
Feeling lucky? Well, if so, you should head downtown to Koop Diamond Cutters next weekend for their annual Grab-A-Gem Event. I havent been before (I just found out about it a few weeks ago) but Im definitely going to check it out this year. Basically, the concept is that they have a bunch of unmarked envelopes with gems in them. Its $25 to draw an envelope, and each draw is a winner! The Grand Prize is a Diamond, with a retail value of $8,400!
The event is on Friday, May 10th from 9am-6pm, and Saturday, May 11th from 9am-4pm. More details are on the graphic below!
---
---
---
Massage Envy Mother's Day Specials!
04/30/13
Dont leave it to the last minute to spoil your mom this year! Go ahead and give Massage Envy a call and get her a massage! Three of the Tri-State locations (Kenwood, Hyde Park, Eastgate) are offering a great deals from now until Mothers Day! Check it out below!
---
Battle of the Wedding Bands!
04/22/13
Last month in our wedding issue feature on Cincy Chic, we gave you some insider information about the Battle of the Wedding Bands event going on Aug. 11. Well, my gal Nidhi Bedi whos in charge of it all just told me that the line-up has been posted to their website.
I just love this concept with all the newly-engaged couples, this is such a fun way to go to a great concert series, check out a variety of bands, and see which one would be perfect for your big day!
Bridal Show + Battle of the Bands + Meet A Brides Mafia + Mafia Galleries (over 20 different reception table set ups) + Taste of the Mafia (including 6 restaurants and 6 dessert shops) + Admission to Coney Island = One amazing day out!
Oh and enter in the code CINCYCHIC for 50% off the ticket price! Click here to learn all about it! See you there!
---
21c Museum Hotel makes 2013 Hot List!
04/22/13
21c Museum Hotel Cincinnati is the newest white hot location in the Tri-State. So hot, in fact, they were named to the Cond Nast Travelers prestigious Hot List!
That must mean Cincy Chic is pretty hot, too, because we selected this location for our May 3 Night in White event (click here to RSVP!) and we are featuring their new spa in this weeks issue (click here to read about Cincinnatis first hotel spa!!).
Steve Wilson, co-founder and CEO of 21c Museum Hotels, announced that the 8,000 square foot contemporary art museum, 156-room boutique hotel and Metropole restaurant is one of 154 properties from around the world made the list of Best New Hotels of 2013.
21c Museum Hotel was one of only 16 in the United States to make the list. The Hot List is published in the May 2013 issue of Cond Nast Traveler.
The hotel was designed by architect Deborah Berke who was also recognized as an industry tastemaker in the issue. Berke created the historic and contemporary space all while respecting the character of the once grand hotel. The hotel is also a space to show off the work of living artists.
Berke teamed up with executive architect Alan Weiskpf of Perfido Weiskopf Wagstaff + Goettel, a firm known for its historic preservation projects.
There are also 21c Museum Hotels in Louisville which opened in 2006 and Bentonville, Arkansas, which opened in February of this year.
To view the entire 2013 Hot List, visit the CN Traveler website.
---
"White Out" Cancer April 26!
04/21/13
If you're looking for a "warm up" white event to Cincy Chic's May 3 Night in White then I've got the thing for you!
"White Out Cancer" will be held April 26 from 6:30-9:30 p.m. on the 29th floor of the Great American Tower!
Indulge yourself in wine and food donated by Treasury Wine Estates and the Moerlein Lager House.
You'll also have the opportunity to bid in a silent auction for several items, enjoy an amazing 360-degree view- including a prime peek down into Great American Ballpark!
The event will benefit young professionals and guests are encouraged to wear white - even thought it's not quite Memorial Day - to help "white out" cancer!
Pre-sale tickets are available now for $35 each or $60 per couple! Click here to buy yours! Contact Abbey Sullivan at abbey.sullivan@cancer.org or 888-227-6446 ext. 4203!
---
Cincinnati Film Society!
04/21/13
The Cincinnati Film Society is re-launching this year and they have some amazing events coming up this week!
On Monday, CFS is part of a nationwide Earth Day screening event to promote Earth Day!
Then from Tuesday to Sunday, they'll be showing the new film Upstream Color at the Art Academy.
You'll also have the opportunity to check out local short films Tuesday through Friday before the feature presentation and on Saturday night the screening will be followed by a critics panel discussion and reception!
CFS works to encourage the appreciation of film and shows foreign, classic and other films and brings together film lovers to learn about and discuss films!
---
Visionaries & Voices annual fundraiser!
04/21/13
Visionaries & Voices, an organization supporting artists with disabilities, is having its annual fundraiser May 18!
The event, called Double Vision, is a fun event with a live art auction, cocktail party and Jonas Karp with Main Auction Galleries will be calling the auction!
To learn more about this great cause, click here!
---
Mommy Makeover Event May 4!
04/21/13
Mommies,
Mark your calendars for an upcoming Treehouse Kids & Lancome "Mommy Makeover Event" May 4 from 11 a.m.- 3 p.m.
Treehouse Baby and Kids Furniture Gallery will be offering all moms a complimentary mommy makeover!
A Lancome consultant will be in store and ready to make you look and feel beautiful. Plus, you'll also get to learn more about the latest beauty trends and make-up tricks!
Lancome Gift Baskets will be given away at the event and if you purchase $35 in Lancome products, you'll get a FREE gift valued at $135!
Call 513-671-7750 to reserve your spot or register in-person at Treehouse Kids Co., 35 Tri-County Parkway, Cincinnati!
---
Wine & Cheese Trunk Show at Cincinnati Foot Solutions this Thursday!
04/21/13
Cincinnati Foot Solutions (located in Deerfield Towne Center in Mason) will be hosting a Wine & Cheese Trunk Show for Earthies, the cute and comfortable heels sold in-store, this Thursday, April 25, from 4-8 p.m.
And I was just there for a Star64 shoot and got to see first-hand all of the great shoes they have in-store. All of their styles are perfect if youre on your feet all day but still want to wear stylish shoes, and their tag line is the best! Where style and comfort meet!
A representative from Earthies will be in the store to display samples of other styles the brand sells, too! You can purchase shoes from the stores inventory and even place a special order if you find a pair youve gotta have!
There are also going to be drawings for prizes including massages, restaurant gift certificates and more! Check out some of the cute kicks I found when I was there last week!
---
Medicine Bluff Studio Open House This Saturday!
04/16/13
Medicine Bluff Studio will be hosting its first open house this Saturday, April 20! The open house and gathering of artists will take place in suites 101 and 102 at 801 Evans St. in Cincinnati from 1-4p.m.
Visitors will have the opportunity to meet artists and view their newest work! You'll also be able to tour Medicine Bluff Studio and see how they handcraft their tiles and wall art!
Featured artists include designer, sculptor and owner of Medicine Bluff Studio, John Beasley, internationally awarded Japanese artists Setsuko Lacroix, Sculptor Terri Kern, Vice President and signature member of the Cincinnati Art Club Ray Burt, sculptor Sam Hitchman and Core Clay artists in residence Jessie Rienerth.
There will also be a mega sale on second quality and over-runs during the open house!
Attachments:
---
Special Earth Day Discount from Tulong!
04/16/13
Happy Earth Day, my eco-fab friends! And what better way to celebrate than with a decadent discount from our friends at lur apparel.
In March, lur apparel and Tulong sponsored Cincy Chic's Eco-Fab fashion show and now the eco-friendly apparel is offering a great discount in celebration of Earth Day!
Now through April 28, you can get 10% off your purchase and free shipping for your entire online order!
Visit repairtheworldnow.com to look through eco-friendly apparel for men, women and children. If you find something you like, use the code EarthDayRTW41528 to get your discount and shipping savings!
The soft, comfortable, eco-friendly clothing for men, women and children is great for everyone and encourages everyone to wear environmentally friendly apparel!
You should also keep an eye out for a special Mother's Day discount on lur apparel products " the company's women's fashion brand!
To apply discount code:
Click View Cart, at the top and Proceed to Checkout
New users are asked to sign-up for a new account
Once you're logged in, enter the code next to Coupon Code and continue checking out
---
Free Pie Wednesday Starts Tomorrow!
04/16/13
The famous food chain, O'Charley's, selected the Cincinnati area to take part in "Free Pie Wednesdays"
This means that anyone purchasing ANY entree will get a free slice of any pie - starting TOMORROW!
You can choose from flavors like Country Apple Pie, Double-Crust Peach Pie, French Silk Pie, Southern Pecan Pie and the ever so popular Ooey-Gooey Caramel Pie!
Participating restaurants in the Cincinnati area include Cincinnati, West Chester, Springdale, Milford, Franklin, Cold Spring, Harrison and Florence!
These restaurants are the first in the country to take part in this tasty, new campaign and is a great opportunity to get out and reward yourself with a mid-week special!
Visit the O'Charley's website or Facebook Page to learn more!
---
Designer Eyewear Trunk Show Today!
04/15/13
In todays issue of Cincy Chic, our fashion guru lists statement sunglasses as one of her 10 must-have trends for Spring this year. And theres an event going on today where you can get in on this trend at a great price! Check out the invite below for all the deets!
---
Tuscany Spa Salon Bar Hop this Thursday!
04/14/13
Tuscany Spa Salon will be hosting a Spring Bar Hop to benefit Kenzie's Closet this Thursday!
From 6-8:30 p.m. you'll have the choice of 3 styling bars - sleek pony, beachy wave or blow dry!
There are a few tickets left for this amazing event so make sure you pick up your ticket to benefit this special cause!
Because it's almost prom season, Kenzie's Closet needs the most support when they're outfitting all the underprivileged girls who need a dress for the dance of their lives!
Call Tuscany at 513-489-8872 to resserve your spot!
Attachments:
---
Get Ready for a Battle of the Wedding Bands!
04/10/13
Get ready for the battle you've been waiting for! Battle of the Wedding Bands will take place August 11 at The Moonlight Gardens!
This event is going to change everything! Bridal Show + Battle of the Bands + Meet The "Mafia" (Cincinnati's BEST wedding vendors) + Mafia Galleries (over 20 different reception table set ups) + Taste of the Mafia (including 6 restaurants and 6 dessert places) + Admission to Coney Island = One amazing day out!
You'll get to enjoy a night at Coney Island, preview more than 20 of the latest reception style set-ups, meeting and mingle with more than 50 of Cincinnati's BEST wedding vendors and hear your favorite bands play!
A Bride's Mafia is hosting one show you aren't going to want to miss!
The music will start at 3 and will be going until 8:45!
The amazing line-up for the night includes:
Paul Otten 3-3:45
Laika 4-4:45
The Company 5-5:45
Naked Karate Girls 6-6:45
Cover Model 7-7:45
Johnny Clueless 8-8:45
For more information on Battle of the Wedding Bands visit A Bride's Mafia's website or check out the invitation on Facebook!
When you purchase your tickets, be sure to enter CINCYCHIC at check out for 50% off! Click here to register and get tickets!
Attachments:
---
Agricola Redesign Courses
04/08/13
I hope you enjoyed all that spring-like weather this weekend! It was soooo nice to feel that sun shining on my face for the first time in what feels like for-ev-er.
It got me in the mood to clean up my landscaping, prune everything back, mulch and I even got some fresh flowers to put around the house! That was one of the things I mentioned in this blog last month with my friend (and local interior design expert) Diane Agricola's tips on how to welcome spring into your home's decor.
I swear, between all the time I spend watching HGTV, on Pinterest looking at cool home decor ideas, and getting tips from Diane, I should just become a interior designer! (as if I needed any more jobs and hobbies! haha!)
But seriously, if you're considering being an interior designer, Diane actually does offer courses to certify you and teach you everything you need to know about the trade! Below are all the details about the courses that I copy/pasted from their website, in case you're interested in attending. More info here.
The Agricola Redesign Training Specialists (ARTS) programs are designed to promote and enhance the interior redesign and home staging industry through quality training for our students.
We currently offer a 3-Day Training Course, a 5-Day Training Course and a Color Confidence Class, held in our 1600 sq ft redesign firm in Glendale and taught by ARTS programs certified instructor and mentor, Diane Agricola.
---
Support Stop Traffick Fashion May 13!
04/07/13
Get out and support Stop Traffick Fashion May 13! This organization is hoping to bring a new film to Cincinnati called Girl Rising. Girl Rising is about the power of education to transform lives and the importance of investing in girls' education.
A portion of every ticket sold for Girl Rising will go to supporting girls' education programs, so when you purchase a ticket you'll be helping make a difference in the lives of some of the most vulnerable girls in the world!
This sounds like a great cause and an amazing reason to go and check out this new film!
The screening will take place May 13 at AMC Newport on the Levee at 7:30 p.m. You find find more information and watch at trailer on Stop Traffick Fashion's blog or visit the event's Facebook Page.
---
---
---
Check out Owl Be Sweatin' headbands!
03/28/13
Be on the look out for an amazing new business! Owl Be Sweatin' Headband Brand is a locally-owned small business offering athletic headbands for girls and women of all ages.
Owl Be Sweatin' headbands are adjustable for any head size and allows you to loosen it 'til your heart's content. The ability to adjust the bands also prevents you from getting those awful headband headaches.
For the entire month of April, Owl Be Sweatin' will be donating $1 to charity for every headband they sell thanks to the team joining focus with the non-profit organization Girls on the Run.
You can choose from more than 60 patterns with the Owl Be Sweatin' headbands developed by sister-in-laws K.C. and Mallory DeBra, Cincinnati natives. As former athletes, the ladies wanted to create a functional headband and created their own for their sand volleyball league. Soon, others started asking where they were getting the headbands and encouraged them to form Hoot and Holler Partnership in 2012.
Buy them as gifts or as a little treat for yourself as warmer weather makes it way in and you make your way out for afternoon jogs and workouts
These will be great for the GOTR 5k race on May 11!
Visit Owl Be Sweatin's Facebook or check out their Etsy Shop!
Attachments:
---
Celebrate the 10 year anniversary of the Cincinnati Wing at the Cincinnati Art Museum!
03/28/13
The Cincinnati Art Museum will be celebrating the 10th anniversary of the Cincinnati Wing on May 17!
The art museum was one of the first in the nation to dedicate a permanent gallery space to a community's art history and The Cincinnati Wing: The Story of Art in the Queen City has been a hit since day one.
There are more than 400 pieces representing Cincinnati or Cincinnati-trained artists, art depicting Cincinnati or Cincinnatians or art commissioned for the city of Cincinnati in the 18,000 square foot gallery.
Some of the artists included in the wing are Frank Duveneck, John H. Twachtman, Edward Potthast, Lilly Martin spencer and decorative arts from Rookwood Pottery.
The Cincinnati Art Museum has the third largest collection of works by Cincinnati painter Robert Scott Duncanson.
The wonderful thing about Cincinnati is that great art was not just bought here, but was made here as well, said Art Museum Director Aaron Betsky. Starting in the middle of the 19th century, Cincinnati nourished generation after generation of painters, sculptors, furniture makers, silversmiths, and ceramicists whose work was of an international level, and it continues to do so today.
If you want to soak in the history and beauty of Cincinnati art, you'll definitely want to check this out on May 17!
Attachments:
---
Junk in the Trunk July 21!
03/26/13
Mark your calendars for the July 21st Junk in the Trunk event by 915 Monmouth!
As spring cleaning comes on full-force, set aside some of your stuff to sell at Junk in the Trunk! It's amazing what you can find in the back of your closet or hidden away in storage.
If you're interested in buying items at the event, email brides@915monmouth.com with the items you want to add to your wedding and they'll get the hunt started for you!
If you plan on selling some of your things, look for the drop off date announcement in May with drop off dates beginning in late June! Items will have a small, flat entry fee that is paid when you drop off your items so you don't have anything to worry about the day of the event!
Items can be priced as a single item or as a group of items sold together. Each item will be need to be marked with your initials, item number and price. You can check the website for more information on the pricing process.
You can also download an inventory sheet if you're planning to sell any items. All you need to do is fill it out as a PDF and email it to 915 Monmouth or print it and drop it off with your contract!
This is definitely something you don't want to miss!
If you want to learn more, check out the 915 Monmouth website or sign up to receive their newsletter for the latest updates!
Attachments:
---
Check out the NEW Curate Boutique opening April 6!
03/26/13
My friend Courtney PeGan is opening a new boutique in Hyde Park called Curate Boutique!
The grand opening will be April 6 at 3433 Edwards Road in Cincinnati!
Curate creates distinct, hand-selected style collections - hence "curating!" - and enables you to let your beautiful and unique personal style shine!
This sounds like such a great new place to check out so make sure you're there on April 6 to check out Cincinnati's newest boutique!
If you want to learn more about Curate Boutique, check them out on Facebook, Twitter, Instagram or Pinterest for sneak peeks at collections, boutique news and special discounts!
Attachments:
---
Over at Cincy Chic, we've recently started doing some work with my friend Shane at True Artist Studio. He's been so kind as to do the video for all of our fashion shows so fans and followers online can feel like they were there! Shane also has a film fest that he's been working on and it's great for brides and brides-to-be! It's definitely a neat concept, so I recommend you check it out!
First, you should know more about True Artist Studio. The business is a full-service video production company specializing in storytelling through visuals, dramatic voiceovers and cinematic music. Shane and his team are a group of Filmmakers with real filmmaking experience.
They all hold degrees in film and video with real world experience in production. So they know how to tell a story. They aren't just wedding videographers, they also product commercials, music, videos, corporate videos, creative advertising, documentaries and have even worked on Hollywood films.
The group got into the wedding business in 2006 as a division of Michael Bambino Studios. Then, they were shooting strictly with Bambino photographers and after significant success and growth, they decided to branch out and start shooting a few weddings with other photography companies.
The growth and success helped them realize it was time to make the filmmaking department its own company, and it was then the journey of True Artists Studio began.
What makes this group different from other studios is that they're filmmakers posing as wedding videographers.
"Brides tell us time after time that our work is 'completely different' and 'tells an emotional but fun story,'" Shane says. "But the best one we've heard is 'all the other films we saw from other videographers all looked the same, I couldn't tell one company from another.'"
Shane says you can't compare True Artist Studio to another wedding videographer in town because what they do is so totally different.
Did you have a video made for your wedding? Then you should consider checking out The Cincinnati Wedding Film Festival. It's set up in a format similar to Sundance and is the first and only film festival that caters to weddings.
"Brides have the opportunity to see their big day on the big screen," Shane explains. "We take a handful of Cincinnati's top wedding films and cast an online voting poll."
If you're lucky enough to make the one of the top six films, your video will screen at the festival.
This year, the festival will be held at the Kenwood Theatre, across the street from the Kenwood Town Centre. Full concessions and a bar will be available for those who attend. You can purchase tickets on True Artist Studio's website for only $5.
You can currently check out this year's nominees and even place a vote of your own. Short clips from each nominated film will be posted and the film with the most online votes will win a special anniversary package!
You can learn more about the film festival by visiting www.cincinnatiweddingfilmfestival.com.
If you're a bride-to-be, fear not. The festival is an alternative bridal show for brides-to-be as well. You can gather some of your closest friends and sit back with popcorn and experience real wedding films on the big screen. This will be your opportunity to see how all the planning comes together, get some ideas and get inspired for your own wedding.
You should keep in mind that limited seating is available so get your tickets now because you don't want to miss out on this type of bridal experience.
Check out Shane's work for yourself - click here to view this Vimeo reel!
Attachments:
---
See Glennon Melton April 4!
03/19/13
Mark your calendars for April 4! On April 4, Glennon Melton, founder of Momastery.com and author of Carry On, Warrior: thoughts on Life Unarmed, will be at Joseph-Beth Booksellers.
Melton's daily blog touches on parents, marriage, faith and the hardships of daily life and was founded in 2009. She started the blog as a safe haven for herself so she could "live out loud" and share her experiences with other women.
As she started to gain readers' attention, she wrote an essay titled "Don't Carpe Diem" in January 2012. The essay was about resisting the pressure parents feel to enjoy every little moment of parenthood and was eventually published on the Huffington Post.
Her much anticipated book is a memoir-in-essays and includes Melton's journey so far. The pre-orders for the book helped it climb to #4 on Amazon.
Melton will appear on the Today Show and an excerpt from the book will be featured in this month's issue of Ladies' Home Journal as well as other media coverage
This sounds like an amazing opportunity to meet an inspirational woman, see you there!
---
A Village Gift Shop Birthday Event, Fun Gift Ideas!
03/18/13
I just got an invite from one of my favorite clients, Agricola Redesign and A Village Gift Shop, about their upcoming birthday event on March 23. Click here to view the invite and event details! They've been in business for 12 years and they're celebrating in style with 20% off store-wide! Cincy Chic just held an event there in January and I found a TON of great gifts there - you have to check it out for yourself if you need to pick up anything from a home decor item, fab accessory, cute cards, or great gift for someone special. One of the best things about the gift shop is that they feature a ton of Made in America products, such as Maruca hand bags, Paper russells note cards, down to earth pottery Corksicles, and Lizou. So, definitely check out the shop, and clear your cal for their upcoming birthday event! See you then!
Attachments:
---
A Cupcake Affair with a Kenyan Flair this Saturday!
03/14/13
A Cincinnati-based non-profit working in rural Kenya will be hosting their 3rd annual "A Cupcake Affair with a Kenyan Flair!"
STOENI International's even will be this Saturday from 7-10 pm at the Peterloon Estate in Indian Hill!
You'll enjoy African music and authentic Kenyan cuisine while taking part in a silent auction for goods and services from Cincinnati and even Kenya!
Highlights for the evening include the cupcake sculpture contest featuring entries from local cupcakeries. Judging will be by Maestro John Morris Russell of the Cincinnati Pops Orchestra, Judge Nathaniel Jones, a civil rights proponent and Chef Megan Ketover of Orchid's at Palm Court and Bravo's Top Chef: Just Desserts!
This is a great cause because SOTENI International works to reduce the incident of HIV/AIDS and improve the lives of those affected by the disease!
The Peterloon Estate is located at 8605 Hopewell Road.
For more information about the event and to RSVP, visit SOTENI online, email or call 513-729-9932.
You can also follow SOTENI International on Facebook and Twitter to get news and updates!
Proceeds from the cupcake even will benefit SOTENI International's efforts to work side-by-side with international and Kenyan partners to design and carry out sustainable interventions and creating positive changes for those affected by HIV/AIDS in rural Kenya!
---
Lots of Bridal Events This Week!
03/06/13
Boy is it a big week for brides-to-be! This Thursday is the After Hours Bridal Show produced by my friend Nidhi Bedi at A Brides Mafia (details below). Then this Friday my right-hand-woman at Cincy Chic, Stephanie Zastawa, will be on Fox19 to do a sneak peek of our Brunch & Bling bridal fashion show at Richter & Phillips! THEN, next Monday will be our annual Bridal issue of Cincy Chic! Whew! Enjoy the busy week, you blushing brides and best wishes on your big day!
---
Network of Executive Women hosting event this Friday!
03/05/13
Network of Executive Women hosting Cincinnati College Retail Experience Day this Friday and will be a great opportunity for women to get out and talk to successful professionals in the consumer packaged goods industry!
On March 8, the Cincinnati Chapter of the Network of Executive Women (NEW) will be hosting a college retail experience day!
The event will be hosted at the Kroger Market Place at 130 Pavilion Parkway in Newport, Kentucky on Friday from 9 a.m.- 12 p.m.
Female leaders from Pepsi, Brown Forman Kroger and more will meet with 15 students from the University of Cincinnati, Xavier University and Miami University to explain the careers available in the consumer packaged goods (CPG) as part of NEW's outreach to college women.
Those who participate will get a deeper look into the CPG industry and the careers available for them including roles in sales, marketing, buying, supply chain, finance, analysis and store management!
Students will break into groups for approximately 45 minutes from 11:15 a.m. to noon where they will get to go on a walk-through of the store and speak with NEW's guest speakers for an inside perspective. Both students and NEW speakers will be available for anyone else who may be interested in speaking with them.
NEW provides a college mentoring program to provide students with one on one support and guidance form a CPG executive and potentially receive job offers from companies including P&G and SC Johnson.
The Cincinnati Chapter of NEW is led by women working at P&G, Kroger, Brown Forman, Pepsi, dunnhumby and other CPG-related companies. The chapter is committed to attracting, retaining and advancing women in the retail and consumer products industry through education, leadership and business development!
Friday is also International Womens Day 2013! Corporations and countries from around the world will be holding special events to recognize the role of women! Visit the International Womens Day website or Facebook page to learn more!
Click here to visit the Cincinnati Chapter's Facebook page to learn more.
---
A Lot Like Love Photography
03/05/13
Several friends of mine got engaged over the holidays, and lots of my other friends are new mommies; such an exciting time in life!! Because of my work with Cincy Chic and here at Star64, they're all asking me if I know of any good photographers. Boy, do I! While most that I work with are more fashion-focused (or waaaay overpriced), there is one photog - Melissa Ball with A Lot Like Love Photography - who specializes in capturing great life moments and I just love her. She's been practicing portrait photography for 12 years and working independently for the last four.
To Mel, it's about offering clients an entirely new experience, where they can be comfortable, stress free and have fun. In fact, it's Mel's goal to offer something more than a few snaps of a camera, she helps the families enjoy the chaos of being together. "It's hard enough to pack up all of the children and guarantee they will make it to the studio in one piece clean and not a crying, dysfunctional mess," she explains.
Mel feels that her job is to capture memories in a way so that when families look back at the photos years later, they'll remember exactly how they felt in the moment the picture was taken. "In an essence I freeze time, I paint a picture of what life was like after all of the details and memories have faded and been forgotten," Mel says.
Mel is all about creating a fun atmosphere for her clients and making their experience more than memorable. She offers a laid-back session and enjoys using clients' surroundings, their homes and the items around their homes that mean the most to them.
She also specializes in on-location portrait photography using natural light and a casual lifestyle approach. "I'm a sneakers and jeans kind of girl," she says.
Her favorite types of portraits are the ones capturing the in between moments of tears, pouty lips, giggles and shy glances. She enjoys those moments even more while shooting in parks and other outdoor locations during the warmer months.
What I also love about her is that her clients become her friends and she's always receiving updates from moms about growing little ones taking their first steps and getting their first tooth.
She's also journeyed with couples- from the beginning of their journey together.
"I've been blessed to be able to watch couples be nervous during engagement sessions to saying their I Dos. I've received calls shortly after weddings, excited to tell me they're now expecting and I'll soon be capturing portraits of Mom-to-Be's growing belly," Mel says.
Getting close to each of her clients is one of Mel's main priorities. "I want to know the names of my clients, their spouses and children," she says. "What they love to do, what annoys them, what makes them laugh. I receive sticky hugs from little hands and I always tell clients they can expect their little ones to leave dirty. I love what I do and what I can offer."
She's learned not to take life so serious, because life's too serious to be so serious. "We have tears, we have scraped knees, we have realized that life is perfectly imperfect," she says.
And don't worry if you don't have a special event or occasion coming up, Mel says some times just capturing the little things you'll soon forget is the perfect excuse for a shoot. "Photographs are there to remind us of what we forget. They're also there to remind us of how awful we used to dress, our horrible haircuts and our ugly kid stages. But those are all just added bonuses," she adds.
Visit A Lot Like Loves Facebook page to learn more about her and see some of her amazing photography! I highly recommend her!
---
The Maribelle Cakery!
02/26/13


You might notice that Storm and I do a lot of eating on our Star64 at the Movies segments, so I've become quite the culinary connoisseur. And I have to tell you, one of my FAVORITE places for sweets in Cincinnati is Maribelle Cakery. For the past 24 years, Maribelle Cakery has earned a reputation for creating stunning centerpieces of beauty and exceptional taste for wedding receptions throughout Ohio and Kentucky.
The cakes at Maribelle are unique to the Cakery and can't be found anywhere else in Cincinnati! As a stop vendor for wedding cakes, this business has grown over the years and now offers much more than just cakes to the public and restaurants in the area. New products from Maribelle's include special occasion party cakes, scones, muffins, cookie bars, Italian cheese cake, cannoli's, special decorated cookies, brownies, pies, fruit tarts and moist cupcakes. If you're needing something special, requested items can also be made.
Fresh isn't an issue at Maribelle since products are gourmet and full of flavors. Only the freshest and finest ingredients are used, including fresh strawberries and raspberries, Belgian chocolate, fresh farm eggs, Oregon red raspberry preserves, Wisconsin premium whole butter and heavy cream.
Recipes from the store located on Cheviot Avenue are their own and Maribelle has won a number of awards for their amazing cakes. They won the 2013 Best of the Knot for Wedding Cakes, a national wedding magazine and website and were also asked to be a part of the invitation only Style me Pretty, one of the best wedding blogs for brides.
Look out for big things happening for Maribelle Cakery in 2013! The Cakery will be opening a school in Sugar Arts. The school will teach individuals ranging from beginner to professional in the art of decorating. Maribelle's owner, Angela, has worked with Collette Peters and Nickolas Lodge, some of the best Sugar Artists in the business.
The school will be teaching basic buttercream all the way up to advanced fondant and sugar flowers. Because there isn't another school like this in Ohio, culinary students can turn to Maribelle's Sugar Arts for that extra training in decorating to help them land a great job! Classes will range from one to two days classes and more advanced one to two week classes. Maribelle hopes to offer accredited courses as the school grows.
To learn more about Maribelle Cakery, visit their website or Facebook page!
---
Eco Fab Fashion Show March 15th!
02/21/13
Over at Cincy Chic, we'll be having our 2013 Eco Fab Fashion Show on March 15.
The event will be from 6-9 p.m at PNC Bank on E. 4th St.
Complimentary light bites by Crave and drinks will be served. Lots of shopping will also be done and the first 200 attendees to arrive will get a swag bag!
The fashion show will start at 7:30 and will feature sustainable designs by lur apparel and eco-friendly hair and makeup styling by Cincy Style Bar!
Fundraising activities for the Civic Garden Center will be available during the event as well as an "Eco-Fab" workshop area where attendees can turn their old t-shirts into no-sew infinity scarves!
The event is free to attend so click here to get your free ticket!
Attachments:
---
After Hours Bridal Show March 7th!
02/21/13
The After Hours Bridal Show, presented by A Brides Mafia, will be held on March 7th from 6-9 p.m at Great American Ballpark!
This event is going to be much better than any wedding event or expo youve ever been to. Im not much of a wedding expo person, but this kind of event is right up my alley. Its like going to a happy hour and you meet a bunch of fun new people who all happen to be in the wedding industry.
I highly recommend this event- its definitely THE place to meet your future wedding vendors.
Cincy Chic is also a media sponsor for the event and its been exciting to see A Brides Mafia grow each year. This year, the show will feature 65 exclusive venders and
Attachments:
---
Cincinnati Gorilla Run March 24!
02/21/13
The 2nd annual Cincinnati Gorilla Run will be held March 24th! The Gorilla Glue Company is hosting the run to raise funds for the Mountain Gorilla Conservation Fund (MGCF), an international charity working in central Africa for the protection of the endangered mountain gorilla.
Events will include a 5k and kids 1k fun run, walk and ride around Cincinnati. Everyone who registers will get a full gorilla suit to keep! Since efforts to save the mountain gorilla began, MGCF has helped reach a 12% increase in the gorilla's population growth.
The start and finish lines for the race will be at the Montgomery Inn Boathouse and the schedule of events for the day include:
9:00 AM Registration Opens
10:15AM 1k Little Gorilla Start
10:30 AM Gorilla Glues Most Creative Gorilla Costume Contest
11:00 AM Start of Race
11:15AM Live Band starts
12:30 PM Silverback Block Party
The Silverback Block Park includes lunch from the Montgomery Inn Boathouse and Honey Baked Ham, live music, beer garden, awards ceremony and other family activities!
Cost:
$99.95 Adult (gorilla suit & block party ticket included)
$50.00 Returning Adult gorilla
$45.00 Kids 1K or 5K (gorilla suit & block party ticket included)
$15 Kids 1K (no gorilla suit, but other costumes encouraged)
Visit the race's website to learn more or register for the race!
---
UFC fighter Colton Smith is visiting Oakley!
02/21/13
Ultimate Fighter season 16 champ Colton Smith will be visit my friend's restaurant, Great Scott! in Oakley February 28! He'll be at the restaurant from 7-9 p.m. signing t-shirts and photos.
During his visit, he'll be doing a grappling seminar and participating in a match at the Arnold Classic in Columbus!
Great Scott! will be offering drink specials during Smith's visit, so be sure to stop out and pick up a new shirt or even an autograph!
The proceeds from the shirts will go to a wounded soldier charity!
Attachments:
---
Krombholz Jewelry Sale!
02/19/13
Krombholz Jewelers is having a jewelry sample sale! Its one of the most talked about jewelry event in Cincinnati. Why? Because all their vendors sell the sample items from what they used that year/season to exhibit to buyers and at shows, and then they come to Krombholzs annual sample sale to liquidate their inventory at amazing discounts (20-75% off!)
The event is only 3 days, February 28-March 2, so make sure you get out there and check it out! Hours for the event include:
February 28- 10am-6pm
March 1- 10am-7pm
March 2- 10am-4pm
Krombholz is located at 9399 Shelly Lane in Cincinnati. Visit KrombholzJewelers.com for more info!
Attachments:
---
Sale for Last Minute Valentine's Day Gifts
02/13/13
I remember my grandma had a cross-stitch of a clock set at 11:59 hanging on her wall that said If it wasnt for the last minute, nothing would get done in this house. So, I guess being last minute runs in the family. Buying Valentines Day gifts is no exception for me, which is why I was sooo excited to see that one of my favorite local stores, Jewels by Jules, is doing a sale specifically for last minute gift-buyers. See below for details on the sale. I will also note that this store is great for if youre buying for men or women. This is actually where I bought all my staffers their holiday party gifts. They have some amazing mens watches, and of course a ton of stuff for women! (diamonds ARE a girls best friend after all! haha!) Happy Shopping!
---
Free Donuts on Valentine's Day!
02/11/13
Be sure to claim your free donut on Valentine's Day! This Thursday, every Busken Baker, Remke-Biggs and Cincinnati/Dayton United Dairy Famers will give away a free Lite Hearted Donut to every customer while supplies last!
Lite Hearted Donuts are heart-shaped glazed donut targeted to claire-counting consumers. Each donut has just 140 calories, 2.5 grams of fat, zero trans fat and zero saturated fat. What a perfect way to indulge in sweets without the calories!
To learn more and keep up to date on the news, follow the Busken Bakery Facebook page!
---
Fabulous-Furs Warehouse Sale…Up to 70% OFF!
02/11/13
This is seriously my FAVORITE sale of the year. Donna Salyers Fabulous-Furs in Covington holds their Warehouse Sale on faux fur clothing, coats, shoes and accessories, after the main fur-buying time of the year has concluded so they can liquidate merchandise. And what better way to liquidate than to offer things at 70% off! Last year, I got shoes for $9, tops for $12, fur vests for $25. It was insane. HIGHLY recommend you check out this sale!!
---
Bridal Show February 20!
02/10/13
Attention soon-to-be brides! Mark your calendars for February 20! From 6-9 pm Yellow Canary will be hosting an open housing for brides to experience a new kind of bridal show.
Interact with vendors for a fun and relaxing night of wedding planning. Check out the newest ideas and trends for weddings while brainstorming with awesome vendors!
Admission to the event is free and will feature an amazing list of vendors including Yellow Canary, Cupcake Crazy, Paint by the Glass, Creative Invites and Events, Letter B Designs, Pottinger Photo, Cafe de Wheels and OliviaMarc.
Yellow Canary is located at 3176 Madison Road in Oakley.
Thanks to my assistant editor Sara Elliott for helping put this blog post together!
---
Laugh Today, Cure Tomorrow February 19!
02/08/13
A comedy show to benefit Drew and the Cystic Fibrosis Foundation will be held on February 19!
The event is called Laugh Today, Cure Tomorrow and features a comedy show at the Go Bananas Comedy Club. Last year, my co-host Storm and myself were honorees for this amazing event!
My friend, Steve, is one of the featured comedians along with Geoff Tate.
Doors open at 7pm and the show starts at 8! Tickets are $15 and will go towards a great cause! This sound like such a fun event! Hope to see you there!
---
Seasons 52 Opens Today
02/05/13
I got the opportunity to check out the new Seasons 52 in Hyde Park. It's in the new development that's going up where all the houses used to be across the street from Rookwood Commons. To be honest, I wasn't ready to be wowed at the Media Night I was invited to. I knew they were owned by the same people as Red Lobster, Olive Garden, Longhorn Steakhouse, etc. I thought this was just going to be another franchise going through the motions of their billionth store opening. Not the case, my friends. I was pleasantly surprised when they had their head chef and master sommelier there who have been with the company for more than a decade each, working together to develop, and constantly improve, the menu. They explained the inspirations behind each dish, and even so far as some of the small farms and farmers they source their produce, cheese, etc from. It was fascinating. One of the other things I was really impressed with was that - as I've told you before here on the blog - my husband and I have decided to go gluten free. I was concerned that this was an issue, or I would have to skip some of the taste testing that was going on that evening. But I didn't miss out on anything - not even the goat cheese ravioli - as they had accommodations for everything. Plus the whole premise of their menu and restaurant concept is to serve healthy, whole food. Nothing on their menu (not even dessert) is more than 475 calories, and they don't use butter, grease or fryers in their cooking process. Everything is flavored with fresh spices and their open flame grill. I was really impressed. I definitely recommend checking them out - they officially open to the public today!
Attachments:
---
Two Fun Events at Pizazz Studio!
02/04/13
Pizazz Studio in Loveland has two fun events coming up I wanted to let you know about! One is tomorrow (Tuesday Feb. 5) from 6:30-8pm and its their Valentine & Chocolate Martini event.
Cost: $40 per person, or bring a friend and both pay $35
Craft: Beaded Martini Glasses & Candlelight Valentine Gift
RSVP: 683-3333
Appetizers, Desserts, Signature Slushies & Chocolate Martinis will be served
They will personalize your glasses for you with whatever message/name/initials you would like the glasses to say, just let them know when you call to register! Pre-personalization must be called in (513-683-3333) today, Feb. 4!
Then, from Feb 7-10, Pizazz Studio is hosting their annual Valentine Trollbead Trunkshow, where you will be able to receive additional specials, including one free bead and what the owner Jan is calling the most awesome mystery gift ever with the purchase of $150! ooooh, the suspense is killing me! The only hint shes giving is that the mystery gift will actually consist of five gifts in one!
Click here to read Pizazzs most recent newsletter about these two events and more!
---
Dancing for the Stars, Massage Envy Review
02/04/13
I agreed to be one of the dancers in this years Dancing for the Stars which benefits the Cincinnati Arts Associations Overture Awards (click here to read the write-up about it on Cincinnati.com). I havent really danced since my high school cheerleader days ...or my Elaine from Seinfeld-esque dancing at weddings! haha! But its a great cause AND the perfect opportunity to get in great shape! Ive been going to dance lessons twice a week, and I promised myself to do cardio and weight lifting three times a week. Needless to say, Ive been waking up tired and achymuscles I didnt even know I had are super sore!
I decided that Id reward myself with a monthly massage if I kept up with the routine. I figured it would help with the aches and would also be motivation to keep up the workouts!
One of our new clients at Cincy Chic is Massage Envy, and the PR rep I work with there had just been emailing me about their new products and add-ons (for example, you can add-on aromatherapy, or upgrade to deep tissue). They are also based on a membership system, so you get a monthly massage (you can use them another month or give them away if you dont use them each month), and that brings down your per-massage price, which is perfect for my new monthly massage promise to myself!
So, I decided to try it out and book an hour massage with deep tissue upgrade and I also added on one of their Enzyme Acne facials. I had a few break-outs I needed to have calmed down before all our events this week! (we have three fashion shows this week, and I didnt want my breakouts to take away attention from my new shoes! haha!)
Let me just tell you, this was the most relaxing two hours of my life. My body felt like jelly afterward, and my face STILL feels like a babys bottom four days later! I got the massage first (Linda Kantor LMT was my massage therapist, by the way, she was awesome). She broke up all those knots, and eased all the tension I was holding in my poor sore muscles. I also got the aromatherapy Im such a sucker for ANYTHING lavender - which just sent me to la-la-land. So relaxing, but it wasnt just a froo-froo massage. I definitely more limber and felt less tense after the massage.
Then, after the massage I got my facial, which was perfect because they did everything in the same room and I didnt have to move one little pampered muscle! Missy Smith was my esthetician. She was amazing. Very knowledgeable about the products (I have really sensitive skin, so I was asking which product did what, and what was in each, if they reacted like previous products Ive had a reaction to, etc). They use Murad products which I had heard of before, but never used before. Now, its been several days since my facial and Ive been using some of the sample lotions they gave me, and Im definitely going back for more. I dont know if its because its winter and I just keep caking on lotions to keep my skin from flaking, but this facial felt like it sloughed off a bunch of junk and my pores are finally able to breathe. And the lotion is keeping my skin hydrated without it feeling weighed down, which is always good so I dont start that caking-on downward spiral again!
So, long story short, I wanted to let you know about my experience at Massage Envy (I went to the one in Kenwood right across from Nordstrom). I give the whole experience from the products to the people an A+ and will definitely be back again. And from the looks of the choreography my dance instructor just sent over, Im going to need it!
By the way, Dancing for the Stars tickets are available for patrons ($100), corporate tables ($1,000) and the front-row celebrity circle tables ($1,500) from the Aronoff Center ticket office Downtown, 513-977-4104, orwww.CincinnatiArts.org. I need lots of loud people in my cheering section!
---
Attention Brides-to-Be: Folchi's Shopping, Makeover Event Feb. 26!
02/03/13
Get ready to celebrate the upcoming wedding season in style! Folchis is inviting you to a fun and informative event called Cupcakes & Cocktails!
On February 26, from 5-8 p.m., the adult only event is being held at 7344 Kenwood Road in Cincinnati.
Guests will get to view the latest collections for grooms and will get special discount offers during your visit! Personal stylists will also be on site to offer services in helping you find the perfect outfit for the grooms special day.
Mini makeovers by Jean Folchi Makeup Artistry will be available as the icing on your cupcake and to offer tips for looking dapper on your big day!
Featured vendors include Jean Folchi Makeup Artistry, Cupcake Crazy and Kim Claire Photography.
Space is limited to make sure you RSVP soon! Click here to save your spot!
Thanks to my intern Sara Elliott for helping put this blog post together!
---
Reserve your Valentine's Day dinner at Crave to WIN!
01/27/13
Crave is hosting a great Valentine's Day event! If you make a reservation for Valentine's Day weekend before February 8, you'll be entered to win a fabulous prize!
Prizes include a Philip Bortz necklace, bracelet or earrings and a voucher for a complimentary carriage ride by Carriage Occasions!
There will be three of these packages given away each day of Valentine's Weekend, so you have three chances to win! Winners must be present to win so make sure you're there!
Crave is located at 175 Joe Nuxhall Way Suite 125. Call them at 513-241-8600 to make a reservation today!
Thanks to my intern Sara Elliott for helping put this blog post together!
Attachments:
---
Get Warm. Go South! Vacation Express Contest!
01/24/13
Looking for an escape to warmer weather? Vacation Express is calling all couples to Get Warm. Go South! for the Coldest Couple contest!
Visit www.getwarmgosouth.com to enter to win an all-inclusive vacation. Everything, including your flight from CVG, your food and hotel to Jamaica, Riveria Maya, Classic Cancun or Punta Cana!
The couple with the most humorous responses will be selected as the winners! The entries for the contest will be judged and announced at the Vacation Express Beach Club Pop Up Shop located at 1218 Vine St. on February 1st at 8:30 pm! Those who enter the contest must be present in order to win! Food and music will be provided the night of the announcement!
And if you don't win the all-inclusive trip you still have a chance to win two round trip tickets to your choice of Cancun, Punta Cana or Jamaica via the Street Level Billboard!
Thanks to my intern Sara Elliott for helping put this blog post together!
---
Free Couples Event this Tuesday!
01/18/13
This Tuesday, January 22, Gillette is inviting couples to stop by for a live kissing experiment! The event is being held at Fountain Square from 8:30am-2pm.
At the event, women will determine whether they prefer their men to have some facial stubble or a clean shaven face. Since research shows that people are kissing less than ever and with Valentine's Day just around the corner, Gillette wants to ask couples if the problem is all that stubble!
Couples participating in the event will kiss in person- with and without stubble- to uncover which kiss is the best kiss. So make sure you man shows up with some stubble!
There will be free Gillette prizes for the guys and Cover Girl lip gloss for the girls will be going to all couples that participate!
If you can't attend the event but would still like to conduct the experiment, participate online at www.kissandtellus.com. The results from the experiment will be announced on Valentine's Day!
Attachments:
---
Shop Your Heart Out January 24!
01/13/13
Are you ready to shop for a great cause and learn everyday habits for a healthy heart at the same time? Then Shop Your Heart Out, in support of the Heart Ball by the American Heart Association Cincinnati is for you!
On January 24 from 5:30-8pm at Saks Fifth Avenue in Cincinnati, you'll have the opportunity to sip and sample healthy bites from The Kenwood Executive's Chef, Robert Giesman. There will also be a fashion show and complimentary beauty and skin care services to indulge in while shopping. To top off the event, Dr. Puvi Seshiah, a cardiologist with TriHealth Heart Institute will be there to help learn everyday habits for a happy heart!
Sakes Fifth Avenue is located at 105 W. Fifth Street. Tickets to the event are $30 per person and include complimentary valet parking on Race Street.
Check out the event's Facebook page here to learn more or RSVP to Sia Ruppert at 513-842-8862 or sia.ruppert@heart.org.
The American Heart Association, benefitting this event, will also be benefitting from Cincy Chic's Lady in Red event on February 9. To learn more about this, click here.
Thanks to my intern Sara Elliott for helping put this blog post together!
---
St. Patty's Day Craft Ideas!
01/12/13
Now that Christmas is over, and you start to pack away the tree... don't worry, there's another holiday right around the corner full of greenery: St. Patrick's Day!! And if you have kids, this is such a fun holiday! Or, even if you don't (like me) it's still super fun to indulge your inner Martha Stewart! haha! I found lots of great St. Patrick's Day food and craft ideas on Pinterest, and included a bunch of fun ideas here to get the wheels turning on how you can turn your home into a pot of crafty and foodie gold!
Attachments:
---
Heart Shaped Food Ideas for Valentines Day!
01/10/13
I don't know about you, but the way to my hubby's heart is through his stomach! So, I found a bunch of fun heart-shaped food ideas for Valentine's Day! I love the heart-shaped raviolis! Some of the other ideas would be so fun to make with kids! Check them out below! Click here to see more!
Attachments:
---
Mitchell's Salon & Spa's 30th Anniversary!
01/10/13
Thirty years ago today, Deborah Mitchell Schmidt opened a little salon and spa she affectionately named Mitchells Salon & Day Spa. Today, Schmidt owns five Mitchells Salons & Day Spas and two Pump Salons, which comprise the largest privately owned salon and day spa chain in Greater Cincinnati. Theyre not celebrating three decades in the biz alone, though all day today, you can stop by any of their five locations to enjoy light bites and enter to win several services (listed on the pic below). Theyre giving scratch off cards to everyone receiving a service today and each scratch off is a winner for one of the services up for grabs, so everyones a winner! Also, if youre celebrating your 30th birthday today (Jan. 10) too, give Mitchells a call because they have a complimentary spa package to offer any of their birthday buddies!
A few months ago Storm and I did a shoot at the Kenwood Mitchell's Salon & Spa. That's by far my favorite Mitchell's location (it's right above the Crate & Barrel and The Container Store!). So, stop by if you have some time today - it's an exciting day for Mitchell's! Congrats to Deborah and her amazing team, and cheers to 30 more years!
---
---
---
Girls Night Out January 17!
12/19/12
Last year, Amy Brenner was one of our Cincy Chic Women of the Year, and Ive just grown to adore her. Basically she offers women a variety of healthcare services from gynecology to skincare. So, when my friend at Vein Clinics of America told me about a Girls Night Out event shes doing with Dr. Brenner, I knew I had to share it with you!
This event is the perfect way to start out the new year! The Girls Night Out will be on Thursday, January 17 from 5-7pm and will feature free Womens Health Seminars including topics like Bio-identical hormones and more, looking your best in 2013, listen to your legs, demystifying weight loss and a Q&A session to wrap it all up!
You can also enjoy treats, samples and pampering like chair massages by Everybodys Health, spa-facials by Medi-Spa, manicures by Bajon Salon, and gifts to all attendees and drawings for gift baskets.
Make sure you RSVP to reserve your spot since space is limited! Call 513-777-0787 to get your spot!
Thanks to my intern Sara Elliott for helping put this blog post together!
Attachments:
---
Bachelor Auction December 28!
12/17/12
My friend Toyia is helping with a great upcoming event that sounds like a lot of fun- especially if you'd like to meet a special someone before Valentine's Day- and support a great cause at the same time!
From 7-9pm on December 28 at Bentley's in Sharonville there will be a Bachelor Auction. Admission is free and $20 for a bidder's paddle. VIP tables are available for $75 and include three drink tickets and one bidder's paddle. Doors will open at 7:00 and bidding will begin at 7:30. Cash and all major credit cards will be accepted the night of the event.
To learn more, visit the event's Facebook page here or call Regina Frazier at 513-526-9447 or Toyia Montgomery at 513-290-6357.
If you're unable to attend the event but would still like to make a donation, visit the Cystic Fibrosis Foundation here.
Thanks to my intern Sara Elliott for helping put this blog post together!
---
NYE Glam-a-Thon December 31!
12/17/12
My friend, Nancy Dawson, of Brideface will be heading up a New Year's Even Glam-a-Thon benefitting the Arthritis Foundation. The event will be on Monday, December 31 from 1-6pm at the Brideface salon in Covington. This is a cause my family is very passionate about since my husband, Pete, has RA.
You'll get you hair and makeup done for your big night out and supporting a great cause! Reserve your appointment by messaging Nancy and the event's Facebook page here or posting on the event's wall. Spots are going to go quickly so make sure you reserve your appointment today!
Thanks to my intern Sara Elliott for helping put this blog post together!
---
Local Artist Spotlight December 16 3-5pm!
12/13/12
Over-the-Rhine has a new retailer, Substance.
They're launching in style as they host "In Ohio We Style," a local artist spotlight event being held this Sunday from 3-5pm. The event proceeds will give to public school education.
Also, going on now through December 31, Substance will donate the gift of a tree being planted for every customer purchase of $50+ for a program called "Trees for Life." They're also entering those customers into a drawing for a $500 Substance gift card!
Substance is a new ladies apparel and accessories boutique at 1435 Main Street and is owned by Christina Getachew. You can contact her for more information about the In Ohio We Style event and their Trees for Life campaign at 513-381-0545 or email her at christinag@shopsubstance.com. You can also check out their Facebook page here.
Thanks to my intern Sara Elliott for helping put this blog post together!
---
Agricola Redesign, Village Gift Shop Upcoming Events
12/05/12
Im so excited! Were bringing a new interior design columnist on to the Cincy Chic team starting in January! Her name is Diane Agricola and she owns Agricola Redesign as well as the Village Gift Shop in Glendales historic Century House. We wrote about Diane here in Cincy Chic a while ago, if youd like to learn more about her!
As we chatted about getting her new column up and running, she told me about two events coming up that I thought Id let you know about! One is an open house event at the Village Gift Shop on Dec. 5 and the other is a Holiday Home Tour through Glendale! So fun! Such a great way to get in the holiday spirit! Below is some info I grabbed from Dianes site about the events see you there!
AGRICOLA REDESIGN ANNUAL HOLIDAY OPEN HOUSE
DECEMBER 5TH, 5PM-9PM
Please join us for our annual Holiday Open House December 5th from 5-9pm during the Annual Glendale Christmas On The Square. A portion of all our sales all day on December 5th will be donated to the William Breidenstein Fund at Fifth Third Bank. William is a local Glendale youth who requires constant medical attention. Purchase a signed copy of A Cincinnati Night Before Christmas, and meet the illustrator, local artist Marilyn M. Lebhar. Marilyn will be glad to personalize your copy during our Open House. 100% of the proceeds from sales of this book are always donated to local non-profit adoption organizations. Enjoy the sounds of the season with acoustic guitarist Tom Laskey, refreshments and beautiful holiday gifts and accessories.
AGRICOLA REDESIGN
3 Village Square
Glendale OH 45246
www.agricolaredesign.com
2012 HOLIDAY HOME TOUR
DECEMBER 8TH, 11AM-4PM
Tickets are available at A Village Gift Shop at the Century House and the offices of Agricola Redesign. Tickets available at the door for $25. Purchase your tickets before December 7th and receive a $5 discount on each! Agricola Redesign is a Holiday Home Tour Sponsor and has donated the design team to do the holiday dcor in two of the 8 homes open for the home. Purchase tickets here:http://glendaleholidayhometour.org
---
Star Power: Edward Steichens Glamour Photography
12/04/12
I checked out the Star Power: Edward Steichens Glamour Photography exhibit a few weeks ago at a Star64 shoot and wrote about it here. And then in this weeks Staycation issue of Cincy Chic, we featured this exhibit and a bunch of other fun things to do in the Tri-State with those vacation days you need to use up before the end of the year.
So, I just wanted to remind you that this exhibit is limited (ends January 27, 2013). You can see it Tuesday-Friday, 11a-4p; Saturday-Sunday 11a-5p with free admission on Sundays.
In case you dont know, Edward Steichen was already a famous painter and photographer on both sides of the Atlantic, when he was offered the position of chief photographer for Cond Nasts influential and highly-regarded magazines, Vogue and Vanity Fair. For the next fifteen years, Steichen would take full advantage of the resources and prestige conferred by the Cond Nast empire to produce an oeuvre of unequalled brilliance, putting his exceptional talents and prodigious energies to work dramatizing and glamorizing contemporary culture and its achievers Fred Astaire, Clara Bow, Winston Churchill, Gary Cooper, Joan Crawford, Marlene Dietrich, Katherine Hepburn, Paul Robeson, Gloria Swanson, and Walter Winchell.
Its one of the most impressive photography exhibits Ive ever seen, and I know youll love it especially if youre a fashionista like me! So, definitely check it out before the exhibit ends in January! Here are a few more details you might need:
The Taft Museum of Art
316 Pike Street
Cincinnati, Ohio 45202
www.taftmuseum.org
Ticket Price: Adults/$10; Seniors 60 and older/$8; Students and Teachers/$8; Youth 12-17/$4; Children under 11/Free; Free parking is available in Tafts onsite garage.
---
Holiday Glam Fashion Show, Jeffrey Bartlett Custom Shirt Deal
12/04/12
The Cincy Chic Holiday Glam Fashion Show is this Friday (Dec. 7) at Lexus RiverCenter and there are only a few tickets left so make sure you RSVP! The event features complimentary drinks and fare, shopping, festive photobooth, and fashion show featuring holiday glam looks. Bring a gently used coat for St. Vincent de Paul and get a free swag bag! In that swag bag, well have lots of goodies, product samples, and gift certificates. One of them that Im super excited about is this Jeffrey Bartlett certificate.
Jeffrey makes custom menswear (click here to check out a fashion show he did for Cincinnati Profile recently). The certificate is for 2 custom shirts for the price of one (I believe shirts range in price from $150 $595). He said I could post the certificate for my blog readers in case some of you arent able to come to the event! So, here you go! What a great holiday gift idea for that well-dressed man in your life!
---
Buying Time with Babysitease
12/04/12
It's finally December (even though it doesn't feel like it outside with this awesome warm weather!) but that means the holidays will be here before we know it! Since we wrote this story about a service called BabysitEase in Cincy Chic a few weeks ago, I've had a few of my girlfriends use it and they LOVED it! I just thought I'd do a quick blog about them to let you know about the service and how it might be able to help give you an extra helping hand and a few extra hours on the clock -- just in time for the holiday rush! Basically, BabysitEase does all the background searches and reference checks on all their sitters, and they've worked with thousands of families in the Cincinnati area to help get kids dropped off at school in the morning, put to bed in the evenings, and everything in between. Also, this year will be the first time BabysitEase is offering personal assistants for parents! If you need a weekly partner to conquer the pile of laundry, a grocery run, and some dinner prepped to feed your family, you can! (I think they just require a commitment of three hours a week to be a member) Give my friend Peggy who owns BabysitEase a call at 859-442-SITS (7487) if you need some extra help this holiday season (and beyond!).
---
Decorating Class this Sunday from 2-4pm!
unset
I don't know about you, but with the New Year around the corner, it has me thinking about switching some things up to start 2013 with a fresh face. I've been thinking about giving a few rooms in our house a new look, and this event looks perfect to do just that!
On December 9 from 2-4pm, A Village Gift Shop at the Century House will be hosting a tour of a historic home in Glendale, which was just completely redesigned by Agricola Redesign. Youll get to see all that theyve done to the house and learn the ins and outs of redesigning. There will be a class featuring season table-scapes, new and exciting holiday color schemes and how to create a focal point in each room.
Refreshments and champagne will be served during the class!
Space is limited the cost of the class is $30. Bring a friend and get a discount of $5 per ticket! Call A Village Gift Shop at the Century House to register at 513-771-3927. Youll also have the chance to enter a drawing for a gift certificate to the Rail House and A Village Gift Shop at the Century House.
Thanks to my intern Sara Elliott for helping put this blog post together!
---
---
---
A Visit to Jewels by Jules!
11/29/12
I recently got to visit Jewels by Jules and check out her selection of jewelry and other great items like men's watches (they have Marines brand where a portion of proceeds benefit the marines and they're really cool chunky watches!), Alex+Ani, Debbie Brooks and Kameleon.
I really love the Kameleon brand because you can customize the pop-out gems that are universally used on their pendants, sunglasses, rings, bracelets, etc. Changing out the gems are a fab (and frugal) way to switch up your look!
They're also having a ladies night Dec 6 5-8pm where ladies who attend and bring friends are entered in to win a pair of sapphire earrings. At the event, you get to shop around and make your wish list while enjoying refreshments. Then, when someone comes in to buy from those wish lists, they get entered to win a big screen TV! Could you imagine winning the earrings and then your hubby wins the TV? Hey, if you didn't win the Powerball, this is a great way to try your luck again! haha!
Attachments:
---
Shop, Sip'N Stroll this Thursday!
11/28/12
Thursday, November 29 from 5-8pm, The Merchants of Hyde Park Square will be presenting a Shop, Sip'N Stroll.
This festive event will include music by DJ Toad in the Square for anyone who wants to join in on the holiday cheer!
You'll be able to shop local small businesses and with such a variety, cross off a lot of loved ones from your gift list!
To learn more about the event and vendors who will be participating, check out Hyde Park Square's website!
Thanks to my intern Sara Elliott for helping put this blog post together!
---
Gluten Free Pumpkin Pie from Scratch!
11/23/12
A few weeks ago, the hubby and I decided to go Gluten Free to help decrease the effects of his RA. I'm happy to report it's actually having a HUGELY positive impact on how he's feeling! He has a ton more energy, and his joints aren't as flared up as they usually are! So, we're definitely going to continue on this GF diet! But of course we decided to make this big change to our diets right before Thanksgiving, the biggest eating holiday of the year! Talk about trial by fire! haha!:) We had to think about everything from how the turkey is marinated, the stuffing, gravy and desserts... but my mother-in-law and I pulled off a delicious and 100% gluten free Thanksgiving dinner! One of the things I'm most proud of is the gluten free pumpkin pie (with a yummy cream cheese layer!) that I made completely from scratch! It was an interesting and fun process - and much easier than it sounds - so I thought I'd share the recipe with you!Ingredients:
1 pumpkin (good size is about 10 inches in diameter)
1 cup sugar (you can also use alternatives like Stevia, honey or Splenda)
1.5 teaspoon ground cinnamon
1 teaspoon ground cloves
1 teaspoon ground allspice
1/2 teaspoon ground ginger
1/4 teaspoon ground nutmeg
1/2 teaspoon of vanilla extract
1/2 teaspoon salt
5 large eggs (you can use "Egg Beaters" instead to reduce fat and cholesterol)
1.5 cans (12oz each) of evaporated milk
1 cup Bisquick Gluten Free mix
5 tablespoons cold butter
4 oz cream cheese, softened
3 tablespoons water
Directions:
Wash the exterior of the pumpkin
Cut your pumpkin in half
Scoop out seeds and stringy fibers (I used an ice cream scoop)
Chop up the pumpkin into smaller pieces
Steam on the stovetop (I use a double pot steamer, but you could use an ordinary large pot with a steamer basket inside it!) until it is soft. (20-40 minutes)
Scoop out the cooked pumpkin (Many times the rind will simply lift off with your fingers)
Puree the pumpkin to a nice, smooth consistency
Mix in the sugar, cinnamon, cloves, allspice, ginger, nutmeg, vanilla, salt, milk and 4 eggs (Voila! Your pie filling is complete!)
Now, on to the pie crust
Heat oven to 425F. Grease 9-inch glass pie plate with shortening or cooking spray. In medium bowl, place Bisquick mix. Cut in butter with pastry blender or fork (or pulling 2 table knives through mixture in opposite directions), until mixture looks like fine crumbs. Stir in water; shape into ball with hands. Press dough in bottom and up side of pie plate.
Bake 10 to 12 minutes or until lightly browned; remove from oven. Cool while preparing cream cheese and pumpkin fillings. Reduce oven temperature to 350F.
In small bowl, beat cream cheese, 2 tablespoons sugar and the vanilla with electric mixer on low speed until well blended. Add egg yolk; beat well. Spread cream cheese mixture in bottom of partially baked pie crust.
Carefully pour pumpkin mixture over cream cheese mixture.
Bake at 350F for 40 minutes, until a clean knife inserted into the center comes out clean.
Enjoy!
Attachments:
---
J.Hilburn for the Holidays
11/23/12
Last week, I wrote this story on Cincy Chic about J.Hilburn and I fell in love with the concept - especially since I've been wracking my brain for what to get my hubby for the holidays! So, basically, it's a direct sales menswear company. What makes them different is that they use the same mills as the big-box-store luxury brands, but because they don't have brick-and-mortar stores, their prices are more affordable. So, you get great quality at great prices.
It's an awesome gift idea because you can buy a certificate for a custom-made shirt, trouser, jacket or suit (or even accessories like a custom belt!). A J.Hilburn rep (I've been working with Porter Castleberry who is SO nice - I highly recommend him!) meets with the recipient of your certificate to do an expert fitting, and helps them pick out the fabrics and finishes they want! My husband has to wear a suit every day to work, and he's going to love having clothes custom-made just for him, so this is perfect for him! I just thought I'd share in case you're trying to find a good gift idea for the fashMANista in your life too! :) Click here to check out the story I wrote about J.Hilburn, the company, their products, and the buying process. Feel free to Porter at 513-240-1163 or porter.castleberry@jhilburnpartner.com.
---
Happy Thanksgiving, Turkey Frying Tips
11/22/12
I just got an awesome fryer at Warehouse B (my new favorite place to get appliances!), so I've been looking up a bunch of fryer recipes. The fryer I got is just for small batches not anything big like a turkey - but it got me thinking about all the people deep frying turkeys for Thanksgiving today. Fried turkey can be super delicious, but it's also dangerous to make. So, I wanted to put together a few tips for deep frying a turkey that may come in handy! Check those out below and Happy Thanksgiving!
Turkey deep fryers

should always be placed outside, a safe distance away from buildings and othercombustible materials.

Never use turkey fryers on wooden decks or inside garages.

To reduce the risk of tipping, always place your turkey fryer on a flat surface.

Make sure the turkey is completely thawed and be careful of marinades before placing it in the pot. Excess water in partially frozen turkeys will cause the pot to overflow, resulting in a fire hazard. (Tip: it's recommended that you plan for 24 hours of thawing for every 5 lbs of bird before cooking in a turkey fryer)

Be careful to not overfill your turkey fryer with oil. If overfilled, turkey fryer oil may spillover, engulfing the entire unit and possibly injuring bystanders.

Most turkey fryers donot come with a thermostat, and if left unattended the unit may overheat the oil, resulting in combustion. Turkey fryer thermometers and other

turkey fryer accessories

are available.

The sides of the cooking pot, lid and handles become very hot, posing a severe burn threat. Before touching the pot, cover your hands with oven mitts or use well-insulated potholders.

Make sure nothing is near the unit that may catch fire just from the close proximity to the fryer.

Make sure an all-purpose extinguisher is handy at all times. Also remember to never use water to put out a grease fire.

Even after you are finished cooking, do not let pets or children near the unit. The oil in the container remains extremely hot for hours after cooking.

Plan on leaving theoil in the unit overnight to cool - it stays hot for several hours after use.

And remember the most important safety tip of all: NEVER leave a turkey fryer unattended.
Thanks to my intern Eric Ankney for his help putting this blog post together!
Attachments:
---
Holiday Events at Northgate Mall
11/19/12
We just did a few shoots at Northgate Mall, and they honestly have a lot of fun stuff for the holidays coming up that you should know about! They're doing a Breakfast with Santa event on Dec. 1, plus a HUGE Black Friday event where they're giving away $5K in Gift Cards, free prizes, and live entertainment. All the details are listed on their website http://mynorthgatemall.com.
Attachments:
---
Re:Sign to Help this Wednesday at Japp's!
11/12/12
Re:Sign to Help Britt Born and Stephanie Cornett will be throwing an event at Japps this Wednesday, November 14, from 4-9pm.
The purpose of the event is to bring in your old campaign yard signs! They will then take the yard signs and convert them into weather-proof blankets for homeless people to be distributed at the Fall Feast later this month. Repurposed campaign signs will be donated to City Gospel Mission.
Bring in your old campaign signs for this great cause and you'll get $5 hot totties, $2 Yuengling and tasty treats from Mayberry.
And if you can't make it Wednesday, no worries! You can stay tuned for more details as the movement progresses. Volunteers are also needed throughout the course of this event! You can email Stephanie here or Britt here for more information!
Thanks to my intern Sara Elliott for helping put this blog post together!
---
Crafty Supermarket Nov 17!
11/09/12
Get ready for the Crafty Supermarket!
The biannual, juried event will be held on Saturday, November 17 with 50+ crafters from all over the Eastern US and thousands of shoppers!
You can check out Crafty Supermarket's press page to learn more about the show or their writeup in Country Living!
Thanks to my intern Sara Elliott for helping put this blog post together!
---
Altered States at Miller Gallery November 9!
11/02/12
You're going to think I've been living at the Miller Gallery lately, since I just wrote about Tyler Shields exhibit there a couple weeks ago! But on November 9, they're opening a new exhibition that I'm really excited about with artists Rob Jefferson and Jonathan Queen!
The show will be called Altered States and will be featuring the artists newest works, which have taken different directions since their original art.
Jefferson's show will focus on a singular, iconic image: the car. While Queen's work will focus on altering objects from their original forms.
The show will run from November 9-21 and the Opening/Meet the Artists will be from 7-9pm on November 9.
For more information call (513) 871-4420 or visit the website here.
If you plan on attending this showcase, Miller Gallery is located on Hyde Park Square at 2715 Erie Avenue Cincinnati, Ohio 45208
Attachments:
---
---
As I mentioned in my last blog, my husband has Rheumatoid Arthritis. He deals with a lot of pain, inflammation, discomfort and even immobility at times -- not to mention all the side effects of the RA drugs he's on! So, I've been doing a lot of research on what we can do through some lifestyle changes to make life a little easier on him, and decrease some of the inflammation and stress on his body. I met with Dr. Patel at the Living Proof Institute and he had so much great info to share. The biggest thing I took away from our conversation is how wheat and gluten affect some people. I have friends who have gone gluten free, but I didn't know why or what it really meant. Dr. Patel explained it very well (basically, many people are having issues with gluten because of genetically-altered wheat/flour products and/or unhealthy preservatives). He also suggested some easy ways to make healthy changes in our diet to go gluten-free and see if it'll help. So, I went to the grocery and bought an all gluten-free cart full (thanks to the meals and recipes I found on Dr. Patel's site and on the Gluten Free Cooking School site I found. So far, it hasn't been too bad! I've made chili, lots of salads, fish and I even made pasta! (They make gluten free pasta that's made out of rice!) I bought some gluten free brownie mix, too. So, I'll have to let you know how all of it tastes and keep you updated on our new foray into the gluten free world!
---
Happy Halloween, Bone Bash Recap!
11/01/12
Happy Halloween! Hope it's been fun for you so far and you're gearing up for a night full of little ghosts and goblins! Pete and I actually went to a Halloween-themed event Saturday hosted by the Arthritis Foundation. It's called the "Bone Bash" and it's a big fundraiser for the AF. Each year, they recognize a person, organization or family that has aided them in their mission and this year they recognized my family! Pete, my husband, has Rheumatoid Arthritis. So, I like to get Cincy Chic and Cincinnati Profile involved to help them promote their events and fundraisers. My father in law is now on the AF board. And my sister-in-law and mother-in-law help to plan events and secure donated items for the AF's fundraising efforts. It was such a special event and I can't thank the AF for all that they've done for Pete and everyone else suffering from arthritis. Check out the pics below from the event .... and of my super spooky outfit! :)
Attachments:
---
My assistant editor at Cincy Chic had a great opportunity to learn from and train with a local expert we recently wrote about. Check out her guest blog below about her amazing and inspiring experience!



I recently started training with Ryan Smith, whom we wrote about in Cincy Chic and you can check out here. For me, this is huge. I fractured my L4 in August of 2011 and had been trying to ignore the pain since. At the end of June, while leaving my internship in Washington D.C., I sent my back over the edge.
There was an instant, sharp pain shooting down my leg so I took myself straight to the hospital. Long story short- I had spinal lumbar fusion surgery to fix the fracture and blown disc in my back. After spending a lot of time laying on my back and watching movies I was finally able to move freely two and a half months out of surgery.
My predicted healing time was 3-6 months. But since I was a gymnast, soccer player and competitive cheerleader I had high hopes for myself.
So when I first met with Ryan, I had a lot of explaining to do. It felt like the list of my problem would never end. And when it did, Ryan had really encouraging words. He evaluated me so he could see where I was at that point and said that I was doing much more than he expected. Then he compiled a list of exercises and training schedule that was specifically done for me.
I can't think of too many better moments than the moment I ran two weeks ago. With Ryan's encouraging words I jogged, slowly. It felt amazing, until I remembered that I've got slight paralysis in my right leg and it wasn't quite doing what I wanted it to. After shedding a few tears, he showed me how to progress from where my body was at that moment. Now I have to remember to pick my right leg up a little higher than my left, which feels weird, but it's what I've got to work with. But Ryan is always by my side encouraging me to keep going.
Then last week, we met at Devou Park and did some trail running. Yes, trail running. Three and a half months out of surgery I'm running trails.
Ryan's coaching was all and more that I could have hoped for. While at times I get frustrated because it's like starting over I'm thankful to have Ryan helping me make progress every week.
---
The American Red Cross' Sandy Efforts
10/31/12
As you all know, Sandy swept the nation this week, and the superstorm left many people suffering in its wake. I just got the below press release about the efforts being made here locally to help those in need. I thought I'd share in case you'd like to get involved and help them help others.
The American Red Cross has a huge relief response underway to Sandy, providing people across a number of states with a safe place to stay, food to eat and comfort during this difficult time.
Thousands of people have spent the night in hundreds of Red Cross shelters since the storm began its onslaught on the country. The Red Cross has already served more than 100,800 meals and snacks and mobilized more than 2,300 disaster workers and almost 200 emergency vehicles so far and more are being deployed.
Our response to Sandy is just getting started. The storm has left devastation in its wake and the Red Cross will be helping people for weeks to come, said Trish Smitson, CEO of the Greater Cincinnati-Dayton Region. This community is very generous and we appreciate the outpouring of support as our nation recovers from this massive storm.
Locally, 34 volunteers from the Greater Cincinnati-Dayton Region have deployed to Pennsylvania, New York, New Jersey and West Virginia to assist with mobile feeding, distribution of recovery and clean up supplies, mental health counseling and sheltering.
HOW TO HELP The response to Sandy is very large and very costly and the Red Cross needs the publics help now. People can make a financial donation by visiting www.redcross.org, call 1-800-RED CROSS (1-800-733-2767) or text the word REDCROSS to 90999 to make a $10 donation. Contributions may also be sent to your local Red Cross chapter at 2111 Dana Avenue, Cincinnati, OH 45207.
Attachments:
---
An Astaire to Remember- the Taft's 80th Anniversary Party
10/31/12
A couple weeks ago, I told you about a shoot we did at the Taft Museum downtown. Well, I just saw on Facebook that they have an awesome event coming up this Friday to celebrate the museum's 80th anniversary! Check out all the info about it below!Old Hollywood glamour meets 21st-century swagger during this celebration of the Tafts 80th anniversary.
$32 by October 31. $40 at the doorReservations: (513) 352-5134 or https://taftmuseum.cincyregister.com/80party
Enjoy a swanky 1930s nightclub atmosphere with music by the Billy Larkin Trio, specialty cocktails, and delicious complementary hors doeuvres by Executive Chef Luke Radkey.
Find inspiration in Star Power: Edward Steichens Glamour Photography for your own Framester mementos of the event.
Complementary Valet Attire: Cocktail or 30's attire suggested
Attachments:
---
Frisch's Pumpkin Pie!
10/31/12
You all know I love to cook and bake, but there are some things I just can't replicate at home, so I love going out to get them. Frisch's Pumpkin Pie is one of those things. I actually took my staff to Frisch's last year for one of our weekly meetings - click here to learn more about it (and see the funny video me and my staff made there!). Karen Maier, Frisch's vice president of marketing, came to our staff outing to visit and share some fun facts about the food and business. I included many of the fun facts we learned in that story above, but since it's pumpkin pie season (they only sell them between Sept 12-December 24!), I thought I'd share some of those fun facts with you:
Pumpkin is their most popular pie variety. Frisch's has used the same closely guarded secret recipe for more than 50 years.
Each Frisch's Pumpkin Pie is baked fresh from scratch in the Frisch's bakery and they're never frozen! And most importantly, it's made of pure pumpkin - no fillers!
Frisch's sells more than 90,000 whole pumpkin pies in a 16-week period. If you stacked those pies on top of each other, it would create a delicious tower more than 4.2 miles high!
They also sell more than 900,000 slices of pumpkin pie annually. If stacked on top of each other, that tummy-tempting tower would be more than 41.7 miles high!
Their local commissary bakery bakes all of Frisch's Big Boys delicious pies, cheesecakes, hot fudge cake and other desserts from scratch.
The bakery is climate controlled to maintain consistent temperature for optimum baking and cooling conditions. It's one of the secrets that keep the pies from cracking!
The Frisch's Pumpkin Pie season is short, so before it ends December 24, make sure you stop by and pick up a slice... or just pick up a whole pie because you know your family and friends will want some too! :)
Attachments:
---
3rd Annual Taste of Adventure November 12!
10/23/12
Jaguar Land Rover Cincinnati will be hosting its 3rd Annual "Taste of Adventure" on November 12 from 6:30-9:30pm at Jaguar Land Rover Cincinnati.
My friend Teresa does this event every year and it's awesome! I was able to go to this event a couple years ago and they had food from various local restaurants, some silent auction items up for grabs and event some Bengals players there! And it's all for a great cause!
This year, the event will feature 10 local restaurants, a variety of beverages, music and entertainment and an amazing auction! Tickets are $50 and can be purchased here.
"Taste of Adventure" supports A Kid Again, an organization helping children with a life threatening illness be a kid again!
Thanks to my intern Sara Elliott for helping put this blog post together!
Attachments:
---
Star Power at the Taft Museum
10/22/12
We had a shoot at the Taft Museum of Art last week to promote their new "Star Power" exhibit. It's honestly one of the coolest museum exhibits I've ever seen, because it speaks to my love of fashion magazines and old hollywood glamour. The exhibit, which is going on now until Jan. 27, is a collection of Edward Steichen's photography. He was the chief photographer for some of Conde Nasts' most highly-regarded publications, such as Vanity Fair and Vogue. Click here to learn more about the exhibit! I definitely recommend you go see it... free parking and it's free on Sundays! Enjoy!
Attachments:
---
This Saturday, October 20, will be the first ever CODE Chaser Event! We first wrote about CODE in August here on Cincy Chic. and now, this Saturday is the big event! The Cincinnati Open Design Event (CODE) will be hosted by WKRC Local 12s Jen Dalton, from 7-10pm at Music Hall on 1241 Elm St., downtown!
One of my favorite designers, Amy Kirchen, will be there as well as Althea Harper (from Season 6 of Project Runway!), Jovani, and Kristy Nguyen. Music will be by DJ Etrayn and the After Party will have special guest DJ Clockwork.
The After Party will be at Mainstay Rock Bars Betty Bar- located at 301 W 5th St.
Click here and use the promo code CINCYCHIC for FREE standing room tickets!
Attachments:
---
Think Pink While Giving Green!
10/17/12
There's so much going on for Breast Cancer Awareness Month and there's still an opportunity for you to get involved and support a great cause!
On October 26 from 5-7pm, All-N-1 Studio will be hosting "Think Pink By Giving Green" at Crave!
Crave is located at 175 Joe Nuxhall Way. There will be a happy hour, food, drinks, speakers, music, and lots of fun!
All proceeds from the event will benefit pinkribbongirls.org. For more information call 513-202-6375 or visit All-N-1 Studio's website
Thanks to my intern Sara Elliott for helping put this blog post together!
Attachments:
---
Cincinnati Maintenance Baby Expo!
10/09/12
Cincinnati Maintenance will be holding their Eco Baby Expo on October 13 from 10am-5pm.
There will be three featured speakers during the expo. Kimberly Yolton will be speaking from 11am-noon, Dr. Michael Nichols from 1-2pm and Heather Curless from 3-4 pm.
You'll get to talk to local experts to learn how to make your home non-toxic, how to prepare healthy, organic meals for your little ones and what chemicals you should avoid after pregnancy and birth.
There will also be a handful of venders from the natural and organic fields there to help you with any questions!
If you'd like to attend one lecture it's $20 with pre-registration and $25 at the door. All three lectures will be $50 with pre-registration and $60 at the door. The exhibit hall is free to attend. Click here to register.
The expo will be held at the Carnegie Center of Columbia Tusculum at 3738 Eastern Ave.
Thanks to my intern Sara Elliott for helping put this blog post together!
Attachments:
---
Rocktober Fest is upon us! Get ready to join in on the fun at Fountain Square with drinks and great music!
There will be a Rocktober event as Cincy Chic's after party for Bras with Flair on October 19. Click here to RSVP for the fashion show!
The week after Bras with Flair, Snidely Whiplash (my husband's band) will be playing as the feature band for Rocktober!
Thanks to my intern Sara Elliott for helping put this blog post together!
Attachments:
---
Bad Girl Ventures Event!
10/01/12
We recently wrote about Bad Girl Ventures and SomoLend founder Candace Klein. Bad Girl Ventures looks to support startups by women while SomoLend is a peer-to-peer lending platform.
BGV has an upcoming event where they'll be introducing the finalists for their upcoming $25,000 loan. This is an awesome chance to meet the finalists they've selected.
You'll find the link to the registration page here!
Thanks to my intern Sara Elliott for helping put this blog post together!
---
Tomorrow is the Susan G. Komen Race for the Cure! We have an amazing Cincy Chic team that will be participating in the race! It is going to be so much fun to get a team together to support such a great cause! Also, look out for the Cincy Chic booth in the expo area!We're going to be a sea of pink with everyone on our team wearing matching "I am Cincy Chic" tshirts, so you won't miss us! If you want to check out the event there's information here and you can also look at this link for parking information!It's going to be a great event and we look forward to seeing you out there!Thanks to my intern Sara Elliott for helping put this blog post together!
Attachments:
---
Food Trucks Invade Covington Today!
09/28/12
I just got an email saying that a slew of Food Trucks will be invading Covington again today! It's a fun way to try out new food that your tastebuds wouldn't get to try otherwise! Bon Appetit!
Attachments:
---
Free Lunch 'n' Learn: Supercharge Your Cash Flow
09/28/12
My Cincy Chic team and I are hosting a free lunch 'n' learn with PNC Bank that I wanted to tell you about! The theme is "Supercharge Your Cash Flow" - who couldn't use that! :) The event is on Oct. 10 from 12-1pm, lunch is free, and you get a free swag bag! Click here to learn more about it!
Attachments:
---
Recreational Equipment, Inc. will be hosting its Cincinnati stores grand opening at Rookwood Commons from October 5-7 with the store opening at 10am each day. Theyve got a number of events and giveaways scheduled throughout the weekend to celebrate the stores opening:
Free Continental Breakfast: early birds can enjoy a light breakfast beginning at 9 a.m., an hour before the store will open.
Shop early, get a gift: the first 200 people (age 12 and older) who visit the store each day throughout the weekend will receive a limited-edition CamelBak water bottle with an REI gift card inside ranging from $10 to $100.
Free Bike Valet Services: cyclists who ride their bike to the grand opening activities between 9 a.m. and 11 a.m. on Friday, Saturday and Sunday can take advantage of valet parking services from Queen City Bike.
Enter to Win Great Prizes: REI members and customers can enter to win gear sweepstakes packages, featuring camping, cycling and travel products.
Classes and Events: REI Cincinnati will offer educational classes, outdoor presentations and volunteer opportunities for the community after the grand opening, including Outdoor Photography Basics and How to Select a GPS classes.
Also feel free to attend REI and Hamilton County Parks District from 10am-2pm on October 20 for a volunteer event at Farback Werner Nature Preserve. You can check out information for the event here
---
PurpleStride Walk for Pancreatic Cancer
09/17/12
A friend of mine, Lori, has been active in the "PanCAN" organization for years. But, after losing her aunt to Pancreatic Cancer in August this year, she's getting really involved in one of their big fundraisers: The PurpleStride Walk for Pancreatic Cancer. It sounds like a fun event, and it's such a great cause, so I encourage you to check it out. Click here to like them on facebook and click here to register for the event! or the link is on our facebook page
Attachments:
---
Findlay Market Presents Eat Local for the Globe Event 2012
09/11/12
Anyone who enjoys great food and fun should be sure to attend Findlay Market's third annual Eat Local for the Globe event this Thursday! While the Special Chefs Table seating is already sold out, general admission tickets are still available! Buy your tickets here to sample food prepared on location at nine different tasting stations throughout the market. Craft cocktails by Molly Wellmann, wines courtesy of Market Wines, and Christian Moerlein brews in the OTR Biergarten will all be available along with live music and a silent auction! All proceeds will benefit the Findlay Market Fund. So dont miss this opportunity to wine and dine on local cuisine while supporting a historic community business!
When: Thursday, Sept. 13th from 6:00-9:30 p.m.
Where: The Historic Findlay Market on Elder Street in OverThe Rhine, between Race and Elm.
Thanks to my intern Eric Cepela for his help putting this blog post together!
Attachments:
---
Cincinnati Comic Expo
09/11/12
I got to hang out with Tony Moore, the Co-Creator of AMC's hit zombie series "The Walking Dead" for a Star64 shoot we just did! He sketched a super creepy zombie right on-set as we were taping - he's awesome! What's even more exciting is that Tony is one of the 100 well-known artists who will be at the expo on Sept 22 and 23 at the Duke Energy Center. You'll get to meet Tony and the other artists, and they'll also have costume contests, kids activities, and even a light sabor fight scene seminar! Click here to learn more info!
Attachments:
---
Green Drinks Mason and Fibromyalgia Benefit Event
09/11/12
Kick off the end of summer with a fun time and good cause! Green Drinks Mason, which we've written about here in Cincy Chic, is hosting a Fibromyalgia Benefit Event at the Ludlow Bromley Yacht Club (860 Elm St. Ludlow, KY 41016) on Wednesday, Wed, Sept. 26 from 6 p.m.- 9 p.m. Its $20 to attend and you can click here to learn more! Have fun!
---
Unearthing Unexpected Treasures at Hemptations
09/06/12
We did a shoot at Hemptations in Sharonville last week for Star64 and they had SO much cool stuff there! I learned so much about hemp (like it's 60% stronger than cotton, uses no pesticides, and lasts longer than cotton!). I also learned that Hemptations makes a lot of items (like totebags, reusable coffee filters and even cornhole bags) in-house! They also had cute dresses, hats, pet toys, and even flip-flops that were "upcycled" from tires! Definitely a place to check out!
Attachments:
---
K9 5K Run/Walk for Boone County Animal Shelter
09/03/12
The first annual K9 5K, a Run/Walk benefiting the Boone County Animal Shelter, will take place on September 29. It's an opportunity for you to run or walk with or without your pet! It's all for a great cause too because the event is a fundraiser to save the lives of homeless pets. Click here to download the registration form and here are all the details:
England/Idlewild Park
5550 Idlewild, Burlington KY 41005
Run/Walk Starts at 9 a.m., Registration Starts at 8 a.m.
The entry fee is $20, plus a donation off the shelters wish list, before September 19. After September 19, including on the morning of the event, registration is $25 plus a wish list donation. Here are a few items on the wish list: Bleach, Dawn Dish Washing Liquid, Paper Towels, Dry or Canned Cat, Kitten, Dog and Puppy Food or Treats, Collars, Leashes
---
Cincinnati Film Festival Sept. 6-14
09/02/12
My friend who's very involved in the local film industry told me about the upcoming Cincinnati Film Festival. Sounds like a great opportunity to support this awesome event and see some great films in the process!
The Cincinnati Film Festival is in its third year of bringing brave and beautiful films from around the world, September 6-14, to the tri-state area. This year's international film festival will show more than 80 films representing 16 countries The red-carpet Awards night Sunday September 9, features a world premiere of the film, "The Letter" starring James Franco and Winona Ryder; and much more. They are an all-volunteer, non-profit organization, that manages an international film festival that will shine a spotlight on our beautiful community. Click here to learn more about the CFF, and click here to visit the CFF Facebook page.
---
---
Common Sense Parenting Courses
08/31/12
We just had our Schools Back, Mom Relax event last week, and a lot of the moms I talked with were experiencing some serious back-to school-stresses. Theyre dealing with a whirlwind of new schedules, friends, and challenges for the children and parents.
I told the moms that they should check out The Childrens Home of Cincinnati. They are now offering new Parent Consultation services featuring Common Sense Parenting curriculum. Parents can enroll in a six week series coming up this fall, starting Sept. 12, which will help parents learn how to:
avoid power struggles and better control emotions
balance discipline with affection and give positive attention
prevent negative behaviors
The cost for each series is $325, which includes the six classes, course materials, and a copy of the Common Sense Parenting book. They even offer childcare if you need it. If youd like to learn more about the series, or to register, email Jennifer Powers at JPowers@thechildrenshomecinti.org or call 513-272-2800 x3626. Should you be interested in more one-on-one specialized services, they also offer individual parent consultation at your home, on campus or over the phone for an hourly rate.
I first found out about the The Childrens Home of Cincinnati through my work with Star64. We did a shoot there where I got to meet faculty, students and their families. It was such an eye-opening experience for me to see how The Childrens Home of Cincinnati was truly making a difference for the kids and bringing peace to their families.
One of the stats that stuck with me the most from the shoot is that 100% of parents who have experienced group consultation thus far would recommend it to another family thats pretty impressive! To learn more about The Childrens Home of Cincinnati, go towww.thechildrenshomecinti.org.
---
Hyde Park Sidewalk Sale This Weekend!
08/23/12
Looks like its going to be a pretty weekend this weekend! What better way to spend a sunny day than with a little sidewalk sale shopping?
The shops on Hyde Park Square will be hosting a sidewalk sale from Thursday-Sunday this weekend, so make sure you stop by and get in on the deals while enjoying a pretty day! Happy shopping!
---
Edible Landscape Event Aug. 25
08/23/12
I love gardening and landscaping. And who doesn't love to eat? Well, what if you could have your landscape and eat it, too? That's what my friends at Marvin's Organic Garden Center (who landscaped our house!) will be teaching with a seminar this weekend. Below is more info about it! Click here to learn more!
Edible Landscape Event Aug. 25 At Marvin's Organic Gardens: 2055 South US Route 42, Lebanon, OH.

Cost: $95.00* (Please register in advance, only 30 spaces available!!!)
This dynamic all-day Edible Landscape course begins with a stimulating presentation and show n' tell on Edible Landscaping and Permaculture from around the world providing many thoughts and concepts to help build a deeper understanding of the uses and benefits of Edible Landscape. During the presentation, we will enjoy various herbal tea preparation straight from our Edible Gardens. Next we will break for lunch to enjoy a delicious and incredible array of homegrown and local organic edibles from the gardens prepared for you fresh from our kitchen, and discuss ways that we can all prepare these fabulous mouth watering edibles in our own kitchens. Then we will move out into the gardens for a full sensory tour through a developing Edible Landscape to study up close many edible trees, shrubs, flowers, groundcovers, vegetables and vines that can be arranged in various ways in your own Edible Landscape, helping to provide practical examples of edible plant combinations and uses. Following the tour, we will head to the design table to begin planning and designing Edible Landscape concepts customized for your own yard. You will have the opportunity to lay out the foundation for your own Edible Landscape with help from our experienced landscape designer, who will guide you through the design process, providing easy how-to tips and thoughts on designing the most affective Edible Landscape for your space. We will round out the afternoon with a hands-on 'in the garden' workshop to build a complete Edible Landscape using purely organic gardening techniques. This workshop will provide an opportunity to work intimately with many edible plants that you can use in your own yard, and ways that you can optimize such plants and organic gardening practices at home and in our community.
In addition: All participants will receive a 20% discount card good for all plants and products at Marvin's Organic Gardens We will also draw prizes for a few lucky winners for Edible Landscape plants and a Free "At-Home" Landscape Design and Consultation
For more information contact Wes Duren at wes@marvinsorganicgardens.com or call 513-932-3319.*All proceeds from this event will go toward supporting our mission in the African Congo to promote Edible Food Forests.
Attachments:
---
Big Sale This Weekend at The Spotted Goose
08/22/12
I follow The Spotted Goose on Facebook because I bought some great gifts there for my niece and nephew. They just posted about a big sale they're having this weekend, so I thought I'd share! Sounds like you'll be able to snag some good deals, and they also have some unique classes coming up! Check it out!

---
HUGE SALE THIS WEEKEND ONLY! (Friday-Saturday 10am-6pm)
Clearing out sale goodies:
Buy 1 item get 40% off, 2 items get 50% off,3 items get 60% off all sale items!
---
Fall classes!!
Mama and Me from The Art Spark Session starts Tuesday August 28 and runs to October 2. $60.00 for the session! 513.351.9600
Baby signs starts Wednesday September 19 at 10:30 am.
---
513.351.9600The Spotted Goose Co.3048 Madison Road (O'Bryonville) Cincinnati, Ohio 45209
Attachments:
---
Pet Fashion Show, Pumpkin Dog Biscuits
08/21/12
We have our third annual Pet Fashion Show coming up Sept. 21, so I've been talking with a lot of pet owners and pet vendors lately. A lot of the pet owners I know are starting to make their own pet food and treats, so I thought I'd give it a shot. I found this recipe here, and Dino LOVES it, so I thought I'd share! Hope it gets tail-wagging results like I did! :)


Pumpkin Dog Biscuits

2 eggs
1/2 cup canned pumpkin
2 tablespoons dry milk
1/4 teaspoon sea salt
2 1/2 cups brown rice flour *
1 teaspoon dried parsley (optional)
Preheat oven to 350. In large bowl, whisk together eggs and pumpkin to smooth. Stir in dry milk, sea salt, and dried parsley (if using, optional). Add brown rice flour gradually, combining with spatula or hands to form a stiff, dry dough. Turn out onto lightly floured surface (can use the brown rice flour) and if dough is still rough, briefly knead and press to combine. Roll dough between 1/4 " 1/2 " depending on your dogs chew preferences, ask first " and use biscuit or other shape cutter to punch shapes, gathering and re-rolling scraps as you go. Place shapes on cookie sheet, no greasing or paper necessary. If desired, press fork pattern on biscuits before baking, a quick up-and-down movement with fork, lightly pressing down halfway through dough. Bake 20 minutes. Remove from oven and carefully turn biscuits over, then bake additional 20 minutes. Allow to cool completely on rack before feeding to dog. Makes up to 75 small (1) biscuits or 50 medium biscuits
Attachments:
---
Street Eats in Covington This Thursday!
08/20/12
Over the past year, food trucks have taken Cincinnati by storm. They're everywhere - in OTR, on Fountain Square and the parking lot on 5th and Race. Well, now they're taking over Covington for an event called "Street Eats." Check it out this Thursday, Aug. 23, 11am-2pm at the Covington Landing located at 1 Madison Ave! Mmmmm... I'm already getting hungry for it!
Attachments:
---
Fall in Love with The Reading Bridal District
08/08/12
My friend Jeff who helps to coordinate and promote events for the Reading Bridal District just told me about this bridal event coming up! It sounds like fun, so I thought I'd share! See below for more info and click here to RSVP on Facebook!
---
Fall in Love with The Reading Bridal District
The Reading Bridal District Presents: Let's Fall in Love with The Reading Bridal District. Spend the evening on Sept. 20 strolling the district, exploring the shops, listening to great music, eating amazing food and winning fabulous prizes. Are you and/or your Fiance in the Military? Has it been hard to plan your wedding around Deployments, Training, Etc...? Do you want to have a FREE Surprise Wedding that you and your fiance will NEVER FORGET? If so, email your story to Doug at Party Pleasers Services for this Once in a Lifetime opportunity -
doug@partypleasersdj.com
- and explain why you or your fiance deserve this special day.
Only One Couple will win, so enter today and Let's Fall in Love at The Reading Bridal District. *Entries must be received by Monday, August 20, 2012. Winner will be notified by Monday, August 27, 2012. " at Reading Bridal District.
---
A Bridal Affair in Glendale Square
08/08/12
Ok, listen up brides-to-be! My friend Nidhi Bedi (we featured her as Single and Successful this year!) is hosting one of her super-popular bridal events this Sunday! This one will be held in Glendale Square and its your chance to meet various bridal vendors in a super chic and fun environment! (Yup, that means no boring wedding expo here!) Below is more information about the event! Have fun!
_______
A Bridal Affair in Glendale Square
Sunday, August 12, 2012
12 4:00 p.m.
Glendale Square
30 Village Square
Glendale, OH 45246
* Enjoy champagne while sampling various desserts!
* See over 20 unique reception set ups including various linens and centerpieces!
* Preview the latest wedding fashion trends!
The event is free hope to see you there!
---
I made a fun little centerpiece for dinner tonight! Old vase, river rock and some blooms! Voila!:) What a great way to showcase your sprouts in a chic and unique way!
Attachments:
---
50 Shades of .... CUPCAKES!
08/07/12
Each Tuesday, I get together with my girlfriends for what we call "Champagne Tuesday." We usually meet at a restaurant, bistro or wine bar - or we go to a friends house to enjoy a bottle of champagne together and each other's company. Since we all just read the "50 Shades of Grey" book, we decided to have a "gray" themed night - everyone wore gray and I brought 50 shades of cupcakes! It was super simple to do... just make chocolate brownies and get white icing. I wanted to use black food coloring, but I couldn't find any at Kroger. So, I used black icing (the kind for doing details/writing on cakes). I started with all white icing, and for the first cupcake, only mixed in a small amount of the black icing for a very light gray color of icing. Then, for each additional cupcake, I mixed in a little more black. Eventually, I had a beautifully gradated array of grey cupcakes! They were a hit at the party, so I thought I'd share! Enjoy! ...Laters :)
Attachments:
---
We had some family members over this weekend, and I needed a quick app to nibble on. So, I decided to use all the basil that's growing in my garden right now! I sliced some fresh mozzarella and tomato on each leaf, then drizzled with balsamic olive oil, and it made for a yummy little treat! It was so pretty and colorful too! My guests loved it, so I thought I'd share with you! Enjoy!
Attachments:
---
I let a stranger put a needle in my head. Yup, you read that right... We did a shoot at Fick Chiropractic and Orthopedic yesterday, I met Dr. Fick for the first time in my life, and he proceeded to try out acupuncture on me.

I was terrified at first because I hate hate hate needles. Did I mention I hate needles? But Dr. Fick said acupuncture can help relieve pain (I've been having some neck pain lately), anxiety (have that too), and can even help you sleep better (who wouldn't want that?). He said there's one spot in particular at the top of your head, that when triggered with acupuncture, assists with a more restful sleep. I said, sure, what the heck, I'll try it.

I can honestly say I felt more relaxed and happy for the rest of the day and I slept like a baby last night. Could be placebo effect... or it could have actually worked. Who knows. I just thought I'd share since I actually did notice a difference - plus Storm and I took some funny pics of us with pins in our heads! haha!
Attachments:
---
Make a Visit to Spring Grove Cemetery
08/03/12
I know, it sounds morbid to visit a cemetery. Usually it's a place of sadness and grieving. But Spring Grove Cemetery is the exception. My producer needed a pretty backdrop for a promo shoot he's putting together so he picked SGC as a location. I was skeptical at first, but have to tell you, the place is full of life. No, no one's coming back from the dead ... it's full of life because of all the chirping birds, scampering squirrels and blossoming blooms. It spans 733 acres on the West side of Cincinnati and has lakes, gardens, and sculptures galore. I highly recommend making a visit to stop and smell the roses (literally!). Have a great weekend!
Attachments:
---
---
---
Cash Mob at Nest in Hyde Park!
07/26/12
Hey Ladies! I just learned about this fun new group that's dedicated to promoting local small businesses. Its called Cash Mob and they host events around town to bring people to learn about and buy from these small businesses. The event is being held this Saturday at 10:00am.
Wonder where their next event is? They chose NEST in Hyde Park! Nest is a gift shop full of unique and fabulous gift items. Heather, the owner is so excited about this event coming to her store! She says she's going to show the mobbers how much she appreciates them beginning with complimentary MIMOSAS! So, make sure you tell everyone to join the mob (haha! that sounds funny!) and support this awesome local business!
The after-mob will be at Patty's Old Fashioned Popcorn shop right by Nest at 3437 Michigan Ave. They have flavored popcorn, Hawaiian Shave Ice among many other old-time goodies! See you there!
Thanks to my intern Sara Elliott for helping put this blog post together!
Attachments:
---
McHale's Bridal Event!
07/20/12
Attention Brides! As the bridal seasons gets hotter, McHale's Events & Catering would like to invite you to the Bachelorette Bash- a party for your bridal party!
The event will be held August 9 from 6:30 to 9:00pm at The Grand at 5th and Madison.
Who's going to be there you ask? 31 Gifts, Amber Bridges Studio, Belle Bridal Boutique, Blue Sky Massage, Body by Vi, Cards by Katie, Caricature Artist (Mike Warden), Courtyard by Marriott, DJ Mark McFadden, Elk Creek Vineyards, Hollywood Casino, Kamera Art, Swing This Kettlebell & Strength Studio, Mary Kay, McHales Events and Catering , Pure Romance, Toro and Star Lanes & Ulta Beauty
Hors d'oeurvres will be served during the bash!
The cost of the event is $20 per person in advance and $25 at the door.
The Reservations are limited to 150 guests and you can order tickets online or by phone at 859-442-7776
You can also become McHales' Event & Catering at the Drawbridge Hotel's friend on Facebook
Thanks to my intern Sara Elliott for helping put this blog post together!
Attachments:
---
Community Arts Center Day Returns August 11 & 12
07/19/12
The Community Arts Centers Day is returning to the Greater Cincinnati region for August 11th and 12th. The CACD is an annual celebration of community arts centers throughout the Greater Cincinnati region for a third year.
This year, seven community arts centers and ArtsWave are partnering once again to bring people out and bring them together through the arts. Because arts have lost their significance in schools across the country events like this are important for reminding people that art doe still exist and there are talented artists out there young, middle-aged, and old.
On Saturday and sunday, the participating organizations will host an Open House featuring participants of all ages celebrating their communities with creative costumes, make, banners, musical instruments, and more followed by a FREE ice cream social made possible by the United Dairy Farmers. Community arts centers and arts events like this make our region a better place to live, work, play, and stay. Click here www.FindYourCenterNow.com for a complete listing of events.
Participating community arts centers include:
Saturday, August 11
- Sharonville Fine Arts Center (11165 Reading Road, Cincinnati, OH 45241)
9:30am- Work with artist Deb Brod to make free form art from recyclables
11:30am - Neighborhood Art Parade (Around Sharonville Square)
- Emanuel Community Center (1308 Race Street, Cincinnati, OH 45202)
11am - My Nose Turns Red Youth Circus Group Activities
12pm - Arts, Crafts, and Musical Instrument Petting Zoo
1pm - Beauty and the Beast by YMCA Youth Group
- Middletown Arts Center (130 N. Verity Parkway, Middletown, OH 45042)
11:30am - Middletown Performing Arts Academy and Dancing Games
- Fairfield Community Arts Center (411 Wessel Drive, Fairfield, OH 45014)
12pm - Arts Activities and Demonstrations
- Kennedy Heights Arts Center (6546 Montgomery Road, Cincinnati, OH 45213)
12pm - Neighborhood Art Parade (Follows Montgomery Road from Ridge to Kennedy)
- Clifton Cultural Arts Center (3711 Clifton Avenue, Cincinnati, OH 45220)
7pm - The Tempest performed by Cincinnati Shakespeare Company
Sunday, August 12
- Peaslee Neighborhood Center (215 East 14th Street, Cincinnati, OH 45202)
To Be Announced
Community Arts Centers Day is collaboratively organized by ArtsWave and the participating community arts centers with generous in-kind support from United Dairy Farmers.
Attachments:
---
First Annual Ohio Valley Greenmarket!
07/19/12
The Ohio Valley Greenmarket will be bringing their first celebration of community and sustainability to the Hamilton County Park District and Ohio Valley magazine are bringing together community leaders in sustainability at the first annual Ohio Valley Greenmarket from August 3-5.
The three day celebration will showcase sustainable initiatives by local businesses to showcase sustainable initiatives by local businesses, organizations, and individuals through fun activities including:
A community dinner
Workshops
Demonstrations
A Famers Market Festival
& to Showcase sustainable initiatives by local businesses
On Friday, August 3: Ohio Valley Greenmarket Kicks off with a community Pig Roast in Winton Woods featuring speaker Paul Willis, co-founder of Niman Ranch, a network of 700 small family farms across the Midwest that raise natural beef, pork, lamb, and chicken eggs with strict humane animals care standards and traditional farming practices.
The dinner for the 3rd costs $35 per person and will raise funds for the Hamilton County Parks Foundation.
On Saturday, August 4: The celebration will continue with lunch and a hands-on workshop at Gorman Heritage Farm. With Debra Prinzing, the author of the 50 Mile Bouquet, who will introduce season, local, and sustainable floral ingredients.
During that evening, Debra will be at The 50 Mile Bouquet who will will be at the Woodlawn Community Center for a presentation about growing, harvesting, and design approaches that contribute to the slow flower movement. Cost for the lucy event the cost is $75 and the evening event is $15.
Then, on the final day, August 5 from 11am-5pm: the Ohio Valley Greenmarket special event at Glenwood Gardens located at 10397 Springfield Pike in Woodland. This is a FREE, full-day affair that will run from 11am-5am you'll experience a special event at Glenwood Gardens. Glenwood Gardens is located 10397 Springfield Pike in Woodland. Reminder: this is a FREE, full-day affair featuring:
A farmers market
Cooking and gardening demonstrations
Various speakers including the Greater Cincinnati Masters Gardners
The new Ford C-Max Hybrid and Ford Focus electric cars
Free giveaways!
Hamilton County Parks would like to thank their sponsors: Local 127 and Lavomatic restaurant, Greater Cincinnati Master Gardners Association, Chiptole, Ford, YMCA, Sustain Brands, Metro, Whole Foods, Yelp, WNKU and Yagoot.
Tickets for August 3 and 4 can be purchased here
Edible OHIO VALLEY is an award winning publication that celebrates the Tri-State regions established food traditions, new food trends, and the growers and producers who shape the local food landscape. Learn more here
A valid Hamilton County Park District Motor Vehicle Permit of $10.00 annual and $3.00 daily is required to enter the Hamilton County Parks.
For additional information, please visit the Great Parks website or call (513) 521-PARK (7275). Also, be sure to check out
our Facebook page and follow us on Twitter to find out more about whats happening at the parks!
Thanks to my intern Sara Elliott for helping put this blog post together!
Attachments:
---
Dog Days of Summer Event!
07/19/12
Each summer, The Pet Spot partners with a cause near to their heart for a good ol' fashion cookout and summer celebration to raise funds for the organization. This year, they're hosting an event in support of the Save the Animals Foundation (STAF), a Cincinnati based no-kill animal shelter for both dogs and cats. Sounds like so much fun! Hope Dino (my dog) and I will see you there! Event activities include:
Readings from Pet Psychic Donetta Zimmerman

Capture your pet's personality in a caricature drawing by an Over the Line Caricature Artist

Learn tips and tricks as experts from the The Pet Spot Training offer demonstrations

Enjoy yummy food at the grill out!
Attachments:
---
As the last day of the awesome Bunbury Festival wraps up today, I have some good news if you're not ready to turn down the tunes just yet. My husband is in a band called Snidely Whiplash and they'll be playing on Fountain Square as part of the 4EG Monday Happy Hour series. Not only will you have amazing (yes, I'm biased! haha!) live music, but you'll also enjoy Happy Hour Pricing ($3 Beers/Cocktails/Wine). Plus, they'll be giving out a $5 4EG Gift card when you purchase your first drink! 4EG has nine bars and restaurants around town, so you can use the GC at any of their locations!
Attachments:
---
MDA Camp Experience with Star64!
07/13/12
Over at Star64 we just did a shoot at the MDA camp and it was such a rewarding experience. It's a camp that helps to give kids with muscular dystrophy the opportunity to have a fun-filled summer camp experience. The camp directors are all trained in muscular dystrophy and know how to help the kids do activities like fishing, swimming, playing ball, and making crafts!
It was such a humbling experience and I was so inspired by these kids and all that they've been through! A lot of the kids said that they look forward to this week-long trip all year long!
The MDA's mantra is "make a muscle make a difference" and that's truly what this camp is doing!
Thanks to my intern Sara Elliott for helping put this blog post together!
Attachments:
---
I don't know about you, but I love love love avocados! Especially in the summer! The only downside of them is that they always go bad so quickly. Well, I just learned that you can freeze them! So, I've been buying them when they're on sale, freezing them when they're ripe and thawing them out when I need them! Also, if you'd like some good dishes for using those yummy avocados, click here, here, and here for some of my favorite recipes! Just thought I'd share!
Attachments:
---
Getting Crafty: Fun Flattened Bottles
07/13/12
I saw this on Pinterest and thought it was such a fun way to make a cutting board using a used bottle! It's also a great gift idea... enjoy a bottle of wine with your hubby or friends and then make a cutting board with the bottle! Click here to learn how to do it!
Attachments:
---
11th Annual Dress For Success Cincinnati!
07/12/12
The 11th Annual Dress for Success Cincinnati Fashion Show & Luncheon is being held on Tuesday, September 18th from 11am-1:30 pm at The Hyatt.
Saks Fifth Avenue is hosting the event and its the biggest Cincinnati fashion show that they put on every year. Saks donates the proceeds to Dress for Success Cincinnati from people who show in the store the day of the luncheon- up to $10,000!
This year's title is A Fashionable Affair where they will celebrate the success of more than 14,000 women who have been helped by Dress for Success Cincinnati since it was founded in 1999.
The mission of Dress for Success Cincinnati is to promote the success and economic independence of women in need and since its founding has served more than 10,000 women in the Greater Cincinnati community.
The event includes a reception and raffle, followed by lunch and the fashion show highlighting styles from Saks Fifth Avenue as well as Dress for Success clients who will share their experiences.
Sponsors for the event include Saks Fifth Avenue, Landor, PNC Bank, Always, Keating Muething & Klekamp, Multi Craft, Sibcy Cline, TriHealth, and Wells Fargo Insurance Services. Corporate sponsorships are still available for the event.
Tickets for the fashion show and luncheon can be purchased for $75-$150 with table packages available from $750-$1,500.
If you want more details call 513-651-3372 or visit the events website here
Thanks to my intern Sara Elliott for helping put this blog post together!
Attachments:
---
Upcoming Events in O'Bryonville!
07/11/12
O'Bryonville has some great events coming up for their community!
This Saturday and Sunday, July 14 & 15, will be the Summer Sidewalk Sale. The Sidewalk Sale offers great values from all of the participating O'Bryonville businesses. You're guaranteed to find great deals while enjoying a weekend of shopping with friends and family!
Also, on July 19 from 5-8pm will be the Third Thursday BENEFIT Wine Walk. Each Month, O'Bryonville will host a benefit for local groups and organizations who make a difference in their community. The participating businesses will have extended house, exclusive shopping, and refreshments. The organization being honored will get a percentage of the neighborhood sales from participating merchants. This month's benefit is for a National Night Out with the Cincinnati Police District 2! Stop by and enjoy the fun on July 19!
Thanks to my intern Sara Elliott for helping put this blog post together!
Attachments:
---
World Choir Games Kicks Off in Cincinnati!
07/05/12
Downtown is absolutely ELECTRIC with the World Choir Games in Cincinnati! I love it! The Opening Ceremony took place yesterday and kicked off the 10-day series of festivities. Not only is it exciting to see thousands of new faces downtown, but it's so neat to know that they're coming from the most distant corners of the earth to experience our city! Click here to see a schedule of events to see how you can get in on the fun, and click here to see some great pics my friends at "365 Things to Do Cincinnati" snapped at the Opening Ceremony!
Attachments:
---
Washington Park Grand Opening
07/05/12
A couple weeks ago, I talked about Washington Park and how I couldn't wait for it to officially open! Well, it officially unveils tomorrow, July 6, and I got to take an official sneak peek press tour on Tuesday! I was so impressed! There's a bandstand (complete with a concert lineup), dog park, play ground, interactive water feature (a 7,000-square-foot focal point, consisting of 130 pop jets that can be synchronized to music and lights!), massive civic lawn and a new 450-space parking lot. The renovation expanded the park from six acres to eight, occupying two full city blocks between 12th and 14th streets! Come see it for yourself at the Ribbon Cutting Ceremony and Grand Opening of Washington Park July 6, at 10am! Cincinnati Mayor Mark Mallory and Parks Director Willie Carden will be joined by some popular guests! There will be Circus Performers, Free Popsicles from Street Pops, Free Waffles & Tea from Taste of Belgium, a performance by Japanese Childrens Choir, Explore Nature staff with Dig for Fossils and more!
Attachments:
---
---
---
---
Lots of people will have some time off work for the 4th of July, and one of my fav things to do on my time off is make crafts! I collected some fun and inexpensive craft ideas on my Pinterest account - click here to check them out!
Attachments:
---
We're a week away from the 4th of July! On my Pinterest page, I've been collecting lots of Independence Day-themed decor, wardrobe and recipe ideas. Click here to see all of them!
Attachments:
---
Wow it is H-O-T out! As the mercury rises past 100 degrees today, we need to keep our precious pets in mind! I found a great way to keep them cool in the hot weather! Throw dog toys in a water/broth mixture into a bucket, freeze, pop it out and you have instant summer fun for your pup! Enjoy and stay cool!
Attachments:
---
Show Local Love to Bellevue
06/28/12
If you haven't been across the river to Bellevue KY lately, you definitely should! It's grown a ton over the past year. Lots of cute boutiques, bistros and restaurants! The perfect place if you like to shop local! I just got the below press release talking about an upcoming promotion that gives you the perfect excuse to visit and show your local love! See below and happy shopping!
Show Us You're a Local Lover!
Bellevue, KY " June 28, 2012" BellevueRenaissance is creating a twist on Independence Day with their July 6 ShopBellevue! theme " Celebrate Your Independents beginning at 6 pm. Theyappreciate all those that served to provide us with our independence, but theywant to extend their celebration to the independent businesses along historicFairfield Avenue in Bellevue because they, too, make America great. Locally owned independent businesses shape our community (and communitiesacross this fine nation) by reinvesting. They provide character that creates great places. HistoricFairfield Avenue is filled with independents because of the patronage of long-time customers as well asnew ones. From July 4 to July 31 tell us why you support our independents and well enter you in a drawing to win a $50 or $25 shopping spree. Well be following your visits on Facebook, Four Square, Yelp and Merchants Circle to enteryou in the drawing. Visit https://www.facebook.com/ShopBellevueKY to readdaily posts about the value of shopping local and to feel appreciated for doingit. Well enter you for sharing your thoughts thereas well. Please help us celebrate our independents!
The main reason BellevueRenaissance wants to share the shop local independents message is its good forour community and regions economy. For every $100 spent in locally owned independent t businesses $68returns to the local economy. Thatsame $100 spent at a national chain only reinvests $43 in the localcommunity. Its more than dollarsand cents its about creating place and relationships too.
ShopBellevue!: offers an entertaining evening of dining, galleryopenings, shopping, open house receptions, and special promotions provided bythe independently owned businesses located along the 200 to 700 blocks ofhistoric Fairfield Avenue.
BellevueRenaissance: is a group of volunteers committed torevitalizing Fairfield Avenue. Theirmission is to enrich lives by providing a unique experience in the historicFairfield Avenue business district.
The shops along historic Fairfield Avenue areconveniently located 1/3 mile from I-471. For more information contact Jody Robinson at 859-431-8866.
---
Hyde Park Blast and Kate Boutique Sale!
06/27/12
Hey Ladies! Hyde Park Blast is this Saturday, June 30 with store hours from 10AM-10PM.
Drinks and small bites will be offered from 5PM-10PM and you can watch the bike ride, attend the block party, and enjoy live music by Cowboy Mouth.
Kate Boutique will be having a SALE with ALL NEW MARKDOWNS! Save from 50-70% off with chances to win a $100 gift card and if you spend $50+ you'll get a free pair of Ipanema flip flops!
And be sure to check out their new deliveries including: Hardtail, LA Made, Genetic Denim, and Listette L!
Thanks to my intern Sara Elliott for helping put this blog post together!
Attachments:
---
Sneak Peek of New Washington Park
06/21/12
My girlfriend Carolyn just moved from East Walnut Hills to the Gateway Quarter in Over the Rhine. I went to visit her and check out her new loft last night. Her building, at 13th and Vine, is amazing - complete with a rooftop terrace with panoramic views of the city. We walked around, ate dinner at Mayberrys (a newly relocated restaurant on Main St.), went to the 1215 Wine & Coffee Bar on Vine, and then hopped around a bit more to check out all the new attractions. The energy around OTR right now is absolutely electric - I love it. New businesses, cafes, bistros, boutiques - and my favorite - Washington Park is looking incredible. After seeing all the renovations, which are set to be unveiled on July 6, I "liked" their page on Facebook so I can stay up-to-date on all the renovations and events. There's a playground, dog park and walking trails! Perfect for all those people like my friend who are moving to the area and need a little oasis! Definitely check it out in person and click here to like Washington Park on Facebook!
Attachments:
---
The new trend in athletic events is "mud-athalons"... basically a race through a ton of mud and lots of mud pits. I REALLY want to try one! I've done your typical 5ks, 15ks and even a few marathons but this looks like the ultimate adventure and athletic event! And this one - Muckruckus on June 30 at Fulton Farms in Troy - is all for a good cause, the National MS Society! I think I'll definitely have to check this out! Cincinnati Profile is promoting the event, and one of their promos lists "summer2012" as a promo code to get in for $15! Go to http://wannamuckaround.com to learn more!
Attachments:
---
You see Storm and I on-air a lot here at Star64, but we also work together a lot in our other jobs! He runs a marketing agency and I run two publications - Cincy Chic and Cincinnati Profile. In May, Storm and I partnered to produce the Swimwear Fashion Show at Pirate's Cove (which was AWESOME), and we're at it again for another event this week. But this one's for the guys! It's a "Man Club" event - complete with cigars, bourbon and menswear - at Pirate's Cove this Thursday! Learn more and RSVP here: http://june21cigarbourbon.eventbrite.com Storm and I will see you then!
Attachments:
---
Miss Ohio, Miss Teen Ohio to be Featured at Red, Pink & Blue
06/19/12
I remember when I was a little girl, I used to LOVE watching pageants on TV. I remember sobbing tears of joy when the girl I had picked in the beginning to be my favorite actually won. She was Miss Kentucky, so local papers would cover when she was doing things in town and my mom would clip them for me. She was my idol that year and I remember wanting to be just... like... her. Well, fast forward a couple decades, I'm now SUPER excited to announce that I'm going to get to work with two local pageant stars in a fashion show I'm putting together. Miss Ohio Audrey Bolte and Miss Teen Ohio Kendall Fein will be among the many beautiful models rockin our runway wearing Amy Kirchens fab fashions at Red, Pink & Blue this Saturday! I hope you can attend! It's going to be an amazing event - and even more amazing because of our special guests! See you soon!
---
A Blinkers' Night Out!
06/13/12
Get ready for a girl's night out! My friend and owner of Blinkers, Sandy, is hosting a girl's night out on June 19.
Sandy used to own Havana Martini Club downtown and I used to go all the time for salsa and events. I miss Havana so seeing that she opened a new place and is starting to host events again makes me really excited!
The night will consist of a Happy Hour from 5-7 with $5 margaritas! There will also be drawing for free jewelry at 5:45 & 6:30!
See you there!
Attachments:
---
New Restaurant "Crave" Review
06/13/12
Since I'm on vacation this week, my intern Shanice Graves went to the grand opening press event at Crave, a new restaurant on The Banks. See her review below!
Need a new favorite downtown restaurant? Try Crave located by the Great American Ball Park in Downtown Cincinnati. Last week, I got a special invite to sneak peek this brand new restaurant and now Im telling you all what I think!
Crave is unique in every way you can think of; from its custom light fixtures, to its mustard yellow color palette, to its signature design in all their furniture, toits plasma flat screen televisions for perfect viewing and not to forget their diverse menu that literally has everything you would crave.
The Crave Restaurant originated in Minnesota in the famous Mall of America and nowhas expanded to different locations across the United States. The Crave locatedin Cincinnati is its 8th location to open and the first in Ohio.
When first entering this brand-new facility the first thing you do is appreciate its beautifully decorated design. The space is filled with their mustard yellow finished walls that are accented with wooden furniture. The restaurant provides a perfect romantic setting with its dim lighting and high ceiling light fixtures. All the light fixtures are custom designed by a talented design team by the name of Cameron Designs, who personally designed specifically for the Crave restaurant. The fixtures are hand made adding a unique and timeless quality to the already elegant looking atmosphere.
Zach Sussman, marketing director of Craze Restaurant, described Craves intentionsto make an edgy, urban, sophisticated downtown feel with an enhanced dining experience. The restaurant can appeal to a large and vibrate audience but its especially great for women. Its the perfect spot for a date night with yourspecial someone or even for a girls night out due to its convenient location inthe heart of Downtown Cincinnati.
Crave also offers plenty of room for business and professional work with their openfloor plan and calming environment. You cant forget their customized selection of wine that Craze specifically keeps up to date to serve their customers with the freshest choices of wine.
The theme of the restaurant is everything you crave, says Sussman. They offer awide selection of entrees ranging from pasta, burgers, American cuisine and sushi.
Crave restaurant is located at 175 Joe Nuxhall Way right across from the Great American Ball Park. It officially opens up to the public on Monday, June 11,2012. For more information about Crave and a full menu, visit craveamerica.com.
Attachments:
---
Unique Graduation Present Idea!
06/11/12
With all the new grads and graduation parties this summer, I thought I'd share this unique graduation present idea! Take a box of chocolate (enjoy those yourself! haha!) and replace the chocolates with various bills and coins! It's a lot more interesting than a boring check - but still gives the grad the $$$ they really want to be getting as a gift! Click here to see other great gift ideas on my Pinterest page.
Attachments:
---
Happy Birthday to MEEEE!!!!
06/10/12
Hello from the Bahamas! It's my big 3-0 birthday today and my hubby whisked me away to Freeport Bahamas for a few days to celebrate! It's BEAUTIFUL here! I just wanted to check in, say hello and post the first blog of my thirties! Enjoy the rest of your weekend!
Attachments:
---
Curried Coconut Chicken Recipe
06/09/12
I love Thai and Indian food. But it can get expensive to eat out all the time, so I've been trying to teach myself how to cook some of these foods over the past few months. I found a Curried Coconut Chicken recipe I really love and highly recommend, so I just had to share! Enjoy!

Ingredients
2 pounds boneless skinless chicken breasts, cut into 1/2-inch chunks
1 teaspoon salt and pepper, or to taste
1 1/2 tablespoons vegetable oil
2 tablespoons curry powder
1/2 onion, thinly sliced
2 cloves garlic, crushed
1 (14 ounce) can coconut milk
1 (14.5 ounce) can stewed, diced tomatoes
1 (8 ounce) can tomato sauce
3 tablespoons sugar
cayenne pepper
Directions
Season chicken pieces with salt and pepper.
Heat oil and curry powder in a large skillet over medium-high heat for two minutes. Stir in onions and garlic, and cook 1 minute more. Add chicken, tossing lightly to coat with curry oil. Reduce heat to medium, and cook for 7 to 10 minutes, or until chicken is no longer pink in center and juices run clear.
Pour coconut milk, tomatoes, tomato sauce, and sugar into the pan, and stir to combine.
Add cayenne pepper to taste (to add some heat!)
Cover and simmer, stirring occasionally, approximately 30 to 40 minutes.
Attachments:
---
Lemongrass - A Natural Bug Repellent
06/08/12
It's going to be a beautiful weekend! What bugs me (literally) most about being outside are the bugs. So, I thought I'd share a little tip with you for how to keep the mosquitos away - naturally! Lemongrass repels mosquitoes, and it's yummy to eat! The strong citrus odor drives mosquitoes away. And, like I said, it's yummy. Lemongrass is typically used in cooking Asian Cuisine, adding a light lemony taste to any dish!
Attachments:
---
The City Flea This Saturday
06/08/12
It's going to be a beautiful weekend! What better way than to spend it outside... shopping! Perfect timing because The City Flea is going on tomorrow and the city will be abuzz with people, shopping and fun. Make sure you check it out! If you don't know what The City Flea is, click here to check out an interview we did on Cincy Chic with the founders! Oh, and I just got an email from one of my favorite boutiques in OTR, Sloane, that they're offering 15% off to shoppers who come in after the Flea! Have a great weekend!
Attachments:
---
---
As I mentioned a couple weeks ago, I'm doing container gardening this year. With all the rain and beautiful sunshine, my tomatos are already ripening and my basil is already full and leafy! So, I came up with a simple - and yummy - recipe to use up some of those garden goodies! It's just basil (you can use spinach too if you prefer), tomato, cubed fresh mozzarella, cooked pasta and italian dressing (use the light - it cuts the cals and you can't tell a difference)! Enjoy!
Attachments:
---
June 1 Little Black Dress Party
05/23/12
Storm Bennett, my Star64 co-host, and I are at it again! Not only do we work together a lot for Star64, we also team up on projects for our other jobs. He runs an ad agency and I run Cincy Chic, an online publication for local women. Last year, we partnered with Summerfair Cincinnati to launch a new event idea - the Little Black Dress party - where attendees all wear LBDs and we feature a fashion show with LBDs accessorized with handbags and jewelry from Summerfair artisans. Storm is doing the DJing and I'm putting together the fashion show. Click here to learn more about the event and RSVP!
Attachments:
---
Pillow Beach Towel Tutorial
05/22/12
Happy to report that I'm currently writing this blog from the Sunshine State! My mom had a work trip in Orlando and a +1 was paid for. Dad didn't want to go, so she asked me! Twist my arm... free vacation to Florida... ok! :) So here I am, hanging out, and I look across the pool and see this woman turn her totebag into a super cool pillow beach towel! I asked her where she got it and she told me she made it! We became fast friends, she told me where she found the tutorial, and that it was very easy to make. I looked it up and this is definitely going to be the first thing I make when I get back home! I thought I'd share so you can make one in time for your next trip! Enjoy!
Attachments:
---
Muffin Pan Party Pleasers
05/22/12
Ok... so a while ago I wrote about making mini meatloafs in my muffin pan, and it's received a TON of traffic! So, I thought I'd build on yesterday's post about Memorial Day Entertaining Ideas - but with a muffin pan twist this time! haha! I did some research to find everything from cute lemon slice ice cubes to make in your muffin pan and serve in guests' drinks, mini deep dish pizzas, to homemade muffin pan crayons to keep the kids entertained, and even a nifty way to serve up your condiments in a muffin pan! Enjoy!
Attachments:
---
Memorial Day Entertaining Ideas
05/21/12
With Memorial Day right around the corner - and beautiful weather upon us - I thought I'd share some great patriotic party pleaser ideas I found on Pinterest that you can use if you're hosting or attending a get-together this Memorial Day! Enjoy! And a special thank you to the men and women who serve and protect our country!
Attachments:
---
Last year, my girlfriends and I went to Cheers to Art to enjoy a night of fun, wine and painting (click here to read all about it!). It was such an awesome night, and now, every time I look at the painting I made, I think of my girlfriends and how much fun we had that night. Fast forward to this year, I was talking with the Cheers to Art co-owners how we should do another event - make it open to the public - and have it benefit a local charity. We eventually came up with the idea to do "Paint for a Purpose" on June 15. Click here to learn more about it, gather your friends, date or significant other and make plans to join us! The philanthropy we partnered with is the Cincinnati Museum Centers Renovation Fund, which benefits Union Terminal, so help us save a real treasure. See you there!
Attachments:
---
I just have to say... this weather is so amazing! With the comfortable temps and all this rain, my yard and plants are just loving it! I actually tried something new this year, and I really recommend it. I bought my flowers and veggies through Burpee's site... mainly because they mail the plants directly to you when it's the perfect time to plant them in your region (no trying to figure out if they're hardy enough to withstand late spring's dips in temps). I also did it because it saves me time not having to go to a nursery, pick out plants, get my car all dirty transporting the plants, etc. They just arrived on my doorstep - so nice! And now they're all planted, budding and blooming! Love it! Thought I'd share some pics of my container gardening in our back yard and all my pretty flowers in the front (and little herb garden on the porch)! Enjoy! Have a great weekend!
Attachments:
---
Butterfly Show at the Krohn Conservatory
05/03/12
"Beautiful and graceful, varied and enchanting, small but approachable, butterflies lead you to the sunny side of life. And everyone deserves a little sunshine." ~Jeffrey Glassberg
---
Today we had a shoot at the Krohn Conservatory to promote their Butterfly Show. I love butterflies (admittedly, they feel a little creepy when they're crawling all over you, but they're beautiful nonetheless), but I've never been to the Butterfly Show before!
It was absolutely ....magical. (it took forever to come up with the right adjective to describe it there but "magical" sums it up) I felt like I was walking into a fairy tale. These beautiful, delicate, happy and friendly little creatures flittering around... landing on you to say hello... it was such a neat experience!
So, I highly recommend checking it out... and actually, I learned that Mother's Day is a great day to see the show in this week's feature story on Cincy Chic. Click here to read the story and download coupons!
Attachments:
---
Swimwear Fashion Show Sneak Peek
05/02/12
Storm (my co-host here on Star64) and I work together a ton - on and off camera. When we're not doing work for the station, we partner together with his ad agency and my publications. One of the things we're working on is this awesome Swimwear Fashion Show on May 17.
Anne Pachan, the Cincinnati native whos now in NYC designing divine swimwear for Cala Ossidiana (the brand she created), just emailed me with some AMAZING pics of some of the suits that shell be featuring in our May 17 Fun in the Sun swimwear fashion show! I thought I was excited about this event after I wrote this sneak peek last week. but now, after seeing the suits, Im starting to lose sleep! The bold fun colors, the sexy sheer, the strappy backs all to die for! And those backs are not only fashionable, theyre functional too. Anne says the straps and knots are adjustable to customize for the perfect fit! Posh suit, pretty color, perfect fit. Every. Womans. Dream. Click here to check out the slideshow of all the pics Anne just sent me! And click here to RSVP to the fashion show on May 17 at Pirates Cove on Kellogg Ave.!
---
Attention Brides and Divas!
05/02/12
A group of local ladies planned what looks to be a fun event thatll get you into the Spring spirit! Its called Spring Time in Paris, and itll be at Charming Charlie in Rookwood. If you havent been there before, its an absolutely immaculate mecca of clothing, shoes and accessories. and the best part. its all color coordinated. Need a pair of teal earrings for that new dress you bought, you know exactly where to look in this store!
The event is being held on Sunday, May 27 from 6-8:30pm. Enjoy food, makeovers, pictures, games, and 20% off all items purchased at Charming Charlie!
A bridal ticket is $25 and a Diva (aka non-bride) ticket is $15. If you need to contact anyone with Brides and Divas you can reach them at 513-202-6375 or email them here. You can also check them out here. They also have a Facebook page now, so be sure to check that out!
Thanks to my intern Sara Elliott for helping me put this blog post together!
Attachments:
---
Upcoming Inclusion Magazine Feature
04/26/12
I just found out that I'm going to be featured in Inclusion Magazine's Summer issue for the work I do at Star64 and Cincy Chic! In case you aren't familiar, Inclusion is a new fashion magazine based in Dayton OH, but it reaches an international readership. It's a gorgeous, high glossy, high fashion, print magazine, and I'm so honored to be featured! Check out the pics from the behind the scenes shoot!
Attachments:
---
Launch Speaker Series: Amy Scalia
04/25/12
The Launch Speaker Series is featuring yours truly at an upcoming event! The fun networking event will be held on Friday, May 11 from 6:00-9:00 pm.
Launch (cool lounge downtown) will be offering complimentary snacks and half-priced drink features plus live music after my presentation and guest Q&A.
The mixing and mingling will run from 6-6:30, from 6:30-7 I will speak, from 7-7:30 will be the Q&A, and from 8:00 until whenever will be more mingling and live music!
The event is free and open to the public, 21 & up! And if you didn't know, Launch is located below Lunar Lounge at 435 Elm Street in Cincinnati.
Thanks to my intern Sara Elliott for helping put this blog post together!
Attachments:
---
Bajon Salon & Spa Mother's Day Deal!
04/21/12
Bajon Salon and Spa let us in on a cool little secret. They've partnered with some West Chester restaurants for a new Pamper & Dine deal.
Here's how it works: get mom a $100 gift certificate from Bajon Salon and Spa (either online or in-store) and you'll get FREE dining deals from Marriott North River City Grill, Stone Creek Dining Company, Wise Owl Wine Bar, and Grand Ole Pub- that's a $140 value!
Plus, you'll be able to purchase a Groupon-style deal from Jag's Steak and Seafood! The deal is, buys a $50 gift card for $25!
Check out Bajon Salon and Spa's website here to get all the details and to get this amazing deal!
Attachments:
---
High Performance Strategies Course – $100 Off!
04/18/12
I dont know what it is about Spring, but it always motivates me to be a better person. I get outside " smell the roses " more, workout more, and (I know it sounds corny but) I check in on the progress of my New Years resolutions. This year, my resolution was to simplify, simplify, simplify
I was feeling disorganized and unfocused personally and professionally. I've started using a few new tactics that have helped, such as the "Work Smart, Not Hard" techniques I read about. But a friend of mine - Monica Scalf, who runs The Playground Group just told me about an event she has coming up that sounds like the PERFECT solution I need to get my resolution to simplify in gear.
It's an upcoming six-hour event called High Performance Strategies. Ooh... I like that already. Sounds very, well, high-performance and strategic! According to the invite, the class includes individual, customized, scientifically-backed profiles that assess and identify strengths and improvement areas. The course covers The Playground Groups three specialties Productivity, Personal Branding, and Stress Management in one content-filled day (but it promises to be fun, too ...heck it's put on by a business called The Playground Group, so it has to be fun, right?). Promos say its great for anyone who wants to immediately boost their effectiveness. Yup, that's me!
The course is $399, but if you put in the coupon code CINCY you will get $100 off so its only $299! Small price to pay to actually accomplish a New Year's Resolution! That'll be a first! haha!
Click here to register: http://everydaysuccess.eventbrite.com
---
Grand Opening of Parlour Salon
04/16/12
A friend told me about this event and it promises to be loads of fun! It's the grand opening event for a new salon in East Walnut Hills called PARLOUR.
The event is being held this Friday, April 20th from 6-10pm at 2600 WoodBurn Ave and will be celebrating the local art and fashion inspired by so many talented Cincinnati stylists and artists.
PARLOUR takes the original salon and turns it on its head. The salon is a hair salon and gallery expanding into all aspects of lifestyle, fashion, art, and grooming. The goal is to create a space where creative people can go to be inspired and inspire others.
Also included in the event is:
Raffle of PARLOUR salon services
Complimentary Hors d'oeuvres provided by The Painted Chef
Complimentary wine, beer, and water
Photographs for purchase by local artist Jennifer Hoffman
Hark+ Hark will be on location and have jewelry selections available for purchase
All Davines products are 15% off and available for purchase
Music and DJ by Derek Ruch and Tyler Games
Event photography by Susan Keller
Be sure to get out there this Friday and check it out!
Thanks to my intern Sara Elliott for helping put this blog post together!
Attachments:
---
We ran this story about "Vertical Veggies" on Cincy Chic a few weeks ago. It inspired me to think outside the box... or should I say, raised bed box. We moved in fall last year to a new house with a blank slate for a back yard. At our previous house, I had a raised bed that the owners prior to us had built, so I used that. But, now in our new house (which has a much smaller backyard), I decided that I didn't want a raised bed. They take up a ton of space and they aren't that attractive. I decided to buy a bunch of pretty pots and have different kinds of veggies and herbs growing in them - thus doubling as edible and attractive plants sprinkled all over our back yard and entertaining area! I did a bunch of research on container gardening, and collected lots of tips I'd like to share with you!
Big outdoor planters are a great way to display flowers, but moving them is backbreaking. Heres a simple way to cut the weight in half, with packing peanuts and improve drainage at the same time: Put packing peanuts into the container first, then fabric, then your dirt and plant.
If there's a hole in the bottom of your container (which is great for drainage, but not good for keeping your dirt in the container), put a coffee filter over the hole before putting in your dirt. So, you get the benefits of drainage and keeping your dirt in the container!
The next time you boil eggs, save the water and pour it on your garden and plants. The water becomes enriched with calcium when the eggs are cooked. Plus, why pour the water down the sink when you can reuse it for something, right?
Talk about reusing...reuse those wine bottles, my wino-o friends! Fill it with water and stick the opening into the dirt. It'll release water as your plants need it... perfect if you don't have time to water every day, or if you're going on vacation!
Speaking of being busy and limited on time, I actually ordered all my seeds and plants online this year! You can get pretty much everything you'll ever need for your plants and garden delivered to your door by ordering on Burpee.com. Also, one of the things I love is that they send you the seeds and plants you want when they're ready to be planted in your region (safe from frost). They also include directions (and QR code for online directions and video help!) for planting and continued care. Completely foolproof - just what I need! haha!
Put Epsom salts and sugar into each hole with your plant; It makes them grow larger, leafier and greener!
Attachments:
---
Confession: I was a band geek in school. I started playing the flute in 7th grade, and ended up getting really into it... doing concert band, marching band, church band... and, yes, I even went to band camp. So, when I found out that a friend of mine (Marianne Breneman) was a professional clarinetist, and also in a quartet called "Conundrum," I couldn't wait to go to their next concert! They don't play often, but when they do, it's fabulous. The first concert I went to was a "starry starry night" theme - they played at the Observatory and played all music with "star," "moon" or some sort of astronomy tie in the lyrics. During the intermission, we could climb the stairs to the Observatory deck and explore the stars with their amazing telescopes. Very cool. Conundrum just had another concert recently, and this one was at the Celestial in Mt. Adams. I don't know if they planned this or not, but the concert played as the sun set over the city - absolutely breathtaking. I just thought I'd share how much I enjoy watching these concerts, and recommend you keep this group on your radar so you can enjoy their next performance too -- regardless of if you're a band geek or not! :)
Attachments:
---
Calling All Hair Stylists, Make-up Artists, and Fashion Designers!
04/10/12
Are you a hair stylist, make-up artist, or fashion designer? Heres a chance to show off your work! All N 1 Studio is looking for someone just like you to for an upcoming Cincinnati Event! Auditions will be held Saturday, April 14! For information, contact 512-202-6375! Submit pictures of your work as well as a biography here so you can be contacted!
Thanks to my intern Sara Elliott for helping put this blog post together!
---
CASA for Clermont Kids Spring Charity Gala
04/06/12
Good time good cause good excuse to get dressed up! Thats what this CASA for Clermont Kids Spring Charity Gala event will be! CASA is an awesome organization that supports child abuse advocacy! Click here to learn more about it, and I hope to see you there! (oooh and added bonus one ticket holder will win a special gift from Tiffany & Co.! So exciting!!)
---
My friends Aymie, Terry and Joe own Barking Fish Entertainment and they just produced a new film, "7 Below," starring Val Kilmer! It was filmed in the area (Goshen) and just released this week! The world premiere was at the Kenwood theater on Wednesday where a select group got to view the film - I was lucky to be one of those select few! It's a scary movie, with quite the spine-chilling plot, but it's very good and I highly recommend checking it out! Especially since so much local love went into it! To learn more, click here to check out its IMDB site! I took a couple pics at the premiere - one with Joe Busam, the film's visual effects supervisor. The other pic is of many of the producers and cast! So exciting!
Attachments:
---
Blaine's Robert Graham/Allen Edmonds Trunk Show April 12
04/05/12
As much as I love to shop for myself, I also love menswear and shopping for my hubby! That's why I'm so excited about the Blaines Robert Graham/Allen Edmonds trunk show coming up on April 12. The event will feature a fashion show showcasing the latest Spring and Summer trends from Robert Graham and Allen Edmonds, live DJ music, interact with local style bloggers, and enjoy cigars from DEPs Fine Wine & Spirits as well as complimentary wine and cocktails featuring Bourbon Vodka. Men and women are welcome to attend! Me and my blogger friends from Folk & Feather, Ostentology, Josh Stevens, and Style Everyday will be there!
My hubby, Pete, actually wore a Robert Graham shirt over the weekend so I had to snap a pic to give you an idea of how awesome these shirts are. They always have great colors, prints, and little details " like the floral, paisley, polka dot, silk and metallic inside the collar, cuffs and interior trim! I cant wait to see whats new at the trunk show! See you there!
Attachments:
---
I'm so honored that I was asked to be "celeb" volunteer for the St. Jude radiothon on WDBZ "The Buzz" and MOJO this morning! I learned so much about St. Jude in the process, and it's fascinating! Did you know it's just one hospital, based in Memphis TN? Their daily operating costs are $1.7 million (yes, a DAY) and the majority of those costs are covered directly by donations (which is why fundraisers like the radiothons are so important!). Why is it so expensive to keep this special kid-focused hospital up and running? It's because they cover all costs that the family of a sick child might incur, which include the patient's treatments and food of course, but also the family's travel and stay. Speaking of food, the kids get to eat whatever they want whenever they want when they're at St. Jude. I learned that because the kids going through treatments, such as chemo and radiation, they often don't have much of an appetite. So, when they're hungry for something like grandma's mac & cheese, the chef at St. Jude's literally calls up grandma for the recipe and makes it for the patient. These are just a few of the awesome things I learned about St. Jude. Check out their website to learn more and make a donation today!
Attachments:
---
I absolutely love to cook, but unfortunately, I don't always have time for it. That's why I almost did a cartwheel when I learned about Dream Dinners. Basically, they provide everything you need to assemble wholesome meals - made just to your specifications - that you freeze and then make on those busy nights you don't have time to prep a whole meal. They have all the recipes, all the ingredients are prepped for you (i.e., onions chopped, noodles cooked, garlic minced, etc) and you whip everything together how you like it (i.e., more cayenne if you like heat, less cheese if you're on a diet, no onions if your kids don't like them, etc). It's also very social. I visited the Anderson location last week and there were a bunch of other women there. It was fun chatting and prepping meals with them! Most of the ladies I talked to say they come once a month and prep all their meals for the next few weeks. They said it makes it easy for those busy nights when you need to get kids to school, a soccer game or band practice on time... some even said they take the meals on vacation so they don't spend precious vaca time cooking! What a great idea!
Attachments:
---
National Donate Your Hair Day
03/29/12
On March 22, more than 120 members of the P&G Family and Cincinnati community cut and donated their hair to benefit the Pantene Beautiful Lengths program.
The Beautiful Lengths program makes real-hair wigs for women undergoing cancer treatments. Since its creation in 2006, the program has collected nearly 310,000 ponytails and has helped distribute more than 18,000 free real-hair wigs through American Cancer Society wig banks across the country.
The March 22 event was in partnership with The Childrens Theatre of Cincinnatis March 2012 production of Rapunzel! Rapunzel! A Very Hairy Fairy Tale. So, some of the characters came and visited attendees, which is super cute. I put together pics of the event below so you can see how much fun is was!
Turns out, this event is actually a sneak peek of a nationwide event coming up! Pantene is teaming up with Seventeen Magazine for a first-ever National Donate Your Hair Day on April 27. Theyre encouraging people across the country to cut and donate their hair to the Pantene Beautiful Lengths program. So, if you have some lovely locks youd like to shed before summer, this is a great opportunity to do so for a great cause!
Click here to learn more about the program!
Attachments:
---
Got (Bridal) Junk in Your Trunk?
03/29/12
I just found out about this event, and I love it for many reasons two of which being: 1) its a great idea 2) saying junk in your trunk is fun.
Check out this event (details pasted below)! Sounds like an awesome opportunity to trim down your trunk of bridal stuff you dont want or need any more, and its also the perfect opportunity to snag a good deal on fab finds for your big day!
Bridal Junk In Your Trunk Bonanza
http://www.915monmouth.com/bridal_flea_market.html
Sunday
12:00pm until 6:00pm
915 Monmouth Street Newport KY
** DROP OFF TIMES**
Tuesday from 10 am until 3 pm
Wednesday from 10 am until 7 pm
thursday from 10 am until 3pm and 6:30 pm until 8:30 pm
friday from 10 am until 7 pm
Saturday from 10 am until 2 pm
Call your Grammy and tell her to pull out the good stuff its time to make a little cash. This April 1st from 12pm to 6pm, well be holding our first Bridal Junk in the Trunk Bonanzaan event that will allow to-be-brides to come shop for those must-have items for their wedding and recent brides or everyday collectors to unload their treasure while making a few extra bucks.
Youve browsed the forums, scoured craigslist and even hit up ebay, but theres something about not only seeing an item in person, but seeing it set up just how you picture it in your mind at your wedding. Thats what well do for you this wont be set up like your neighborhood yard sale. Nope, were going to use the items that you drop off to create beautifully styled tables so you can see just how all these pieces can look at your own wedding.
If youre interested in selling some of your goods, contact brides@915monmouth.com to get your items registered, a vendor number and your paperwork all set to go before March 24, 2012. All well need is your contact information, a list of your items and photos of those items if you have them. There will be a small fee based upon the number of items you have to sell, which we can figure up for you quickly after you send over your inventory. If you need help with how to price your items, were happy to help with that, as well.
Here are a few examples of items were looking for from you (but dont feel limited to these items- we just want your best stuff!)
Vintage books
Crates
Mason jar
Jars in general
Cake stands
Apothecary jars
Unique vases
Bud vases
Unique containers
Handmade items
Table number holders
Frames
If you have any questions, feel free to email brides@915monmouth.com
If youre bride looking for something specific, email us and let us know! We can do our best to try and hook you up!
Attachments:
---
The Flying Pig is Calling All Bands!
03/28/12
The Flying Pig is doing a search for bands! After running the Flying Pig several times, I know the bands at each mile marker really help to motivate you! Also, my husband Pete will be in the band playing at the victory party at Sawyer Point. The band's name is Snidely Whiplash so make sure you look for them. Good luck to all the runners and walkers wrapping up their training!Thanks to my intern Sara Elliott for helping put this blog post together!
---
Reds Opening Day Parade!
03/28/12
Baseball season is in the air! My co-host Storm and I will be in the Reds Opening Day parade on April 5 at 1pm. The season opener starts at 4:15pm.
So make sure you come down to visit the parade or tune in to Star64 to see all of the parade festivities!
I got to visit Great American Ball Park the other day and hang out with the Reds PR guy Mike Anderson. The stadium is looking perfect for a great season! All the more reason to watch the parade and go to the first game of the season!
Thanks to my intern Sara Elliott for helping put this blog post together!
Attachments:
---
Run for Shelter 5k and Carnival!
03/26/12
A friend told me about this great event coming up, the Run for Shelter 5k and Carnival! It seems like an awesome event so I wanted to share the details with you! The 5k and family carnival will be held Saturday, March 31, 2012 at the Oakley Recreation Center in the Hyde Park Plaza. The event will benefit Transitions Global, an international non-profit organization that works to restore the lives of girls who have been exploited and abused. They provide aftercare for girls rescued from trafficking. Transitions Global helps to get the girls back on their feet and restore their lives, while giving them hope for the future! This sounds like an extremely amazing opportunity to help girls in the Cincinnati area. I hope to see you there!Thanks to my intern Sara Elliott for helping put this blog post together!
---
12 Ways to Wear a Denim Top
03/22/12
My husband recently bought me a denim shirt. It's super cute, but probably not something I would have picked out for myself. Pete and I don't really randomly buy things for each other like this (I'm liking this new trend though! haha!) So, to encourage more repeat purchases, I want to wear it often! :) Searching for inspiration, I relied on my trusty new friend Pinterest and it didnt disappoint. Dont know what Pinterest is? We wrote about it here in Cincy Chic and I actually just wrote a whole article about what it is on my co-host Storm Bennett's site, so click here to read that. I found a ton of great ideas for how to wear my top, and it turns out that I'm going to be able to wear this a TON! From dressy and business to boho and casual. Im excited! Check out all the pics below to see all the looks, and click here to see more style inspirations!
Attachments: