Amy's Backstage Blog
Hi! I'm Amy Scalia, co-host here at Star64! I'm starting a new blog for the station's website, and I couldn't be more excited about it!
I love to write… it's in my blood… my grandma was actually one of the first female newspaper reporters in Ohio! After falling in love with writing as a Harrison High School student, I went to Miami of Ohio on an English scholarship. I got a BA degree in Mass Communications with a specialty in electronic journalism.
When I'm not hosting for Star64, I'm running an online women's publication in town called Cincy Chic. I started it about five years ago, and it now has more than 22,000 subscribers! Check it out at cincychic.com.
I also love to run (I've run three marathons!), cook, garden, make jewelry and crafts, shop for shoes (it's an addiction), and play with my Vizsla "Dino." So, here on the blog, I plan to post a variety of useful info that'll range from yummy recipes and gardening tips, crafting ideas and inspirations, as well as fashion trends, sales and events going on you'll want to know about.
So, bookmark this page and check back often! I'll be posting at least once or twice a week!
---
Win a Southeast Indiana Winter Fun Giveaway!
01/19/15
I always love a freebie and the Dearborn County/Southeast Indiana has a huge Winter Fun Giveaway series going on I though I'd tell you about! You just enter each week through February 2 for a new chance to win. They're giving away four great prizes in all (one was already given away last week)! All the info is on the Dearborn County/Southeast Indiana FB page, so check it out!
January 20
Winter Fun Giveaway " Week 3 Prize
Aurora Nights Prize Pack
Enjoy a night out in Aurora on us! Begin with a meal at Third and Main, which offers a wide selection American cuisine to suit every taste. Located in an historic building in downtown Aurora, the restaurant features a full menu of beef, chicken and seafood items, in addition to appetizers, sandwiches, soups, salads and more. Then, discover craft brewing at its best at Great Crescent Brewery. Housed in a circa-1843 historic warehouse, the popular microbrewery offers handcrafted beers and ales, beer samplers, dining and an on-site Artisan Center for shopping.
$50 Gift Card to Third and Main Historic Restaurant
$50 Gift Card to Great Crescent Brewery
January 27
Winter Fun Giveaway " Week 4 Prize
DoubleTree Hotel Overnight Prize Pack
Explore historic downtown Lawrenceburg with this special overnight getaway for two at the brand-new DoubleTree by Hilton Hotel, located at the Lawrenceburg Event Center. Overlooking the Ohio River, the upscale hotel is within walking distance of Hollywood Casino as well as all of the shops and amenities of downtown Lawrenceburg. The prize pack also includes a gift card to the onsite Levee Bar & Grill. Located adjacent to the hotel lobby, this full-service restaurant and bar serves American favorites for breakfast, lunch and dinner, with seating available indoors or on the outdoor riverfront patio (in season).
Overnight accommodations for two at the DoubleTree by Hilton Hotel at the Lawrenceburg Event Center
$50 Gift Card to The Levee Bar & Grill
---
Southeast Indiana's Winter Fun Giveaway
01/09/15
The snow and cold weather we've been having this week makes me think of Perfect North and Southeast Indiana! And they're actually having a big giveaway right now! Check out the details below!
Southeast Indianas Winter Fun Giveaway Continues
Four-week Facebook contest offers gift cards, overnight stay and more
Lawrenceburg, Ind., Jan. 9, 2015 " In spite of the cold weather, theres lots to see and do in Southeast Indiana this winter, including downhill skiing at Perfect North Slopes, dining at an historic brewery and enjoying an event at the new Lawrenceburg Event Center.
With that in mind, the Dearborn County Convention, Visitor & Tourism Bureau recently launched a free giveaway contest on its Dearborn County-Southeast Indiana Facebook page. Known as the Winter Fun Giveaway, the contest features four weeks of great prizes including gift cards, dining, an overnight hotel stay, and more.
WHAT: Winter Fun Giveaway
WHEN: Every Tuesday through Feb. 2
TO ENTER: www.facebook.com/visitsoutheastindiana
COST: Free to enter (one entry per week)
OTHER: Must be 21 years of age to participate
The Winter Fun Giveaway prize schedule is as follows:
Week 1 - (January 6-12) 5-Visit Bonus Pack Valid for Skiing and Snowboarding at Perfect North Slopes - (approximate value, $180) (awarded on January 13)
Week 2 - (January 13-19) Adult Tubing Gold Card to Perfect North Slopes - (approximate value, $100) (awarded on January 20)
Week 3 - (January 20-26) Aurora Nights Prize Pack - $50 Gift Card to Third and Main Historic Restaurant; $50 Gift Card to Great Crescent Brewery (total prize value, $100) (awarded on January 27)
Week 4 - (January 27-February 2) DoubleTree Hotel Overnight Prize Pack - Overnight accommodations for two at the DoubleTree by Hilton Hotel at the Lawrenceburg Event Center; $50 Gift Card to The Levee Bar & Grill. Total prize value of $219. (awarded on February 3).
For more information on the Winter Fun Giveaway Contest, or to enter, visit www.facebook.com/visitsoutheastindiana. To learn more about visiting Southeast Indiana this winter, log on to www.visitsoutheastindiana.com.
---
Great Parks Presents New Dinner Series for 2015
01/09/15
I made a New Year's Resolution to try new places and activities for date nights once a month, and this sounds like so much fun! So, I thought I'd share!
Great Parks Presents New Dinner Series for 2015
Adventure, Mystery and Family dinners focus on food, entertainment and time together
Enjoy a Saturday evening of adventure, mystery or family entertainment with the new Great Parks Dinner Series! The series kicks off January 31, 2015, at 6:30 p.m. with the Alaskan Adventure dinner at Winton Woods.
For 10 years, Joe White, owner of Roads Rivers and Trails outdoor outfitters store in Milford, Ohio, has guided and personally explored the most remote areas of the Alaskan Frontier. Away from the tour buses and cruise ships, Joe will take you on a backcountry experience with wild weather, animal encounters and all the raw beauty that Alaska has to offer.
The adventure will be led from the warmth of beautiful Mill Race Banquet Center, located on The Mill Course at Winton Woods, over a buffet dinner of chef-carved prime rib of beef, herb-roasted chicken, lasagna, garden salad and assorted sides, desserts and drinks. A cash bar is also available for guests ages 21 and up.

Upcoming dinners include:
Feb 7: An Evening with the Zoo
Family Dinner

Feb 14: Malice in Wonderland
Mystery Dinner (age 18 and up)

Feb 21: A Night at the Oscars
Mystery Dinner (age 18 and up)
Feb 28: Kissing Kilimanjaro
Adventure Dinner

Tickets are $29.95 per person and can be purchased online at greatparks.org or by phone at 513-521-7275, ext. 285. To view the full list of Great Parks Dinner Series, visit greatparks.org.
Mill Race Banquet Center is located at 1515 West Sharon Road, Cincinnati, Ohio 45231. A valid Great Parks of Hamilton County Motor Vehicle Permit ($10 annual; $3 daily) is required to enter the park.
For additional information, please visit greatparks.org or call 513-521-7275. Also, be sure to check out our Facebook page and follow us on Twitter to find out more about whats happening at the parks!
---
Women Owned Business Planning Session!
01/08/15
I came across this Women Owned Business Planning Session, and it looks like such a great opportunity! I've always wondered how to obtain the certification, what all is involved in earning it, and what are the benefits if I do. Sounds like this session will answer all these questions and more. Plus, Laurie (one of the gals putting on the event is a friend of mine and I've know her for years! A great resource, and I'm sure she's going to put on an amazing event! Hope to see you there!
Attachments:
---
Art and Food Come Together for Art of Food Feb 20
01/08/15
Carnegie Hosts 9th Annual Art of Food
Tri-State chefs and local artists present food as an art
form with culinary creations on Friday, Feb. 20, 2015
COVINGTON, KY " Celebrating all that is mouthwatering and succulent, art and food mix once again to create a smorgasbord for the eyes and the taste buds as The Carnegie hosts the opening reception for the ninth annual Art of Food exhibition on Friday, Feb. 20, 2015 from 6 pm-9pm. Popular with gourmands and art enthusiasts, this annual exhibition presents the always powerful impact of art and food as demonstrated by the culinary-inspired creations of local artists and top chefs from Northern Kentucky and Greater Cincinnati.
The Art of Food is always a highlight of our year, said Katie Brass, Executive Director of The Carnegie. The galleries are transformed with fantastic art, and talented local chefs showcase some of their most creative dishes. Whether attendees are captivated by a work of art or try an adventurous dish, its always a night to remember.
The opening reception for The Art of Food will take place Friday, Feb. 20, 2015 from 6 pm-9pm in The Carnegie Galleries. During the opening, attendees can sample edible creations from almost 20 local restaurants while perusing the food-inspired artistic works by a wide range of artists. Attendees can travel through Candyland, designed by Pam Kravetz, following a path to each chefs table, and explore themed rooms with a visual feast to match the delicious food.
Pam Kravetz is returning to transform The Carnegie into an edible playground, said Matt Distel, Exhibitions Director for The Carnegie. With candy-themed galleries, Candyland characters, an indoor picnic, and special performances, this years Art of Food will be as robust as ever.
Cost to attend The Art of Food opening reception is $25 for Carnegie Members and $40 non-members, in advance; $35 for Carnegie Members and $50 for non-members, at the door. More than 600 guests are expected to attend the opening.
Tickets are available through The Carnegie Box Office, open Tuesday through Friday, Noon - 5pm, by phone at (859) 957-1940 or online at www.thecarnegie.com. Admission to view the artwork on display in The Art of Food is FREE after opening night and open to the public through Friday, February 27, 2015. Gallery hours are Wednesday Saturday, noon - 5pm.
Sponsors for The Art of Food include John Mocker, Jens Rosenkrantz, The Kroger Company, US Bank Private Client Reserve and Cincinnati Magazine.
Featured Culinary Artists and Restaurants
Alfios, Chef Alfio Gulisano
Bouquet Restaurant and Wine Bar, Chef Steven Williams
Chocolats Latour, Chef Shalini Latour
Coffee Emporium, Tony Tausch
Django Western Taco, Chef Andrew Mersmann
Enoteca Emilia, Chef Adam Cobb
Fireside Pizza, Chef Mike Marschman
Fresh Table, Chef Meredith Trombly
Four Seasons Catering, Chef Michael Gayon
Grateful Grahams, Chef Rachel DesRochers
Jean-Roberts Table, Chef Jean-Robert deCavel
Jeff Thomas Catering, Chef Steve Waddell
Ottos, Chef Paul Weckman
Senate, Chef Daniel Wright
Sleepy Bee Caf, Chef Frances Kroner
The Littlefield, Chef Shoshannah Hafner
The Rookwood, Chef Jackson Rouse
Virgils Caf, Chef Matt Buschle
Wunderbar, Chef Nathan Chambers
Featured Artists
Pam Kravetz, Carla Lamb, Eric Brass, C. Jazqueline Wood, Sharon Butler, Tony Dotson, and many more.
About The Carnegie: The Carnegie is Northern Kentuckys largest multidisciplinary arts venue providing theatre events, educational programs and art exhibitions to the Northern Kentucky and Greater Cincinnati community. The Carnegie facility is home to The Carnegie Galleries, the Otto M. Budig Theatre; and the Eva G. Farris Education Center. More information about The Carnegie is available at www.thecarnegie.com or by calling (859) 491-2030.
---
CycleBar Official Cross Training Program of the American Heart Association!
01/06/15
I love spinning (I used to be an instructor) and I love the American Heart Association (click here to see the Cincy Chic event we're hosting on Feb. 6 at Macys that benefits the AHA!)
CycleBar Cincinnati named Official Cross Training Program of the American Heart Association
CINCINNATI (January 8, 2015) " CycleBar, a new concept in indoor cycling that offers a high energy workout in a rock concert-like atmosphere, has been named the Official Cross-Training Program of the American Heart Association, which includes the Heart Mini Marathon and the Go Red For Women initiative.
CycleBar will provide Heart Mini Marathon registered participants with five class credits ($95 value) and the opportunity to join Team CycleBar, which includes a race t-shirt, CycleBar swag and selected training rides. The Heart Mini Marathon will be held on Sunday, March 15 in downtown Cincinnati.
CycleBar and the American Heart Association share the same mission in providing opportunities for people to maintain a healthy lifestyle, said Vince Czepukaitis, president of CycleBar Cincinnati. We look forward to our year-long program with the American Heart Association to raise funds and awareness of their major initiatives.
Additionally, CycleBar will support the American Heart Associations Go Red For Women initiative by hosting a monthly fund-raising event on second Fridays at 7 p.m. where 100 percent of the proceeds from the 54-person class will benefit Go Red For Women.
---
Mascot Broomball Exhibition Returning to Fountain Square
01/06/15
(I used to play broomball in college and it's SO fun - and a good workout - so I thought I'd share!!)
MASCOT BROOMBALL EXHIBITION RETURNING TO FOUNTAIN SQUARE
WHAT: Calling all mascot fans! Fountain Squares seventh annual Mascot Broomball Exhibition Match returns to the U.S. Bank Ice Rink next Saturday, January 17, at 11:00am. Produced by 3CDC and presented by Northern Kentucky University, this family-friendly event features an epic broomball showdown between some of Cincinnatis favorite mascots. The free 30-minute match promises to provide plenty of comical thrills and spills, so bundle up and come prepared to cheer. See below for a list of participating mascots.
2015 Mascot Broomball Exhibition Teams

Team 1: The Super Sweepers

Team 2: The Legion of the Broom

Captain: Victor E. Viking (NKU)

Wooly Bully (Cincinnati Rollergirls)

Horsepower (Kentucky Speedway)

Big Boy (Frischs)

Coop (Quaker Steak & Lube)

Oscar the Balloon (Airheads Candy)

Cuppie (Dunkin Donuts)

Ms. Tree (Cincinnati Parks)

Menchie (Menchies Frozen Yogurt)

Red Card (Cincinnati Library)

Captain: Twister (Cyclones)

Blue Blob (Xavier)

Musketeer (Xavier)

Mr. Redlegs (Cincinnati Reds)

Rosie Red (Cincinnati Reds)

Mr. Red (Cincinnati Reds)

Gapper (Cincinnati Reds)

Binny (Rumpke)

Ruby (Pure Romance)

Flying Pig (Flying Pig Marathon)
WHO: Mascot Broomball is FREE and open to the public.
WHEN: The match is scheduled for Saturday, January 17. Mascots will be available before the event for FREE meet & greets and photo opportunities, beginning at 10:30am. The match begins promptly at 11:00am and is expected to last approximately 30 minutes.
WHERE: Fountain Square is located at 520 Vine Street in downtown Cincinnati. Secure and affordable parking can be found in the underground garage facility " located directly beneath Fountain Square.
MORE INFORMATION: Normal Saturday skating hours will resume at noon, after the conclusion of the exhibition game. Special thanks to our presenting sponsor, Northern Kentucky University. Visit www.MyFountainSquare.com to add this event to your smartphone calendar.
---
Lady in Red 2015 - Event Date Announced!
12/31/14
We just announced our Lady in Red event date for 2015! Hope to see you there!
2015 Lady in Red
A fashionable fundraiser for the American Heart Association
RSVP: www.2015lir.eventbrite.com
When: Friday, Feb. 6, 6-9pm
Where: Macy's Fountain Place. 505 Vine Street, Cincinnati, OH 45202
Dress: Cocktail chic. Red attire preferred!
Tickets: $20 VIP, which includes seat along the runway and express check-in table (only 200 VIP tickets available). $10 general admission. All tickets include swag bag and a 20% store-wide* Macy's discount. Plus, enjoy the runway fashion show, music, refreshments, fun photo booth and fundraising activities! All proceeds benefit the American Heart Associations "Go Red for Women" campaign!
Presenting Sponsor: Mercedes-Benz of Fort Mitchell
Fashion Show Sponsor: Macy's
Hair/Makeup Sponsor: The Wild Hare Salon

Supporting Sponsors: PNC Bank, St. Elizabeth Healthcare
Booth Sponsors: Ideal Image Laser Hair Removal, Tonya Bolton Photography, Associates in Women's Health, Heritage Makers/Youngevity with Natalie Reder, Champion Windows, Allusions,Pauir Athletic Apparel, It Works! by Shrink Wrap Me Skinny
Brought to you by: Cincy Chic, the only online publication for women in Greater Cincinnati.
*excluding cosmetics and fragrances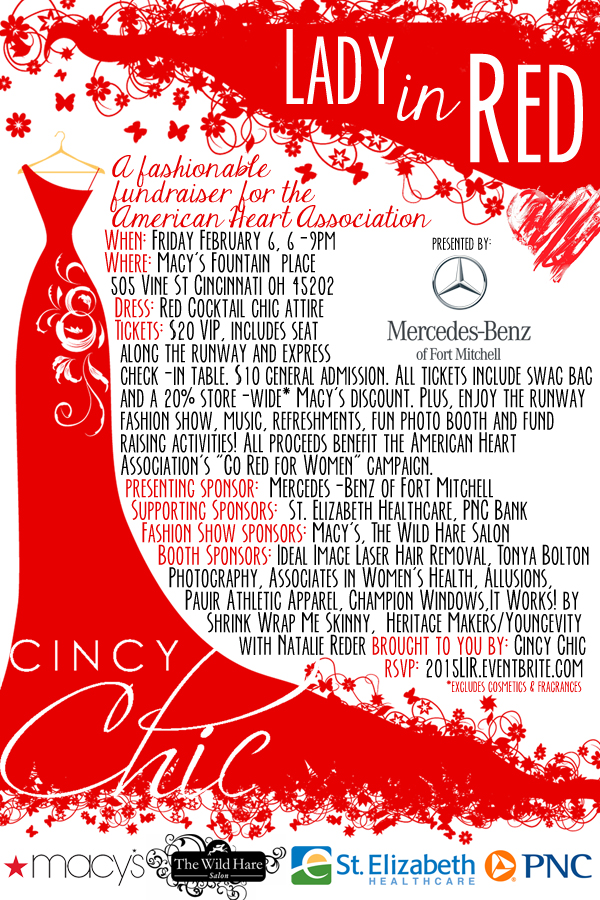 ---
Custom Suit Package Sale at 45/46
12/31/14
The menswear shop, 45/46, in Hyde Park Square is having a custom suit package sale now through the end of December. It includes a custom suit, shirt, tie and shoes for $1299. As a woman, that sounds like a not-so-great-deal because I can go to Ann Taylor and get a nice suit, shirt, accessories and shoes for about $500. But, with a hubby who wears a suit every day to work, I know this actually IS a good deal for made-to-measure menswear. So, if Santa still needs to spoil the suit-wearing men on your Nice List, think about taking advantage of this sale or at least just tell them about it if you dont have a spare $1300 laying around for a random gift! haha!
---
Five New Year's Resolution Solutions!
12/31/14
Happy last day of 2014!:) It's the day where I always decide what my New Year's Resolution will be. I decided to do something different this year. I'm going to try out some practical DIY solutions to help me actually accomplish my resolutions and improve my life in the new year.

1) Declutter: a filing system to turn those piles into files.

2) Organize: once you've decluttered, it's time to get organized with a Home Management Binder. This will help you keep track of everyone's schedules, your menu plan, grocery list, chore list, etc. Keep it in the kitchen so everyone in the family can easily reference it and update it!

3) Record Memories: no time for scrapbooking but still want to record all those memories your family is making each year? Make a Memory Box, have a tab for each month, drop in keepsakes, pictures and notes about special days/accomplishments!

4) Save Money: this Savings Jar is a plan that has you drop a few spare bucks in it each week and it ads up to over $1,000 by the end of the year!
5) Get Healthy: Ah, yes. Everyone's favorite New Year's Resolution. But this portion control plate is a practical way to actually accomplish that! I had a fitness instructor who always said "great abs are made in the kitchen not the gym" and that's so true!
Attachments:
---
Little Lords & Ladies Boutique Closing, Liquidation Sale
12/29/14
I'm so sad! For years, I have loved shopping for my nieces and nephews in the Little Lords & Ladies Boutique in Montgomery, and looked forward to the day when I had a little one I could shop for in there! Well, unfortunately, I just got an email saying the owner has decided to close up shop and liquidate merchandise with a big sale starting immediately. So, if you have a little one who didn't get spoiled enough by Santa this year, or if you want to stock up on some things that Santa will get them NEXT year (or if you have a baby shower, kids birthday party, etc in your future) now is the time to do it. They have the CUTEST clothes, accessories and gift items for little girls and boys.
Little Lords & Ladies Boutique
7816 Cooper Road
Montgomery, OH 45242
---
New Year's Ideas for Decor, Party, Fun!
12/26/14
I hope you all had a great Christmas! I sure did -- Christmas with a little one is SO fun! :) Speaking of little one, now that we have a newborn, that's going to change how we celebrate New Year's Eve this year! Usually, we travel somewhere special or at least go out somewhere to celebrate. But this year, we want to see the ball drop with our favorite little lady in our arms. So, we decided to host a New Year's Eve party at our house and invite a few select friends and family. I did some searching on Pinterest for decor and party ideas, and found a TON of great stuff I thought you might like, too! So, enjoy! Click here to see all my NYE pins!
Attachments:
---
Cute Baby Gifts at A Village Gift Shop in Glendale
12/24/14
You can tell we had a rough winter last year! Lots of new little babies this year! Haha!
Not only is Christmas TOMORROW, but I feel like Ive been to about 20 baby showers in the past few months, including my own! While I always buy something from their registry, its fun to get them something unexpected, too! But those things are tough to find!
So if youre like me and on the look-out for cute baby gifts that arent from a big box store, I made a great little discovery! A Village Gift Shop in Glendale has a great section of baby gifts and its all SUPER cute stuff! Check out the headband and hat I got for Lola there!:)
---
OTR Businesses Open Today for Last Minute Shopping
12/24/14
Many of OTR's retailers and restaurants are opening today to accommodate last minute shoppers. A complete list of the business' that are open today are below.
Special and Extended Holidays Hours for OTR Businesses
Main Street Businesses:
Dec. 24: 10 a.m. to 4 p.m.
The Hoop & Needle
LIBBY
Rock Paper Scissors
Park + Vine
Mannequin Boutique
Urban Eden
Another Part of the Forest
Macaron Bar
Cincy Shirts
Original Thought Required
Dec. 24: 12 p.m. to 4 p.m.
Ragg Addict
Dec. 24: Open until 6 p.m.
The Little Mahatma
Dec. 24: 10 a.m. to 3 p.m.
MiCA 12/v
Dec 24: until 3 p.m.
Holtmans Donuts
Dec. 24: 7 a.m. to noon
Findlay Market
Dec. 24: 9 a.m. to 4 p.m.
Attachments:
---
My New SoHza Earrings
12/22/14
Im wearing my new soHza earrings today! (we actually have a feature about soHza, and the charities they support, in todays issue of Cincy Chic " check it out!) Theyre made out of melted bullet casings and empower women in Ethiopia with sustainable employment, school and healthcare. Plus a portion of proceeds go to female-focused charities in Cincinnati and Columbus! Oh aaaaand theyre super cute!
---
Free Christmas Eve Dinner at Drop Inn Center
12/16/14
Giving back to others, especially those less fortunate... 'tis the reason for the season! My friend Nidhi with Elements Conference & Event Centre is doing just that. She is donating food for 250-300 people! She and her GM, Sales Team, Operating Team, Chef, and staff will be there serving! Food will be served 5:30-6:30 on Christmas Eve at the Drop Inn Center downtown. So, if you know of anyone who would enjoy this, please let them know!
---
Financial New Year's Resolution? Contact Roderick Gosa
12/15/14
You may not know this, but I also manage Cincinnati Profile, the male version of Cincy Chic! I just brought on a new finance columnist for the publication, Roderick Gosa, who is an Ameriprise Advisor. But I knew after first chatting with him that he was so much more.
I know a lot of people are making new years resolutions to get things in their life back on track, finances being one of them. So, I thought Id have you virtually meet Rod, so you can see what makes him so unique, and why I trust him to give great financial info to our readers.
Heres a little bit about him from his words

unset
---
Tonight's Programming
5:00pm Maury

6 & 6:30pm Family Feud

7 & 7:30pm The Big Bang Theory

8 & 9pm Law & Order: Criminal Intent

10:00pm Local 12 News at 10 on Star64

10:30pm Seinfeld



IE6 Float Fix